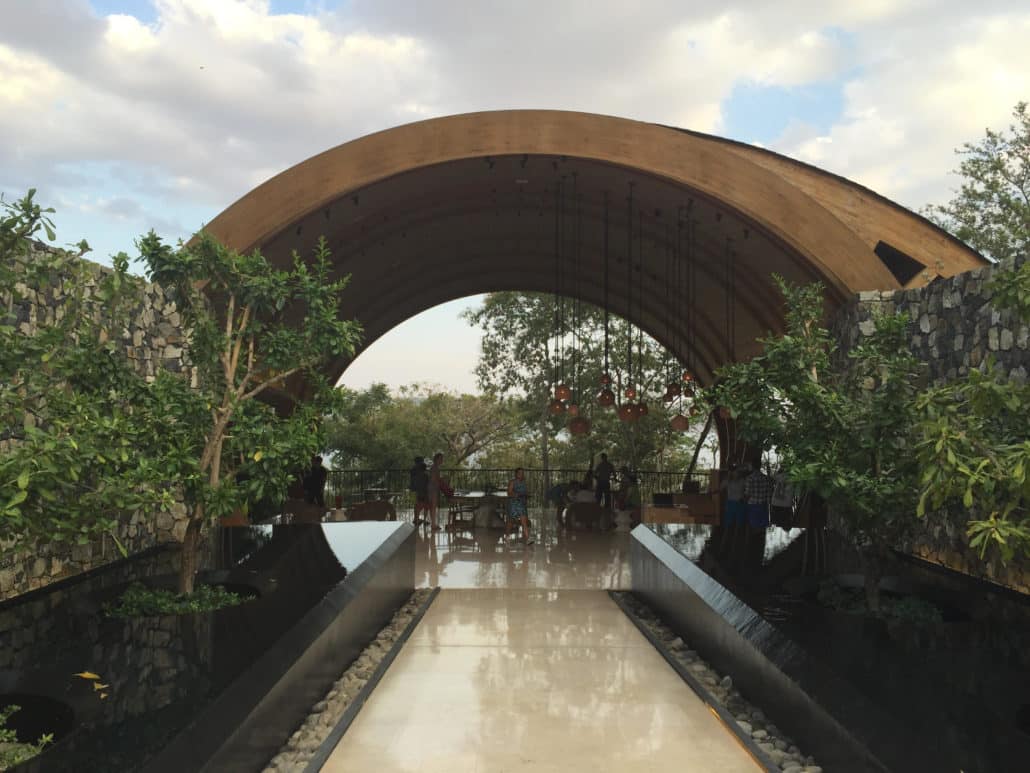 Driving up to Andaz Peninsula Papagayo Resort, I knew one thing for sure: I was far away from everything else! Perched on the shores of a pristine enclave overlooking the Bay of Culebra in Guanacaste, Costa Rica, this Hyatt resort from its luxury Andaz line is an amzing hideaway for those seeking seclusion and to commune with nature. The structural marvel built by prolific Costa Rican architect Ronald Zürcher blends modern and organic aesthetics in its distinctive cocoon-like, space-age-yet-indigenous public areas. Nowhere else in the world will you find a more interesting dwelling set amongst exotic wilderness. I was eager to get my vacation started.
The scene
After a quick 30-minute car ride from the Liberia Airport (LIR), I arrived at the sprawling resort, where I was greeted by a massive open-air lobby surrounded by lush trees overlooking the sparkling bay. There were no desks, lines or any formalities. The goal of every Andaz property is to treat visitors like family, inviting them into their homes and showing them a great time. I was directed to a plush couch and offered glass of guarana juice and a refreshing cold towel. In the driveway stood a purple Volkswagen bus with a surfboard on top; I made a mental note to check out this quintessential pura vida icon later.
Encircling the lobby were structures with arched roofs blending into the hillside. I later learned these structures were for meetings. In a landscaped garden ahead, leaf-like structures held sentinel where weddings take place. In the distance, I heard the calls of howler monkeys and the tropical birds that call the peninsula home. Serenity washed over me and the burdens of my journey dissipated. A friendly staff member approached me with a smile and I immediately felt welcome.
The accommodations
I was whisked away in a golf cart towards my immaculate suite in one of the treehouse-like edifices spread out over 28 hilly acres. Andaz in Hindi means "personal style," and so each property reflects local culture and lifestyle. This was clearly evident in the warm, woven textiles, solid woods, and unique lighting fixtures resembling bird's nests in the suite. The rooms have a modern yet warm feeling, bringing the outside in with floor-to-ceiling windows and balconies with bamboo walls. Bathrooms with walk-in rain showers overlook the bay, and the only ones taking a peek are the howler monkeys up in the trees.  
Motion-sensing lights and smart air-conditioning detect when the doors are open, reducing waste at this eco-chic resort. True to the Andaz experience, everything in the rooms is complimentary, from the contents of the minibar to the colorful hats and flip-flops provided for each guest. A delectable chocolate shell and banana macaroons were a special treat delivered shortly after I settled in.
Standard room prices start at $325 and suites start at $675. Packages including breakfast and spa treatments are also available.
The spa
ONDA Spa—elevated into the trees of the lush forest and spread across 11,000 square feet—offers modern treatment rooms with sweeping vistas of forest and sea. Onda translates to "wave" in Spanish, which is relevant; the spa uses the power of water to heal and rejuvenate. Treatments are individually tailored and incorporate local ingredients including purple corn, beans and conch shells. The Biosfera products used at the spa are locally made for the resort and are not sold elsewhere. After a revitalizing treatment, I found myself completely in awe of the capuchin monkeys that came to splash in the outdoor spa pool, an experience only possible in the wilds of Costa Rica.
Dining
The best part of my day was the amazing breakfast spread at Rio Bhongo, one of the gourmet on-site eateries at the Andaz. Stations brimmed with everything from freshly squeezed juices and delectable pastries to regional specialties. All of the on-property restaurants are open-air (to cut down on power usage) and have open kitchens. Ostra, the most upscale restaurant, provides seafood and fresh fare adjacent to the adults-only pool, with a hiking path leading to a secluded beach. With separate lunch and dinner menus there, you won't have to try the same meal twice. At Chao Pescao, translating to "See you later, alligator" in Spanish, you can savor delicious tapas and cocktails prepared by expert mixologists.
Activities
One can only sunbathe on the beach or chill in the two infinity pools for so long. I hired a guide from CR Paradise to take me to Palo Verde National Park for a boat safari. Floating down the Tempisque River, I spotted a variety of birds—including egrets, storks and spoonbills—but the highlight was the giant crocodiles that call the river home. Iguanas can be seen hugging the branches while howler monkeys munch up on the trees. To my delight, a couple of curious capuchin monkeys came onto the boat hoping for food scraps but mostly investigated their human cousins, providing plenty of opportunity to take some amazing shots to brag to friends about.
The Andaz Papagayo is also within driving distance of Rincon de la Vieja National Park, which boasts two peaks of the volcano and nine craters. Hike on the Enchanted Forest Trail, soak in the hot springs and witness tapirs drink water at Los Jilgueros Lagoon.
Guests at the resort can take a purple VW to nearby surf spots or make use of on-site kayak and paddleboard rentals to explore the bay. Shuttles are also provided to the Arnold Palmer signature golf course at Peninsula Papagayo and the nearby Prieta Beach Club. Children can take advantage of the endless activities at the Cambi Kids Club, including charades and limbo challenges.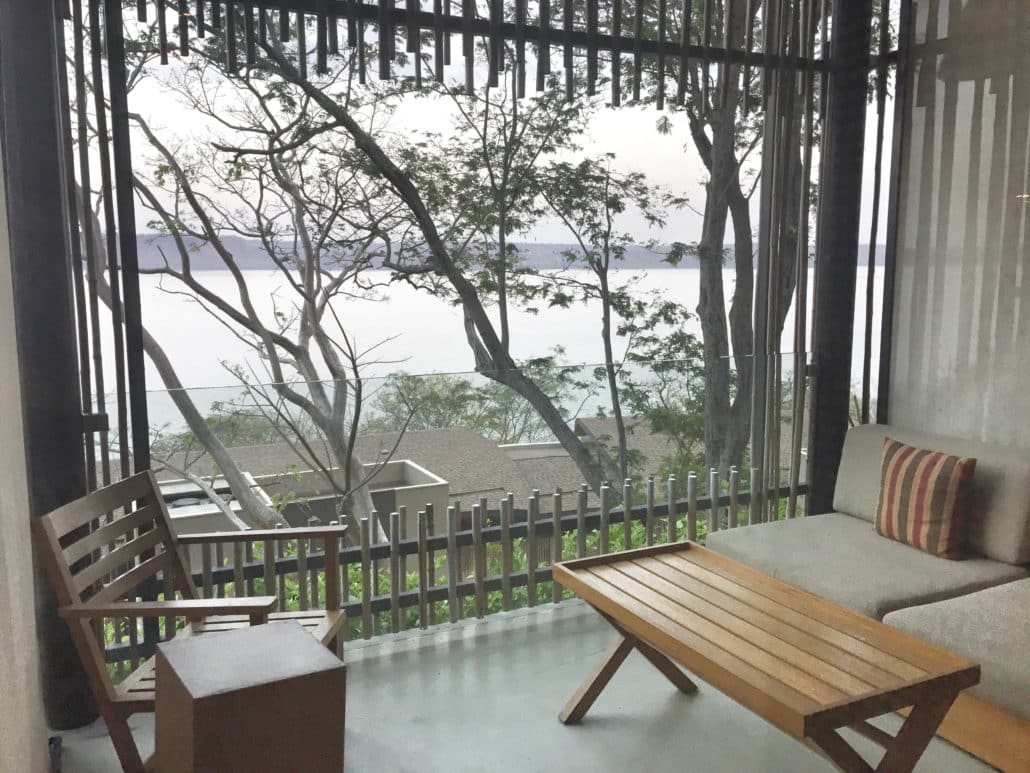 The bottom line…
If you're looking for a secluded getaway in the jungle that offers everything on premises, this environmentally sensitive, swanky resort is it. Be prepared to catch the sounds of nature and glimpses of wildlife in the surrounding areas. Luxury and comfort await in this special resort inspired by the organic forms and shapes of the native flora and fauna of Costa Rica.
---
For more on the Andaz Peninsula Papagayo, visit papagayo.andaz.hyatt.com.