The good folks over at Monte-Carlo SBM invited me and Natalie to come out so we could help promote their 150th anniversary. Back in 1863, they were the company that brought gambling to Monaco. It was formed by François Blanc and he called it Société des Bains de Mer et du Cercle des Etrangers à Monaco. But since that name is way too long to roll off the tongue, even for the French, they changed the name to Monte-Carlo SBM. Today, they not only run the casino but also Hôtel de Paris and a number of other hotels, bars and even country clubs.
Natalie and I arrived in Monaco in style by taking a seven-minute helicopter ride from the Nice airport to the Monaco heliport (here's my story and pics). A few minutes later, we were checking into the famed Hotel de Paris. Here are 16 reasons why you might want to check in there, too!
1. History
Hotel de Paris Monte-Carlo was built in 1864 with the intention of offering guests the very best that existed at the time. Since then, the hotel has become a landmark in the city, attracting the 'who's who' from all over the world and has been featured in numerous movies including two James Bond films, Never Say Never Again and GoldenEye.
2. Awards
A hotel can't be considered one of the most prestigious in the world without having a number of awards to back this claim up. To name just a few, Hotel de Paris was ranked among the 10 best hotels in France and Monaco in 2012 by Condé Nast readers for the 25th Condé Nast Annual Readers Choice Awards. It's listed as one of the top 500 of the best hotels in the world in 2012 in Travel & Leisure and in 2011, Conde Nast Traveler Reader Choice Awards named it the number one hotel in southern Europe.
3. Location
Monaco is located on the French Riviera in Western Europe. It's perfectly situated between France and Italy and Hotel de Paris is situated upon a hill off of Place Du Casino, overlooking both countries. For those who love high-end shopping (ahem, my wife), it's perhaps one of the most expensive and exclusive shopping locations in the world. There are designer stores everywhere, like Prada, Hermes, Louis Vuitton, and Yves Saint Laurent and every high end car dealership you can imagine. That's saying a lot for the world's second smallest country, which has an area of just 1.25 square miles (2.02 km). Feeling lucky? Directly across the street from the Hotel de Paris is the Monte Carlo Casino, which you must visit whether you're a gambler or not.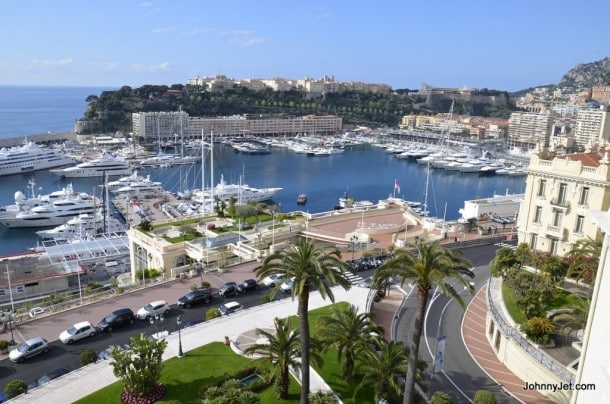 4. Views
With the exception of some really ugly apartment buildings (not sure what they were thinking when they were approved!) Monte Carlo has one of the most beautiful harbors in the world. What makes it so spectacular? The dramatic cliffs and the multi-million dollar mega-yachts.
5. Rooms
The rooms at Hotel de Paris are beautiful and luxurious with all the amenities you'd expect from a 5-star hotel. There are 182 rooms and my wife, the online editor for a leading interior design magazine, described the rooms on her personal blog like this: "The Louis XVI chairs and flat screen TVs collide in a perfect fusion of past and present. The room had a sunny, seaside-inspired colour palette of sky blue and yellow, which combined to make our room bright and cheerful. My favorite part of the room was the heated floors in the bathroom. I appreciated the warm tiles underfoot whenever I walked in there. And the big tub, complete with La Prairie amenities, was lovely too."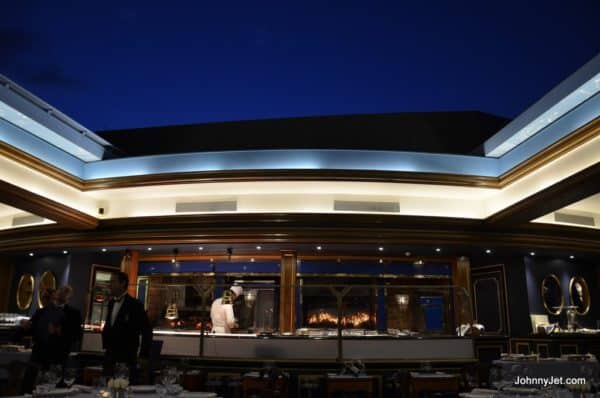 6. Dining
The hotel has three restaurants and up on the top (8th) floor is Le Grill, which serves Mediterranean-style gourmet cuisine. The place is not cheap (lunch is from €75, which is about $98) and the dinner à la carte menu ranges from €130-€150 , which is between $170 and $196. Jackets are required for men but this is where you go to celebrate a special occasion. Unless of course, you live in Monte Carlo or are super rich … then you might go for a regular Tuesday night dinner!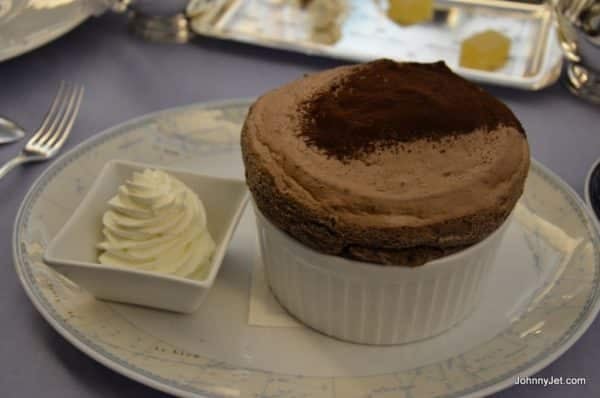 With the exception of the amazing service, decor, food, and harbor views, the highlight of the evening was when the ceiling began to slide open, revealing the heavens above. Since it was a chilly night they didn't leave it open for more than a couple of minutes, but for a moment we sat under a canopy of night sky and stars and marveled at the beauty of it all. The roof opened and closed throughout the night, each time giving us a peek at the stars. Don't miss the enormous soufflé for dessert. It's the specialty of the house and is more than enough to share between two.
If you've got deep pockets, don't miss Le Louis XV. Chef Alain Ducasse opened it 25 years ago and the cuisine inspired by the French and Italian Rivieras and has a 3-star rating in the Michelin Guide.
7. Le Bar Americain
If you can't afford to spend your hard-earned money on one of the hotel's incredible fancy dinners, then at least go into Le Bar Americain and have a drink. It's situated just off of the marble lobby. Le Bar Americain, which I heard is sometimes frequented by Prince Albert and his family, has live music every evening. The moment you sit down, they bring over blue potato chips, mixed salted nuts, and 'barbajuans' – bite-sized appetizers stuffed with spinach and cheese, which are local to the region.
Good to know: For the Monte-Carlo SBM Group's 150th anniversary, Le Bar Américain created a special drink called The Divine Celebration cocktail. It was created by Florian Pomaret and the frothy drink is made with meringue, gin, limoncello, orange, grapefruit and lemon juice.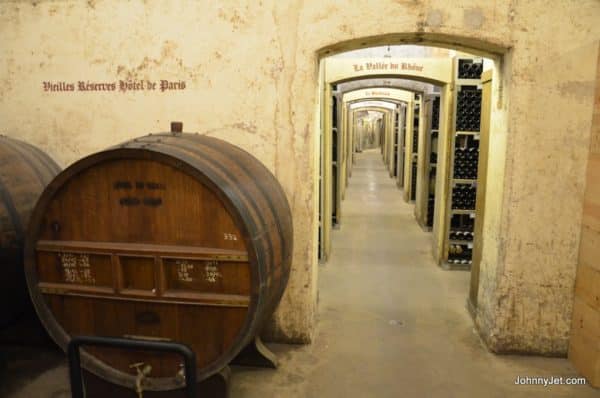 8. Wine cellar
It's not open to the public unless you arrange a visit to the tasting room for a special occasion, but Hotel de Paris has a legendary wine cellar. It was built in 1874 and has 450,000 bottles of wine. About 99% of them are from France and the bottles date as far back as 1850. Those bottles can be found in the mini private museum and are covered in dust. If you added the length of all the cellar's corridors, the whole space measures almost a mile long (1.5km) which is almost the size of Monaco! They have seven full-time employees managing it and it's kept at a constant temperature of 12-13c (53-55f) degrees and between 75-85 percent humidity. FYI: The most expensive bottle you'll find there is 12,000EUR ($15,700)
9. The Spa: Thermes Marins Monte-Carlo
The Thermes Marins Spa is the perfect antidote to a long flight. The whole spa occupies four floors and specializes in seawater therapies. You may want to try the aquagym baths or the hydromassage for something a little different. I was tired from not sleeping on the flight over, so I can barely remember the whole treatment … because I fell asleep. But I do know it felt damn good! My treatment began with a body wrap, then I got sprayed down in the shower by the Japanese-French therapist (I had disposable underwear on, in case you were wondering) and then I soaked in the tub in my treatment room for 20 minutes before getting a deep tissue massage. It was so relaxing and rejuvenating.
Beforehand, Natalie and I had a light and healthy lunch at L'Hirondelle restaurant on the premises. Most of the guests were in robes and I wished I was too. For lunch, we had lobster (from Corsica) salad, fresh fruit smoothies, and a fabulous lemon tart.
10. Concierges
Every time I went to ask the professional Clés d'Or Concierges for directions or prices, they had three of them on duty. They took the time to show me the best routes and gave me a timetable for the train to Italy. They were courteous and always ready to help.
11. Pets are welcome
I travel too much to have a pet but I do know lots of people who won't leave home without their cat or dog. They would be happy to know that Hotel de Paris welcomes them for no extra charge but be aware that your furry friend won't be allowed in any of the restaurants. 
12. Free entry into the casinos
If you stay at Hotel de Paris, you get free entry into the casinos, though you'll still have to register; they'll need your license or passport. If you do go, don't forget to rub the knee of the statue of Louis XIV's horse in the lobby of Hotel de Paris. It's supposed to bring good luck, which is why the knee has been rubbed to a golden sheen.
13. Private beach (free access) and water sports (Monte-Carlo Beach Club, in season)
Natalie and I visited in late April and the weather was unseasonably cool, so we didn't get to experience the beach or water sports. However, we did go to the Monte-Carlo Beach Club for a fabulous dinner. Can you believe my golden risotto actually had gold leaf in it? 
14. Discounted golf and tennis
I didn't have time to play golf but Hotel de Paris guests get 50% off on green fees at the Monte-Carlo Golf Club and on the 23 clay tennis courts at the Monte-Carlo Country Club.
15. Free shuttle services for transfers within the resort
Since SBM owns Hotel de Paris and a number of other hotels and clubs, they offer a free shuttle between the properties. They depart every 30 minutes, making it easy to get around and explore.
16. You can visit three countries in one day!
There aren't too many places in the world where you can visit three countries in mere minutes. Since the Principality of Monaco is located on the French Riviera and has an area of just 1.25 square miles (2.02 km), it's literally within walking distance of France and biking distance to Italy.
One incredible unadvertised fact about staying in Monte Carlo is that you can easily do something remarkable without even realizing it. In fact, my wife, Natalie, brought it to my attention. One day, we had breakfast in Monaco, lunch in Italy, and dinner in France! And it was all within a 16-mile radius. Imagine that! Here are my story and photos.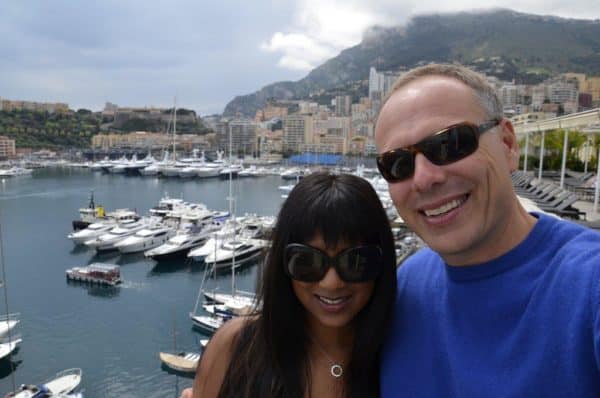 Overall, Hotel de Paris was a dream in every way; the service, the location, the spa, the rooms, and of course the exquisite food made our stay there truly memorable. Combine that with the natural beauty of the French Riviera and you are sure to have an unforgettable experience.