In the late evening of August 17, I walked across a draw bridge into Dubrovnik's Old Town with my girlfriend and four bags. The sun shone brilliantly upon us. A mime painted gold held a yammering crowd not a hundred feet ahead, while another mime across the cobblestone gestured to imply his superiority, or perhaps that he was stuck in a box. All around us were transfixed. Sweating under the weight of luggage carried twenty hours, we had hoped for something less for our first encounter with one of the world's finest cities.
Of course, when the summer sun is shining, the Old Town is a busy place. Inside its walls, a swallowing tide of tourists churns like the open ocean, crashing against white marble stairsets and they-don't make-them-like-this-anymore churches with cameras out and kuna ready. After sunset or so, most of these folks are flushed out the city gates and there is peace until morning, when the Old Town must sigh and welcome the crowds back. Nights, therefore, are special here.
I wish them well, those mimes. Within an hour of our arrival, bags safely deposited beside the bed we'd be sleeping in, we had forgotten these men. We picked up the key to an apartment we booked through HomeAway and turned the outside noise down to zero. It was like this: Two floors up, nestled against the back wall of the Old Town, we were allowed nights in this magical place where the stars light up the marble. For four days, we thought not of mimes, rival mimes and airy gelato, but of the open-ended adventures available just outside our door. Up and around St. Ignatius Church, and then a sharp right that felt like closing a door in a storm—this was our basecamp.
Through HomeAway, we came to possess a key that opened a twisting old door on a residence inside King's Landing, and in the end all we could justify criticizing was the size of the space—that being in an old, fortified castle-town that to my mind should not still be standing. For reasons of location alone, our experience in and around the city cannot be separated from the apartment we took nights in—the home that gave us a better chance there. HomeAway is surely not the only means to such a location, but in our experience it deserves credit for delivering it.
From an air-conditioned, Wi-Fi-powered 1BR of stone, we explored and returned home and admired the pomegranate tree out our window as we liked, and in particular as Dubrovnik began to breathe in the mornings and evenings.
When on August 21 we found our holiday expired, we closed our twisting old door with the feeling that we knew something of the place we'd just been. We would miss it, and we would be back. From this experience, we have a few places to return to.
Here are five spots in our Dubrovnik neighborhood that let us feel like locals for a few fleeting moments (and the distance from our home):
1. Buza Bar (50 feet from home)
The no-longer-secret secret bar on the cliffs, marked only by the sign "Cold drinks with 'the most beautiful view'" and an opening in the wall. We passed it twice daily before turning into our apartment and again each time we walked out into the sun each morning. It's open 24 hours. Just amazing.
2. Gin fizz window (450 feet from home)
Just below the Historic Steps, to the left if you're for example walking down from our HomeAway spot, is a window with evergreen shutters. When the shutters are open, you can exchange kuna (currently 6.28 to the US dollar) for takeaway cocktails at the best price around. We made sure to grab a gin fizz each chance we had after the first one. In this city, your curiosity is generally rewarded.
3. Azur (750 feet from home)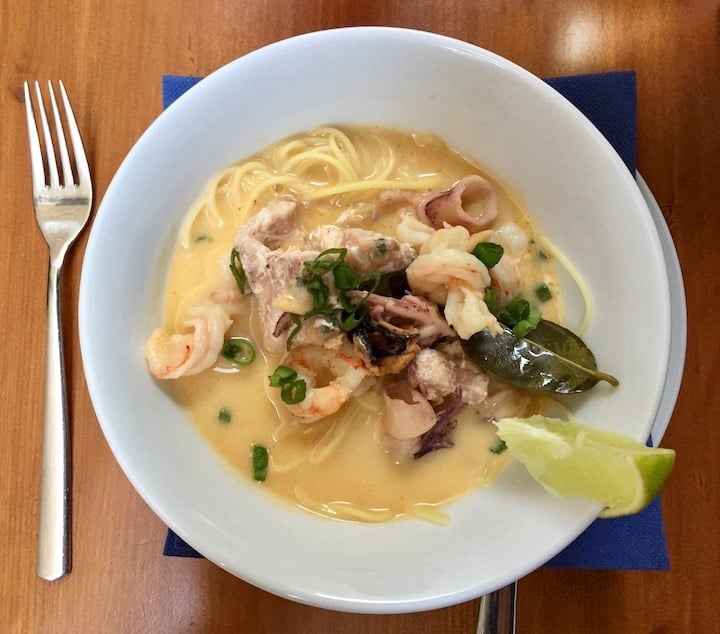 Mediterranean-Asian fusion tucked all the way in our neck of the woods near the Old Town's back wall. The prawns in coconut curry dish—"Croasian Style Seafood Laksa"—was so, so good. Seafood is in general a good bet in coastal Croatia.
4. Rozario (1,300 feet from home)
Just off Stradun in a sloping alley to the right is Rozario, where we feasted on a genuinely delicious meal in peace, for less than the more-center-stage restaurants were shilling for. Gorgonzola-stuffed mushrooms, black cuttlefish risotto, mussels in white wine garlic, and Croatian wine: so good.
5. Secret rocks/swimming spot (2,300 feet from home)
Walking out of the Old Town through Ploče Gate, we turned right toward some undefined beach destination to lay out, read and swim. Within a minute or two, an unmarked opening appeared in the city wall that had continued down the waterline alongside us. In Dubrovnik, we found unmarked holes to be worth stepping through, and so in we went, down some steps, to find a rocky enclave. Here, we laid out, read and swam using the ladders fastened to the rocks. I suspect this area is truthfully not much of a secret, but what can you do. It felt good to speak of it that way.
On using HomeAway…
This was my first experience using HomeAway to book accommodations, but I knew immediately how to use it. In searching for the right place, I graded in HomeAway's options the following three qualities: location, price and aesthetics (incl. Wi-Fi, which is hardly an aesthetic).
I filtered out homes that could not offer Wi-Fi and A/C—which may not have been many—and I used the sliding price tool to box out homes charging large sums of money per night. I did not find much use in the reviews function due to my finding a total of 2-3 reviews over five days, but I imagine future bookers will find use in them once they have accrued. Above all, I sought location. An inconvenient home base can spoil a trip, so I reviewed the results of my "Dubrovnik"/"August 17-21" search using HomeAway's interactive map. I considered only homes inside the walls of the Old Town.
I was after five days booked (the host must approve your request to book within 24 hours or it will expire). In the interim, I saw two booking requests expire (no response from the hosts) and another returned with news that there was no vacancy. Book ahead of time for best results, I guess.
Give yourself time and find your HomeAway from home. Here's more on how…
---
For more on HomeAway and to book one of more than a million homes in 190 countries, visit homeaway.com.