Note: This trip was sponsored in part by VisitCatalinaIsland.com.
I've never started researching a story by Googling "how to see a ghost"…until now. As I pulled up to La Posada de Santa Fe Resort and Spa I thought to myself, this looks anything but haunted. It wasn't until I walked through the traditional southwestern style lobby to the front of an actual Victorian brick mansion, labeled The Staab House, that I felt that there may be something to the stories after all. I needed to get it over with, and see my "haunted" room.
ACCOMMODATIONS
As I walked up the grand staircase I was thankful my friend Keri was brave enough to come and stay with me, unlike my husband. We arrived at the first door to the Julia Staab suite. As we opened it, we were greeted by a comfortable seating area with a couch and TV. Wheew! So far so good! We walked by the bathroom toward the large bedroom. I loved the antique four post bed which faced the fireplace. But wait!! Was that a painting of Julia staring at us?!? There's no way I was getting any sleep now. So here's the lowdown, Julia Staab died in this room in 1896, after being depressed over the death of her eighth child. Some say she hung herself. This room inside her Victorian home, was built for her in 1882 by her husband Abraham. Both were immigrants from Germany, and when Abraham established himself as the largest wholesale trader of the Southwest, he moved Julia out to Santa Fe. They lived a charmed life, entertaining and socializing with society's elite until Julia's depression and ultimately her death at the age of 52.
Julia has reportedly been seen and heard by employees and guests over the years in this historic house. Part of the Staab house was later encased in a Spanish-pueblo façade to resemble traditional Santa Fe architecture. In fact, in 1957 a city ordinance mandated all buildings be constructed the same way to preserve the distinctive look and feel of the town.
So the first thing you'll notice are pinkish-red-brown adobe, low profile, flat roofed buildings everywhere. Santa Fe is by the way, the oldest capitol city in North America. Over time La Posada purchased six acres of land and built these pueblo-style rooms. In 2008 a multi million dollar renovation was completed and all 157-guest rooms and suites were renovated, along with the spa and pool area, dining facilities, and the historic Staab House.(La Posada de Resort & Spa, 330 E. Palace Ave., 866-331-7625, starting rates $175.
After making peace with our room we wanted to kick off our Santa Fe trip by eating of course! We took a short walk downtown to a local favorite, The Shed. There was a bit of a wait at this well-known restaurant has been feeding the masses since 1953! Not to worry though, the best pomegranate margaritas (not too sweet ), chips and guacamole will keep you happy. Just as we were making new friends, we were seated. Every entrée in Santa Fe comes with red sauce (mild) or green sauce (hot). And in my book, a good sauce and lots of melted cheese is perfection! We tried the chicken enchilada plate ($10.50) with blue corn tortillas and a cheese enchilada ($8). Too good to miss, thanks for the recommendation Louise!!! The Shed, 113 ½ East Palace Ave.
After lunch, we stopped in at La Fonda Hotel, where we took the elevator to the top of the bell tower. It's an ideal spot to snack and have drinks while catching a bird's eye view of Santa Fe and the sunset. La Fonda Hotel, 100 E. San Fransisco, 505-982-5511.
Believe it or not, it was time to head back to the hotel and get ready for dinner. La Posada's Fuego and Viga restaurants awaited! Fuego was beautiful, with many paintings to appreciate. We however decided to enjoy the hotel's patio since the weather was still warm on this October evening. There's such a good vibe with the large fire pit and water fountain. The food was equally satisfying! We ordered the shrimp tacos ($16) and chicken pasta ($12). So many good flavors, and very fresh. Fuego, 505-986-0000.
La Posada's other restaurant, Viga, also prepares excellent southwestern favorites. We sampled it's breakfast menu one morning. My dish was an egg and chorizo burrito ($12), while Keri ordered the lighter yogurt, granola and fruit parfait ($8). We loved the chorizo and the homemade berry jams that came on the side. Again the artwork was breathtaking and we felt like we were eating in an art gallery. (Viga, 505-986-0000)
Speaking of breakfast, I can't forget to mention Tia Sophia's. Also downtown, and a local favorite, we had the huevos rancheros with potatoes and lots of the traditional red sauce ($7.45). The breakfast burrito with all the fixings was as big as my forearm ($7.50). The food at this old school New Mexico hole in the wall really hit the spot. Tia Sophia's, 210 W. San Francisco, 505-983-9880.
Here are a few more must sees or eats…The Compound. It's actually an old housing compound where famous visitors would stay like Clark Gable. It's now a well-known restaurant, so tranquil and classy. We sampled the buttermilk onion rings ($9) and tuna tartar topped with caviar ($16). So rich, but worth the calories. The Compound, 653 Canyon road, 505-982-4353.
The eating didn't stop there, across the street is Geronimo. The only word to describe this restaurant is, sexy (and that includes the owner ladies!). We couldn't stop looking at the twinkling candles in the quaint fireplaces or the gorgeous dining area dimly lit and so inviting. We ordered the Green Miso Sea Bass with ramen noodles ($36) and the Grilled Mexican White Prawns with jasmine almond rice cakes ($35). It's all good at Geronimo. Geronimo, 724 Canyon Road, 505-982-1500.
Right next door is El Farol, a good place to end the night on Canyon Road. Apparently the oldest restaurant in Santa Fe, many go here for tapas, drinks, and live music. Excellent people watching! El Farol, 808 Canyon Road, 505-983-9912.
If you're like me, trying to squeeze in one spa treatment while on vacation is a must. So if you're staying at La Posada de Santa Fe, you're at the right place. In fact, La Posada is the only hotel downtown with a luxury spa. Wow after our visit we were so relaxed! I got the herbal body rejuvenation($195) which was 80 minutes of scrubbing, massaging, and steaming. I had the red carpet glow when I was done. Too bad I didn't have a date night with my hubbie!! Keri got the High Desert 50-minute Facial, that left her skin glowing. ($130). Rockresorts Spa at La Posada de Santa Fe, 877-964-7625.
Next up, tequila tasting in the Staab House lounge. Every Monday the hotel offers a tasting session that ends with a margarita. What a fun hotel bar, it's the Cheers of downtown Santa Fe. We met so many interesting people who visit the lounge. That's where we heard some good ghost stories, stay tuned! Also unique to the hotel, is Sara Eyestone seen here on the left, with the talented artist Darlene McElroy. Eyestone is La Posada's in-house art curator, who manages over $1 million of original artwork throughout the hotel. More than twenty notable artists have their work displayed and all are available for purchase.
If art is your thing, then you'll want to also hit Canyon Road. There you'll find more than a hundred art galleries, studios, and specialty shops. Santa Fe is the third largest art market in the nation, and here you'll find everything from Native American art to contemporary and abstract. I fell in love with this piece in The Selby Fleetwood Gallery. I loved how the artist, used old metal ceiling tiles for the dress and had half a birdcage protruding out. Oh if I had an extra $16,000 my living room would be looking really good right now. Instead, I found this head and little paper mache sign reading "discovery", more my speed ($50).
If you feel like taking in some hand-made wares like chili pepper wreaths or jewelry, head downtown to the square. You'll find more art galleries, museums, clothing stores, and historic buildings. There is so much to see and do here in this little town, and you can walk most everywhere. We wished we had a third night. I think a trip here to ski would be amazing, and I hear the glow of the Christmas-time luminaries (paper bag lanterns) downtown is magical. I can't imagine!
PARANORMAL ACTIVITY
Back to those ghost stories I was telling you about. According to Tom Brandt of Midland Texas, when he and his wife were in the hotel lobby two years ago, books were being pushed off the bookcase right next to them. No one else was there…creepy. And we met Christie Jest from Kansas City Missouri who said she stayed in the same suite I was in, four years ago. Jest said she kept hearing footsteps and noises from other parts of the room and that she felt a presence. Now, I believe in ghosts, love watching Ghost Adventures. But when you're faced with possibly seeing one first hand, it's a little freaky. Keri claimed she wasn't scared, I however didn't sleep well both nights. I did hear things, paper crinkling and creaks in the floor. Granted it is the oldest part of the resort, but I admit I felt a presence too, and it wasn't Keri who was sacked out next to me. I was too scared to open my eyes though, I know so LAME! I was nervous my heart would give out from fear. That said, the trip still left me wanting to experience more. La Posada means "a place of rest", but how can you?! I left with my creative juices flowing. I came home wanting to cook, create, and conjure up a way to get myself back to charming Santa Fe.
WEB RESOURCES: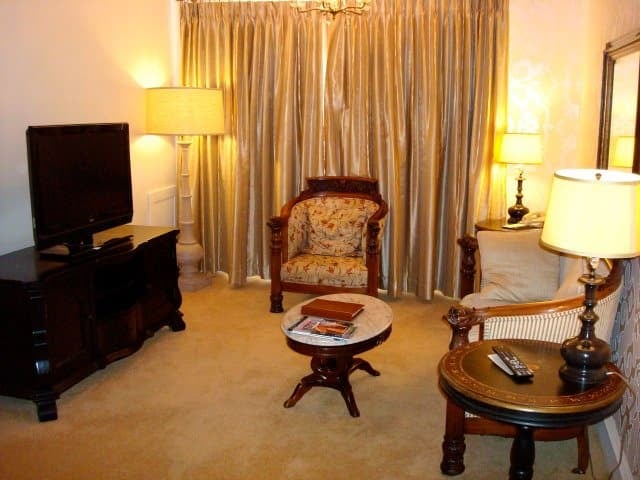 Note: This trip was sponsored in part by VisitCatalinaIsland.com.
About the Author
Nicole Rodriguez is an emmy nominated news reporter who started on the airwaves in college for UCLA's radio station. She continued to pursue news broadcasting and writing through internships at Entertainment Tonight and KCAL News. After graduating she took her first job in Bozeman Montana as a reporter and night time anchor for an ABC news affiliate. A year later she was back in California working at the local NBC station in San Luis Obispo as the morning anchor and reporter. Her next job brought her to Seattle Washington for CBS news where she was a reporter, back-up anchor. When her first child was born she decided to "retire" and move back home with her husband in Manhattan Beach. After a year, she returned to news as a freelance reporter for Fox-11 news. Now after a second child, enjoying mommy-hood and living at the beach, she's writing again. The best part of all her jobs she says, was meeting different people everyday and writing about their stories.