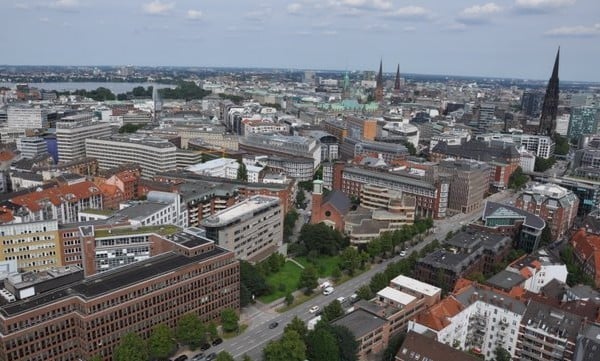 I began my European trip with a Los Angeles to Toronto flight on Air Canada. The reason I chose this particular flight is that it was being operated with a wide-body 767 and I was able to earn United miles since Air Canada is a Star Alliance member. FYI: This flight put me over the 25,000-mile mark on United in 2011 so I earned Elite status for 2012. I already achieved this milestone on American and Delta earlier in the year. It's always nice to secure enough flight miles for Elite status so you don't have to do a last-minute mileage run in December.
The reason you might want to fly Air Canada on this route is that all passengers get one checked bag for free (2nd bag is $35) and each seat has an individual entertainment system so you won't be bored. Premium passengers will want to sit in their first class, as this plane had their new (and my favorite) herringbone-configured seats installed. Unfortunately, I didn't get upgraded, but I did have one of the best coach seats–12H (a bulkhead)–so I had plenty of legroom and a cool seatmate, which made the 4-hour-and-25-minute flight fly by.
Other notables:
-I was able to print my boarding pass at home so I didn't need to wait in any lines at the airport.
-Families board first on Air Canada (though business class and Elite frequent fliers were told they could board at their leisure).
-There was no gate crowding.
-There were multiple gate-door alarms that kept going off and were really annoying. It didn't seem to bother the gate agents, though–they didn't do anything about it.
Toronto to London on British Airways
I was only in Toronto for one night; I passed through so I could fly across the pond with my girlfriend Natalie. Our hosts (Celebrity Cruises) booked us on British Airways to Hamburg via London's Heathrow Airport. We were on the 6:50 p.m. flight out of Toronto's Pearson International Airport (YYZ) and there was no line to check in at 5:15 p.m. The agent who gave us our boarding pass was friendly, but the gate agent wasn't (more on him in a minute). There was no line at security and it was a breeze to pass through since you don't have to take your shoes off (only when going to America). YYZ has free Wi-Fi (powered by Boingo), so I downloaded my mail while Natalie grabbed some bottles of water for the plane.
Even though the flight wasn't full, one of the gate agents was crazy strict on carry-ons. I watched him walk through the gate area and single out a couple who had a bag that definitely would fit in the overhead bin; he still made them use the ridiculously small carry-on tester near the desk to see if it would fit. He made the older Indian woman take out some books so it would fit, but the thing was half the size of the bins. His actions were weird and I almost felt like he had a vendetta against her.
Other Flight Notables:
-They boarded the dirty old and tired 767 about 45 minutes before the flight and we pushed back 10 minutes early.
-We had a long taxi to takeoff (25 minutes).
-Flight time was 6 hours and 30 minutes (3,540 miles).
-Natalie and I were in the best economy seats possible: 16A and 16B.
-Each seat had individual entertainment systems and there were 28 new releases under movies.
-There are no power ports in coach, but they did have them in premium economy and Club World.
-My tray table was crooked.
-The flight attendants (FAs) served drinks shortly after the seat-belt sign went off, which was 15 minutes after takeoff.
-They have soda in cute little mini cans but no snacks for coach passengers.
-Right after the drink service dinner was served: pasta or chicken. The tray came with a cucumber, tomato, and onion salad and dessert.
-The FAs picked up the trays with five hours left in the flight. We were just leaving mainland Canada, according to the flight tracker.
-I recommend bringing your own headphones because the ones they give you (with a toothbrush in the plastic packet) don't work well.
-About an hour before landing they served a muffin and coffe/tea.
Heathrow to Hamburg
We landed early around 6:45 a.m. local time so we had plenty of time to make our 10:30 a.m. flight to Hamburg. I don't mind a long layover at LHR when flying British Airways because their Terminal 5 (T5) is incredibly designed and has fantastic shops, restaurants, and plane spotting. The only thing I despise is their photography rules/laws. You can't even legally take a picture inside. I got yelled at once for snapping a shot of my departure board with a cell phone camera! The authorities are so afraid of terrorists it's become pathetic.
After we went through security (it took a good 10 minutes), I passed time doing some work by logging on to the airports Wi-Fi using my Boingo account while Natalie went shopping. By the time we got on the plane we were beat. Flight time was just an hour and 10 minutes (463 miles), but we were probably only awake for a quarter of it. I do remember the FAs serving drinks but not food, and I was happy I had my earplugs and mask handy to nap–there was a screaming kid on board.
Hamburg, Germany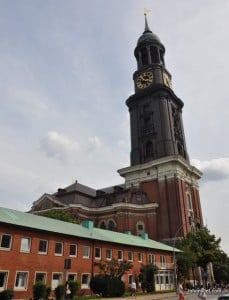 It was my first time visiting Hamburg and I had a fine first impression as there were no immigration forms to fill out or lines to stand in to pass through. The stoic agent just quickly stamped my and everyone else's passports.
Hamburg is located on the River Elbe on the southern point of the Jutland Peninsula–it's directly between Continental Europe and Scandinavia. The North Sea is to its west and the Baltic Sea is to its east. I didn't realize Hamburg is the second-largest city in Germany with over 1.8 million people, but since we were there to go on a preview cruise (Celebrity Silhouette) I wasn't surprised that the port of Hamburg is the fourth-largest port in Europe (behind the ports of Antwerp, Rotterdam, and Cork City), and the eighth largest in the world. Hamburg is a major tourist destination for both domestic and overseas visitors and they received about 7.7 million overnight visitors in 2008.
Airport to City
If I hadn't been on an organized trip that provided a free shuttle for us, I would've either taken the bus or train. On the way back to the airport when we were on our own we took a taxi since it was 5 a.m. and I didn't want to make Natalie schlep her bags so early in the morning. The good news is I know the taxi cost 24 euros ($34) and you can pay by credit card. The bad news is I had to pay 24 euros. BTW: The Hamburg airport has an excellent route planner on their website, so check it out.
East Hamburg Hotel
I figured out pretty quickly that the place to stay in the city is the East Hamburg Hotel (Simon-von-Utrecht-Strasse 31; Tel: +49 (0)40 30 99 30). That's because both Celebrity Cruises and the Hamburg Tourism Board chose it for us and we spent two inconsecutive nights there. The East Hamburg Hotel is in an up-and-coming part of town (it's a block away from the red-light district). BTW: The red-light district wasn't as sketchy as it sounds, and I passed through there a few times. The only things I saw were a bunch of sex shops, peep show theaters, and prostitutes.
The East Hamburg Hotel has 125 rooms and we stayed in three different ones spread out through their building(s). Don't worry, your math is not off! The reason we stayed in three rooms in only two nights is because the last night we were there we had to change rooms–it was Saturday night and the place is popular with loud Germans who like to party, so we switched to a quieter part of the hotel.
Here are my other notes and observations:
-Without a doubt the East Hamburg Hotel is the hip place to stay on weekends. I'm not sure how business travelers will like it, though, because the free wireless is patchy and the pillows are so flat and soft you can't work in bed.
-Rack room rates range from €155 to €850 ($222 to $1,222)
-They have a large jar of jelly candies on the front desk
-To get into your room all you have to do is touch your room key to the door handle.
-All rooms have a king-size bed, desk, telephone, iPod docking station, safe, minibar, shower or oversize bathtub with separate water closet (toilet), and old-school Jetson's looking TV with satellite (on Saturday nights the local channels have some medium-core porn).
-The bed is in the center of room with the desk behind it.
-The Internet worked well in room 225.
-The rooms are on the dark side so older people probably won't like it.
-All the sinks have a funky design which I didn't really like but I loved the toiletries. -The water closet (toilet) is behind a glass frosted door so you can hear everything your partner is doing in there.
-There is a curtain that separates the room and bathroom.
-You can hear the water run in your neighbor's shower.
-The first night I slept like a champ from 11:30 p.m. to 6:15 a.m. Very unusual for me on the first night after a long trip.
-The room's three big glass windows can all be opened a few inches at the top (on an angle) for safety or opened wide.
-All the staff speak English and are very helpful (and attractive, I might add).
-Instead of pulling stuff out of the expensive minibar, walk down to the grocery store (we found a Lidl about 10 minutes away), which sells stuff for cheap. For example a two-liter bottle of Vittel spring water cost 75 eurocents.
-Yakshi's Bar in the hotel lobby is hopping on the weekends and filled with cosmopolites, party seekers, and businesspeople. They have more than 250 drinks to choose from, and when we departed for our early-morning flight at 5 a.m. people were just leaving.
-Breakfast is included in most rates and it's okay. You sit either inside or out but they were really understaffed.
The restaurant (website) in the hotel requires advanced reservations. If you show up Thursday through Saturday without a reservation you can't get a table until 10 p.m. Luckily our organizers were on the ball. The first night we all dined downstairs underneath exposed bricks so it felt like a romantic cave. The bread was just OK, but the rest of the food was good. We started with spicy coconut soup, then I had beef with potatoes and a side salad for my main. The best line of the night came from my vegetarian friend, who said to the waiter, "vegetarians love salad" after he brought those who ordered the vegetarian option just pasta and no side salad.
St. Michaelis Church
Unfortunately, the weather wasn't very nice the four days we were in the area (except for the day we arrived, when we were too exhausted to do any hard-core sightseeing). Actually, the locals we spoke to said it's been the worst summer weather they can remember–cold and rainy. Luckily when we arrived (when the weather was still nice) we decided to walk around the hotel's neighborhood, hit the weekly farmers market (I bought a currywurst to snack on for 3 euros), and go up in St. Michaelis church (website.
St. Michaelis is one of Hamburg's five main Protestant churches and the city's most famous. We had no idea it was the most famous church in the city; we just stumbled upon it. Actually, it's hard to miss with its 132-meter-high baroque spire that is totally covered in copper. The church is a landmark and a prominent feature of Hamburg's skyline. The original church was built in 1647 (completed in 1669), but the current church building is the third one on the site. It's interesting to note that replicas of the original have been built in nine different cities around the world.
From afar we'd seen a bunch of tourists up at the top, so a few of us went inside to inquire how much it costs to go up. It's free to enter the beautiful church, which supposedly can hold up to 2,500 people, but it's 4 euros to go up to the tower. You can either wait in line to take the elevator (max 10 passengers) or walk up the 452 stairs like we did. After climbing the Doumo in Florence I was nervous this would have the same tight, dark, claustrophobic feeling, but it didn't. The stairs weren't too scary and there were solid concrete floors every third or fourth staircase. The total trip up and down took 30 minutes and the views from the top were so worth it.