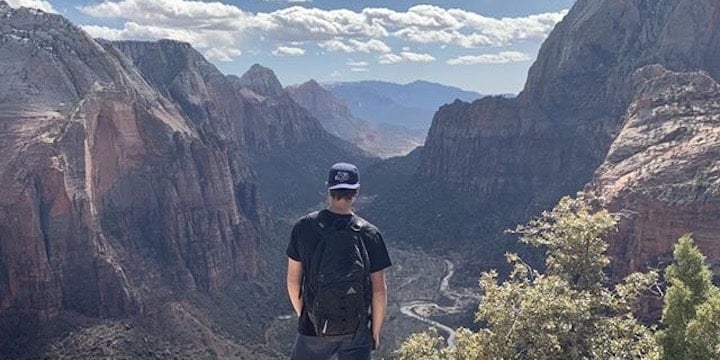 I recently got to spend 32 days living in "the greatest Earth on show"—Kanab, Utah—while doing a work/exchange program at a hostel and also working as a busser at a restaurant. I hiked red rock canyons higher than I had before, met great people, tasted succulent food, spent ample time in local coffee shops, and immersed myself in the culture. It was an unforgettable experience.
If you're looking for a week-long hiatus from the hustle and bustle of the daily 9-5 work day and want to retreat to nature to embark on epic adventures that will leave you without words, Kanab is the place for you. There are plenty of wonderful hikes in and around town and there's no shortage of vistas that leave you in awe on the daily. It's an ideal place for a five- to seven-day road trip.
Hikers, nature-lovers, adventure-seekers, and foodies: Kanab should be on your bucket list.
Where to hike and what not to miss in Kanab
1. White Pocket
Most people have heard of "The Wave," the famous rock formation located in the Northern Coyote Buttes of Arizona on the southern Utah border. It requires a permit to visit. However, there's another rock formation near the Wave that looks exactly like it that offers much more square mileage to meander, and it's called White Pocket.
Visiting White Pocket, you'll think you landed on Mars. Imagine sitting atop an indescribable rock formation with waves and meteor dents surrounding you, and looking out and seeing myriad landscapes, including the authentic sandy desert patched with shrubs, mesas, buttes, and canyons in the distance, and snow-capped mountains even further in the distance. That's White Pocket. And that's why it's special.
Pro tip: If your car doesn't have four-wheel drive, don't even attempt to drive to White Pocket. Keep this in mind when you rent a car, and if you decide to visit, designate the whole day.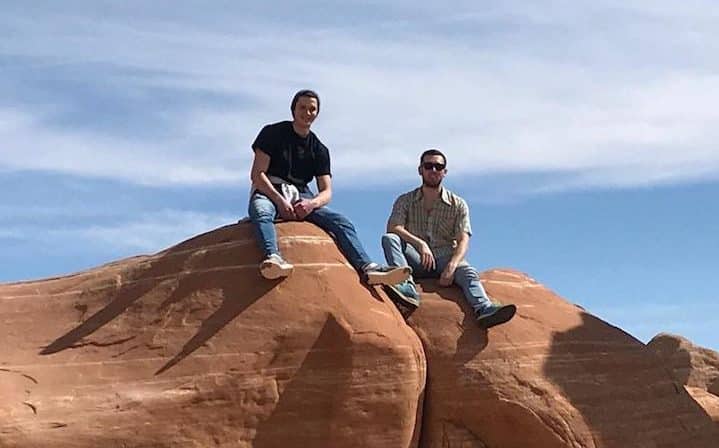 2. Paria Toadstools
The Toadstools hike will leave you bewildered and is a great short trip if you're looking to do two activities in one day. The area surrounding the Toadstools consists of badlands and mountains made of adobe clay, and the Toadstools themselves are rock formations formed by multiple years of erosion. When visiting, you can't help but want to climb the adobe mountains and other rock formations. It's nature's proverbial playground.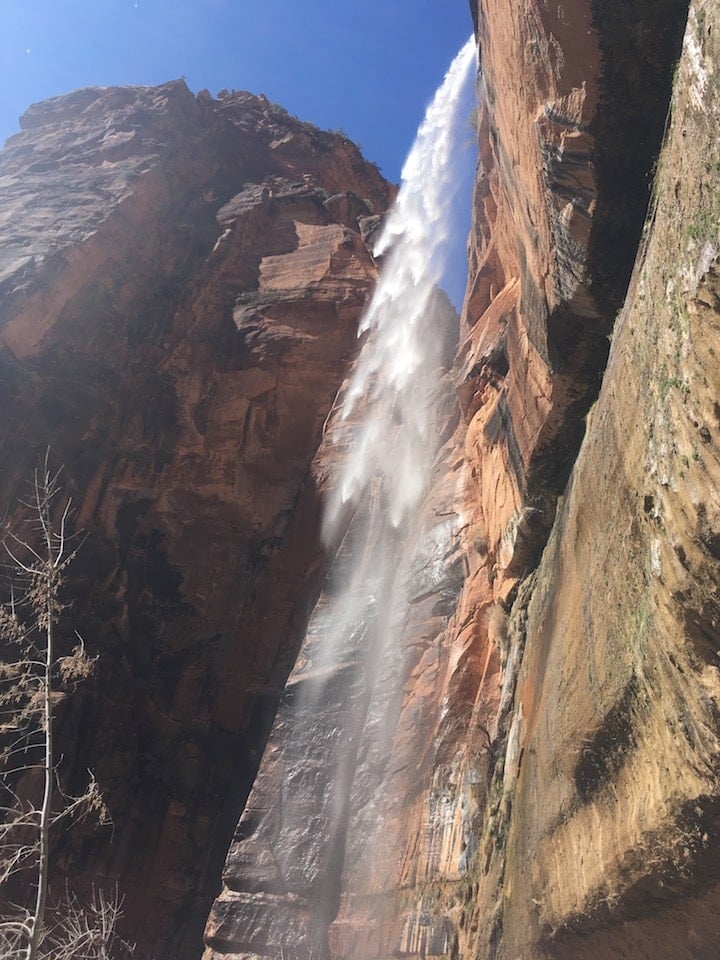 3. Zion National Park
Arriving in Zion National Park is like being dropped into heaven. Lush plants and other vegetation sprout in the middle of the desert and canyons and waterfalls continuously flow throughout the day. From the famous Angel's Landing hike that provides vistas that will leave you speechless and humbled to the trails at lower elevation that culminate in views of a towering waterfall dumping overwhelming flows of water onto the cnayon floor, there's something to do for everyone and you can make the experience your own.
For more information visit the Zion National Park website.
Pro tip: Entrance into Zion is $30 per car. and it's $20 to park at the Visitor Center. If you can, go with a friend that has a National Park pass and sign your name on the second cardholder line. You'll both get in for free after providing ID.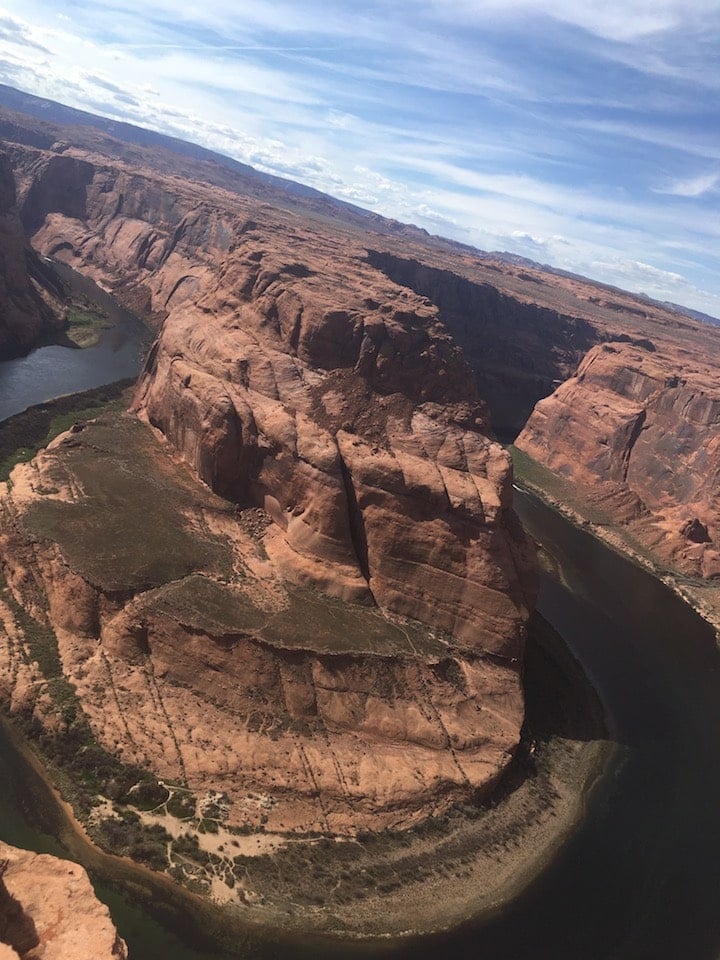 4. Horseshoe Bend
Horseshoe Bend is located in Page, Arizona, off of highway 89, just about one hour from Kanab and 30 minutes from the Toadstools. It's a very easy hike and a wonderful place to spend the evening after expending energy hiking at the Toadstools. Horseshoe Bend derives its name from the horseshoe-shaped incision that it forms in the Colorado River.
Pro tip: Horseshoe Bend is a bit of a tourist trap, and you're heavily encouraged to take a shuttle from a parking lot to the trailhead. To avoid paying the $5 shuttle, walk one mile to the trailhead, or if you go in a group of four as I did, drop two people off at a time.
5. Peekaboo Canyon
Peekaboo Canyon is a slot canyon, which is a canyon that's extremely narrow in width but extremely deep. Slot canyons can sometimes be just three-feet wide and 100-feet deep. Walking through Peekaboo Canyon is fascinating, in part because it's so cool to be able to touch both sides of the red rock while looking up at just a sliver of blue sky. I highly recommend this hike and feel that it gets overlooked because of the surrounding National Parks.
Pro tip: If your car doesn't have four-wheel drive, you can walk to Peekaboo Canyon from the parking lot. It's eight miles roundtrip, so if you walk you should designate a day to it and pack plenty of food and water. I recommend walking down for exercise and to enjoy the view, and then hitchhiking back up with people you meet at the canyon. I did that and had a lot of fun.
Where to eat in Kanab
1. Peekaboo Canyon Wood Fired Kitchen
Peekaboo Canyon Wood Fired Kitchen's food will leave your stomach and tastebuds happy. It's an all-vegan/vegetarian restaurant with awesome pizzas. I love the "Angel's Landing," the margherita, and the "Fuhgeddaboutit," which is topped with numerous cheeses. If you love meat, try the trendy Impossible Burger. It has the look, taste and even texture of a real burger while being completely plant-based and vegan.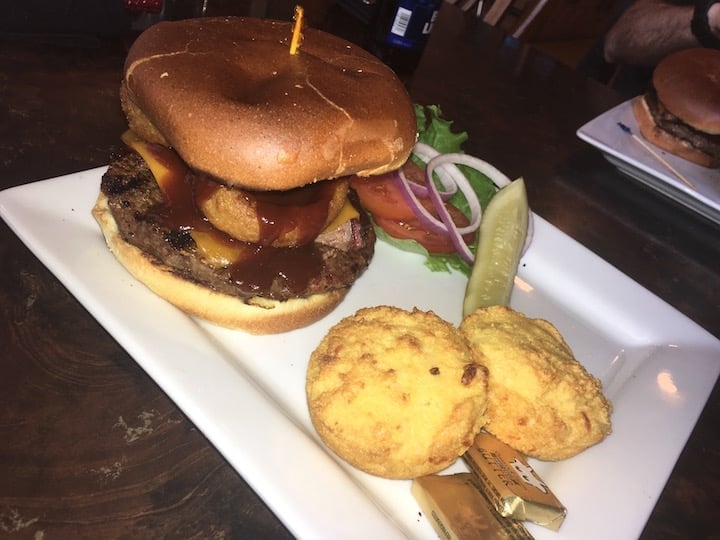 2. The Iron Horse
The Iron Horse is the only bar in town so if you're looking for drinks, go here. If you're looking for a proper southern meal, also go here and order the "Sinatra Burger" with beef between brisket and topped with onion rings, cheddar cheese, and a specialty sauce in a hot and toasty bun. Get biscuits as your side.
Where to get coffee in Kanab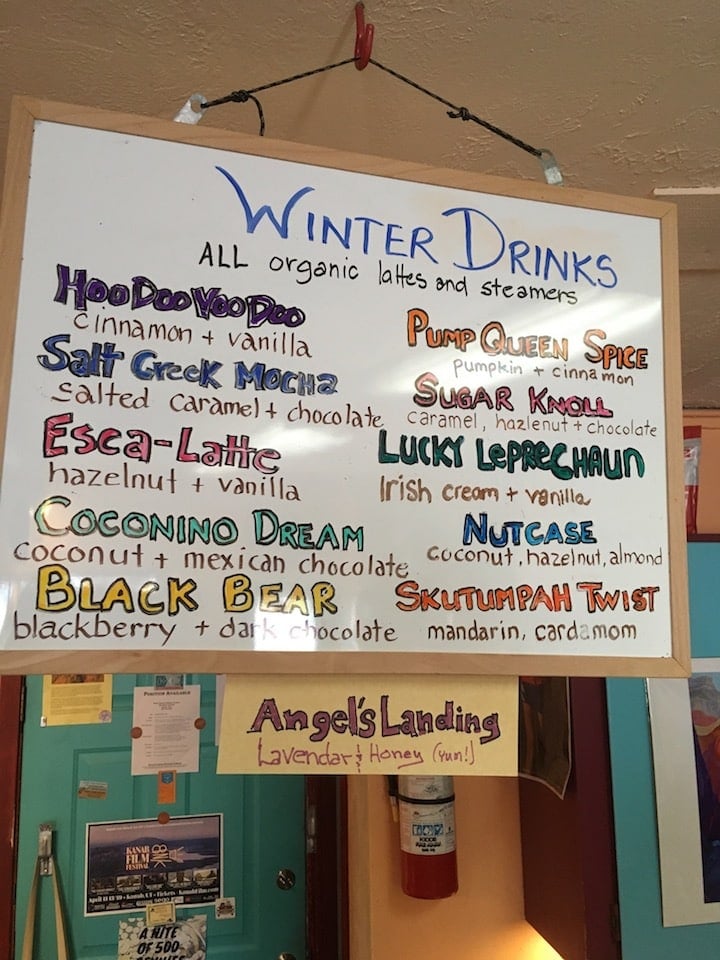 1. Willow Canyon Outdoors
Head to Willow Canyon Outdoor to be greeted with smiles and a serene atmosphere full of explorers and creativity. It's a coffee shop, a book store and an outdoor gear store. Grab a delicious latté, sit back in a chair at a table, grab a book from the extensive library, and enjoy. You won't be rushed at Willow Canyon. You simply pay for your coffee after you've had it. My favorite latté is the "PumpQueen Spice" with pumpkin spice and cinnamon.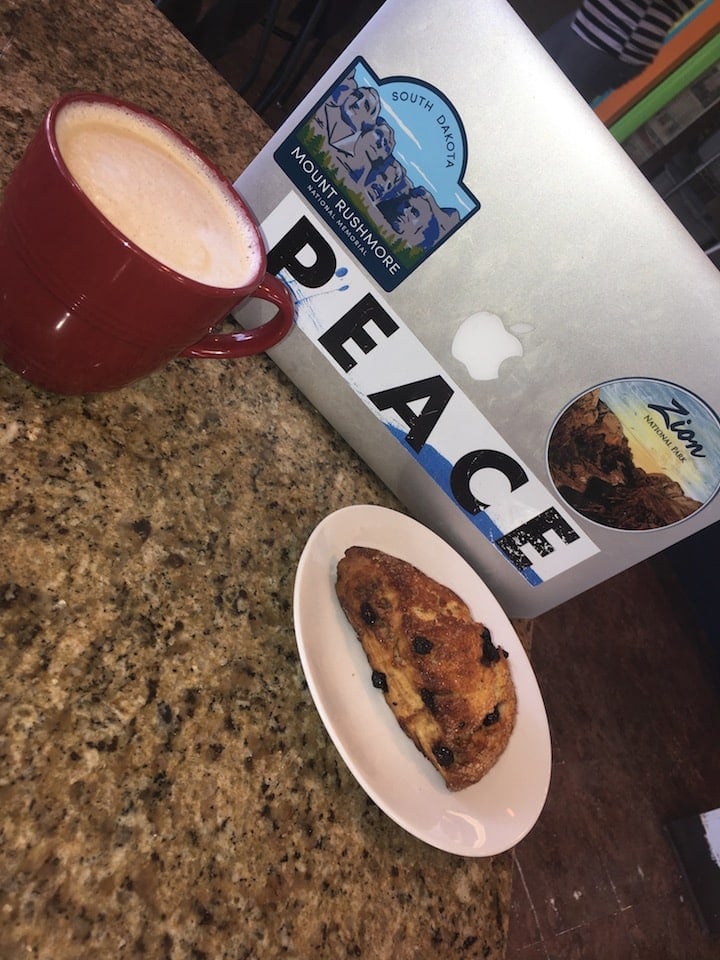 2. Jakey Leigh's Café
Jakey Leigh's Café is the only proper café in Kanab. With an eclectic vibe and myriad hip signs, conversation is encouraged and easily facilitated. Try a vanilla latté in a mug and enjoy a savory homemade blueberry scone heated in the oven.
Getting there: rental car
To get to Kanab, fly into McCarran International Airport in Las Vegas. It's easy to navigate and there are rental car operators at the airport. The ride from Las Vegas to Kanab—about 200 miles—takes three hours.