By: Natasha Conklin James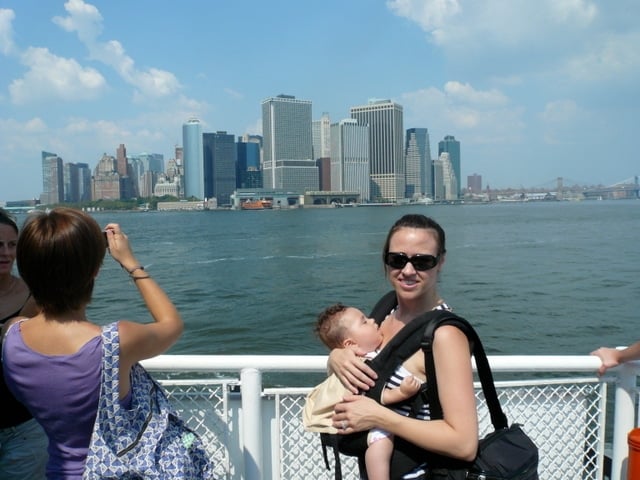 Having lived within the 23 square miles of Manhattan for the better part of the past 10 years, it might surprise you to know that I have not visited many of the spaces and places that make New York such an interesting and exciting destination – both to reside in and to visit. What seems like a good idea in theory (new exhibit at the Guggenheim, for example) always falls by the wayside in the face of daily life (errands) in a bustling city. So, this past weekend, my husband and I decided to make like a tourist (or, an adventurous city dweller) and visit Governors Island. Located off the southernmost tip of Manhattan, the island was once home to the US Army and, more recently, the US Coast Guard, but today the island serves as a lazy destination for city folk and their visitors.
TRAVEL INFORMATION
Because we were running late to catch the noon ferry, we took a taxi from our apartment but public transportation to the terminal couldn't be easier or more convenient. The 1, 4, 5, W, and R trains all spit you out within close proximity to the ferry and, apparently, so do the M1, M6, M9 and M15 buses. Visit mta.info for travel maps and details.
We left from the Manhattan ferry which, at the time of travel, ran every 30 minutes from either side but our friends, who embarked from Brooklyn informed us that their transport departed every 20 minutes. Convenient either way, I would say. The departure times vary by day so check out the schedule at govisland.com.
GETTING THERE: FERRY
Okay, so it's been a long time since I've ventured to the tippy toe of Manhattan and, maybe because it was a weekend, it was bustling with activity. There is some construction at the moment so sidewalks were diverted and signage to the Governors Island Ferry was, at least to the untrained eye, absent. We bumbled around a little bit – bags and blankets and baby in tow – trying to orient ourselves. We ended up heading in the direction of the Staten Island Ferry terminal which, should you find yourself there, is actually pretty nice and modern – the air conditioning was pumping and the staff was quite helpful … in delivering the news that we were not in the right place. Luckily, the GI ferry terminal was right next door so we schlepped over in the oppressive August heat and slipped into the waiting room. Not so modern and definitely more rinky-dink than its Staten Island counterpart. It is basic and clean with a few benches on which to wait and volunteers and various staff members around to help. There are brochures and maps to peruse and, if the shopping bug bites, a little gift store of sorts. So, the wait was pleasant enough.
Once the ferry docks at port, the security detail begins. Passengers queue up and wait to have their bags felt up and inspected with mild interest by the electric-blue-shirted guards before being ushered onto the ferry. If you decide to bring your own bike or a stroller over to the island, you will line up outside in the elements and walk through the building and aboard boat from the exterior entrance.
The ferry itself is what you'd expect – pretty ancient and in need of a good paint job. But seems to be seaworthy enough for a 10-minute, -mile trip across Upper New York Harbor. Not enough outdoor seating or standing room for my taste, particularly given the lack of fresh air within the cabin but you can make do with stagnant air (albeit with an occasional breeze whispering through the crusted windows) given the short duration of the trip. At least the interior benches are plentiful and spacious and, as with anywhere you go in New York, the people watching onboard was commendable.
GREETINGS, GOVENAH'!
Having arrived with no agenda and armed with nary a detail about the island's offerings, we were met by a large map of the island though only a portion of the 172-odd acres are open to the public. Evidently there are many buildings – "historic fortifications" – to see, paths to bike, places to picnic, events to participate in and exhibits to enjoy. So, armed with a checklist of options, we set off to experience the day and see what GI had planned for us.
The entire 92-acre portion of the island, which is designated the National Historic District, is open to the public. And the vast majority of things to do and see are all free – picnics, biking, historic tours, art exhibitions and installations, children's programming, concerts, and performances.
VISITORS CENTER AND TOURS
Maps and trinkets and information is all available at the Visitors Center so it might behoove you to stop in to check out the roster of events and exhibits that are continually happening here. We preferred to discover the island with an element of surprise so we didn't really inquire too much here. But, in case you want to know the exact history of the island and specifically identify all of the houses and buildings on the island, this is the place to go.
There are guided tours – on foot and, from what we saw, in little open-air carts. The walking tour, on such a hot day, piqued our interest but it was the tour carts that caught my eye with a longing (I was sure there had to be a refreshing breeze on that thing) – though passing – gaze. So, I wish I could personally reference something I learned on the tour but the truth is, we never made it past the bus stop. We just didn't want to pile on the cart (bus?) with the baby and all our gear. But for those of you who are interested, they do have tours. Among them, a free 90-minute walking tour led by park rangers. Can't beat that, though it's first-come, first-serve so stop by the Battery Maritime Building as of 9am for your (free!) ticket.
BIKES
Since cars are generally limited to staff transportation, the best way to see the island is by bike, but because we arrived toting our six-month old daughter, this wasn't entirely practical, if for no other reason than the blazing sun and high humidity. Alas, friends of ours who arrived via the Brooklyn ferry did the legwork – literally – for us. The island features over five miles of roads, reserved for bikes and pedestrians, including a 2.2-mile Great Promenade that lingers along the waterfront for gorgeous skyline views. Along the way, the island is peppered with art installations and performance artists (some of which we, too, enjoyed) as well as a few food vendors for those of us who arrived unprepared.
BICYCLE RENTALS
If you don't have a bike, there is a rental location steps away from the ferry docks. Couldn't be easier and though we didn't take advantage of it, you can rent wagons/child seats for your precious cargo. Visit Bikeandroll.com for reservations/information. TIP: Should you find yourself with nothing to do on an upcoming Friday, head on over to GI for Free Bike Fridays when you can rent wheels for up to an hour, entirely for free.
BEACH
It was too crowded for the likes of these Zen-seekers but there is a beach for those in need of a sand fix. Water Taxi Beach Governors Island just may be the bustling hub of the island, with a spattering of events scheduled throughout the warm months. During the day it is reserved for sun worshippers and sand sports (beach volleyball and basketball among them) but by night it is a great venue for live outdoor entertainment (the B-52s are on the upcoming schedule). Food is also available at the beach "restaurants" but from the looks of it, there were a lot of hot dogs on view so take that for what it's worth. I will say that being a vegetarian, I always scan vendor offerings to see what, if anything, these types of places offer and surprisingly, though slightly random, they do offer soy dogs and vegan potato salad. Thank you but no thank you.
SPECIAL PROGRAMMING
Truth be told, we were too lethargic from the heat to venture far off of our picnic blankets once we were perfectly situated to partake in the offerings but they really have some neat things to experience. In recent weeks they have hosted a Civil War Weekend, Judy Collins, free art classes for the kids and, something called Plot/09, which was particularly well advertised around the island and entails the commission and installation of projects by over 20 international artists. Very cool, I say!
Alas! We come to the main event of our outing. Yes, we did walk by and through some of the Victorian-era former homes and gawk at Castle Williams and Fort Jay (combined, they make up the big historical draw to the island) but, ultimately, we found our bliss under a beautiful old maple tree on a sprawling plot of lawn. The most remarkable thing about Governors Island is that it is really quite quiet. There were families picnicking nearby, couples playing racquetball-type games, bikes meandering along but, blissfully, we could hear the leaves rustling in the wind, boats passing in the harbor and the birds chirping overhead. These things may not mean much to an out-of-towner but to New Yorkers, we are used to horns and brakes and bustle. This is the Red Delicious of the Big Apple, to be sure. Suffice it to say we let the afternoon get away from us just laying about on a blanket, observing the scenery (and people watching) around us. You know you've been in the city too long when your young daughter can sit for hours, fascinated by the grass and trees and birds. Clearly, this was cathartic for all of us …
FOOD CARTS
Now, if you knew my husband and me, you would know we like to eat. We generally don't pass up an opportunity to grab a bite to eat (though I have been accused of being particularly picky about what I will try) and this day was no exception. We arrived on the island with only some bottled water and cheerios (for our daughter), so we were on the prowl for victuals. Luckily, we spied Veronica's Kitchen cart just down the path from the ferry. This particular vendor was offering Jamaican flavors – curries and jerk and roti of various flavors. My husband, Michael, loves cuisine such as this so we didn't look much further for something else to eat (and, truth be told, there wasn't another cart within eyesight). At $6 each, Michael came back to our picnic spot toting a curry chicken roti for himself and a veggie roti for me. I am not sure what I expected from the solitary food stop within our vicinity but it was pretty good for the price and portion size. The roti, though flavorful, was a bit dry for my taste however that didn't seem to stop me from consuming it with gusto. Friends of ours, who met us on the island, sampled the jerk chicken and gave it positive reviews, too. Veronica's Kitchen had a ton of side dishes, desserts, and the standard vendor drinks so we were well hydrated and fully sated by the end of the experience.
HISTORY
First inhabited by the Native Americans and known as Pagganck ('Nut Island'), the island was purchased in 1637 by a Dutch representative for two ax heads, a string of beads, and a handful of nails. Renamed Noten Eymant ('Nutten Island'), it was quickly taken over by the Dutch Government then, in 1664, was snatched by the British and lived in nationality limbo until several years later. As of 1674, Governors Island was considered British territory, despite efforts by George Washington and his cronies to take hold of it during the Revolutionary War. Eventually the Americans were back and, to keep their hold on the island and surrounding waters, built Fort Jay and Castle Williams as imposing coastal defenders. The army made the island its eastern headquarters in 1878, thus ensuring a certain amount of prestige for those who made it their home. The army presence was relinquished to the Coast Guard in the mid-1960s and was, for a time, their largest base in the country. Alas, after a long, illustrious career in the military, Governors Island was retired from active duty in 1996.
HISTORICAL HIGHLIGHTS
Saved from demolition at the turn of the century by Secretary of War, Elihu Root, Castle Williams served as a (crowded) prison for Confederate prisoners.
Wilbur Wright took off from Governors Island on what would become the first successful flight over water, circling the Statue of Liberty, in 1909.
By 1912, Governors Island had grown by 103 acres, thanks to excavated land, which originated from the Lexington Avenue Subway line, creating land on which to add a modest railroad to the island.
President Reagan came here in 1986 to celebrate the relighting of the Statue of Liberty and returned to the island in 1988, playing host for a final time to Mikhail Gorbachev.
In 2001 Governors Island National Monument was established to preserve the many historic structures and the land upon which they sit. In addition to all that is here already, there is a plan to enhance and add public and park spaces to this urban gem.
FINE PRINT
Governors Island is open every Friday, Saturday, and Sunday from May 30th through October 11. Hours of operation on Fridays are 10am to 5pm and 10am to 7pm on Saturdays and Sundays.
RULES AND REGULATIONS
There's a party-pooper in every crowd and the GI heavies are no exception. While they seem to welcome picnics and family gatherings, they prohibit pets, alcohol, controlled substances and, luckily, weapons and explosives. Forget about cooking, too, and though I cannot imagine why you would want to anyhow, leave the bathing suits behind because there will be no swimming in New York Harbor. Other than that, rules are pretty lenient: bicycling and fishing are permitted but they are limited to designated areas of the island and the bounty of fish you might pull from the murky waters must return to whence they came.
In the late afternoon, we packed up our blankets and set off in the direction of the ferry at Soissons Dock, stopping along the route to admire the amazing views all around us. Truly, I think there may be no better vantage point to admire lower Manhattan. You can see the Manhattan and Brooklyn Bridges to the east and, though you'd think we'd all be sick of it, the magnificent Statue of Liberty to the west. It really is something to see all of the boat sailing and motoring by Lady Liberty and skirting along the shores of the harbor. We appreciatively lapped up the scenery in the few remaining minutes we had on the island then boarded the Samuel S. Coursen (named, incidentally, after a 24-year-old army lieutenant who was killed in South Korea in 1950 and posthumously awarded a Medal of Honor citation for bravery) to prepare for the voyage home. Our daughter, realizing that we had squeezed all of the enjoyment we were going to get from the day, promptly tilted her head, closed her eyes, and set sail into dreamland.