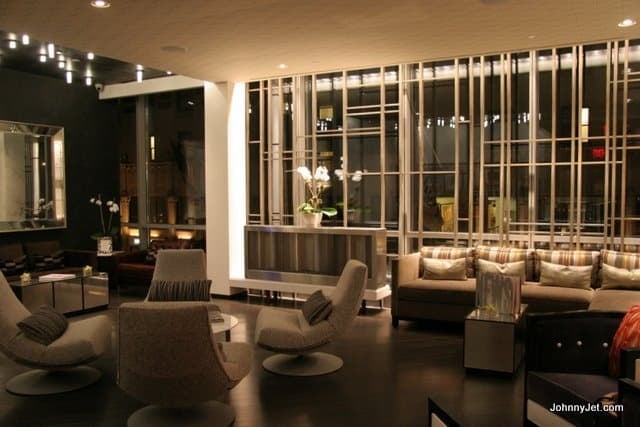 Smack in the middle of everything two girls in a Manhattan mood could ever want, Hyatt's 48 Lex is just the place to kickback between shopping.  Like a perfect espresso, 48 Lex is energetic chic served in a stylish cup.
Check-in is just a taste of the cool to come.  There's no check-in counter or line to stand, no forms or index cards. Instead, we're greeted by a sharply-dressed 48 Lex host toting a lap-top with all our 411– including our dinner reservation– ready for me to verify and we're swiftly on our way to the room.  Is this what they mean by a "New York minute"?
Our room has super-high floor-to-ceiling windows overlooking Lexington Avenue, and a soothing, contemporary palette of browns, grays, whites and dark wood punctuated by unexpected bursts of ruby.  It's sleek on the eyes, put-your-feet-up comfy at the same time.  Each of these 116 newly-completed rooms is conveniently-equipped with a snappy kitchenette with microwave and dishwasher, and a fully stocked minibar with healthy drinks and snacks, like Voss and coconut water.  After a packed day side walking miles of Manhattan with my daughter, we flip a coin on who gets to use the crisply-appointed oversized bathroom with (ahhh!) a rainfall shower first.
Our plan for tonight is to stay "home," and relax and recount our hyper-paced day over dinner downstairs at Lexington Brass, that is, 48 Lex's hip American Brasserie.  We relax over Chef Franklin Becker's delicious twists on familiar concoctions like roasted sea bass, truffle fries, sautéed mushrooms and delicious tuna tartar tacos.
Apart from the design and fantastic food, the real draw here is the sophisticated but relaxed vibe.  Before tucking ourselves in for the night, we stop by the second-floor Lexicon lounge, an exclusive "living room" just for hotel guests, who read, eat or just hang out on its comfy sofas and arm chairs, sipping cappuccinos in the morning and cocktails at night– living a mini-vacation at the end of a busy day. ~ Elina Fuhrman