We think there's nothing more fun than shopping for kids during the holiday season! Who doesn't love channeling their inner child when buying cute clothes and toys you know the little ones on your list will love? To jumpstart your holiday shopping, here's a list of our favorite gifts for kids who love to travel.
Cubcoats
A toy you can wear? Yep, that's what Cubcoats are! The adorable stuffed animal toys covert into a hoodie, puffer vest or puffer jacket. It's the perfect thing for kids to bring along on any trip. As a stuffed animal, Cubcoats are a travel companion (and can also be used as a pillow on an airplane or on a long road trip) and of course, will keep your little one warm in a flash. There are lots of fun options to choose from, like Kali The Kitty Zip-Up Hoodie (pictured above), Pimm The Puppy Zip-Up Hoodie, Disney Minnie Mouse Zip-Up Hoodie and so many more.
Toy Globe
What better way to pretend to travel the globe than with an actual globe? The VTech Light and Flight Discovery Globe allows kids to travel to new countries using the interactive joystick. Explore continents, meet new people and animals and learn how to say phrases in several new languages. Prepare your little explorer for the adventure ahead with this educational globe.
Personalized Kids Backpack
These adorable backpacks are perfect for little ones on the go. Maybe they'll even be excited to carry their own bag through security! Choose from many different patterns like airplanes, penguins, koalas and a space-themed bag (pictured above). For smaller kids, there are tiny backpacks and drawstring bags, too.
World Alphabet Canvas Wall Art
It's never too soon for your little one to discover the world or dream of far-off lands. With this beautifully designed wall canvas, your little one can learn the alphabet with a worldly twist. Each tile features playful landmarks from each destination, dressed in a unique style. A is for apple? Please. With this beautiful piece, A is for Agra, India.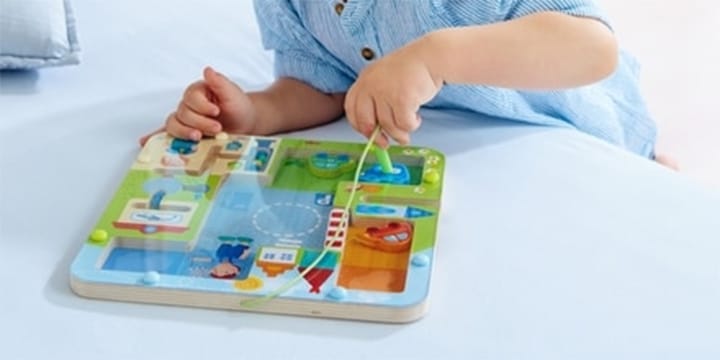 Magnetic Game on the Road
Pique your child's road trip curiosity with Magnetic Game On The Road. Using a magnetic wand, kids guide cars around a colorful map, where they encounter challenges that will help develop their fine motor skills, problem-solving and storytelling. Kids will love this gift for its engaging play, and parents will love it for its developmental qualities.
Jetkids by Stokke Bedbox 19-Inch Ride-On Carry-On Suitcase
Imagine a suitcase that can hold all your child's essentials, that they can ride on at the airport AND become a leg rest to transform any coach seat into a comfy oasis? Well, you don't need to imagine, because the Jetkids by Stokke Bedbox has all these features and more. What sets it apart is the clever way the top rotates to provide a flat surface. Set it against the seat in-flight and you have a footrest to keep your little one comfy at 30,000ft!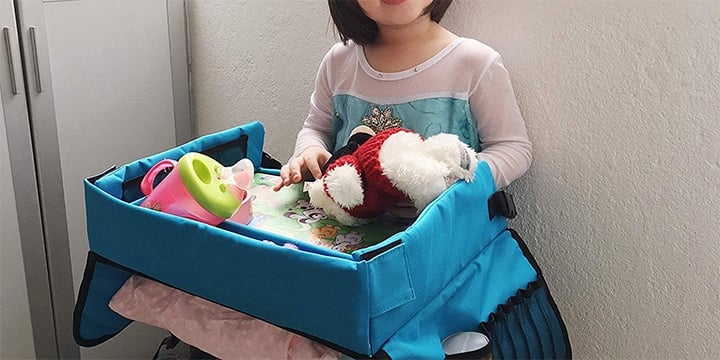 Portable Kids Travel Tray
Traveling with kids can be a challenge. Keeping your child entertained and engaged during a flight or road trip isn't always easy. The Kids Travel Tray organizes all of your little one's toys, markers and electronics into one tray. Just unfold it and strap it to the tray table. When you arrive at your destination, just fold it up and put it all in its convenient storage bag.
Airport (Usborne Sticker Books)
Spark your little one's imagination with a sticker book featuring a place most travelers are intimately familiar with: the airport. This vibrant book of stickers will familiarize your little one with airports, from check-in and security to boarding and takeoff. They'll also learn about various types of airplanes and vehicles. And, what kid doesn't love stickers? It's the perfect activity for kids, whether they're traveling or at home awaiting their next adventure.
Kids Travel Journal
Engage your little one's love of travel with this colorful interactive journal. Aspiring world travelers will love marking down things they saw, where they stayed and what they had to eat. Every curious kid will love taking note of the things that make new destinations special. Parents will love watching their little ones immerse themselves in a new place.
Alex DIY Loopies
The Alex Loopies Yarn Kit is fun and easy to put together to help your child make their own stuffed panda. The kit provides everything you need except for scissors. It includes a pre-sewn stuff plush, felt shapes, yarn and crochet hook. Follow the instructions, and you will have an adorable stuffed animal your kid can be proud that they made. It makes a great activity when kids are on the road.
Away Kids Carry-On
What is the perfect complement to your Away Carry-on bag? One for your little ones! Away has designed their Carry-On hard-sided roller bag down to child-sized dimensions. With a handle that perfectly conforms to your child's height, this bag is light enough to be pulled easily and strong enough to take whatever the road (or your child!) throws at it. Plus, how cute would it be to have matching bags with your little one?