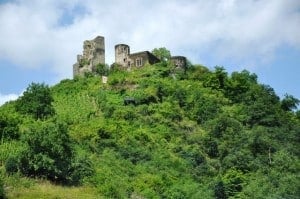 Guten tag from Germany! This week we travel by train along the Mosel River to Frankfurt, to stay at a newly remodeled airport hotel that's so conveniently located, not only to catch an early flight but to go downtown as well. From there, we board a Turkish Airlines 737-800 plane to Istanbul to get ready for a week long Aegean Cruise on Seabourn's newest ship, The Odyssey. How exciting is that?
MEDIA ALERT
Before we get started, I want to share with you some of our recent press. First of all, this month I was quoted in Association News Magazine (a popular trade publication). Secondly, my first column for LAX Magazine was featured (page 20); it's a review of Air New Zealand's service to the Cook Islands. In addition, I was Steve Perillo's (from Perillo Tours) first guest on his new weekly webcast, which was taped in New York City. What's funny is that I thought it was a radio interview since it was recorded at WABC studios and I showed up all ragged (as you will see on the video). While on the subject of radio, one of the most popular interviews I've done was an hour-long interview with Rick Steves that aired nationwide on NPR and can be found on Odeo.com. Hope you learn some tricks and please keep me in mind as a source for any of your travel stories.
LUXEMBOURG
If you're following me on Twitter or Facebook, then you knew I just spent a month in Europe, traveling around seven different countries, enjoying amazing hospitality and weather. In the interest of getting my Seabourn Odyssey review out as soon as possible (since the ship is brand new and everyone wants to get the inside scoop), I'm going to fast-forward through a few of the destinations. However, I promise to come back and write in full detail about my stays in France, Luxembourg and England in due time. Therefore, we begin at the Luxembourg train station as I board a train to Frankfurt.
GETTING TO ISTANBUL
I signed up to do a weeklong cruise, departing from Istanbul. Like a good traveler, I planned on arriving into the port city two days earlier so that a) there was no chance of me missing the cruise and b) I could enjoy one of the world's most fascinating cities. Luxembourg is centrally located and I could have flown out of a number of major airports including: AMS (Amsterdam), BRU (Brussels), (CGN) Cologne or (CDG) Paris. But I was looking for the one with the cheapest nonstop flight. The most convenient would have been from Paris, since there's a high-speed train (TGV) connecting the two cities in just two hours. But flying out of there was twice the price of the other options. After pricing out all my options using the search engines on our AirlineNumbers.com and JohnnyJet.com websites, I found the cheapest fare to be out of Frankfurt (FRA) on Turkish Airlines for $220.
TRAIN TO FRANKFURT
Getting to Frankfurt from Luxembourg is pretty easy since trains leave every couple of hours and they are not expensive at all. My one-way ticket cost just 29 euros ($41). I sat in economy but the seats were way better than any domestic first class airline seat. The dated car was impeccably clean with plenty of legroom and it was quiet. FYI: A couple of seats in the middle section had access to power outlets on the wall so if you plan on charging batteries, find out which seats have them. Helpful websites for train travel in Europe are Seat61.com and RailEurope.com.
DEAL ALERT: Check out these special deals from Rail Europe.
LUXEMBOURG TO FRANKFURT
My train left Luxembourg three minutes late (that's unusual) at 10:27am. We made six stops on the two-hour ride to Koblenz, which is where I needed to get off and make a transfer. It took longer than I thought it would to get to the German border as we crossed it at 10:58am. You would never know unless you were staring out the window, looking for the flags on various houses and buildings to change colors. Actually, there wasn't a lot of patriotism in either country but I spotted Luxembourg's border gatehouse that was used before the European Union was created.
TIP: I don't know about you but train travel just makes me sleepy so I set my cell phone alarm just to make sure I wouldn't miss the stop in Koblenz for my connection.
AMAZING SCENERY

But the scenery was so amazing there was no chance I was going to fall asleep. Oh my God – almost the whole ride was along the Mosel River and there was just one amazing castle after another. Seriously, the vistas were so spectacular that I was sweating from turning my head and snapping pictures so much. In fact, the Germans all around me were getting annoyed since they were tying to sleep and they just kept hearing the shutter on my camera go "click, click, click." And "bang, bang, bang" as the rocking motion kept knocking my lens against the window. At one point, I had to force myself to just not look out the window because I was taking so many pictures and sitting backwards was making me a bit queasy. Next time, I will be in one of the many barges or river cruises I passed so I'll be going 4mph instead of 120mph. BTW: The best-looking place that I could tell was Cochem, Germany. It looked like a fairytale, as did most of the other little villages along the Mosel with their castles, vineyards and campgrounds.
TRAIN AMENITIES
All the trains have food and bathrooms. They also have luggage racks. You will notice that pretty much all the Europeans on board travel with very little luggage while the Americans seem to bring multiple suitcases the size of dressers. The larger pieces go on the luggage racks in the front and rear of each car; just keep an eye on them. The smaller carry-ons can be placed right above your seat on the overhead rack. Always have your ticket handy because the conductor came around a couple of times to check tickets.
KOBLENZ
We arrived a minute or two late into Koblenz and I had to hustle with the other passengers to make the tight connection; it was just a 12-minute layover. Because I was in a hurry, I didn't bother looking or waiting for an elevator so I just lugged my oversized bag down a flight of stairs and then up an escalator to get to the other track. From the platform and train, Koblenz just looked like a big industrial city. Since I didn't have time to grab a sandwich from one of the station concession stands, I plopped a euro coin in the trackside vending machine and bought some local chocolate. Yum!
KOBLENZ TO FRANKFURT
The train departed Koblenz right on time at 12:48pm. This ride was just an hour and 20 minutes and we made only one stop. Just like the previous leg, the views were just as amazing, if not more so. At 1:12pm, we made a turn and I saw four castles in one view. I just kept shaking my head thinking, "Are you for real, Germany?" I had no idea it was this outrageously beautiful. At one point I felt like I had died and gone to heaven when a speedboat cruised by, filled with topless women. Oh my. I just waved like I was Forrest Gump. But a minute later, a Goth, Marilyn Manson-looking German groupie girl walked by with her pale white skin, black lipstick and a fish hook sticking out of her mouth. That brought me back down to earth when I smelled her stinky body odor.
FYI: Train announcements were made in both German and a heavy, thick English accent. Note to self: I passed a really nice looking NH Hotel in Bingen, Germany. Make sure to put that one on your list.
FRANKFURT AIPORT
I was stoked to learn that the train was making a stop at the airport before ending up downtown. I thought for sure I was going to need to take either a local train or a taxi to get to the airport so when we arrived at the Frankfurt International Airport, it couldn't have been any sweeter. Since I arrived earlier than expected, and it was so easy to get to the hotel, it was almost too good to be true. Right outside the train doors were free luggage carts. TIP: Use antibacterial wipes to take all the germs off the handle and use another fresh one to wipe down your hotel room remotes, handles and switches. An elevator was 10 feet away so I took it up to the departures level. From there, I asked one of the many "Help Me" airport workers to point me in the direction of the Sheraton Hotel. The young woman, who spoke better English than me (not that difficult), said it was right down the hall to the left. It turned out to be a 100-yard walk before I found myself in the lobby.
SHERATON FRANKFURT HOTEL
There was no line to check in and the receptionist wasn't that friendly at first but she warmed up after I buttered her up. It wasn't that difficult. I just smiled, asked her how her day was going and was nice. I later learned that Americans are their number one client, followed by the British and the Germans. In fact, I saw a lot of Americans and not just businessmen in the elevator and lobby — most of them had families, but I'm sure that will change once school starts up again. The average length of a stay here is just one night – just like my stay.
MY ROOM
The hotel is huge! It has 1,008 guest rooms, 60 banquet rooms, a couple of bars and two good looking restaurants – one serving typical German specialties in a rustic, cozy atmosphere called the Taverne and the other, your usual international culinary fare. My room was pretty much perfect since it was clean and had everything I needed including a bed and sheets that were so cozy I just wanted to relax and watch TV on the big flat screen plasma TV. But I had a ton of emails to tend to, so I got up and logged on to their expensive Internet (8 euros for one hour or 18 euros for 24 hours), sitting at the stylish and comfortable desk. My view was of the new Hilton being built next door so it wasn't pretty but there was a tiny peephole to see the buildings of Frankfurt City Center, which was 7.5 miles (12.0 km) away. Watching the sun set and rise over them was remarkable.
HOTEL DETAILS
The room windows were double-paned thick glass, built solid so you couldn't hear any outside noise. Other hotel amenities include a business center, small spa, large workout facility, neither of which I was able to visit. Restricted rates begin at 150 euros a night. Sheraton Frankfurt Hotel & Towers, Conference Center, Hugo-Eckener-Ring 15, Rhein Main Airport, Frankfurt, Germany, Tel: 49-69-69770.
AIRPORT TO CITY CENTER
I almost stayed in my room to work and rest but I received a Facebook message from a friend saying, "I hope you're not just going to stay in your room all night." I realized she was right and that I needed to rally and make a quick trip to downtown and explore. After all, I hadn't been there in 11 years. I was glad I did because it couldn't have been any easier to get there. There's a train station below the airport and trains were departing every 20 minutes for the 15-minute ride. FYI: It costs 3.70 euros and you can buy your ticket from a machine before getting on. They don't sell them on the train and no one checked them but if they do and you don't have one, you'll get an on-the-spot fine.
FRANKFURT
Without a doubt, I'm going to need to come back and do a whole story on Frankfurt because there's so much to see. Without going into any real detail, most of Frankfurt was destroyed in WWII. Today, it's a huge financial city. It has the world's third-largest stock and foreign exchange market. The skyline has definitely changed since the last time I was here, particularly with the impressive Commerzbank, which is now the tallest (260 meters/850 feet) building in Europe. When I arrived, I just walked straight out of the train station and followed the non-sketchy crowd. I don't know what it is about train stations but around the world (including in the U.S.), they always seem to attract a scary mélange of either homeless or drunks. Here too.
SIGHTSEEING

I walked a lot without a map or any particular destination in mind. The highlight was stumbling upon a street fair, followed by Zeil Street, which is Frankfurt's most popular shopping area with a bunch of modern buildings including Galeria Kaufhof (a huge mall). Seeing them juxtaposed against a backdrop of historic buildings and churches is really something. Also memorable were the wild rabbits just grazing the grass as pedestrians walked by. The memories started flowing when I reached Römerplatz, a large square in the touristy part of town that has half-timbered buildings, which are true copies of the originals.
MY MOM
I remembered coming here with my mom in 1998 and then taking the short walk, which I did again, to the Main River. The area is called Museumsufer, which translates to the Museum Embankment since there are so many museums along there. There are also restaurants and cafes. I walked and walked, crisscrossing the same pedestrian bridges my mom and I did a decade ago. It really made me miss her.
BACK TO THE STATION
On the way back, I asked a well-dressed woman which way the train station was and she started giving me directions but when she realized it was a little confusing and I wasn't a freak, she said, "Actually, that's where I'm going so you can walk with me." We had a nice chat learning about each other's lives on the 20-minute jaunt. It's moments like this that, for me, represent the best part of travel.
PRACTICE RUN
Since my hotel was connected to the airport, I decided to do a practice run the night before so I wouldn't get lost in the morning, trying to find Turkish Airlines. It turned out to be a three-minute walk and it was so close, I could have thrown a rock to the check-in counter from my room. (I have a strong arm.)
TURKISH AIRLINES
For starters, I was going to write that Turkish Airlines has to have one of the absolute worst websites. But it appears that in the last few weeks, they have updated it with a much nicer looking and better functioning one — so kudos to them. Hopefully, with this one, passengers can bring up their reservation online and arrange a seat assignment.
CHECK-IN
I left the hotel at 6am for my 7:25am flight. It was a three-minute walk to Turkish Airlines and the airport was relatively quiet. The check-in line for coach was fairly long but I went to the business class line where there was no wait, since I have elite status with USAir – one of Turkish Airlines' partners in the Star Alliance. Thanks to a friend, they upgraded my coach ticket to business class. Don't get too excited because business class on Turkish and other European carriers for intra-Europe flights is nothing special. In fact, it's the same exact seat with the only difference being they block the middle seat and provide better service.
SECURITY
There was no separate line for first class or elite status passengers at security and I waited just seven minutes to clear. It was well organized as they have a guy pushing the oversized bins to keep people moving. Passengers can keep their shoes on but need to take laptops out. They waved me to go through the metal detector but I waited until I saw my bag and tray go into the machine so no one would steal anything. What's crazy is that in Germany, they even make you put your passport and boarding pass through the x-ray machine. Since Turkey is not part of the European Union, I had to go through passport control to get my passport stamped. There was no line and the agent was friendly.
BUSINESS CLASS LOUNGE
With my business class ticket, I was granted entry to the lounge, which is run by Lufthansa. Lufthansa is using a makeshift lounge while the regular one is being remodeled. It was loaded with free drinks, snacks, newspapers and some food. I thought it was weird that they had soup (beef broth) so early in the morning but I was starving so I had some. I later learned they offer it because Turks like to have hot soup for breakfast. You see that? There's always a reason for everything!
BOARDING
The gate (B27) was just a few yards away and when they were boarding the Boeing 737-800 series plane with small bins, it was a mad rush. They don't have priority boarding or any order – they just announce boarding and everyone just tries to get on the plane from every possible angle.
FRANKFURT TO ISTANBUL
Once in my seat, a flight attendant came around with water, orange juice (it's not freshly squeezed) and champagne. He wasn't as friendly as the one in their TV commercial featuring Kevin Costner but he came by three times before takeoff. Also unlike the commercial, the captain came down the aisle to say good morning to everyone in the premium section – a nice touch. The plane was outfitted with nice, new-looking leather seats and they had a tray on the middle seats (the plane is configured 3-3). Flight time from Frankfurt (FRA) to Istanbul (IST) was three hours and 30 minutes for the 1,160-mile journey. The safety video was in both Turkish and English and shortly after takeoff, breakfast was served. The main entrée choices were either potato pockets with cheese and spinach or an omelet with tomatoes. It was pretty tasty and the flight was smooth.
NEXT WEEK
Next week I can't tell you how excited I am to be heading to a country I've never been to and have always wanted to visit. I will tell you all about it next week so stay tuned!
Web Resources