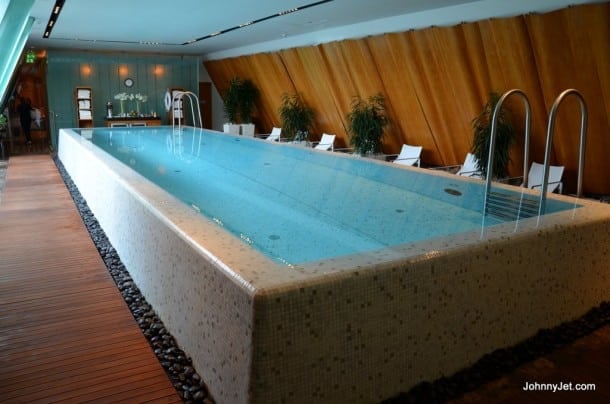 When I arrived in Budapest, I was worried I might have contracted malaria because I had just come in from Africa and had developed a fever. I wasn't even staying at the Four Seasons but a couple of friends, (Stacy Small and Laura Fairweather) informed the Four Seasons Hotel Gresham Palace to contact me to help assist me in finding a doctor. They were a big help as well as MedJet Assist and the Sofitel Budapest. It turns out I felt much better a day later and my fever broke so I stopped worrying about malaria.
However, Veronika, The Four Seasons PR person, was kind enough to offer me a room to rest but since I was comfortable in my Scenic Cruises bed, I declined but said I was available to check out their spa. She said come on over and that's exactly what I did.

It was a picturesque 20-minute walk from the 'space ship' to the hotel, which included crossing over the famous Chain Bridge. Even if you aren't staying at the Four Seasons, I suggest you walk into the lobby, as it's jaw-droppingly beautiful. And my 50-minute spa treatment with a Hungarian therapist named Eva was just what the doctor ordered. She had the smoothest hands I've ever felt and she was strong.
I loved the marble floors and the fact that she took off her shoes so there was no squeaking. I enjoyed the music (picture of the CD is shown below in photo gallery). All of it was amazing and I hope you get to experience it one day.
Thank you Veronika for setting it up! Pictures are below.