This post is the second in Melissa Curtin's recount of her Ibiza and Formentera adventure. Check out the first post here.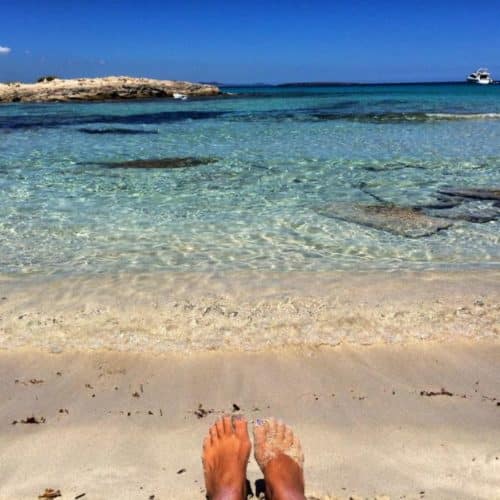 Honestly, I'd never thought about going to Ibiza. It was never on my list of places to go. The whole club scene, for an older girl, didn't seem appealing. I wasn't going to fly halfway around the world for debauchery that I can get right here in Hollywood. Yet as I discussed in my earlier post on Ibiza, after returning, I'm beyond surprised that this place could not have been on my radar. Ibiza and its tiny quiet sister island Formentera—the subject of my post below—were splendid, in a way never presented to me before in all my years of travel.
The Balearic island Formentera is a gem. I had visions of Block Island, Shelter Island, Montauk, and various other parts of the Connecticut/Long Island east coast where I grew up, come to mind while exploring this little land, which is shaped like a short boot with a peninsular spike coming out of its top. The way the land curves and lays flat, the scruffy landscapes, the low bushes, the smell of beach flowers, the quaintness, the quiet, the never-ending beaches and coves—they're all hard to find these days.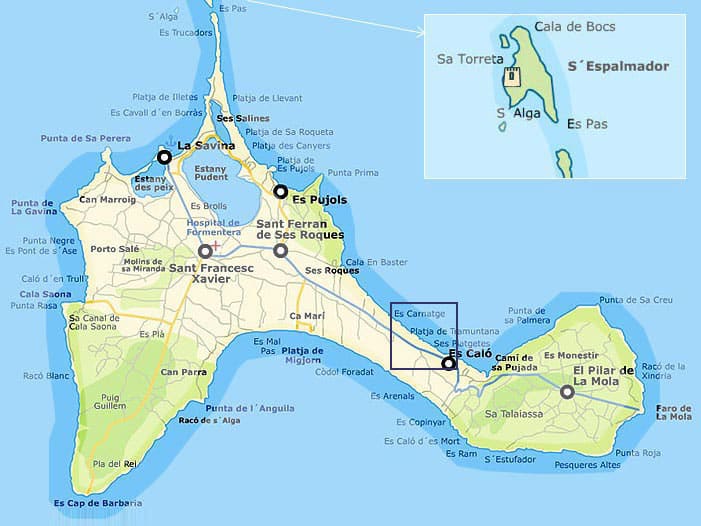 The biggest shocker for a New England-raised American drowning in Puritan-bred values was that everyone on Formentera (and Ibiza) was freely and confidently naked or topless. Many visitors were Italian, French and Spanish (of course). There were no signs of shyness or discomfort as women laid spread eagle, old men frolicked with their grandchildren in the water, and grannies lounged in the sun in their string bikinis. It's as if perhaps we Americans are so consumed with how we look that we can't imagine exposing these parts of our body unless they are movie-star perfect. All shapes and sizes were lazing in the searing sun. Seriously, I saw more boobs in a week than I've seen in my whole life. No one seemed to bat an eye at anyone else.
Formentera, part of the Balearics, comes in fourth in size among the group, which consists of Majorca, Minorca and Ibiza (pronounced Ibee-THA). The rustic island hanging off the southern edge of Ibiza is just 12 miles long and just a couple miles wide in the skinny central section. Formentera comes from the Latin word for grain (frumentum) but the island looks somewhat dry and stark, not fertile.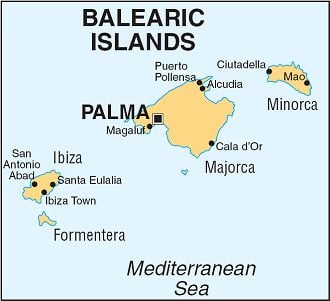 I have never swum in water like I did here. The closest thing that comes to mind is the water in Turks and Caicos or at a beach in Mykonos, but this island has sparkly clear azure waters as far as the eye can see. The creamy soft sand goes on at the bottom of the ocean for what seems like forever. I had no fear as I swam way out into the glimmering, refreshing waters because I could see to the bottom. No worries of creatures that could sting or bite me. In the super salty water, I bobbed on my back staring at the sky and hearing my own breathing—just me, the bluest sky, the aquamarine ocean below matching what was above me. It's a feeling I've only felt a few times, and will remember it forever.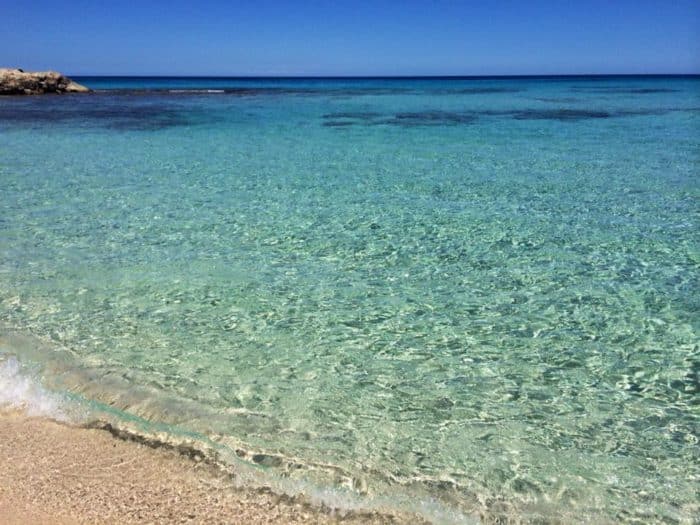 How these Europeans bask in the sun all day, day after day, getting blacker and blacker, with no thought of sunscreen ever, is surprising to me. My whole body was loaded and white-washed with sunscreen before I even left the hotel. It was so hot that one has to take a dip at least every twenty minutes. Hot, in a good way, with a breeze, and the mere joy of knowing anywhere you go, every alcove or beach you stumble upon (and there are many) the water invites you, almost literally, screaming "Come, fall in." (However, be careful because some areas have jutting rocks that match the sand, and are hard to see. My feet are missing numerous chunks of skin due to a five-hour beach walk.)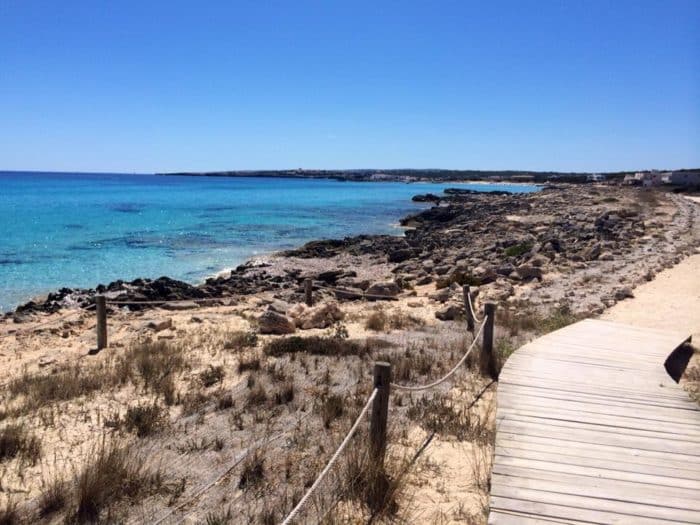 Getting there
There is no airport on Formentera. From Ibiza, you can take the ferry for about $60 roundtrip. The trip takes about 30 minutes depending on the ferry and lands you in the harbor town called La Savina. The first time crossing we rented a catamaran, which took about two hours each way, not including stopping time for snorkeling, swimming and lunch. Both options (ferry and catamaran) allow you to enjoy the Mediterranean, the coastline and the boats in a way you may not experience just being beachside. The way out of Ibiza is breathtaking as you stare in awe of the white, grand, spiraling Old Town Ibiza with its majestic yachts and sailboats parked outside.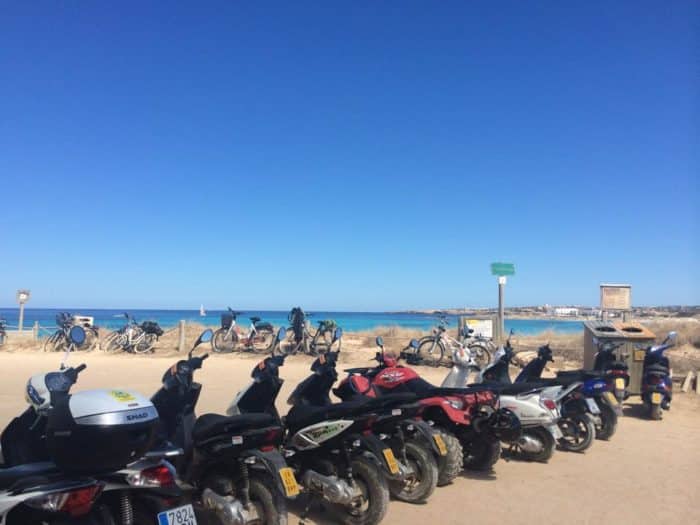 Many people rent scooters or bikes to get around the island. Besides walking everywhere from our hotel, we took cabs, which can really eat up your money but for us were worth it as a way to see places we wanted to explore. It cost about 15-25 Euros to cross the island from Hotel Lago Playa (Platja de Llevant) on the northeast coast to Gecko Beach Club on the opposite side of the island down south, Platja de Migjorn, where we soon discovered the water was NOT as picturesque or easily swimmable as where we were staying.
What to experience in Formentera:
1. Beaches
There are over 50 beaches on the island, so you can't go wrong anywhere you go. The best of them include Migjorn, Illetes and Llevant, the latter two of which hug the northern peninsula and its long stretches of dazzling beauty. But, I soon realized that I had randomly picked a great spot (Llevant) and once again had traveler's luck, since our friends who had stayed south somehow didn't enjoy the same breathtaking ocean water. Apparently, the best time to visit Formentera is July.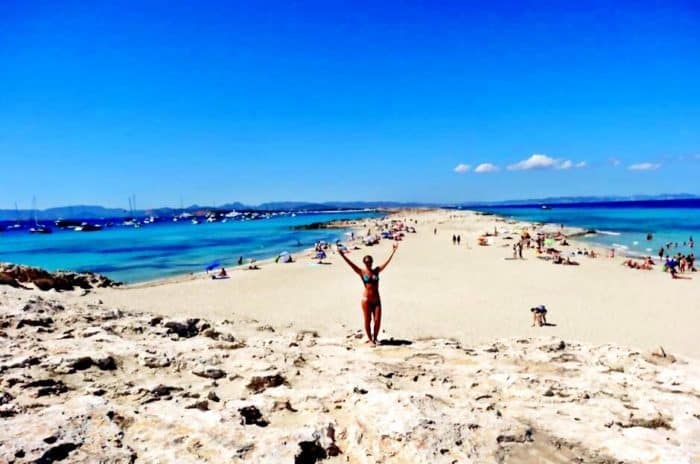 2. Beso Beach (restaurant) and Illetes
Think Hamptons, Montauk, the east coast of the US, and then amp that up ten notches with the Mediterranean Sea. That's what you get when you experience this phenomenal hidden nook off the beach with only the letter B perched outside to let you know that it's there. With our catamaran parked outside, we took a "water taxi" to shore, where many were lazing in the sun on the western side of the north peninsula in what is known as Illetes. As we walked up the wooden walkway, we dined in a packed, chill, feet-in-the-sand spot. I almost felt like I was in NY, in the Hamptons. I even met a guy in line to the bathroom from NY. The girls were all outside primping in the mirror. I was glad I wore nothing but my bikini and a short silk caftan because I was hot. They had white sails overhead which seemed to keep in the heat in this rustic beach spot.
Our lunch was one of the best I've ever had. It was seafood galore: black squid ink paella, perfectly garlic-ed pasta with mussels, prosciutto and melon, prawn with rice noodles—and the magnums of rose wine did not stop. Oh, and the Corona Lites came with sunglasses and hats. This place is so fabulous that their menu isn't even online.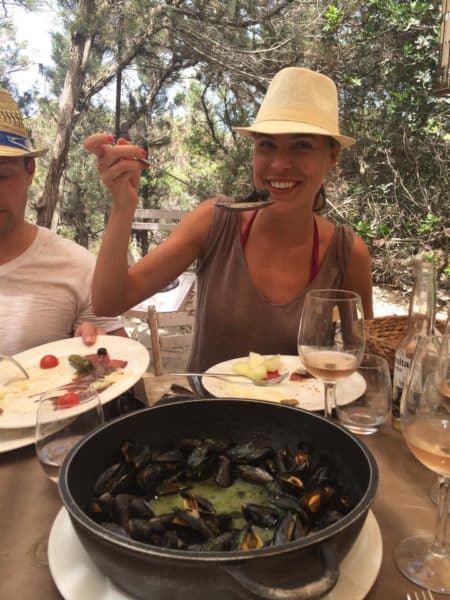 Apparently, Illetes is considered Formentera's fashion beach, to which European partiers often come to day trip from Ibiza. What makes it ever-so-charming is the fact that there are no buildings except for a few wood-built beachside restaurants. So, like Ibiza's packed scene-ster beaches, there are no showers, no sunbeds and of course, no swimsuits. Also, if you walk to the very end of Illetes on a calm ocean day, you can wade through to the islet of Espalmador.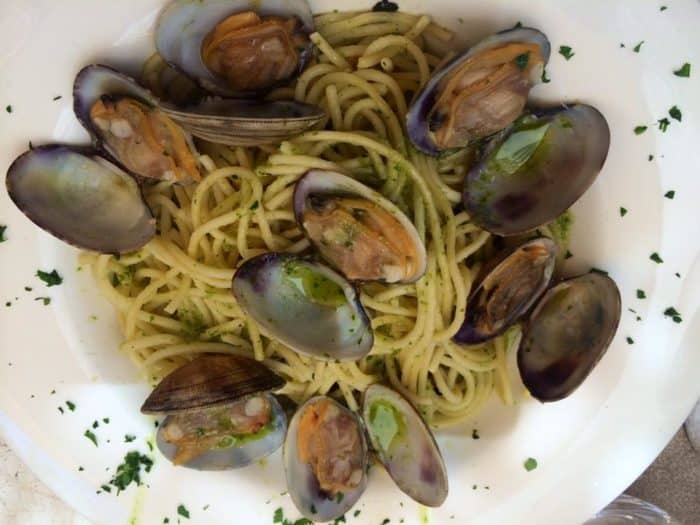 3. Rent a catamaran, sailboat, or yacht. Snorkle. Kiss the fishes. Pop champagne on a reef.
One of the most epic experiences I've had is snorkeling off our catamaran in the middle of the Med to kiss the fishes and land on a mini reef that could barely keep me up as I was being barraged by waves from different angles. One of the Londoners on our trip happened to swim out with a bottle of champagne, and I was gladly a part of the drinking from the bottle as he sprayed and poured some over one of the other guys. Five of us high-fived in fins in the middle of the ocean. Truly a first. Just don't drink so much you can't swim back to the boat and enjoy the massive caves and bright colored fish below.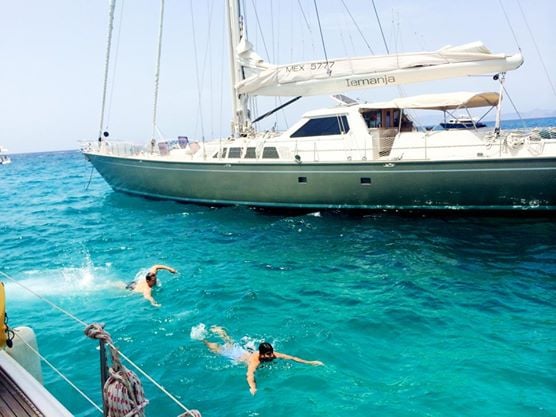 4. Hotel Lago Playa, or any hotel on the northern peninsula area known as Illetes and Llevant
The hotel cost about $240 a night and included a massive buffet-style breakfast. Set back from the beach, there was a pool, Wi-Fi in the lobby and room, and a small cafe attached to an outdoor terrace. The clean, updated room with modern bathroom was not even in the hotel, but detached as a unit with about 10 others in the front. From the hotel we explored beaches from the right and left with utter joy, the landscape twisted and turned with colorful gem, popping beaches, some deserted and some packed with colorful umbrellas and basking nudes.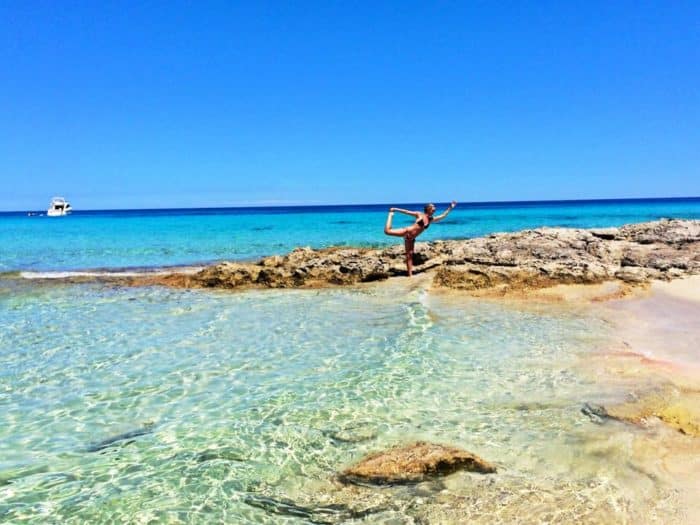 At times there was a wooden walkway along the beach, and also a makeshift walkway with a net draped in the sand with mini rocks to help you move quicker than just the sinking sand alone. One day we walked about five hours north (with swimming breaks) to the sprawling peninsula where the aquamarine waters hug both sides. At the tip, you can gaze in amazement at thousands of zen rock formations created by some mysterious Spanish, perhaps. The walk lends itself to periodic beach spots and swims. Definitely bring your flip-flops because the sand is super hot!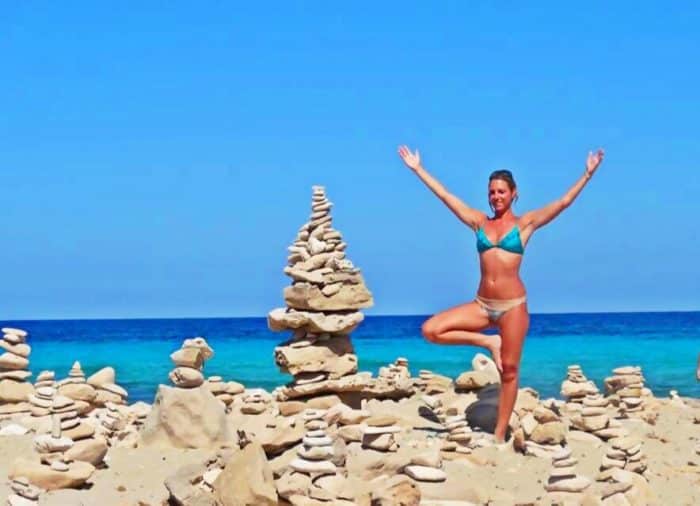 There are a few stops along the way to eat. We grabbed a seafood lunch at Tanga, and later a taxi back to our hotel from the well-known restaurant Juan y Andrea. Apparently Armani, the fashion God, had his boat parked outside.
5. Starry, starry sky
Not since Semester at Sea, when I was 20-years-old and sleeping on the top of the ship as I cruised around the world, have I experienced a night sky like this one. The Big Dipper took over the sky and was right in my face, as was every single imaginable constellation, bright as could be. There was a weird quiet as I walked back to my hotel, while the heavens above made me feel quite small and insignificant. The world seemed to be muted. I can see now how the ancient people found great pleasure in creating stories and meaning from these celestial bodies. Formentera will have you gazing in awe at a sky not shrouded by city lights, smog or distraction.
6. Gecko Beach Club and Kiosk 62 (beach bar or chiringuito)
Laurence Block once wrote that "[o]ur happiest moments as tourists always seem to come when we stumble upon one thing while in pursuit of something else." This quote always seems to ring true when I'm "adventuring'" or on the lookout for something I read about. Since I had read Gecko was a fabulous place to stay, and it on the opposite side of the island from where we were staying, we decided it would be a great spot for the sunset. Gecko Beach Club was a beautiful hotel with sexy grounds, right on a beach. However, the water was not as lovely as the ocean near our hotel. Still, we came back here for a superb dinner consisting once again of sardines, prosciutto, pasta with clams, cold lobster salad, and spiny lobster.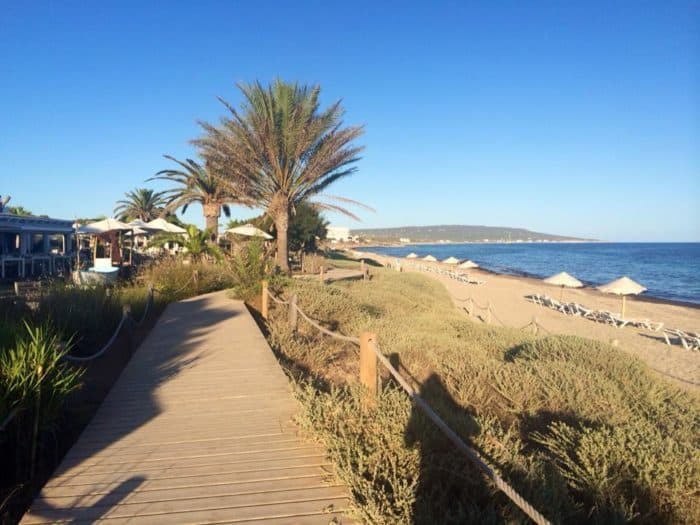 What we discovered as we paraded down the beach from Gecko was a local sort of "hippy" bar (known as the Spanish chiringuito), the patrons at which reminded me of California Venice urban hipsters without trying to be so cool. In some ways I felt like I was in a small town in Connecticut, but with the hip LA understated flair. Sexy beards, cool hats, tan skin, relaxed attitudes, chill jewelry, kids playing, and aura of people living the good life without trying so hard.
This local authentic beachside vibe centered around a beachside shack (known as Kiosk 62) selling delicious drinks. We watched the sunset glow as Mick Jagger and Eric Clapton tunes belted around us. The expert bartender crushed lemons, limes, strawberries, and sugar with vodka (and perhaps some sparkling soda) to make me the ultimate drink I remember from long ago in Madrid. I felt like I had been transported to a better time, and wondered the whole evening how I could make this Formentera experience happen more than once in my life.
The essence of Formentera
The essence of everything seems so perfect here, with an honesty in its approach to life that seems hard to replicate these days. What matters here are the simple things: a quiet walk under the sparkly night sky, a dip in the sea, the fresh seafood, the sunset hues, a good laugh, a peaceful night's sleep, and a place to unwind out of the routine of life.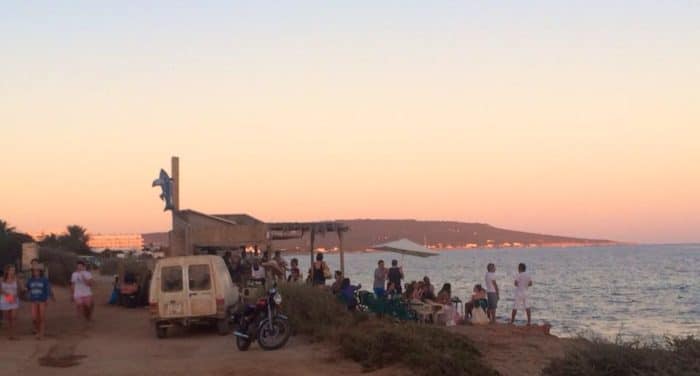 I never knew Spain could be done like this. Or that anywhere could, for that matter.
Formentera will be forever on my mind.