This is the second post on Macau by Caitlin Martin. Check out the first one—an exploration of its historical and cultural sides—here.
Macau is unique in its concentration of restaurants and variety of cuisine. Yes, you can certainly gamble your heart out, but as I mentioned in my last Macau post, the cuisine here is to die for!
Macanese cuisine combines Portuguese, Chinese, Indian, and Malay cooking styles. Unique dishes initially came as Macau-based Portuguese experimented with spice blends while trying to replicate European dishes. And not only is the Macanese food amazing, but the Portuguese and Chinese food is, too. Oh, and let's not forget to mention the most delicious dessert ever: the egg tart.
Here are some of my favorite dishes and restaurants, discovered as I ate my way through Macau:
Caldo verde and galinha Africana — Café Litoral (Taipa Village)
Café Litoral is located in Taipa Village, and it served one of my favorite meals of the entire trip. We ordered a lot of dishes since this was only lunch! (Could I have eaten all this for dinner…maybe?!)
Since this restaurant was my favorite, I must tell you about the entire food experience there. We started with caldo verde (Portuguese green vegetable soup), a potato soup with sausage and kale. This has a really good taste and I appreciated that the potato soup was light considering we had a bunch more courses coming.
Next we had some appetizers of chamussa (curry beef cakes) and rissóis (shrimp paste cakes).
Our main meal was caril de camarão e carne de caranguejo (curry shrimp with crabmeat), casquinha a litoral (baked crabmeat) and galinha Africana (African chicken). I can't really pick a favorite here because they all had such good flavor. I'm not usually a huge fan of shrimp curry, but that brown curry sauce had a hint of sweetness and was simply perfect. I think I like shrimp curry again.
For dessert we ended up sampling the entire selection, but my favorite was the bebinca de leite (coconut milk custard) in the middle of the picture above.
Lord Stow's egg tart — Lord Stow's Bakery (Coloane Village)
As I mentioned above, you cannot leave Macau without trying the famous egg tart at Lord Stow's Bakery in Coloane Village. There are imitators everywhere, but this place is the real thing. Coloane Village happens to be the birthplace of the egg tart.
In 1989, Englishman Andrew Stow opened Lord Stow's after some time owning a European baking products food shop so locals could make decent bread. That big need gave him his idea for starting the bakery. The egg tarts are served fresh from the oven everyday here. You won't be able to resist that flaky, buttery pastry combined with creamy-rich custard!
I'm not going to lie: After reliving the delicious taste of the egg tart here, I'm now craving another one. I just Googled "where to find egg tarts in Los Angeles," hoping to get my fix tomorrow. I know it's very doubtful I'll ever get another egg tart like Lord Stow's, but a girl can hope.
Bacalhau and wet seafood rice — António (Taipa Village)
Chef António Coelho opened his Portuguese restaurant António with the goal of promoting Portuguese cuisine and culture in Macau. The Michelin-recommended restaurant had not only authentic Portuguese dishes but the ambience perfect for a Saturday night out, as well. The restaurant was absolutely beautiful, decked out in blue and yellow colors. We even had a guitarist to entertain us all night. And yes, we broke out in song and dance eventually!
I most enjoyed the charcoal grilled bacalhau (codfish) and the appetizer of gratinated goat cheese and acacia honey served on toast with lettuce and balsamic vinegar.
Oh and the wet seafood rice "Antonio" style (with crab, mussel, clams meat, prawns) wins points for the best presentation!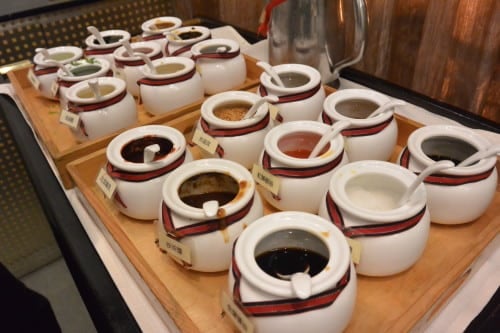 Chinese hot pot — Seasons Hot Pot (Macau Fisherman's Wharf, Sé)
Seasons Hot Pot at Macau Fisherman's Wharf offered me my first ever Chinese hot pot experience. First we had to mix spices together to be used to dip our beef, fish, pork, and veggies in. Since I love spicy, that's exactly what I created after mixing about ten different spices together. Don't ask me to name all of them!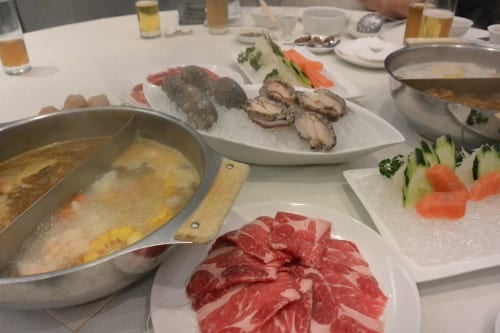 Then the restaurant brought out simmering metal pots with different types of broth to cook our meat, veggies, fish, and noodles. All you have to do is put the food into the pot to cook in the hot broth. Once the food is finished cooking in the pot, you retrieve it, dip it in the sauce that you created and YUM!
All photos courtesy of Caitlin Martin.