It's Day 2 of the Food and Wine All-Star Weekend at the ARIA Resort and Casino in Las Vegas. I am woken at 6am as requested – but not by a wake up call from the front desk. Instead, my hi-tech room, which I had programmed the day before, has turned on the TV and opened the drapes so the sun rising from behind the mountains can ease me into the day. I've got time to hit the gym, take a swim and get ready for the first event of the day.
Jean Georges Steakhouse
It's rare that one goes to a steakhouse for breakfast. But Jean Georges is no ordinary steakhouse. And given the opportunity to eat there, I wasn't about to quibble about the early hour.
Jean Georges himself greets us at the door and takes us on a tour of the restaurant, explaining that when people eat here he wants them to leave with something to remember. Because it's Las Vegas, he wanted the atmosphere to be more vibrant and whimsical than a regular steakhouse. To that end, the décor leans more towards the clubby side.
From the black, glossy bar with intriguing 'spilt-milk' icicles hanging above it, to the yellow leather banquette seating and Rorschach-like images of cow faces on the walls, he's achieved a unique look. A spot of humour can be found in the small boxes of grass at the centre of each table. And he keeps it interesting with layered floors rising as one moves deeper into the restaurant, giving diners a clear line of sight to all that's going on in the restaurant. All in all, it's meant to be a modern and cool dining venue. Even the bathrooms are funkadelic!
That said, it's what goes on in the kitchen and comes out on your plate that really matters. Jean Georges believes that the final bite of a dish should be as exciting as the first. To ensure this, he pays special attention to the source and integrity of his ingredients.
For breakfast, Executive Chef Rob Moore prepared Angus 300 Tomahawk chops from Rangers Valley, Australia. The '300′ represents the days spent feeding the animal (versus the 120-day norm typical for American Angus beef). The beef is then aged almost twice as long.
Chef Moore told us that they prefer to cook the beef cold – straight from the fridge. And he believes you need to season it from on high to get a more even spread on the meat. The final secret to preparing these chops is a wood-burning grill in place of gas. The sight and aroma of the wood-fuel flames simply added to our anticipation as we waited to be served our breakfast.
Complementing the chops was homemade hot sauce, salsa verde butter in white bone-marrow ramekins and soy miso butter. On the side, Black Truffle and Comte Cheese Fritters with lime salt, broiled bone marrow with a parsley-lemon Gremolata and a creamed spinach with just a hint of fresh basil to make it interesting.
For refreshments, we had cherry Yuzu soda, housemade ginger ale and calamansi sodas. Strange as it was to have a beef chop that early in the day, all I can say is that I may never be able to eat beef anywhere else again.
American Fish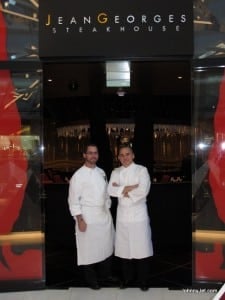 Michael Mina can only be described as a deeply passionate bundle of kinetic energy when talking about his restaurant, American Fish. That intensity has driven him to perfect four very distinct cooking styles in this world renowned kitchen.
Our tasting started with an Ocean Water Poached Halibut with buckwheat noodles, bok choy, mushrooms and a sake broth. The secret to this dish is to poach the fish in vacuum sealed plastic containing ocean water and whatever herbs and seasoning you choose. Chef Mina believes that if you salt the water by hand, you will brine the fish. He prefers instead to use natural ocean water for a more subtle flavour. The resulting dish was beautiful in its simplicity, with a very light texture complemented by a wonderfully subtle broth and chopped green beans served al dente. This might have been the best fish I ever had – if it weren't for what followed!
On the coattails of the halibut came a Cornmeal and Egg-White Crusted Rainbow Trout. The trick to preparing this masterpiece is to use cast-iron pans on a wood-burning stove. The cast-iron provides a very even cooking technique and controls the temperature. The smoke from the wood-burning stove is pulled into the pan and adds flavour to the fish. It's important to hold the pan at an angle and use a spoon to continuously baste the fish with the hot browned butter. This will cook the fish and infuse it with the flavour of the fresh herbs he's laid on top. The fish was plated with eggplant, squash, couscous, chorizo and a lemon caper butter.
Chef Mina's third style is unique in its utter simplicity. First he takes a run-of-the-mill flat rectangular pan, fills it with a bed of chunky sea salt heated to 500 degrees and lays whatever fish he's cooking on top. In this case he was preparing Branzino and Blue Prawns topped with fresh sliced oranges and herbs. Over top of the fish he ladles another layer of the very hot salt which provides the same effect as a sauté pan. The finished product was a crisp-skinned Branzino and succulent prawns served with bacon-wrapped potatoes, arugula and heirloom tomatoes.
Perhaps the most surprising thing I learned over the weekend was from his fourth and final demonstration. He starts with a 4-inch deep copper pan filled almost to the brim with clarified butter – heated up to 145 degrees. Into that hot butter bath goes your choice of beef, pork, chicken or lamb – for us it was Kobe Ribcap. Add to that cloves of garlic or whatever fresh herbs you prefer. The reason for doing this, he believes, is that meat is a muscle – and placing it cold or at room temperature onto a 600-degree grill causes it to contract and lose its natural juices. Poaching the meat in butter as Chef Mina does, minimizes the amount of cooking time where it gives up those juices. When it was ready, the Ribcap was moved from the butter to a wood-burning grill to both mark it and sear in the flavour. This unbelievably tender and succulent beef was accompanied by a medley of vegetables that served as a perfect foil for the star attraction.
Sage: A New American Lunch
Our next meal at Sage was hosted by Chef Shawn McClain, Top Chef Season 4 winner Stephanie Izzard and our co-host for the weekend, Anthony Giglio. Sage is a AAA Four Diamond award winning restaurant so we went there with great expectations. We were not disappointed as our hosts presented us with six carefully designed courses, each paired with a specially selected beverage.
The first course was a shaved Brussels sprout salad with Taylor Gold Pears, Macadamia Nuts and a Bacon Mustard Vinaigrette. The paired wine was a 2001 Chateau Musar Blanc from the Bekka Valley, Lebanon. The second course was a Hiramasa Crudo with Crisp Pork Belly, Aji Aioli, Caper Berries and Meyer Lemon. We washed this down with a cocktail of Grey Goose Le Citron, Maraschino, fresh lemon and Fever Tree bitter lemon. The third course was Seared Diver Scallops with Smoked Goat XO, winter squash and shiitake mushrooms. The wine of choice was a 2009 Vouvray-Sec/Huet, Clos du Bourg from the Loire Valley.
For those of us who still had stamina, there was an Herb-Crusted Lamb Saddle, consisting of Braised Lamb Tongue, Warm Butter Beans and a Banyuls Vinaigrette. Complementing this was a 2007 Numanthia, Bodegas Numanthia from the Toro region in Castilla y Leon, Spain. The final two courses consisted of Sheep's Milk Garrotxa with Smoked Apple Sauce and Marcona Almonds served with Leffe Blond beer from Belgium and a Kabocha Squash Cake with Saffron Infused Pears and a Burnt Honey Ice Cream. This was served with a Germain-Robin Absinthe from California – which gave the whole experience just a dash of the bohemian lifestyle of Paris in the '20s.
Lemongrass
Our next stop later in the day was for appetizers in the private dining room at Lemongrass – the only Thai restaurant on the Strip. Chef Krairit Krairavee, or "Chef K" as everyone calls him, moved to Las Vegas right from Bangkok where he had previously worked at the Mandarin Hotel. Chef K and his team first prepared a plate of prawns and chicken satay and followed with the traditional Phad Thai Ghoong with stir-fried rice noodles, prawns, bean sprouts and tamarind. Our savoury tasters were accompanied by one of Lemongrass's house specialty drinks: Chai Spice. This consisted of Captain Morgan's Rum, Chilled Chai Tea, Coconut Milk and Fresh Lime served over ice. If we had not already been expected at the next event I would have stayed at Lemongrass for the duration – so good was the food.
All-Star Tasting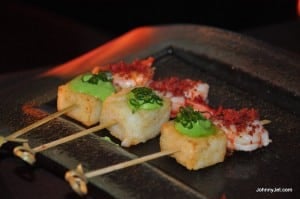 The All-Star Tasting is truly the highlight of the whole weekend. The event took place at night around one of the ARIA Resort's beautifully landscaped pools. Each of the star chefs had a booth from which they served a choice selection of their signature dishes or desserts.
After three laps of the pool, one dish that stood out for me was the Butternut Squash Gnocchi with Duck Leg Confit prepared by Chef Vincenzo Scarmiglia from Sirio Ristorante. Since I live in snow country, this creation to me is a perfect fall comfort food. Speaking of snow country, the Denver-based Chef Hosea Rosenberg prepared a Venison Carpaccio wrapped around watercress, Wisconsin-aged parmesan and tomato confit and served atop a golden-browned rectangular chip. I was expecting chewy and gamey. What I tasted was melt-in-your-mouth and wonderfully contrasting flavours.
The rest of the All-Star Tasting was filled with a medley of tastes from exotic tacos or prawn combos on a skewer to Gazpacho balls and more of those sinful Black Truffle and Comte cheese fritters. Just when you thought you couldn't stuff another bite in, the crowd would part and there before your eyes would be another delectable treat like Chef Yigit Pura's Indian-Spiced Caramel Pears with Pain de Mie Clafoutis Cake and a Maple Sugar Chiboust. The only way to combat such a veritable feast was to head on over to the Haze Nightclub and work some of those calories off before packing it in for the night.
Day 2.5: Breakfast at Julian Serrano Tapas
For those of us who had survived the weekend, didn't sleep in or didn't have a plane to catch the reward was breakfast at Julian Serrano Tapas presented by none other than Chef Julian Serrano himself and his Executive Chef, Jose Picazo. The opening act was a return of the Lobster Gazpacho from the previous night. Actually, it consisted of a lobster filled "ball" and a shot of Gazpacho soup. This type of soup is an acquired taste for some but if you like cold soups, as I do, then you would have loved this gem.
What followed was five rectangular plates each with a sampling of the various tapas on offer: lobster and pineapple skewers, Piquillo peppers stuffed with goat cheese and mushrooms, raw tuna and raspberry gelee on a skewer, chicken croquetas and pintxo de chorizos – otherwise known as very tasty "mashies" with Chorizo sausage.
Chef Serrano told us an interesting story about the croquetas. He explained that it is so important that they be prepared exactly the same way every time that only one person in the kitchen has the responsibility to always make the dish. This ensures that the consistency of the bechamel is always the same between plates and between visits. The results were so excellent that we asked aloud whether he had insured the hands and life of his croquetas specialist.
What would a Spanish breakfast be without a plate of huevos estrellados? Chef Serrano told us that this was his favourite breakfast and it was not hard to understand why. The dish is perfect for those who might have enjoyed a little too much Spanish wine the night before. Picture a plate of thick-cut potato chips – fried and spiced – mixed with Chorizo sausage and topped with a simple fried egg. The egg comes easy-over so the egg yolk can ooze down into the Chorizo-potato mix below. If you are concerned about cholesterol, this is not for you. If you want to have a breakfast that soothes the soul and leaves you feeling that you really did eat, then this is a match made in heaven.
Just when you thought it was all over, out comes the paella Valenciana made with saffron, chicken, rabbit, chorizo and green beans. If we had any gaps left after the huevos estrellados then this flavourful dish was sure to fill them. I honestly didn't think I could fit another morsel in but the aroma and the flavour was so enticing I actually managed to finish everything.
After so much hearty food it only made sense to change gears for a minute with a small plate of fried churros. The light dusting of sugar on the churros together with the deep chocolate and spicy red pepper made a perfect foil for the meal we had just consumed and left everyone thoroughly sated and ready to … take a siesta on the nearest couch. Now that's what I call a breakfast!
The Final Event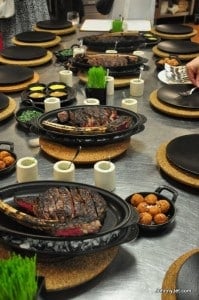 Las Vegas wouldn't really be Las Vegas if you didn't experience one of those memorable moments that they write about in books or make movies about in Hollywood. Mine happened on Saturday night when our group stopped in at Haze Nightclub in the Aria Resort & Casino.
As the night turned into the wee hours of the morning our group (mostly women) got to talking with a group (mostly men) seated at the table next to ours. These weren't your ordinary run-of-the-mill men. These were distinguished members of Her Majesty's Armed Forces (aka British Army boys), just arrived to help celebrate their mate's wedding. Yes folks, some 20 plus British soldiers loose in Las Vegas and warming up for the Big Day and dragging the bride (who was the lone woman in the group) along with them.
Anyway, somewhere between late that night and very early in the morning yours truly got an invitation from the bride and groom to attend their wedding at the Chapel of the Flowers on the other end of town in two days' time. Did I go? Of course I did. Seriously, who would pass up a Vegas wedding? I had a great time and wish to thank Chris and Hayley for letting me share their special day with them and "the regiment".
Only in Vegas!
WEB RESOURCES