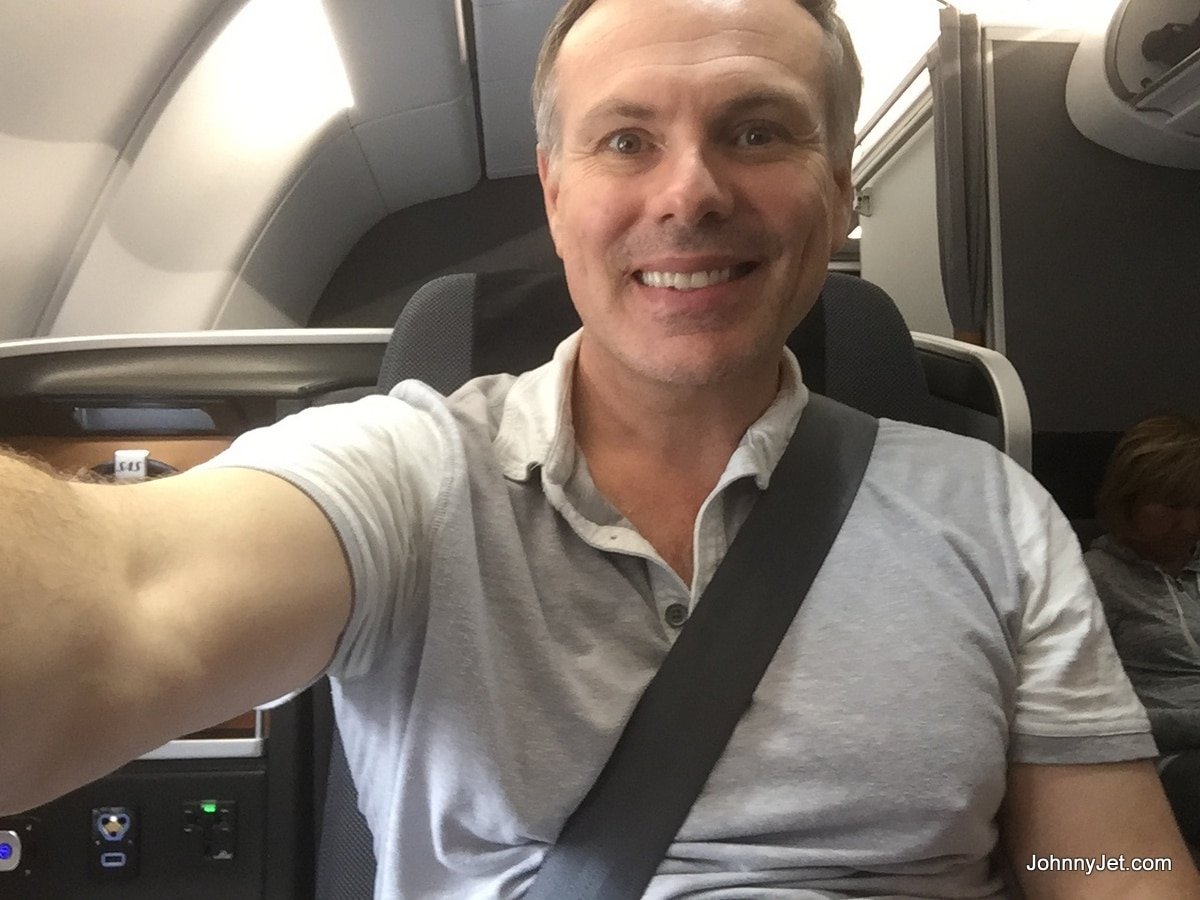 I just returned from Stockholm, Sweden, where I attended the most recent TBEX (Travel Bloggers Exchange) conference. The organizers booked me on SAS, which I hadn't flown for several years (since 2010, actually). SAS is nice, but I knew I didn't want to fly coach over the pond, so I did some investigating.
First, I thought about using miles to upgrade, but that's a rip-off these days (you get much more value using your miles to buy a business class ticket outright rather than to upgrade an economy seat). Then, I decided I'd contact SAS' PR team to see if they were offering space-available upgrades for media. I quickly learned that such an upgrade wasn't an option, but the PR person suggested that I put in a bid for an upgrade. As I learned, SAS' bidding-for-upgrades system lets customers pay with cash or EuroBonus points to sit in a much better seat. They just rolled it out on April 25. Here's SAS' press release on how it works.
Bidding for upgrades: the future?
It's apparent that the airline industry is heading in this direction (here's an article on it), which is bad news for frequent flyers. Soon, there won't be any more free upgrades available. On the flip side, it's great news for travelers who want to fly in style but without breaking the bank or becoming a frequent flyer.
Pricing
When I looked before booking, a roundtrip SAS Business ticket from New York (EWR) to Stockholm was running $2,984. A coach ticket cost $1,425. So, if you want a better seat, you can save some money if you roll the dice and try your luck at bidding for an upgrade. On my route, the bidding began at $120 for SAS Plus and $415 for SAS Business. The flight is operated via SAS' A330-300, which has their new SAS Business seats (much nicer than their old ones).
My bids
When I booked, I put in a bid of $155 for SAS Plus and $450 for SAS Business. I was told I would be notified 36 hours before the flight if either was accepted. Sure enough, 36 hours in advance I received two emails, and each one said my upgrade had been denied (see screenshot above). Gulp! I mentally prepared to go across the pond in the back of the bus.
The travel agent assigned me seat 48F, which was in the way back of plane. I don't like sitting back there since it's usually bumpier and smellier (near the bathrooms), and because it takes an eternity to get off the plane from there. I called SAS to see if they could move me any further up but was told they couldn't.
BTW: Each time I called the airline, I was asked to leave a call-back number since the hold times were so long. The first time I forgot to include my country code (1) so I never received the call, which comes from Estonia, not Scandinavia.
Checking-in
I then set my phone alarm to go off exactly 23 hours and 57 minutes before check-in so that I could try to get a better seat as soon as check-in opened. As it turned out, I was only allowed to check-in 22 hours in advance, not 24. So I reset my alarm.
The moment check-in (finally) opened, I logged in and BAM! 35B was available (aisle).
FYI: SAS' A330-300 is configured 2-4-2 in coach.
I then checked backed a few minutes later and 30D was suddenly available! I switched to that one even though it was a middle seat because it was the bulkhead. According to SeatGuru.com, that's the best row on that plane to sit in since no one reclines on you. I kept checking back in the hours before the flight, but nothing else opened up and soon all seats were gone. Even the next day.
Newark airport check-in
When I got to Newark airport (EWR), I checked in at one of the machines since I wasn't checking bags and didn't want to risk an agent forcing me to check my bags at the counter. After I had my boarding pass—and since my bags were really small—I decided I might as well go to the counter to inquire about an upgrade. The agent, a really cool, young dude named Terriq, told me that there were some seats open in SAS Plus for $117 and that he could put me on the waitlist. I was excited to hear that there was hope. Since Terriq was so cool, I went and got him a $10 gift card from the nearby Subway shop to thank him, as I didn't have any boxes of chocolates in my bag as I usually do.
Upgraded to SAS Plus
Next, I went to the SAS Lounge, which I was allowed in because I have Star Alliance Gold (thanks to attending a White House conference that Turkish Airlines sponsored). When I checked in, I asked the agent if I could upgrade and she said, "Yes." I handed her my credit card and suddenly, I was styling in SAS Plus.
SAS Plus is true premium economy, unlike the US airlines' lame-ass premium economy that's just what regular economy was a decade ago. In fact, SAS' premium economy is just as good as domestic airlines' first class (except on the LAX/SFO-NYC routes and JetBlue Mint). For example, American Airlines' first class has 38 inches of pitch (legroom) and a seat that's 21-inches wide. SAS Plus has 38 inches of pitch and an 18.3-inch-wide seat.
FYI: There are 56 seats in SAS Plus, so chances of getting upgraded are good.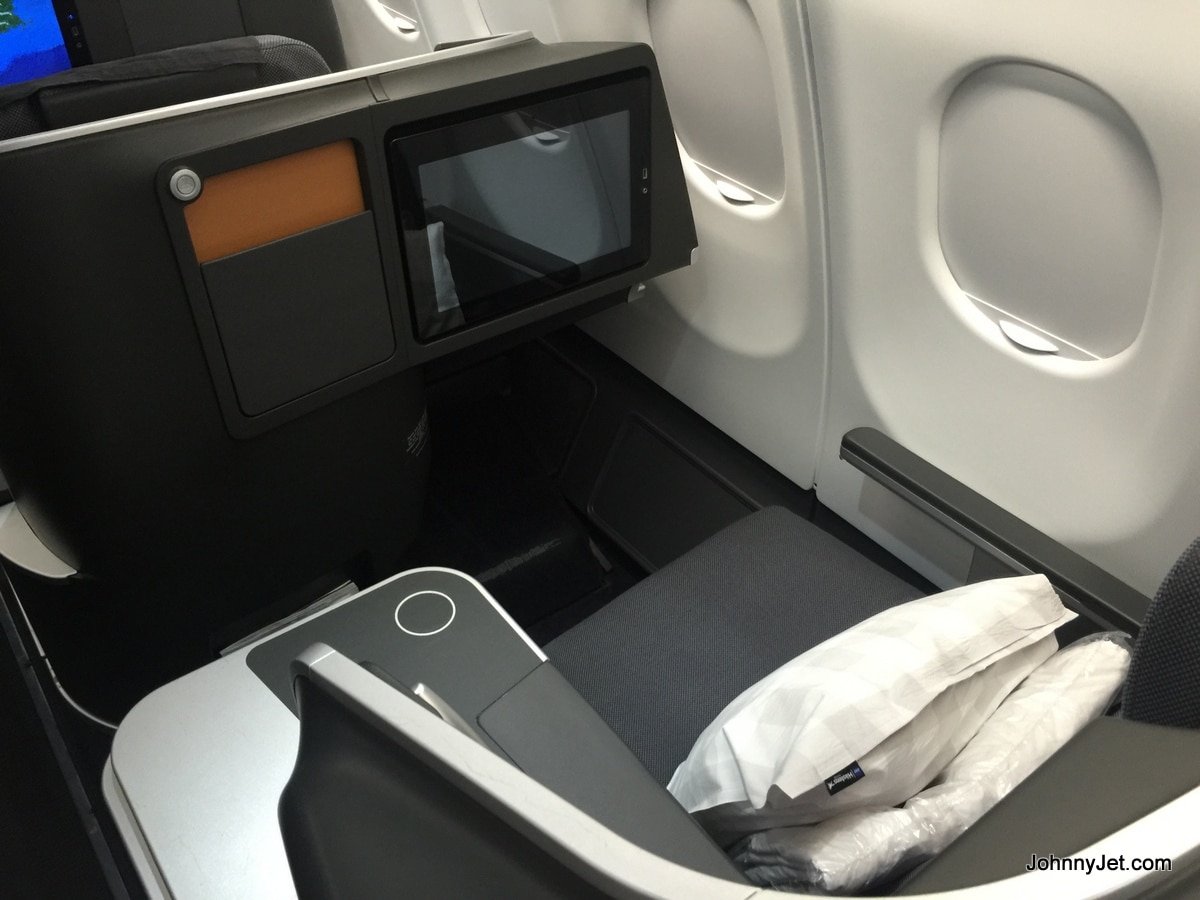 Upgraded to SAS Business
After having a bite to eat in the lounge, it dawned on me to ask the agent if there were any seats open in SAS Business and whether I could upgrade again. After all, night flights make it difficult to sleep unless you have a lie-flat seat. To my delight, she told me that I could upgrade again, for just $269 more. Ca-ching! I handed her my American Express SPG card and I was in business. Literally. I then said, "I know beggars can't be choosers, but can I get a window seat?" SAS Business is configured 1-2-1 (awesome)!
The upgrade trick
The crazy part of all this is that in the end, I paid less for my SAS Business seat than what I initially bid on both upgrades. If I had upgraded straight from coach to business, it would've cost me$449, but by doing it this way, it was just $386. I later learned that this is a known trick you can use to get a cheaper upgrade.
Boarding
Surprisingly, boarding was a zoo. They boarded SAS Business, SAS Plus, SAS Euro Bonus members, and Star Alliance Gold all at once, so there was a huge queue and a mad rush to get on the plane. I'm not sure why they didn't board just SAS Business first like they did on the return trip.
SAS Business
SAS Business has 32 flat beds in business with 180-degree recline. There are 77 inches of pitch and the seats are 23-24 inches wide. If you're by yourself, you'll definitely want a window seat since they're the most coveted. I was in 7H and loved it—especially the views of Manhattan after takeoff. It's the first time I can remember that an airline required passengers to wear an over-the-shoulder seat belt on takeoff and landing. You can unhook the shoulder strap to make sleeping much more comfortable. BTW: The seat belt sign went off within six minutes (same as the return) and the flight attendants were attentive and offered excellent service. Some even changed into chef-like coats for the meal service. The food was also really good (choices were: seared shrimp with basil risotto, breaded cod, sautéed beef, or portobello mushroom ravioli).
Early on, the flight attendants asked passengers if they wanted to be woken about 90 minutes before landing for breakfast. I said no, but as you can see from the photo gallery, I ended up eating. They also came around with mattress pads but unlike other carriers that offer the same, they didn't put them on for me.
Another thing that I appreciated was that the flight attendants took the wrappers off every food item, including the lid of my Ben and Jerry's strawberry cheesecake ice cream (with 60 mg of cholesterol and 15 g of fat). Elsewhere: The seatbelt sign didn't go on once during my flight except for landing. They don't collect headphones, there's a mini bar with snacks and fruits (on the way back they had rambutans!), and there are windows in the lavatories.
Good to know: The announcements are in Swedish and English and there are no landing cards in Swedish. Usually, the passport lines at Arlanda airport are fast but we got stuck behind the passengers of a Thai Airways 777 and it took 30+ minutes.
What's really nice about SAS Plus or SAS Business besides the obvious is that:
You can use FastTrack at the airport (they aren't members of TSA PreCheck)
You can use the lounge
There's free food and alcohol
You get access to power ports (USB and a universal outlet)
You earn more EuroBonus points
There's free Wi-Fi (EuroBonus members got it free too; for the rest it's a reasonable $12), though speeds were slow
Getting to Stockholm from the airport
To get to and from the airport in Stockholm I took the Arlanda Express. It's similar to Heathrow Express as it operates often (4-6 departures each hour) and takes just 20 minutes to reach the center of town. The website (in English and Swedish) is easy to use. I was given a free voucher as an attendee of the conference, but my last-minute fare would've cost me 540 SEK ($62) roundtrip. There's no need to print anything as they email or text (European numbers only) the confirmation number, which you just show to the agent onboard. At times we were cruising at 204 km (126 mph).
In Stockholm: The Haymarket hotel by Scandic
After disembarking the Arlanda Express, I walked seven minutes to my hotel: The Haymarket by Scandic. It's the newest hotel in the city and arguably the most happening. Its restaurants and bars were packed with locals, which is always a good sign. My colleague Bruce Northam, coincidentally, just stayed here and wrote a piece for JohnnyJet.com. Instead of doing another story, I'll just link his—check out Bruce's story here—and add my take:
The hotel is centrally located, right next to the popular flower, fruit, and—on Sundays—flea market. A block away is the most popular shopping street in Stockholm, with every store you can imagine including multiple H&Ms (I didn't realize it was a Swedish company). There are also some malls, and one has a grocery store where I stocked up on candies for my niece and nephews and discovered a unique Doritos flavor (see below).
Check-in at The Haymarket isn't until 2 pm, but on arrival I was super cool and the manager "found" an open room for me, which made a huge difference at 8:30 am. What I didn't like about the room is that the window was difficult to open and the European shower with half a glass wall (no matter how careful you are the floor still gets soaked). The showerhead was exactly 5"11', which I know because my head was pressed up against it, and the air conditioning couldn't be shut off and was on auto, so it kept going on and off every 30 seconds, which was annoying. I did appreciate the fast and free Wi-Fi. The emergency stairwell sign on the back of the room door glowed in the dark.
Random tidbits about my trip
I didn't get local money or pay cash once
100 SEK = $11.60 USD
I discovered "Cool American" flavor Doritos (see gallery below)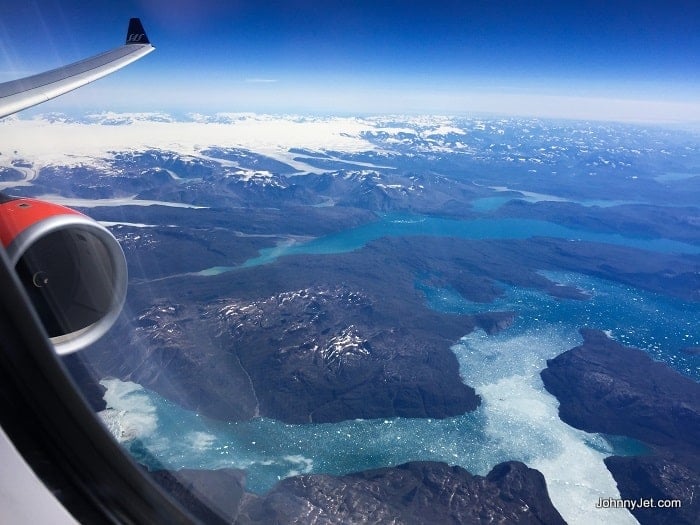 Return flight from Stockholm Arlanda Airport
On my return flight to Newark, I decided to put the lowest possible bids on more SAS upgrades, and sure enough, the SAS Business one was accepted. I left for the airport way too early. My flight was at 12:25 pm and I left my hotel to walk to the station at 8:50 am. I was at the airport by 9:20 am. There was no line at security (laptops out but shoes stay on). The SAS Lounges (one is a Gold) are before passport control, but there's a Priority Pass lounge after passport control. The SAS Lounges are much better—especially the food.