Get ready for the American Airlines 787 Dreamliner to finally hit the skies this summer!
American just announced the first routes for service on its Boeing 787 Dreamliner. American's domestic service will begin in May and its international service will begin in June. Currently, United is the only US carrier to have 787s in service.
First routes
The 787 initially will be deployed between Dallas/Fort Worth and Chicago O'Hare beginning May 7. It will be launched internationally between Dallas/Fort Worth and Beijing beginning June 2.
The new aircraft will also operate between Dallas/Fort Worth and Buenos Aires beginning June 4.
Cabin configuration
The cabin will be outfitted with 28 lie-flat business class seats in a 1-2-1 configuration. Business class will feature both forward- and rear-facing seats. So you may find yourself facing backwards in this cabin.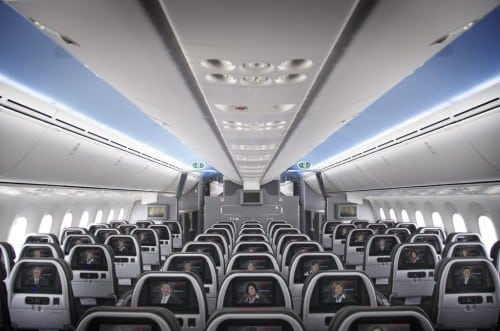 There will be 48 main cabin extra seats with an additional six inches of legroom and 150 main cabin seats. Both main cabin extra and main cabin seats will be arranged in a 3-3-3 configuration.
In addition to improved fuel efficiency, the aircraft was built using composite construction, which is innovative for the industry. This allows for a lower cabin altitude and increased cabin humidity. Basically, this aircraft is designed to reduce the effects of jetlag. Other advanced features on the 787 include larger dimmable windows and improved sound quality.
Customers can start booking American Airlines 787 flights beginning February 14.
Photos: American Airlines