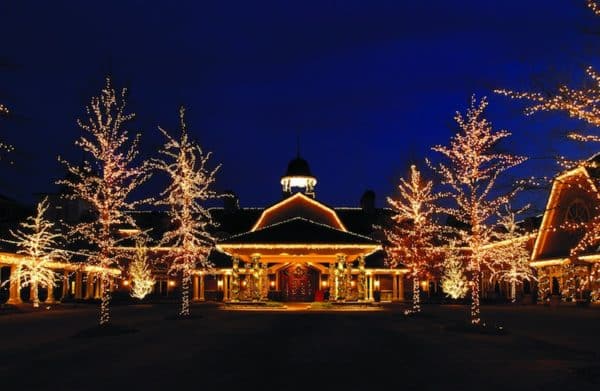 Unique campfire inspired spa treatments. Leaves turning vibrant red, yellow, and orange. Pumpkins and unlimited ice skating. That pretty much sums up fall at The Ritz-Carlton Lodge, Reynolds Plantation on Lake Oconee, Georgia.
Just 75 miles from Atlanta, Lake Oconee embodies tranquility with Georgia pines towering overhead. This luxury resort provides guests with everything they'd expect of a Ritz-Carlton, with a side of southern hospitality.
Here are some of the fantastic packages to take advantage of:
The Great Pumpkin Returns for Fun-Packed Halloween Weekends
As Linus says in It's the Great Pumpkin, Charlie Brown, "Each year, the Great Pumpkin rises out of the pumpkin patch that he thinks is the most sincere." Every year, the resort is sincere about celebrating the Great Pumpkin.
Each Saturday stay in October includes overnight accommodations, pumpkin carving, trick-or-treating, nighttime ghost stories, and a $25 resort credit per night. Package rates start at $349 per night.
Fire and Ice: Unlimited Ice Skating, S'mores & More
Available Nov. 18, 2012 through Feb. 24, 2013, this package includes overnight accommodations in a resort-view guestroom, unlimited ice skating, valet parking for one vehicle per night, s'mores turndown amenity, and a $100 food and beverage credit per day. Rates start at $329 per night midweek and $379 per weekend night (exclusive of tax).
The resort's 6,000-square-foot lakeside ice skating rink opens on Nov. 18 and will remain open through Feb. 24, 2013, — it is complimentary for resort guests.
Also this fall, Reynolds Plantation's award-winning Ritz-Carlton Spa is offering special value selections of seasonally-inspired spa treatments such as the Pumpkin Cranberry Facial, Honey Harvest Vichy Glow and Fall Surrender, available now through November 30, 2012.
In honor of the resort's blazing nightly campfires which include s'mores by the lake, the following new campfire-inspired spa treatments are now available:
S'mores Body Glow and a S'mores Kit — the treatment begins with a whipped honey graham scrub that polishes the skin until it's radiant, followed by a drizzling of warm, dark chocolate softening serum loaded with nutrients and then finishes with a waterfall rinse under the Vichy shower and a sweet, fluffy moisture cream application. Not enough s'mores? The treatment also comes with a complete S'mores Kit to enjoy by the fire while you're relaxed and softened. 50-minute ,$165; 80 minutes with massage, $215.
Cider and Cinnamon Pedicure with a Cup of Hot Cider — a fizzy, hot cider soak with softening oils is first. Then your feet are glazed with honey, aloe, and papaya and wrapped in steaming towels for ultimate hydration and a hot cinnamon oil is applied before the primp and polish. The treatment includes a soothing cup of hot cider that can be savored during the cider soak pedicure. 50 minutes, $85.
Down and Dirty Facial — Whipped shea sugar micro polish brings a soothing healthy glow. Organic pumpkin puree of nutrient-rich mud tingles as it increases oxygenation and circulation. Then a pumpkin latte moisturizer plumps your skin leaving a refined complexion. 50 minutes, $135.