I had heard of Spokane many times before actually visiting for one reason: hockey. The city is home to a junior hockey team and a minor league affiliate for the NHL. With Canadian family and dual citizenship, hockey has been in my life for a long time. When I was invited to celebrate the Fall Harvest in Spokane, I knew, however, this treat didn't involve any ice, pucks, or referees.
The Pacific Northwest happens to be one of my favorite parts of the country. The people are friendly, easy-going, and the crisp air and majestic landscapes are breathtaking. It's an area often overlooked by travelers with exception to Seattle and Portland with their booming artistic community and vibrant coffeehouse cultures.
(Note: It's pronounced "spo-can" not "spo-cane")
When it comes to farming, we naturally think of California or Florida or even the Midwest but this part of the country actually has just as vibrant a farming community. The difference? It's not as big or mass produced. The result? Incredibly rich apples, succulent pumpkins, and gigantic organic squash.
Although Spokane may not be top of mind when it comes to farming, the quality speaks for itself! The pride the farmers have for their crops is almost as sweet as the fresh apple cider served to us upon our arrival at Walter's Fruit Farm.
Giving Farm Fresh New Meaning


Fall is my favorite time of year for many reasons, not least of which are the flavors of the season – the pumpkins, squash, cinnamon, nutmeg, apples, and of course, the Thanksgiving Feast! Spokane's Greenbluff area has it all. About 45 minutes northeast of the city, Greenbluff has more than 40 farms, most of which are family-owned and operated.
Since 1902, the Greenbluff Grower's Association has been helping to promote local farmers, now with a focus on agricultural tourism. In its founding years, its mission was to protect local strawberry growers from outside competition.
Our first stop was Walter's Fruit Ranch. Immediately upon entering the store and café, the aromas of hot apple cider and freshly-baked pies were pleasantly overwhelming. Depending on the season, the farm is known for their apples, peaches, raspberries, cherries, strawberries, and wide variety of produce.
Farmer Mark greeted us, along with two sweet dogs, Rocky and Koda Bear, and proceeded to take us for a ride on the "Fruit Loop Express" through the apple orchards. Along the way, he pointed out the various kinds and graphs. He also showed us HOW to pick, with a slight twist so as not to break the stem. I didn't even bother washing mine before delving in for a bite. My favorite? The Honey Crisp, appropriately named for its gentle sweetness and hard, juicy bite.
The farm, which has a children's play area and obviously caters to families as do most of the farms, also brought out the child in me. It was thoroughly enjoyable attempting to shoot a corncob out of an air gun into a pumpkin across the way surrounded by hay bales. It took four tries to get my corn ear smack dab into the pumpkin… awesome!
Another favorite activity at Walter's is a large enclosed rubber tunnel slide that you climb up a flight of stars to get to, then slide down into a "sandbox" of dried peas. We all got a good laugh when I landed and said, "I think I have peas in my pants!"
Hay Mazes and Punkin' Chunkin'
Each farm has its own unique flavor and personality, but all have equally delicious produce and products. I was thrilled to bring home some goodies that I used in my Thanksgiving feast, like apple butter, caramel spiced pear butter, and marionberry preserves.
Although we had been sampling fruit, pies, and butters and ciders all morning, we decided to have a more substantial lunch at Beck's Harvest House. The homemade sandwiches on fresh bread (Reubens, Turkey Melts) were about the best you can get – fresh and perfectly warm on a brisk day. Soups were homemade, and we were devastated to learn that their hot item – pumpkin doughnuts – are only made on weekends. Apparently people line up and down the block just to get one!
What made each farm really special was its wholesome entertainment. Two on top of the list and are a must-do: the human-sized hay maze at Harvest House and Punkin' Chunkin' at Knapp's.
The hay maze is exactly as it sounds. It took me just a few minutes to get through, although my friend and fellow journalist, Lanee Neil, beat me to the end, where you slide down and out. (Note: it's even more fun to RUN through it so you have to make quick decisions on where to go.)
But slides, peas, and corncob ammo don't hold a candle to one of the most bizarre pastimes I've ever witnessed: Punkin' Chunkin'. We almost missed it while we were at Townshend Cellars because we were enjoying drinking out of the barrel so much (more on that later), but owner of the winery, Don Townshend, called his friend, a farmer at Knapp's and said, "Hey Bob, you shooting punkins today?"
That was all I needed to hear. This was a must-see!
We arrived at Knapp's a short time later and head to the field to see a gigantic canon. A canon! With an air tank the size of a small cow attached to it. Across the field about three football fields away was the target. This is an annual activity – in October only. As a group, we chose the prized pumpkin, inscribed our names on it for posterity, and then Lanee and I were summonsed to load the pumpkin into the canon.
Farmer Bob stuffed it with some hay, let us load the canon, closed it, and then sounded a loud horn.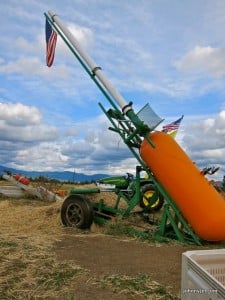 "One minute 'til Punkin' Chunkin'!" he broadcasts. And the countdown begins.
"10…9…8……….3…2…WOOHOOOOO…," we all yell as we keep our eyes on the pumpkin being chucked across the sky. It takes longer than one thinks to actually hit the ground. Then as it smashes into a million pieces in the distant field not far from the target, Farmer Bob announces that was the closest anyone's gotten to hitting it all season long!
Punkin' Chunkin' has a season?!?! "Yes, it sure does," Bob said. "Every October. We look forward to it every year!" Interestingly, upon returning home I learned that Punkin Chunkin is a huge pastime for much of the U.S. The World Championships take place every November in Delaware with coverage of the event, called "The Chunk," broadcast during Thanksgiving weekend on Discovery Channel.
The lighthearted fun in Spokane made me wish I grew up in a place like this, with the community so appreciative of the harvest, the land, the camaraderie with neighbors, and the sweet innocence of it all.
Click here for a map of Greenbluff farms and grower information.
Train-Aged Wine


In between apple picking and pumpkin patch perusing, we visited a variety of vineyards in Greenbluff, and one extremely unique winery in downtown Spokane.
All had a different feel, look, and taste, amazingly enough. It seemed to be a running theme around Spokane. Similar, but different.
First up was Barrister Winery in downtown. Founder Greg Lipsker and his partner Michael White were lawyers, so the design of the label became the scales of justice with wine grapes as the weights. Clever.
Although they specialize in limited production red wines (the Cabernet Franc was as good as they come – rich, full, chocolaty and smooth), Barrister's 2010 Sauvignon Blanc (Klipsun Vineyard) was rated at 92 points and was selected as the Editor's Choice in the November 2011 issue of Wine Enthusiast Magazine.
The facility is located in a warehouse down an alley near the old smokestacks and across from the train tracks, where more than 20,000 trains pass each year. It resembles an artists' hideaway studio more than a winery from the outside, appearing cold and stark, but when you walk inside, you feel right at home. It's warm and cozy with refurbished wooden floors, intimate lighting, and local abstract art for sale on the walls. You get the feeling that they host some incredibly fun parties here.
After tasting several of the wines, we then saw the rest of the space; first where they actually make the wine. And next, down an old-fashioned lever elevator shaft to the barrel room where they store it to age. This last fact makes their wines quite possibly one-of-a-kind.
I'm not enough of a wine expert to know if such conditions exist anywhere else in the world, but here's how it is: Greg calls their wine "train aged" because whenever a train passes by the warehouse, you can hear it when it passes, but just standing there you can't feel it unless your hand is on the barrels. When you do that, you can feel the vibration.
Whether this settles the wine faster, agitates it just so to produce highly balanced wines, or whether it has no affect at all is anyone's guess, but as we sampled some of the younger wines directly from the barrel, something special is definitely happening there!
Drinking from the barrel… again!


The next vineyard we visited was on Greenbluff, Townshend Cellars. Family-owned and operated, this is where we met Don, who was friends with Farmer Bob. We had so much fun with him, his fantastically educated tasting room manager, and his recent college graduate son, Brendan, who is now joining the family business.
Townshend's award-winning wines derive their distinctive flavors from extensive oak aging in small French and American oak barrels and the selection of grapes from some of the finest vineyards in the Columbia Valley.
Jill Rider is the general manager of the cellar and tasting room, and about as knowledgeable as they come. Ask her anything about wine or Washington State produce – she'll have a long and thorough answer for you.
Together they made quite a team that wanted us to try everything. And when I say everything, I mean I don't think there was a wine we didn't try. There may have been 25 bottles open. If they weren't open, they opened them. This included one of the very last bottles of their truly unique huckleberry port-style wine (made from wild North Idaho huckleberries) which had been aged for more than 10 years.
We sampled the gooey residue left on the cork by the huckleberry, which I found to be rather bitter. Huckleberries, however, are found in just about everything in Spokane – food, dessert, raw, in syrup, wines, jams, syrups, cocktails, and even lotions and soaps and scents. The city transformed from "puck town" to "huck town" in a mere day!
After leaving the tasting room, we ventured into the barrel room where Don climbed up to the highest stack of barrels to let us sample the yet-to-be-released vintages. Some received a taste from the barrel in their wine glasses. I, however, took Don up on his offer to forgo the glass and go straight from the barrel to my mouth. Now, that's a first! No swishing, swirling, or smelling. Just pure taste. And it was good!
A vineyard above the rest. Literally.


The last vineyard of the day was Arbor Crest Wine Cellars. Since its founding 30 years ago, the vineyard has been consistently producing award-wining varietals. It stands out above the rest, literally, with its gorgeous location atop a 450-foot cliff overlooking the Spokane Valley. The estate has hosted more than their fair share of memorable weddings.
We got there just as the sun was setting and head to The Cliff House Estate, a three story "house" that serves as a party facility or reception area, with windows on the top floor that wrap around allowing views from most of the room. To the south and west, you see the Spokane River leading into the valley, and to the east, you can see all the way to the Idaho border and the mountains beyond.
In 1982, the Mielke family founded the vineyard, which eventually earned a reputation as the Inland Northwest's premier winery. In 1999, the family business came full-circle as Kristina Mielke-van Löben Sels, the daughter of the Mielkes, left her position as associate winemaker at Ferrari-Carano Vineyards in Sonoma County, Calif., to take over as the head winemaker at Arbor Crest.
As Fall was hitting its peak in the Northwest, it was a delicious treat to explore the harvest and taste the wines of Spokane. The simplicity of the day was beautiful and there's nothing that makes our souls dance more than being a kid at heart, like running though a hay maze, playing in the barrel room, and chunkin' a punkin' across a field!
To learn more about Spokane's emerging wine culture and a complete list of wineries, click here.
Downtown Spokane
There is plenty of shopping, restaurants, parks, and bars in downtown. It's easily navigable by foot, which is the best way to see the combination of the older vintage architecture with the new.
The Bing Crosby theatre is centrally located and offers year-round entertainment from Broadway musicals to concerts of every genre. Crosby is probably the most famous former resident of the town, having moved there with his poverty-stricken family in 1906. In 1917, after seeing his own singing idol, Al Jolson, perform at Spokane's Auditorium Theater, Crosby realized that he wanted to be a professional musician.
Nearby is the Knitting Factory, another performance venue. Check the schedule before your trip – this is THE place in town to see the hottest acts from around the country. The night we arrived, we learned from our waiter at the Catacombs Pub in downtown that singer/songwriter Colbie Caillat was playing in the 1,500-seat venue across the street.
While we tried to get last minute tickets, the show was sold out. This venue is known to often get big acts of all music genres to play there specifically because of its intimate setting and enthusiastic audiences.
The Catacombs, by the way, is a lovely downtown eatery in a stone basement beneath the historic Montvale Hotel with delicious pizzas in a cozy atmosphere.
Another fabulous eatery to check out on Spokane's trendy South Hill is Vintages at 611. Vintages' owner Tana Rekofke is a warm and friendly hostess at the restaurant, giving the restaurant an aura of welcoming you into her home. That's no surprise – Rekofke is a veteran of the party-circuit, having previously owned a catering company, A Catered Affair. The menu reflects that experience. The emphasis is on solidly prepared, time-tested, crowd-pleasing food.
One thing to try – gorgonzola fries. They seem to be a popular dish in Spokane, and Vintages' are some of the best in town. Warning: don't eat too many or you'll be full before the entrees arrive.
Where to Stay
While downtown in the city is often where we generally head for accommodations, in Spokane, make an exception to the rule with Northern Quest Resort & Casino. Don't let the "casino" in the name throw you off. Unlike most casino hotels (Vegas comes to mind) this one took tremendous care to make it a luxury hotel first, resort second, and casino third.
In fact, it's the only tribal-owned AAA Four Diamond casino resort in Eastern Washington, one of only 27 in the state with this recognition.
Although the casino is fantastic and will meet the expectations of any player with 2,000 slots, 37 table games, 9 live poker tables, keno and more, the focus seems to be on the hotel experience. (For novice players who want to learn, they offer free playing lessons to give you the winning strategies!)
In fact, if I didn't know there was a casino on the property, I probably wouldn't have noticed it because of one key planning move: the hotel lobby, reception, elevators, Current Spa, and gourmet restaurant are separated by a long hallway called "Heritage Hallway." As you walk through it, music and videos of the Kalispel tribe past and present are meant to either pump you up for the casino or calm you down as you walk back to the hotel.
Luxury & design at its best
The hotel is impressive for its attention to detail, unique local elements and tribal culture throughout. All of the beds in the 250 guest rooms and 22 suites are custom-made, locally, with Northwest bedding and are available for purchase. They are raised on a platform, with a small wooden stepstool alongside to assist getting on it, making you feel like a king or queen on your throne. The kid in me came out again as I chose to jump up instead of using the steps.
While the beds and pillows are extremely comfortable, Northern Quest has a "pillow menu" where you can order your pillow of choice from buckwheat hypoallergenic to maternity pillows. Call the concierge or use the handy television ordering system and the pillow of your dreams will arrive promptly.
I could hardly wait to get back to my room after a day of exploring the farms to take a shower, as every guest room bathroom offers its own spa shower with three body sprays. It's like having your own personal waterfall in which to bathe. Each room also comes equipped a number of complimentary amenities including Keurig coffee makers and gourmet coffees and teas.
Some other highlights:
The resort also owns a fleet of black Cadillac Escalades that are available for complimentary airport transportation (less than 10 minutes from the property) and commutes to and from downtown (about 15 minutes away).
The original 22-foot chandelier above a spiral staircase that leads to the spa was designed by ALSC Architects in Spokane to honor the Kalispel tribe through its representation of hand-blown glass cattails, leaves, and water droplets, a theme of the river, Tule reed, and the circle of life present throughout the hotel's aesthetic.
Free Wi-Fi is available throughout the property, high-definition flat screen televisions and docking stations for iPods are in every room, and state-of-the-art technology is available to suit any business traveler's needs.
The 14,000 square foot Current Spa embraces the tribal spirit by offering healing remedies and traditions that enhance the senses and promote wellness. My recommendation: the Pend Oreille River Stone Massage, which uses Cedarwood oil and hot stones gathered from the Kalispel reservation to induce deep muscle relaxation and overall balance.
Legends of Fire Cigar Lounge features premium cigars, the finest spirits, and a walk-in humidor, with an educated staff to assist in your smoke or drink of choice.
Hotel dining
Masselow's Restaurant, named after the Kalispel Chief and the only AAA Four Diamond restaurant in the area, creates contemporary cuisine that highlights seasonal, locally–grown ingredients. Chef Bob Rogers makes just about everything from scratch, including the crackers and butter, because as he simply stated, "I couldn't find anything that met my expectations, so I decided to make it myself."
The warm ambience in the architecture and design of the space is meant to recall the caves and grottos on the reservation, along with Kalispel hospitality – each guest is greeted in the traditional Salish language.
The food is superb – for breakfast, try the huckleberry French toast, and for dinner, the filet is excellent. If you order the fried bread, it will come to your table in a handmade mini-canoe, a replica of what the tribe used in years past to navigate the river.
For a complete one-eighty, there is a Fatburger in the casino. Let me be frank at the risk of sounding snobby: when we arrived and were looking for restaurant recommendations on the first night, literally every single person from the concierge to the front desk clerk to the driver of the Escalade recommended Fatburger. It is a big deal in Spokane. While I chose not to partake and still don't quite understand the fascination, I understand that many people find their burgers to be fresh and delicious.
For a happy medium, venture to The Q, the resort's sports bar, where everything is BIG, from the 30-foot high-definition television screen to the 22-inch hot dog (or as they would say, '22 inches of fun in a bun!').
The Kalispel Tribe
Kalispel literally means "people of the Camas flower," a staple in their diet as it grew abundantly in the Pend Oreille valley where the ancestral land is located. It took some time to build the strong community they are now, as the tribe had dwindled to just 100 members in 1911 following earlier estimates by Lewis and Clark that has the number 16 times that many.
In desperate need of protection and security, having moved to another reservation at the hand of the U.S. government, Chief Masselow took charge and in 1914 the tribe received nearly 4,700 acres on their ancestral homeland.
Approximately 55 miles north of Spokane near Usk, Wash. on the east bank of the Pend Oreille River, the tribe has faced all of the common challenges from unemployment and limited economic opportunities to prejudice and alcoholism.
However, they bounced back. With much of the land unsuitable for development and susceptible to floods (last year's Pow Wow was cancelled as a result), they had to find innovative ways to persevere. Sheer determination and a pioneering spirit allowed them to take a chance, get a loan, and build in 2000 what has become Northern Quest.
Paying it forward
Today, the tribe has more than 400 members, with more than half under 18 years old. They are one of the largest private employers in the Inland Northwest, and their Camas Center for Community Wellness has become a main hub for recreation and wellness programs, even offering Salish language lessons for local teachers to ensure that their native culture lives on in the young members of the tribe and community as a whole.
To boot, they donate more than $800,000 a year back to the community and spend approximately $20.4 million each year on local goods and services.
Getting this kind of information out of the tribe is hard to come by. They don't want to gloat or promote. They do it because they can and because they don't know any other way.
Visiting the ancestral land
My vision of what it would be like to visit the Kalispel Reservation was quite honestly naïve and ignorant. I expected to see old medicine men wearing full handmade regalia and feathered headdresses, burning sage, and roaming the land with a herd of buffalos. I was open and ready for an afternoon of spiritual enlightenment, but instead got a lesson in the reality of tribal culture.
Yes, the tribe does have a herd of buffalo on the land, and yes, they do burn sage at rituals, and yes, they do get into their full ceremonial attire for pow wows. But, most of the time, they are wearing jeans and t-shirts, driving familiar vehicles, going to the grocery store, and interacting with the community much as anyone else.
Part of my false impression of Kalispel life was thanks to a photo of a tribal member in full traditional dress on the homepage of the tribe's website. When I met JR Bluff, the associate director of cultural development for the tribe, I explained to him my fantasy of what it would be like to visit.
I pulled up the website on my phone and said, "Where is this guy? I want to meet him!" and JR laughed and said, "You're looking at him!" Imagine my astonishment.
As we took in the tremendous beauty of the land, explored the caves and riverbanks on a gorgeous, crisp day, the tribal spirit was present. In fact, throughout my time in Spokane, the Kalispel's generosity, compassion, and will to keep their culture alive, vibrant, and contemporary, exceeded any expectations. Next time however, I'd like to be there for the pow wow and I'll bring my own smudge sticks!
WEB RESOURCES
About the Author: Lindsay Taub is an award-winning journalist with over a decade of experience as a writer/editor/photographer covering travel, lifestyle, culture, arts, food, health, and all facets that make life a journey. Follow her on twitter @lindsaytaub58.