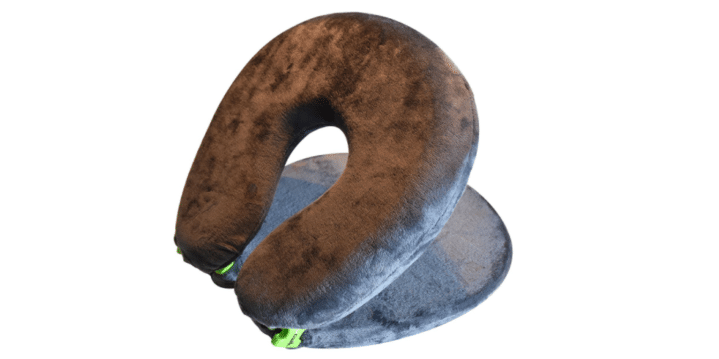 I've seen a lot of unique travel pillows (like this one and this one) but the FaceCradle may take the cake. Last year, it started out as a Kickstarter where it became the biggest-selling travel accessory in Kickstarter's history. It raised more than a million dollars! After that, the Australian company behind it opened a U.S. headquarters for marketing and faster order fulfillment.
I haven't seen a FaceCradle on a plane yet but I did test it out at the 2016 Travel Goods Show in Las Vegas. If you can overlook the fact that your seatmates will definitely get a chuckle when you bust it out (it kind of looks like a toilet seat) you might get better sleep while traveling.
The FaceCradle has multiple positions, which you can see in the photo above: Dozing Mode, Snoozing Mode, Table Nap Mode, Deep Sleep (Front), and Deep Sleep (Side). The pillow has a high-quality memory foam pad and is on a sturdy fiberglass reinforced nylon frame. You can pick one up for $69 on Amazon.