By Georgette Diamandis
NOTE: This trip was sponsored by Buffalo Bill's Cody/Yellowstone Country.
Howdy and welcome to cowboy country! That's right — we're in Cody, Wyoming, the rodeo capital of the world. Historic downtown has its famous founder's touch still on it with Buffalo Bill's Irma Hotel and the super-wide streets he designed to turn his massive stagecoach and team of horses around. And after you've stayed a bit, you can explore nearby Yellowstone, America's oldest and most famous national park.
WHEN TO GO
Early summer to late autumn is the perfect time to visit to enjoy the activities I experienced. I stayed right down the street from the rodeo at the new family-friendly hotel The Cody. Cozy, overstuffed furniture in the homey lounge area and wonderful continental breakfast in the dining room makes The Cody more like a family lodge than a hotel. At night from my balcony (many rooms have balconies or patios), I could hear the shouts from the rodeo. The legendary rodeo has nightly events from June to August. The stark wilderness of this western side of town hasn't changed much since the days of Buffalo Bill Cody. The eastern side is more developed although the downtown's antique buildings are intact. A great way to get oriented is to take a Cody Trolley Tour. For one hour and $22, your hosts Mike and Margie will familiarize you with everything you need to know about Cody, past and present, and entertain you with legendary stories of Buffalo Bill, along with some interesting speculations about where his body may lie!
CODY, WYOMING
In the 1800s, Buffalo Bill originally intended Cody, Wyoming to be a tourist destination as the gateway to Yellowstone. I met a lady named Esther Johanssen, who came to Cody as a child because of the "circulars" put out around the country, luring families to start a new, less crowded way of life. Her family was one of the original settlers. It's the kind of town that hasn't changed much and celebrates its past. Downtown is a great place to stay to relive the old western life. I toured The Chamberlin, a boutique hotel filled with charm and romance from the past.
THE BUFFALO BILL HISTORICAL CENTER
The Cody Hotel is on the far western part of Sheridan Avenue and there are several tourist destinations within walking distance. The Buffalo Bill Historical Center (BBHC), has five museums in one place: The Buffalo Bill Museum, Draper Nature Center of Yellowstone, Whitney Gallery of Western Art, Cody Firearms Museum and Plains Indian Museum. BBHC is a world-class museum affiliated with the Smithsonian. This year, it's celebrating its 50th anniversary. My favorite was the Whitney Gallery of Western Art, which has been totally revamped with historical collections mingled with contemporary paintings and sculptures depicting "the cowboy experience" and the vastness of the west. An incredible painting of Yellowstone's Grand Canyon by Thomas Moran is on display until October 31st. I was fortunate to go to the exact spot from where the artist drew his inspiration appropriately called Artist's Point, and understood the dynamism of the painting. Nearby hangs Tom Palmore's modern painting of a head of a mountain lion staring right at you and next to that, an image of an abstract buffalo, interspersed with traditional western paintings and sculptures. Interactive stations are on the premises where children and adults can create postcards on a computer, using paintings from the gallery's collection. Another child-friendly exhibit has students putting together a puzzle of segmented plastic pieces of the larger-than-life Rough Rider sculpture of Teddy Roosevelt atop a horse.
The museum is as interesting on the outside as it is on the inside. Outdoor bronze sculptures are a great reason to walk the lovely grounds. Buffalo Bill's boyhood home is here, as well. When you see it, you'll understand his motivation to be prosperous! The Plains Indians Museum has a moving collection of artifacts and costumes representing many tribes. There's a mammoth screen showing a brief movie describing life of the Plains Indian before the white man came.
The Cody Firearms Museum has the largest collection of antique firearms anywhere and is fascinating for anyone interested in the history of guns. The Draper Museum is for people who want to bone up on the wildlife of Yellowstone before visiting and The Buffalo Bill Museum explores many of the things Buffalo Bill accomplished during his lifetime. You will be impressed.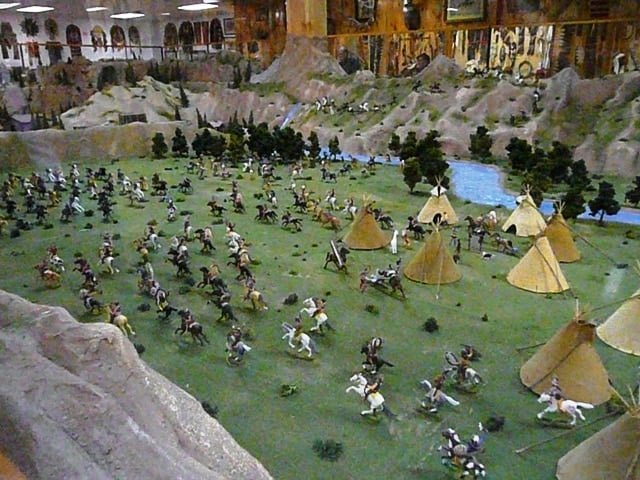 OLD TRAIL TOWN
Almost across from The Cody is Old Trail Town, an outdoor museum of the Old West. It's a collection of 26 original buildings dating from 1879 to 1901, including saloons, blacksmith's shops, and cabins like The Hole in the Wall, which was used as a hangout by Butch Cassidy and the Sundance Kid. There are six gravesites of the famous (like Jeremiah Johnson) and infamous, which have been relocated here. Old Trail Town is a great living museum and fun to walk around and imagine life in the wild, wild west.
TECUMSEH'S TRADING POST
Next door to The Cody is Tecumseh's Trading Post — one man's life work in 66 miniature scenes depicting important historical moments in Wyoming's past starting from the 1600s. If you loved to play with miniature cowboys and Indians as a kid, you need to see this. He has also amassed a large collection of American Indian artifacts. Admission is free and the shop is great for souvenirs and more reasonably priced than the ones downtown. Next door to Tecumseh's is Our Place, an old-style diner where you can still buy a coffee for 25 cents.
DOWNTOWN CODY
Downtown Cody is comprised of historic buildings like The Irma Hotel, built by Buffalo Bill and named for his youngest daughter. The restaurant is famous for beef, of course. I had the ranch salad with sirloin and it was delicious . In the early evening they have a free outdoor "gunfight", performed every night from June to September by really authentic-looking but goofy outlaws. The restaurant features its original interior and a bar given to Buffalo Bill by Queen Victoria in appreciation for his Wild West Show, which crossed the Atlantic. The old pressed tin ceiling and the outlaws milling about make The Irma a classic. Another restaurant we tried was Wyoming Rib and Chop House, an intimate restaurant on Sheridan Avenue, with traditional western favorites like baby back ribs and wood grilled salmon.
SHOPPING FOR WESTERN WEAR
Get to town early so you can buy some Western gear. I loved Wayne's Boot Shop on 12th and Sheridan Avenue (the main street), where I had my old cowboy boots shined up for $12. They have every type of cowboy boot you can imagine. Big Horn Boot, also on Sheridan Avenue, has more boots and an awesome collection of belts, hats and other western wear.
THE CODY THEATRE
Right across from The Irma is The Cody Theatre, where Dan Miller's Cowboy Revue is another must. Dan and his trio, which includes his young daughter, dish up some wonderful old cowboy songs making this a perfect family evening out. The price for the night is $14 each, Monday through Saturday, May through September.
For more information about Cody, visit YellowstoneCountry.org.
RED CANYON WILD MUSTANG TOUR
One of the most incredible things I have ever done is the Red Canyon Wild Mustang Tour (800-293-0148), which leaves from downtown Cody. The little yellow school bus takes you to a spot in the middle of nowhere to visit wild horses. I was so close to them and very impressed. The guides know the horses personally and the horses know them, so there is a relationship of trust. I photographed young foals with their mothers, bachelor stallions and the herd going for a swim. This was an incredible and truly life-changing tour. Here's a video I made from my pictures of the horses. The Bureau of Land Management (BLM) is planning a round-up of over 100 of these horses to sell at auction. If you oppose this, let the BLM or your congressperson know.
Here's a bit more information:
TAKE ACTION TODAY ON WILD HORSE BILL
The Restore Our American Mustangs (ROAM) Act (S. 1579), recently introduced by Senator Robert C. Byrd (D-WV), will restore protections for our country's wild horses and burros that were stripped away in recent years. Not only will the ROAM Act ensure that our mustangs and burros are once again protected from slaughter, but it seeks to reclaim land some 19 million acres taken away from these magnificent animals. Please take a moment to contact your U.S. Senators today and ask them to cosponsor this vital legislation.
To take action visit AWI's Compassion Index and contact your US Senators today! Please forward this eAlert to everyone you know asking them to help protect America's wild horses and burros.
THE WYOMING RIVER TRIP
Another outdoor adventure was The Wyoming River Trip on the Shoshone River, an awesome rafting excursion run by one family of ex-rodeo cowboys for the last 30 years. I felt safe as we floated down the fast moving river as our laidback but confident guide Mango led us through beautiful winding Shoshone, right into the back of downtown Cody. We saw deer, hawks and were also amused by Mango's anecdotes.
WWII HEART MOUNTAIN RELOCATION CAMP
Just outside of Cody is the WWII Heart Mountain Relocation Camp. This is one woman's effort to honor and remember the sad time when 10,000 Japanese-Americans were interned for three years. Ladonna Zall has worked tirelessly to make the interpretive center an important part of American history. The outdoor monuments are self-guided and her hopes for the museum on the site will be realized in the near future. You can also arrange to hike Heart Mountain through the Buffalo Bill Historical Center.
BUFFALO BILL DAM VISITOR CENTER
Just outside of Cody on the way to Yellowstone, via the North Fork, you will pass the Buffalo Bill Dam Visitor Center. The dam's construction is a testimony to Buffalo Bill's power and political influence. Forty-eight miles later, you'll arrive at Buffalo Bill's Hunting Lodge — The Pahaska Tepee. Built in 1904 and left intact, visitors can tour the lodge where Buffalo Bill entertained royalty and hunted big game. You can also have a bite to eat or even stay there before driving to Yellowstone National Park.
Join me here next week as we explore the famous park where I "shoot" (with my camera!) baby bison and elk.
ABOUT THE AUTHOR
Hi, I am Georgette, a writer and artist (here's my website) based in Connecticut. I am also Johnny Jet's older sister, who quite possibly ignited his first spark of interest in traveling to exotic places, when at the impressionable age of 14, he saw my trip to Australia last three years! Whether skiing in the mountains, snorkeling in the tropics, or exploring faraway cities, I am always game for traveling and the privilege of writing for my baby brother's website JohnnyJet.com. Of course, coming home to my husband Cam, our dog Baci, and three cats – Ace, Arrow and Wizard – is great, too!
NOTE: This trip was sponsored by Buffalo Bill's Cody/Yellowstone Country.