Progressive Chattanooga is a trendy, big-valley metropolis ringed by mountains and water—and a friendly edge. This Tennessee River-side hamlet is both a walkable downtown wonder and an enduring basecamp for fans of epic nearby outdoor bliss. An emerging hub of the Southern renaissance, Chatt (its nickname) will only become more popular. Don't miss out on one of America's best side-by-side urban and rural hiking opportunities that fuses alluring social hubs and natural marvels.
My urban basecamp rocked. Any place listed on the National Register of Historic Places usually adds up to spectacular and the good-old-friend Read House Hotel is just that. A recent big-time architectural facelift redid the rooms, added new luxury furnishings, and, what the heck, a 10th-floor penthouse. The grand lobby boasts Bridgeman's Chophouse, the speakeasy-ish Bar & Billiards Club, and a classy staff that's a throwback to grander times. There's no doubt you're in the hospitable south, as friendliness reigns, and locals have time to chat (get it?). This version of Tennessee royalty sits on Chattanooga's center stage, so many of the cozy city's attractions are within a mile, making walking or finding plentiful public transit a cinch; renting a car is not necessary unless you plan on hitting the nearby mountains, waterfalls, or whitewater rivers.
My introduction to Chattanooga's famous Choo Choo, a grand repurposed train station, was via its on-site Songbirds, a guitar-history museum and concert venue (revived in August 2021) demonstrating how guitars changed the world. Executive director Reed Caldwell refers to this "humanizing of the guitar" in several modes, including it being an exquisite guitar buffet serving the local community with intimate performances as well as targeted, cognitive youth music therapy that also gives 1,000 free guitars and lessons to kids each year. Museum installations include the history of guitars being at the heart of protest music, a deep dive into pedals and amps, and the answer to what is distortion? The collection includes a celebrity guitar room, rare and priceless guitars, and a world-class banjo collection. Any touring guitar-slinger within 100 miles of town stops by and gives a vault sessions interview. Come be moved by strings.
Songbirds being part of the Choo Choo campus further demonstrates its vitality and multidimensionality as a terrific medley of a hotel soaring over restaurants, bars, and shops round out the historic 25-acre complex. Guests can stay in restored passenger railway cars. Other railway cars feature a pour-your-own beer hall and an escape experience. This redefines what a renovated iconic terminal station can be—a massive old-red-brick palace cum hedonistic community center! Also in the mix, STIR is a hip, spacious, fancy-but-affordable restaurant. Built in 1910 with a 30-foot ceiling, you can dash between artisan cocktails, poke bowls, and cheeseburger egg rolls.
ENDLESS CULINARY AND BREW-HA DELIGHTS
Further magnifying the culinary and cocktail fusion is the modern Flying Squirrel. The bar's sports handcrafted indoor-outdoor harmony. The décor is a work of art in itself. Created by local builders and artists, it also relies on local materials. The space features a loft, a comfy patio, and an "open window" bar connecting patrons to Mother Nature. Bouncing between 30 craft beer taps, a seasonal cocktail program, and fresh local bites, including duck confit tacos shouldn't be this easy. Down the road is the iconic, bi-level triangular Pickle Barrel, which unlike other party offerings, stays open 'til 3am. Once appropriately named "Triangle Grill," this spiraling-staircase mini-galaxy has survived as varying businesses since 1893. The prominence of barn board, brick, stone, and stained glass is part of the charm—so, is this storied bar-restaurant being a ground zero for all walks of life. Nearby is Kenny's Southside Sandwiches, an airy, upbeat place for breakfast and lunch sandwich mastery. The Croque Madame (city ham, gruyere, bechamel, egg, herbs, sourdough) mandated a return visit. Also steps away is Five Wits Brewing Co., which is part of a very spacious and appealing food-and-booze court called Market South that features other vendors selling Asian fusion and coffee delights via interchangeable menus. Off the beaten path is the Chatterbox Café, a roadside BBQ Southern-hospitality classic.
OUTDOORS
You can't just eat your way across Chattanooga, although you may be inclined to do so. There's also much to do outdoors. Lookout Mountain looms over the city and has multiple hiking and rock-climbing options. The Glen Falls Trail is a short, scenic out-and-back with a waterfall and rock steps to a cutout and tunnel above the waterfall's pool. A three-mile round-trip from Cravens House to Sunset Rock enjoys a breathtaking overlook of a horseshoe bend in the Tennessee River and downtown.
Off-road fans, check out Adventure Sports Innovation's quiet, electric spider-like SWINCARS that crisscross Lookout Mountain's Civil War-era supply trails.
On the drive back into Chatt, check out the International Towing Museum for a surprise twist honoring the industry.
IN-TOWN ATTRACTIONS
If you don't have a car, don't worry, as these attractions absolutely dazzle: The Hunter Museum of American Art (colonial period to present) is built on a 100-foot bluff overlooking the Tennessee River and includes a 1905 classical-revival mansion attached to ultra-modern contemporary buildings. Nearby, the Tennessee Aquarium's two massive pyramids showcase both fresh and saltwater miracles. The Creative Discovery Museum is great for young kids. Check out these deals.
MUSIC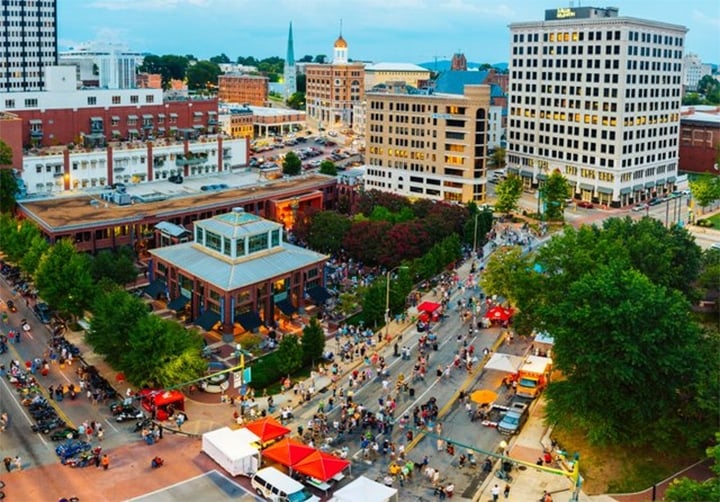 Chattanooga loves its music. In every music venue I visited—inside and out—there was an easygoing big-time community vibe that was very in-the-moment, and with nobody on their damn phones. The free family-friendly Nightfall Concert Series (June-September) is an outdoor party in the heart of downtown. It attracts 3,000 people every Friday night and features international, national, and regional talent. Riverfront Nights is a series of free summer-long Saturday eve concerts that include local arts, food trucks, nonprofit and charity group participation, and children's programs.
Classic indoor live-music venues include Wanderlinger brewpub and JJ's Bohemia, both of which reminded me of when my hometown New York City used to boast countless intimate live-music joints. Surely pulsating JJ's is a buoyant watering hole hosting live bands, comedy shows, and open-mikes in a rugged-snug atmosphere. Don't rule out other local joints like Hair of the Dog Pub and Cherry Street Tavern.
There's no time to waste—wander over to Visit Chattanooga.
Bruce Northam * NYC Walking Tours * Talks * American Detour