More Escape LA, from Melissa Curtin: 48 hours in Ojai, California
With gas prices so low, now is the time to take an LA road trip. If you find yourself needing an escape from the craziness of La-La Land, hop in your car, drive a few hours and spend the day hiking in Red Rock Canyon. Afterwards, make your way to Trona Pinnacles before sunset. You'll feel like you've been transported to two separate planets. Experience California nature in an intimate way!
Facebook can sometimes be a good thing. Recently after a California road trip with my dad, I wanted to escape into nature some more. A Facebook friend had posted some breathtaking photos of what looked like Bryce Canyon, and I was intrigued. But after chatting with him for an hour or so, I discovered this excursion to Red Rock could be done in an LA day.
Red Rock Canyon State Park
Can you even comprehend the majesty of an area that was underwater over five million years ago? Red Rock Canyon reminded me so much of Bryce Canyon, but without the crowds. The park is located where the southernmost tip of the Sierra Nevada converges with the El Paso Range. Just like in Bryce Canyon, there are red rocks of rich iron carved into numerous formations by weathering and erosion, often known as hoodoos. As you pass Joshua trees to your left, it's hard to comprehend this vast landscape with its layers and layers of various vivid rock colors, dramatic buttes and desert cliffs.
Getting there:
It was inspiring to have the outdoors pretty much all to myself. The park is just 120 miles north of Los Angeles, via Interstate 5 and Highway 14. Twenty-five miles northeast of Mojave on Highway 14, there's a tiny dirt parking lot where you can access one of the trails, which is lined with small rocks. It won't be long before you're running all over the landscape and not keeping on the pathway—because you simply won't believe the diversity of the land.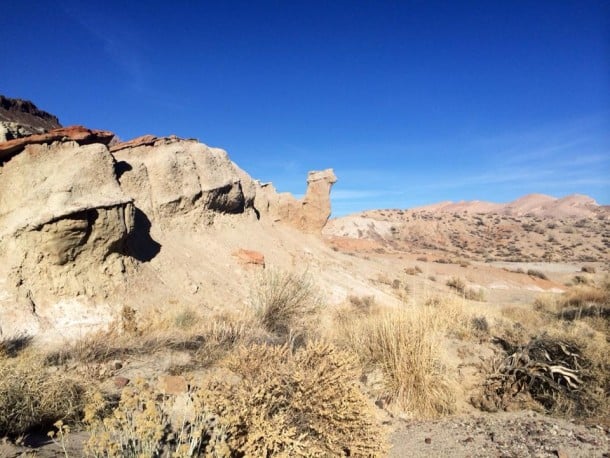 Try to find the camel or rock that reminds me of the sphynx in Egypt. As I climbed higher up, I found what looked like carved windows to the world where I could nestle in and gaze down at the land's grandeur. As you meander around the giant columns, you come across another very different section where the dirt looks smooth like gray clay and is baked hard like a rock, barely able to carve. You can see what was once a massive river that divided and shifted the land (or perhaps the California drought has dried up this spot).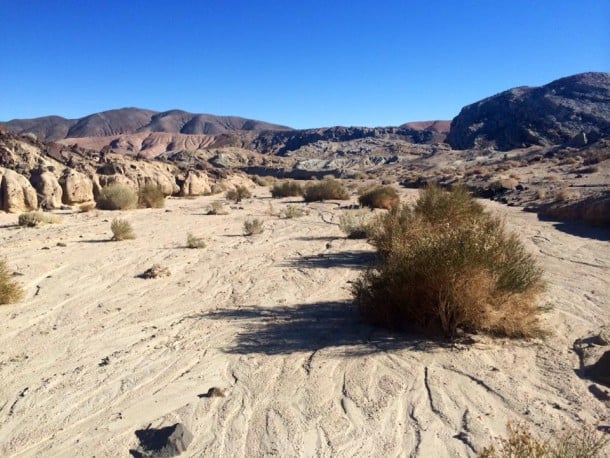 Before entering, I read that the park was once owned by a German man who charged admission, and that it wasn't until the 1950s, when his ancestral line died out, that the land became a state park. Red Rock Canyon is on the way to Mammoth Mountain, so I could imagine stopping by to stargaze at night or take a quick hike, if that's all you have time for. If possible, though, I'd spend at least a couple hours here.
Red Rock Canyon history, from Wikipedia:
Historically, the area was once home to the Kawaiisu Indians, who left petroglyphs in the El Paso mountains and other evidence of their inhabitation. The spectacular gash situated at the western edge of the El Paso mountain range was on the Native American trade route for thousands of years. During the early 1870s, the colorful rock formations in the park served as landmarks for 20-mule team freight wagons that stopped for water. About 1850, it was used by the footsore survivors of the famous Death Valley trek including members of the Arcane and Bennett families along with some of the Illinois Jayhawkers. The park now protects significant paleontology sites and the remains of 1890s-era mining operations, and has been the site for a number of movies.
This park is a treasure, a place you feel more connected to than some of the massive overcrowded national parks because you really do feel like the land is all your own.
Trona Pinnacles
After passing numerous salt mines and acres of flat land covered in salt, I pulled off on a dirt road with bumpy rocks and potholes. The Trona Pinnacles are very easy to miss. The first time, in fact, I drove past it several miles. Since I wasn't in an off-road vehicle, I used Sport Mode for the first time in my 328i BMW, and it worked like a charm, seeming to lift my car higher or perhaps grasp the road better. For five miles I drove without a soul in sight, making sure not to get a flat tire. At one point, I crossed a railroad track, before off-roading it even more to what looked like Mars, or America's version of an explosive Stonehenge. There was only one other car when I arrived and it was leaving. So, I had the sprawling landscape with its popping rock formations all to myself.
As I locked my car, and scaled up the massive dirt humps and ran around this natural DisneyLand, I could see in all directions under the light of the full moon and the setting sun. Truly a moving experience. There was no wind. The silence was golden and almost beautifully eerie. I expected a dinosaur to pop in. The sunset was unreal as the the western mountains turned purple and the sky became a colored painting, blending purple, blue and pink. A melted watercolor surrounded me, while the full moon and the stars later guided me out of the pitch-dark bumpy roads. I knew it probably wasn't smart to do this alone, but it was so worth the joy.
Sometimes you may ask yourself, 'How did I get here?"