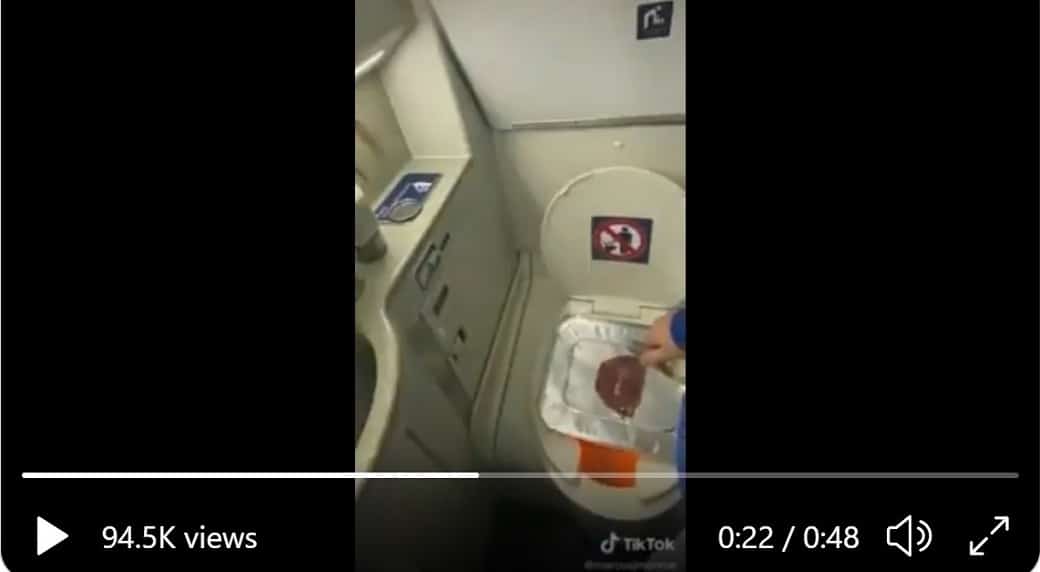 In all my years of flying, I've seen some pretty outrageous things on airplanes but this definitely takes the cake. This guy should be arrested for putting everyone at risk (passengers, crew and people on the ground) by pulling such a dumbass stunt, just to try to make a video go viral. Here's the story:
Southwest Airlines foolishly retweeted a user named Chelsea Boot Stan Account, which posted what I believe to be a now-deleted TikTok video by Marcus Monroe, who, according to the Sun, is an actor from New York and a serial prankster.
We-

We have no words. Other than please don't even think about cooking a steak on one of our flights. https://t.co/Ur0PHk4FLV

— Southwest Airlines (@SouthwestAir) November 28, 2020
One of his past airplane stunts included cutting the hair of a woman who was "dead asleep" and blocking his inflight entertainment system. That one was actually kind of funny because it was obviously a set-up and the woman was wearing a wig. I mean, I've joked about doing something similar to my seatmates when something like that happens!
However, there's nothing funny about the stunt he pulled on a relatively empty Delta flight (I'm guessing, by the seats) and it must have been filmed recently because the passengers were wearing masks.
If you watch the 48-second video, you will see Marcus in the plane lavatory, putting a Sterno (canned heat that uses ethanol gel) in the toilet. He lights it with a lighter, lays down an aluminum grilling sheet across the seat, plops down a raw steak, pours part of a small bottle of white wine on it to marinate it, then plates it and walks back to his coach seat. It's astonishing.
At the end of the video, he writes, 'Tap to see if I got banned from the airline.'
Since the video is now deleted, you can't tell what happens but he should be more than banned … and not just from Delta. He should be arrested and banned by all airlines.
I'm still not sure what Southwest was thinking, retweeting something so stupid, not to mention illegal, especially with the words: "We- We have no words. Other than please don't even think about cooking a steak on one of our flights."
It seems I'm not alone in my feelings about this. Twitter user @kristainlondon replied "Retweeting someone using a lighter in an airplane toilet seems deeply irresponsible and puts your staff and customers at risk."
If you're a going retweet something so dangerous, at least write what my colleague Anthony Davis suggested:
"Why on earth have @SouthwestAir not said this is a Federal offense and the perpetrator will be arrested and charged with endangering an aircraft in flight? I'm aghast."
That makes two of us. I'm still shaking my head.
What do you think of this whole situation? Leave a comment and let's discuss.
UPDATE: Of course, after these dude got my blood boiling Southwest tweeted that Marcus said the video was fake and he shows how he created the illusion. It was still a dumbass thing to put out there because it gives other people ideas and an airplane isn't the place to pull a prank.
Well, good news everyone, @MarcusMonroe let us know this video is fake.

But again, just to reiterate, you can't cook a steak in the lav. Thanks and wear a mask!

— Southwest Airlines (@SouthwestAir) November 28, 2020