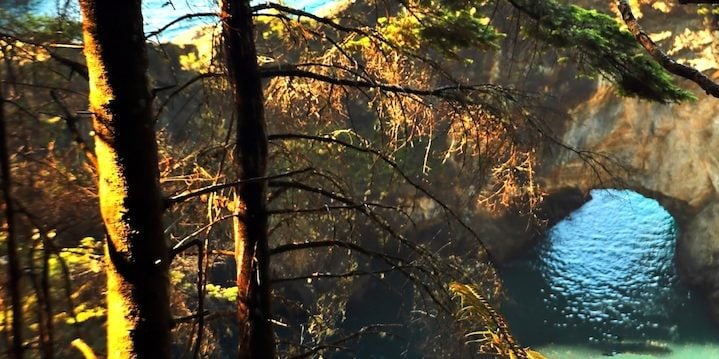 Before leaving Florence (see part three) on my drive down the Oregon coast, I had to stop in at Sand Master Park, where sandboards are available for rental and lessons are available for those who might want to learn or improve their skills. Owner Lon Beale, who's sandboarded in 141 places all over the world, told me that some sand can be friendlier than other sand.
"It all depends on the shape of the grains," he said. "They can be coarse or fine, fine being best."
Beale was drawn to Florence in 2000 by the 40 acres of privately owned dunes along the beach, a rarity because sand dunes are typically protected around the world and therefore not privately owned. For this reason, he was able to open his operation and not be hampered by the need for permits and governmental red tape. Wanting to try my own hand at sandboarding, I headed to the dunes with Gabe Cruz, a three-time and current sandboard world champion. Gabe is available most times for instruction at Sand Master. I found the most difficult part of the downhill experience to be getting my feet into the board and then standing upright. Once stabilized, I found the downhill ride fairly easy.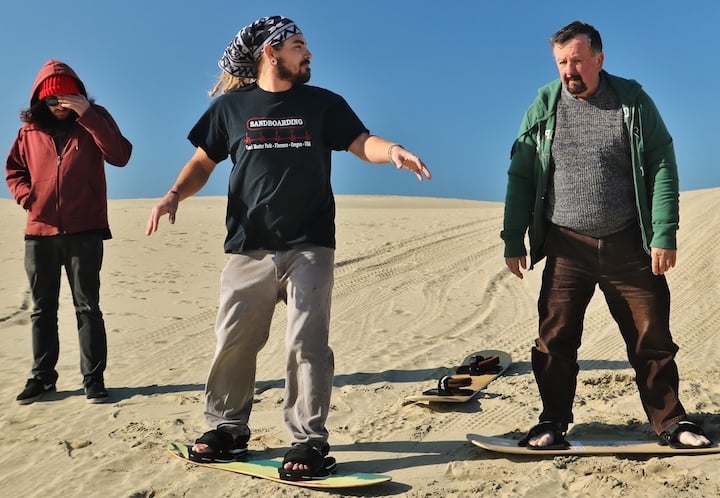 Cruz said that snowboarders often have a difficult time adapting to sandboarding because they think it'll be like riding on snow, but sand is actually much more "liquid," which changes the dynamic. "When I teach people, they can usually pick things up in an hour and get enough confidence to go out on their own," he said. "Sandboarding is a low-impact sport so it's safe for anyone. I've sandboarded with people as old as those in their late 70s and early 80s." Sand Master Park is the only facility that offers both rentals and lessons in one place. The park offers both dry and wet sandboards, depending on the weather conditions. Open March through December, the park is closed in January and February.
The gardens at Shore Acres
Heading south, Bill and I had to detour off Route 101 to get to Shore Acres, once the private estate of pioneer timber mogul Louis Simpson and now a state park. Sitting on sandstone cliffs high above the ocean, the park has lovely, well-maintained formal gardens with plants from all over the world and something in bloom almost every day of the year.
In addition to the formal garden, the park also has a Japanese garden with a lily pond and a rose garden. If you visit in December, you can catch the "Holiday Lights" spectacle, for which the garden is ablaze with Christmas lights and ornaments. Any time of year, you can stroll down a trail to a secluded ocean cove at Simpson Beach or skirt the cliff's edge to see spectacular ocean vistas that often include towering waves crashing against the shoreline after a storm and migrating grey whales. On the site of Simpson's vanished mansion, a fully enclosed observation building allows visitors to view the ocean and read the interpretive panels describing the history of the estate.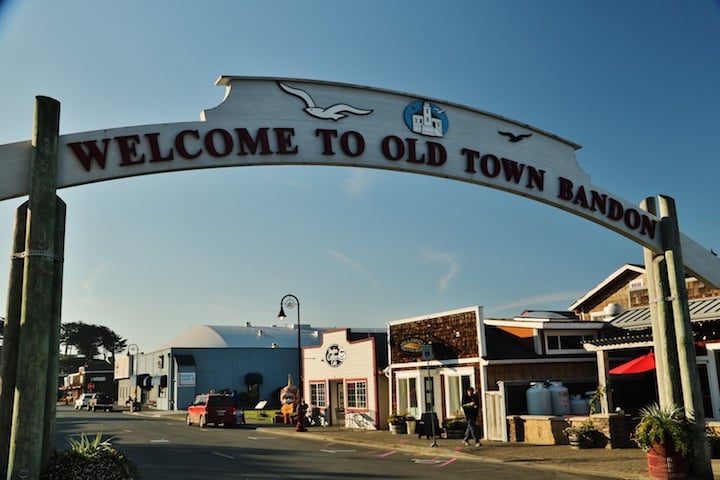 Crabs in Bandon
After a quick stop at Bullards Beach State Park for a look at the Coquille River Lighthouse, we pulled into Bandon around lunchtime and headed for Tony's Crab Shack. Owner Tony Roszkowski started cooking crab in 1989 outside the tackle shop he'd just bought and the business grew from there. Over the years, the menu evolved from cold crab cocktail and oysters to Bandon's famous crab sandwich, grilled halibut, cioppino, smoked salmon alfredo, fish tacos, and classic coastal dishes.
Crabs are kept live in tanks out back and cooked fresh daily, and nothing on the menu is deep-fried. From July to September 2018, cook Brenden Fisher said his staff shucked 14,000 oysters.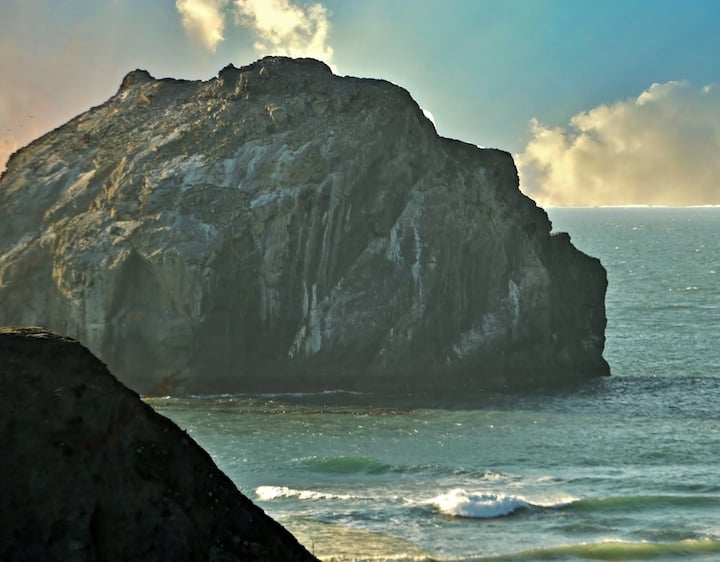 Two more stops on the coast
At Face Rock Viewpoint just south of town, it was easy to see the visage of a man sculpted by the waves in the large rock that juts out of the sea. In other places I've been that have claimed a similar image, whether it be a mountain or cavern stalactite, I've had difficulty spotting the figure. Not so here at Face Rock, which comes with an old Native American legend that you can hear a maiden's voice in the wind while looking at it.
Further south, Cape Blanco is noteworthy as the location of Oregon's southernmost lighthouse and its westernmost point. The lighthouse, built in 1870, is also the oldest in the state that's still standing, and it's still outfitted with an early Irish settler's home built in 1898. Both structures are on the National Register of Historic Places.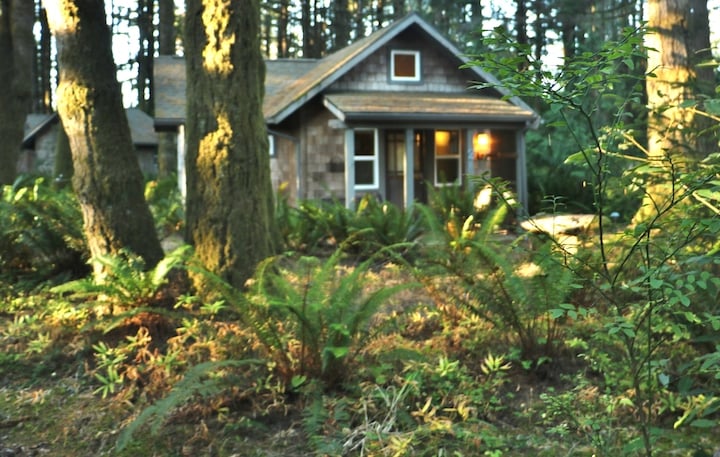 Relaxing at WildSpring Guest Habitat
We spent our last night on the Oregon coast in a beautiful setting, an eco-friendly bed-and-breakfast called WildSpring Guest Habitat in Port Orford. We checked into one of the five upscale cabin suites, furnished with art and antiques, and then headed outdoors to explore WildSpring's five-acre grounds, which is scattered with interesting art pieces.
Climb the hill to the top and sit on the deck of the Guest Hall and watch the sun set over the Pacific, or walk just a few yards down the hill to the slate hot tub where the tranquility is almost as as noteworthy as the view. After dusk, sit back and watch the stars or borrow one of the hostelry's 600 DVDs and spend the evening in the cozy comfort of your bed while watching a favorite film. The complimentary breakfast buffet is a veritable cornucopia of quality food. Post-meal options include lying in the outdoor hammock, walking the on-site labyrinth, hiking the grounds, taking an in-cabin massage (with prior arrangement), and exploring Port Orford's eight art galleries.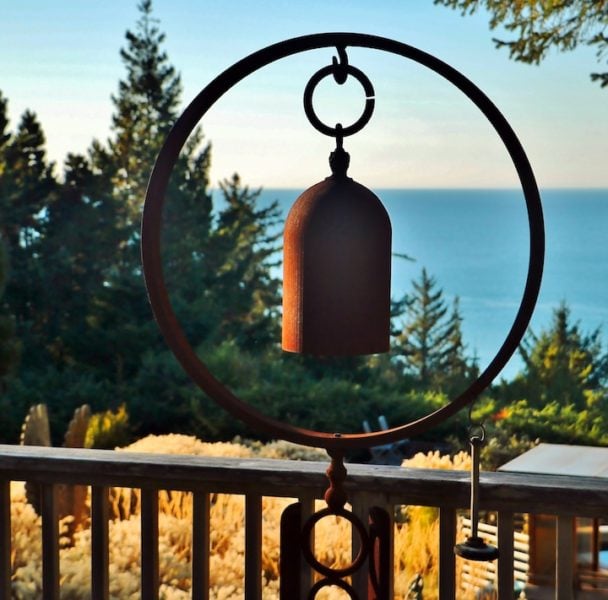 Medford, and a goodbye to the Oregon coast
To get to Medford, where Bill and I planned to drop off the rental car and catch our early morning flight back home, we had to head south 60 miles to the California border, drive a further 10 miles south, and then take Route 199 northeast to Medford, which took us through some glorious mountainous scenery with numerous redwood groves.
Arriving in Medford too late to take a Harry and David's factory tour, we did manage a stop inside the flagship village store to sample cheeses, chocolate truffles and wine made by a local guest winery. The produce and gourmet items in stock were simply amazing and artfully displayed.
That evening, we enjoyed a three-course dinner at Larks. Here, executive chef Matthew Robinson brings more than 20 years of experience to his signature local-ingredient-driven, bistro-style cuisine. Larks's award-winning farm-to-table philosophy takes inspiration from the vibrant agricultural output of the area's farms, orchards, bakeries, creameries, wineries, and fisheries. With dinner, I particularly liked the ability to order 2oz (half-glass) pours of wine and thereby sample and compare several Oregon wines from the extensive wine list.
The next morning, the alarm clock rang much too early, and it was difficult getting out of a comfortable bed at the Inn at the Commons. About a half-hour before our flight, I sat in the boarding area of the small airport and ruminated on my ten-day adventure driving the Oregon coast, thrilled by the beauty of it all, the friendliness of its residents, the great food and seafood I tried, and the hundreds of photographs Bill took to remind me of the journey I so thoroughly enjoyed.
---
For more information on the Oregon coast, visit traveloregon.com.