A big thanks to Visit Santa Barbara and Mar Monte Hotel for hosting our stay so we could provide this detailed review of our experience.
Every time we visit Santa Barbara, we discover that there is more than we imagined in this central California coastal enclave. It's easy to dream about moving to this relaxed beach town hugged by the Santa Ynez mountains. The quality of life just seems better here.
Add in vineyards and nearby farms spouting incredible local wine and food, outdoor adventures, and fascinating arts and culture, and you might just ponder, "Is there anything more one could want in a town?"
After visiting Santa Barbara numerous times, we realized how many layers this quintessential beach town has to offer. Plan your next trip with our latest discoveries.
Discover Santa Barbara

Relax in a salt cave
Right in downtown Santa Barbara, find the largest Himalayan salt cave in North America, crafted from 45 tons of 250-million-year-old Himalayan crystal salt. Spend 45 minutes or more relaxing in a zero-gravity lounge chair where the air is infused with micro-salt particles that apparently impart a therapeutic benefit when inhaled. Halotherapy (breathing air saturated with micro salt particles) is known to be a natural way to improve respiratory health.
Massages, salt scrubs, facial treatments, and private meditation and halotherapy sessions are also available in this pink crystal-laden grotto. Over the years, the Salt Cave has hosted sessions in yoga, reiki, dance, crystal singing bowls, vocal sound healing, and even a wedding ceremony. Their boutique sells Himalayan salt body, home, and culinary products made in Santa Barbara.

Stroll around the farmer's market at State Street Promenade 
Since the pandemic shifted many restaurants to outdoor seating, the concept stuck in Santa Barbara like many towns and cities across the country. State Street is now closed to cars making it the perfect place to linger for food bites, farmer's market finds, local gifts, and boutique shopping.

Waltz through a live butterfly garden at the Santa Barbara Museum of Natural History
Located on 17 acres of oak woodlands, the Santa Barbara Museum of Natural History hosts their annual Butterflies Alive! exhibit from Memorial Day weekend until Labor Day weekend, where butterflies are hatched from Costa Rica and Florida. Inside a giant netted cage, visitors can walk in at timed entrances to experience these colorful beauties as they fly all around and often land on you.
Just above Old Mission Santa Barbara, this museum is a wonderful place for families. Founded in 1916, its collections span 3.5 million specimens covering Santa Barbara's natural history – from mammals, birds, and marine life to geology, astronomy, paleontology, and anthropology, including native Chumash history.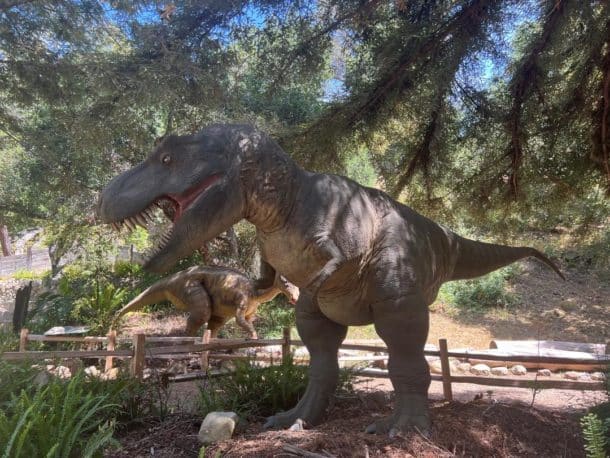 In 2018, the museum was extensively renovated boasting state-of-the-art interactive exhibits for all ages, paired with the Central Coast's only planetarium. A dinosaur park delights kids (and adults) where animatronic dinosaurs move and make noises with facts displayed about each creature's prehistoric habits.
On certain days you can meet and greet three different kinds of owls and a peregrine falcon that are cared for in the Museum Backyard along Mission Creek thanks to the Santa Barbara Audubon's Eyes in the Sky Program.

Meander the Santa Barbara Botanic Garden
The Santa Barbara Botanic Garden is set on 78 acres of sloping foothills above the city with native plants and 5.5 miles of scenic trails that lead past more than 1,000 California plant species. Collections are organized according to growing zone and highlight native plants of the desert, island, and coastal areas.
Take a peaceful walk through manzanita, desert plants, redwoods, and a stream with an original dam and aqueduct from way back when. Plus, in spring and summer, admire white Matilija papery poppies with yellow stamen clusters and more wildflowers in a sloping meadow backed up to the Santa Ynez Mountain range. For those who want a bird's eye view of the city, cross the street at the entrance and spiral up the pathway to the outlook.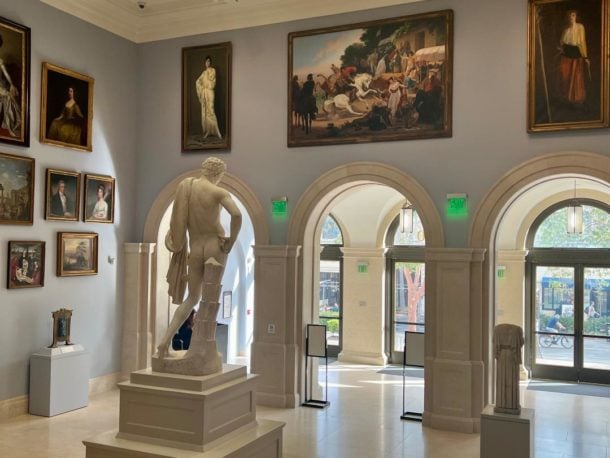 Admire antiquities and modern art at the Santa Barbara Museum of Art
While Van Gogh's works recently graced the museum's walls with an exhibit in the Spring of 2022, the newly renovated 81-year-old Santa Barbara Museum of Art is an easily doable jaunt as it is right in town and spans only a few floors. Currently, find the exhibit entitled, Going Global: Abstract Art at Mid-Century, now until September 25.
Expanded galleries include a multi-floor wing housing newly created galleries dedicated to photography, contemporary art, and new media. More than 28,000 works of art spanning over 5,000 years of human creativity are kept here. The collection includes Greco-Roman antiquities, 19th- and 20th-century French and American art, European and American prints and drawings, photography, Asian art, and contemporary art. The museum organizes world-renowned exhibitions that often travel to museums across the Americas and Europe.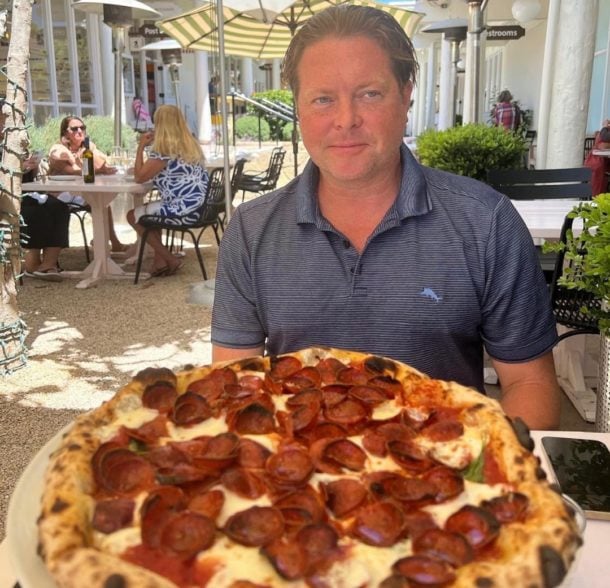 Munch on the best pizza at Bettina or Lucky Penny
Even in Los Angeles, we have a challenging time finding pizza we love, but here in Santa Barbara, you can't miss Bettina, a Bib Gourmand earner in 2021. Technically in Montecito, it's basically Santa Barbara adjacent and a must-stop on your drive from LA.
Sit outside in the courtyard at Montecito Country Mart (where the setting may bring Malibu flashbacks) and struggle to determine which wood-fired pizza to order, with choices like Carbonara, English Pea, or Tart Flambe. We chose Pepperoni with Ojai wildflower honey and chili oil. If you want a long drawn-out lunch, start with some of the other simple dishes influenced by the owner's trips to Italy like Arancini, sardines, fried meatballs, or Nduja stuffed dates.
Another casual eatery serving excellent wood-fired pizza along with salad and sandwiches (and even a muffuletta) is Lucky Penny in the Funk Zone, where actual pennies cover the restaurant's exterior. Order at the counter and dine outside on The Salty Surfer pizza, decked with prosciutto and pineapple. Add FROSE or an Italian soda with flavors like pistachio honey or blood orange to your order.

Wine taste outdoors around the Presidio Neighborhood
While we love the Funk Zone to sample wines, check out the vibrant Presidio Neighborhood too. Spend a leisurely afternoon at these two wineries in downtown Santa Barbara that are part of the Santa Barbara Urban Wine Trail, created in 2007 to give visitors a taste of the county's best vineyards. Today find 30 wineries in town in various neighborhoods celebrating different varieties and styles of vino. In the heart of Santa Barbara, the Presidio is centered around the historical site of one of the last Spanish fortresses (or "presidios") to be built in California.
Frequency Wines Tasting Room focuses on single vineyard selections offering the purest expressions of Santa Barbara County terroir. Founded in 2010, the winery is a family affair as Zac Wasserman makes the wine while his kin lends inspiration and support. The gorgeous new location in a historic courtyard is encircled by mature lush foliage and Spanish colonial Revival architecture. Sip the Santa Barbara County rose and Radian Vineyard Pinot Noir outside in this lovely space and pretend you are in Europe.
Kunin Wines' new tasting room is perfectly located next to the Cheese Shop – with French, Belgium, and English cheeses – making it convenient to pair a cheese board with Kunin's sparkling wines, roses, zins, and syrahs or some of our favorites like Kunin's viognier and light and bright Phoebe 2.0 rose named after the Kunins' daughter. In the summer of 2022, Kunin also opened a tasting room at its Goleta winery for the first time, offering tastings and food from its new kitchen.
Sleep in the newly renovated historic Mar Monte Hotel across from the ocean
Steps from the beach and a mile from Stearns Wharf, the revamped 200-room Mar Monte boutique hotel is part of Hyatt's Unbound Collection. Built in the 1930s, the Mar Monte Hotel completed its final multi-million-dollar reimagination phase in 2021, consisting of a beautiful refresh of design and décor, blending old with new while preserving the character across three acres of Spanish-influenced grounds. Most rooms come with oceanfront terraces or balconies – perfect for morning coffee, a workspace, sunset wine, or just to feel the salty air.
Thanks to the Los Angeles-based design firm Beleco, rooms are elegantly furnished with stylish carpeting, a patterned cushioned mid-century modern bed, chic accent pillows, darling bedside lighting, and a retro chaise lounge. A gold ornate frame accents a vintage diver above the bed and a book on surfing reminds you where you are – the American Riviera. Situated right downtown and minutes from the fun-filled Funk Zone, Mar Monte Hotel makes exploring Santa Barbara easy.

Upon entering, the lobby oozes charm with a glamorous fireplace featuring original pearl-esque tiles and a check-in area with terra cotta flooring, spectacular dazzling gold dripping chandeliers hanging from arches and exposed beam ceilings, and a large-scale ceramic tile art installation behind the reception desk. The lobby leads to a refined library foyer workspace and an open-air patio where the golden California sunlight and ocean air assaults the senses. Choose from various seating areas in the courtyard with a Spanish/Moroccan-style tiled fountain as a focal point.
If you don't feel like venturing far, the hotel has two new food and beverage concepts. Lido Café is a poolside bar and restaurant with ocean views, where dramatic arched white walls are adorned with hand-painted native flowers and accented with various-sized hanging basket lamps and hanging foliage. Morning date shakes or smoothies are a must but so are the mocha coffees. Café Lido's all-day menu serves up huge portions of California fresh produce. Don't miss the breakfast menu or lunch options like juicy plump local mussels with nduja, like softer chorizo – perfectly accompanied with a grilled baguette for soaking. The Salmon Nicoise and California Grilled Chicken sandwiches with rosemary focaccia are also exceptional.
For dinner, the property boasts Costa Kitchen & Bar where you can sit outside across from the ocean with a cocktail before entering the cheerful space with lemon wallpaper, olive trees, plush yellow dining chairs, and rich leather banquettes. For sophisticated taste buds, spend a leisurely evening over whole roasted branzino with salsa verde, squid ink linguine with clams, snow peas, and uni butter sauce, and central coast crab with flavor bursts of sweet and spicy. Toast the good life with a local wine or a 'Gucci' Old Fashioned paired with California olive oil cake doused in whipped cream and slices of fruit. Mar Monte is the place to stay to feel the heart and soul of Santa Barbara.
Dine beachside at Reunion Kitchen + Drink for sunset
Right across from Mar Monte Hotel, book a sunset dinner at one of their oceanfront fire pits and clink to your good fortune as the fireball slips into the ocean. Reunion Kitchen's new restaurant location dishes comfort food in a relaxed setting. Start with Clam Chowder and indulge in the Beer Battered Fish and Chips, Short Rib Stroganoff, or their signature Rosemary's Chicken.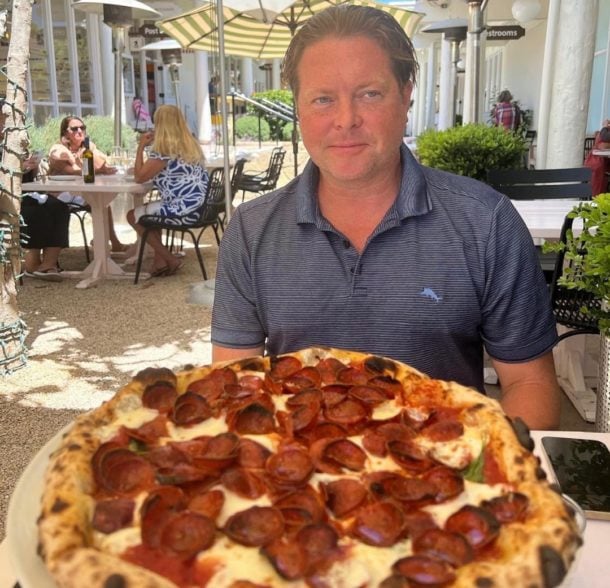 Stroll East Beach towards Butterfly Beach
Cross the street from Mar Monte Hotel and turn left to head to East Beach which leads you down a beautiful long stretch with a cliff-hugging coast toward Montecito's Butterfly Beach. Walk in the morning past Andre Clark Bird Refuge and what looks like former bathing huts and soak in the privacy and pristine shoreline. You'll most likely have the whole beach to yourself.

Sip wine at Deep Sea Winery Tasting Room atop the ocean
High above Stearns Wharf, the oldest wooden working wharf in California, find this "above the pier" tasting room experience where wines come paired with the Santa Barbara coastline as you sit atop the ocean outdoors. Stearns Wharf celebrates its 150-year anniversary with a large celebration in October 2022.
We suggest sharing a bottle of Santa Barbara wine for around $35 or a tasting flight. Wine Club members sip all glasses for $9. Just across the pier, find Santa Barbara Shellfish Co, Julia Child's favorite restaurant where scallops topped with local uni are a must. Also, just a few feet away is the launch for Celebration Cruises where guests can hop aboard a 70-foot yacht for an hourlong intimate sunset cruise. Make sure to bring a jacket or sweatshirt since it gets chilly once the sun drops.

Brunch at Finch and Fork in the Kimpton Canary Hotel
The fully renovated Finch and Fork restaurant at Kimpton Canary Hotel is tantalizing guests with a menu inspired by the area's lush farms and coastal bounty. Begin the day with a satisfying brunch thanks to Executive Chef Craig Riker who concocts elegant plates of Pork Belly Deviled Eggs, Short Rib with sweet potato hash and poached eggs, Chilaquiles, Huevos Rancheros, and Brioche French Toast with strawberries and vanilla mascarpone. Add a Rose Garden Spritz or Bloody Samurai with sake to your robust brunch bliss.

Marvel at chalk art in front of Mission Santa Barbara at the annual I Madonnari Street Painting Festival
While we missed the live chalk pastel paintings created in 4' x 6' or 12' x 12' squares, over 150 elaborate colorful paintings don the Mission plaza pavement from street painters known as Madonnari for the month following this free Memorial Day weekend event that is filled with live music and an Italian market.
In its 36th year, the annual I Madonnari Street Painting Festival uses chalk as a medium, an Italian tradition that started in presumably the 16th century. "Madonnari" is the practice of reproducing the image of the Madonna (Our Lady). The early Italian street painters were travelers who would arrive in small towns and villages for Catholic religious festivals and transform the streets and public squares into temporary galleries for their works of art.
Originating from a sister festival in Grazie di Curtatone, Italy, the festival benefits the Children's Creative Project, a nonprofit arts education program of the Santa Barbara County Education Office. The Project serves 50,000 children in more than 100 schools with visual and performing arts workshops and performances throughout Santa Barbara and San Luis Obispo counties.
Take a self-guided tour of the Old Mission and marvel at the extraordinary patchwork of intricately detailed creations. The art remains for months before it eventually fades. Also, don't miss the A.C. Postel Memorial Rose Garden across the street where more than 1,500 rose plants await, and turn back to admire the Mission's façade.