Ever wish you knew the inside scoop before visiting a new destination? Now you can! We've reached out to our favorite locals and tour guides from all over the world for their insider tips. In the City Insider Q&A, they'll let you in on the spots that should be on your must-see and -do list!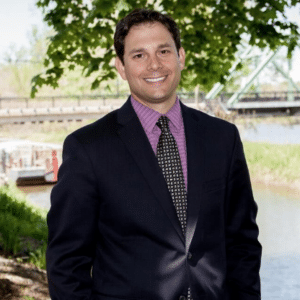 Name: Paul Bencivengo
Occupation: Vice President, Visit Bucks County
City: Bucks County, Pennsylvania
Website: visitbuckscounty.com
Twitter: @VisitBucksPA & @scullyano
Instagram: visitbuckspa & scullyano
Facebook: Visit Bucks County
Pinterest: Visit Bucks County
YouTube: VisitBucksPA
Short bio: Paul has been with Visit Bucks County since 2009. Previously, he worked at the Philadelphia Convention & Visitors Bureau for nine years. Paul and his family reside in Bucks County and do their part to fuel the region's tourism and hospitality economy. They are avid travelers and always try to seek out the "local places" while exploring new cities and towns. 
Best way to get to/from airport: The closest international airport is Philadelphia International Airport, followed by Newark International Airport in New Jersey. Locally, there are Doylestown Airport, Northeast Philadelphia Airport, and Mercer County Airport in Trenton, New Jersey.
Best way to get to/from train station: Amtrak travels through Bucks County and stops in Trenton, NJ, Philadelphia, PA, and other nearby locations. There are also a lot of options via bus. The Southeastern Pennsylvania Transportation Authority (SEPTA) has commuter stations throughout Bucks County with stops in Philadelphia, PA, and Trenton, NJ Rushbus is public transportation operated by TMA Bucks that provides connections with SEPTA from Bristol Train Station (Bristol Rushbus) and Warminster Train Station (Richboro-Warminster Rushbus).
Favorite 5-star hotel: We have lots of great hotels in Bucks County, but one of our most exclusive properties is the Inn at Bowman's Hill. It's an amazing B&B run by an Englishman named Mike Amery.
Favorite budget hotel: You can't go wrong with any of our flagged properties in Bucks County!
5 places visitors must see:
Best local newspaper/recommended reading (for finding out what's going on about town): Bucks County Courier Times, The Herald, The Intelligencer. We also have a handful of hyperlocal papers that do a great job. Check out what Samantha Bambino at the Lower Bucks Times and Tom Sofield at LevittownNow.com are writing about!
Favorite fine dining restaurant: Washington House Restaurant
Favorite casual restaurant: Bowman's Tavern is a great place in New Hope right by Bowman's Hill Tower and Bowman's Wildflower Preserve.
Best place to get a coffee: The Zen Den in Doylestown! (and be sure to stop by Empanada Mama next door for a quick lunch, too).
Favorite bar/lounge: The bar at the Buttonwood Grill in Peddler's Village is the perfect place to grab a brew while your other half shops the 60+ retail spots!
Best music venue/place to see live music: There are lots of places throughout the county to see live music. From restaurants to event venues, but two great places are Sellersville Theater and the brand new Parx Casino Xcite Center.
Favorite museum: It's so difficult to pick just one. We have a lot of arts and cultural institutions, as well as historical museums, but one of my favorites is Fonthill Castle. This concrete castle was once the home of Bucks County's own Henry Chapman Mercer, a renowned archaeologist. The James A. Michener Art Museum is also a great place to tour—it was formerly a jail!
Best sports venue(s): Bucks County is filled will countless community parks, fields and venues. One really cool place is the Bucks County Curling Club. It's a very unique sport and one gaining in popularity, especially after the gold-medal-winning USA Olympic Team.
Most popular local food: Rich in farms, we are proud of our farm-to-table restaurants. Caleb's American Kitchen is always sourcing from farms, so check his place out and ask for Caleb! Tell him Paul B. sent you ?.
Best "locals-only" spot: Another difficult question to pick just one (or two)! I'd say The Green Parrot in Newtown and McCoole's in Quakertown. Visitors are welcome, too, but it's a place where everybody knows your name.
To live like a local, you must have this experience: The Tow Path. It runs along the Delaware River. It's a great place to go for a long run or bike ride. Be sure to stop at Washington Crossing Historic Park and close your eyes and imagine George Washington and his troops crossing the river on Christmas night nearly 250 years ago. Other favorite parks are Tyler State Park and Nockamixon State Park.  
Most popular local drink: We have wineries, breweries and distilleries all in Bucks County! But if you pin me to one… it has to be Free Will Brewing's Techno IPA. It's a perfect balance of hops. Typing that just made my mouth water!
Movies/TV shows filmed in your city: M. Night Shyamalan movies are filmed here because he is a native to the region. Signs, The Village and Split. Also, just last year Nicole Kidman, Kevin Hart and Bryan Cranston were seen here filming scenes for Untouchable.
Best souvenirs to buy/goods to bring home: A tile from Moravian Pottery & Tile Works, a plush toy from Sesame Place, or an antique from one of the many shops in New Hope!   
Best place to volunteer: Rolling Harvest is such a great organization. They coordinate harvesting at farms that donate crops to local food banks. The Bucks County Opportunities Council also does a lot to support the community.
Biggest tourist trap/places to avoid and when: New Hope can get a little crowded on the weekends. Arrive early and enjoy the people-watching from one of the countless restaurants and bars lining Main Street. Locals love chatting it up with those from out of town.
Best smartphone app(s) for your city: Our site is mobile-friendly, so I'd go with VisitBucksCounty.com!
Best travel tip: Eat, drink, sleep, explore, shop. Repeat.