This trip was sponsored in part by Thai Airways and Tourism Thailand.
Chiang Mai is a city with heart, and I left part of mine there. A sweet sentiment pervades – maybe it's the temples and the abundance of monks and novices (young monks in training). Or maybe it is the sensitive elephants at the Mae Taeng Elephant Camp and the humble indigenous people. I was mesmerized by Bangkok, but that city has an edge, which, thankfully, is missing in Chiang Mai.
Arriving from Bangkok after an hour and 20 minute flight aboard a Thai Airways jet with the consistently amazing service Thai Airways is known for, was a pleasant surprise. Deplaning the jet, I could instantly feel and smell the difference in the air. It was 20 degrees cooler, not humid, and had the aroma of tropical flowers. We were in the city of Chiang Mai, and would soon travel north, towards the Myanmar border to visit the Mae Taeng Elephant Camp  (next week's article). Even the people looked different than the Thai in Bangkok.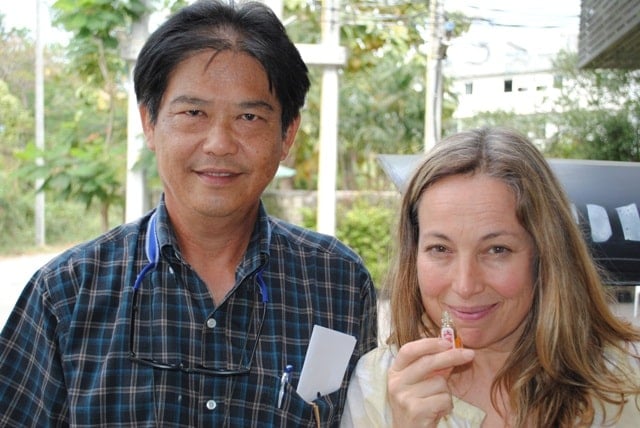 My group boarded a van under the fearless leadership of our guide – Aroon, and headed to the city of Chiang Mai, to spend a little time in the wonderful and totally chic Le Meridien Hotel. On the way, we stopped at the most colorful nursery I had ever been to – an Orchid Farm.
Once again, hiring a guide is essential to having a great trip! Aroon Chitparsong was very calm and knew everything we needed to see while we were in Chiang Mai for four short days. (He also knew every herbal medicinal from headache oil to stomach ache remedies!) Mae Taeng Elephants were top on the list, and for some reason, he knew we would be interested in shopping as well!
Shopping
Luckily, it was Sunday, so I was able to experience the Sunday Market! It was unique, stocked with local handicrafts, many made by Indigenous people. Silk "King and I" pants for 300 baht – $6! Handmade cotton shirts – 300 baht. Spices, appliqué fabrics, and foot massages – 300 baht for two hours!  Every night there was also "the night market" with great bargains as well, but mostly ubiquitous clothes and goods from China. I did buy a "Chanel" quilted pleather duffle for 1000 baht (thirty dollars). Don't bring a small suitcase to Thailand.
Aroon took us to the Sankamphaeng district where we visited several small factories; one that made parasols from Mulberry bark, another a silk factory and boutique, and also a lacquer factory, where we learned the technique. I bought several lacquered elephants and learned that the black lacquer is a thick rubbery substance that comes from a local tree. Seven layers are painted on before the colorful hand painted details are applied. The elephants are hand carved and the lacquer bowls are made from painstakingly bending layers of bamboo. Witnessing the effort put into these items made me appreciate them so much more. The silk factory was also interesting. Gossamer fabric is spun from the cocoon of the silk worm while it is in the pupa stage and after it has been left out in the sun to kill the worm (why true vegans do not wear silk). The small cocoons are only the size of a quarter and turned into skeins of silk thread, to be woven and died to make the treasured fabric.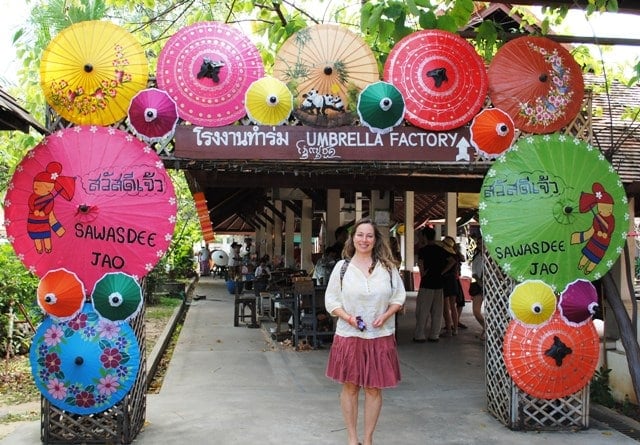 The umbrella factory is a colorful explosion of parasols and Mulberry paper items. The age-old tradition of making paper from the bark of the Mulberry tree is kept alive because of tourists.
Best Thai Food
The restaurants in Chiang Mai were the best! Aroon took us to Huen huay, formerly a mill, and on the banks of a river next to a natural waterfall where local people go to cool off. Here is where we tasted morning glory leaves, fish with green curry, and hot and spicy Tom Yam Goon soup and young coconut water served in their shells – delicious!
Khaomao-Khaofong Restaurant is near the Night Safari. Using natural flora, and artificial trees, and an abundance of man-created waterfalls, it feels like you are in a virtual jungle. Here we tried grilled Chinese black mushrooms, crispy chicken with herbs wrapped in fragrant leaves, catfish in spicy lime sauce, icy drinks made of fresh blended fruit-like Watermelon.
Chiang Mai Night Safari
The Chiang Mai Night Safari is the world's largest and gives you an up close look at mostly African animals in a wild setting while you ride in a trolley car. The giraffes, zebras, and deer often come close to ask for bananas!  It is a fun adventure for kids even though it seemed a bit strange because we were in Thailand! Intelligent and sweet Asian elephants were isolated on a type of island. For me, it would have been more interesting to see only Southeast Asian animals living large in their own natural habitat. There is a lot to choose from – snakes, monkeys, and of course, the lovely elephants, not to mention really cool insects! They also have a Behind-the-Zoo program, where you can brush elephants, touch a Rhino's horn and sometimes feed baby tigers!
Learning to Cook Thai
Baan Hongnual Cookery School was a truly fun experience. Under the guidance of the school's director, Amporn Hongnual, or one of her family members, students learn how to cook complicated Thai recipes in a simple and direct manner. The open-air setting is in a quaint village 15 minutes from Chiang Mai. The first part of the class starts at the market, where the abundant and sometimes overwhelming choices are discerned. Amidst colorful vegetable stalls, myriads of mushrooms, and bottles of key Thai sauces, ingredients were bought and placed in baskets. Back at the school, we learned to make Pad Thai, Tom Yam Goon soup, and Red Curry all while drinking Chang Beer in a jovial atmosphere! Amporn taught us vegetarian versions as well, simply accomplished by substituting tofu for chicken in the Pad Thai dish (and eliminating the egg), wonderful wild mushrooms for shrimp in Tom Yam Goon, and tofu instead of meat in the Red Curry dish. We all had a great time in this laid-back place of learning and were amazed at our creations! The magic of complex Thai flavors is in the blending of several aromatic herbs- lemongrass, Kaffir lime leaves and lime juice, Thai chilies, Galangal Thai ginger, sometimes garlic, and often coconut milk. The prices are quite reasonable too. For a half day and to learn 3 dishes is 1,200 baht. For a full day with 6 dishes it costs 1,500 baht and includes transportation from the hotel. Private classes can also be arranged.
Temples in Heaven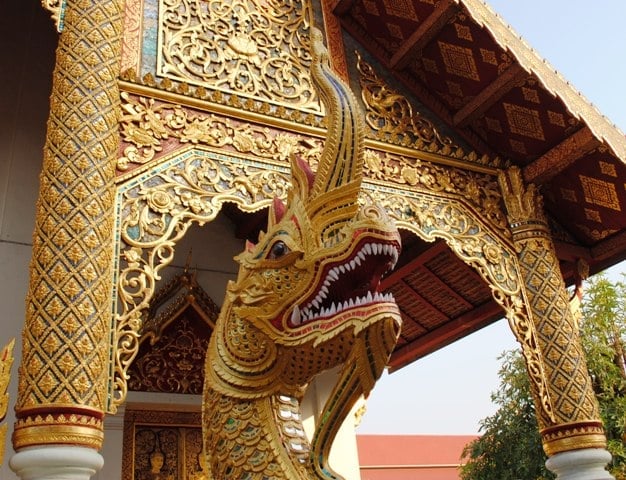 Doi Suthep Temple is a main attraction in Chiang Mai and not to be missed. Reached by ascending a very long staircase outfitted with mosaic tiles and dragons, each step takes you upward, and you can feel that you are about to reach something special. I am sure the architects were trying to mimic Heaven. At the top orchids greet you. As you walk on the ancient tiled platform to the stone wall overlooking the city of Chiang Mai,  you realize you are as high as the clouds. Turning the corner, there is a Bodhi tree which comes from the town where The Buddha was enlightened and was planted long ago, atop some of his relics. Shoes are removed and you enter a pagoda where you are surrounded by the colors of crimson red and gold. There is a constant stream of worshippers offering flowers and silently praying. Many Buddhas are present here – gold reclining Buddhas, standing Buddhas, and Buddhas in meditation poses. This was by far my favorite temple, outstanding for its beauty and because of its location on top of the hill and outdoors.
Doi Suthep Temple was also where we gathered at sunrise on our last day, to make an offering of food to the monks and novices. It is a bit surreal since it is barely light, cool and everywhere there are monks dressed in bright orange robes and barefoot. Several tables are set up on the street which offer "the monk package" – sticky rice, fruit, juice, soup, and a sweet. The kit sells for 30 baht which is about a dollar. As the monks walked by I gestured to one of them. He stopped in front of me and I carefully added the offerings into his copper pot. Then I kneeled in front of him and bowed my head as he rattled off a blessing in Thai. I did this several times and the last monk had a copper colored robe (maybe a teacher) and gave the blessing in English, which was for health and prosperity for me and my family. The Thai people believe that doing good deeds like these provide good karma for yourself and your family, and everywhere you go people smile, put their hands together like a prayer, and say "kab koom kah" – thank you.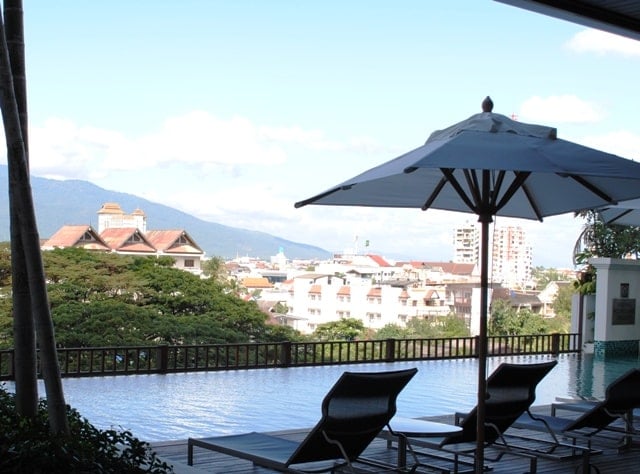 Le Meridien Hotel is a five-star oasis that has vibrant young energy like a youth hostel, only in a super modern, luxurious, and stark white atmosphere. I could live there! The high ceiling lobby is punctuated by many low, modular chair groupings and a lively bar. The rooms are small but compact, all white, and have everything you need: flatscreen TV, comfy king bed, Italian cotton sheets, a large sunken bathtub which is separated from the bedroom by a groovy white blind, and a view of quaint Chiang Mai and its surrounding hills. The serene pool area on the fourth floor overlooks the hills as does the nearby workout center. Nearby, I experienced a Swedish massage in the tranquil spa that has dark teakwood floors, Thai silk pillows, and the aroma of lemongrass. The price was 2000 baht for an hour and a half which included stretching and a shower – it seemed expensive at the time, but was only $60!
Mandarin Oriental
I toured the phenomenal Mandarin Oriental Dhara Devi, famed for the location of last season's "The Bachelor." The property is a virtual antique city complete with rice paddies, a temple, a palace, village market, and a mythical spa.  Ancient looking buildings are actually new construction. Accents of vintage tiles brought in from India add to its specialness. Dinner at their legendary restaurant – Fareng Ses – was unbelievable. We tried the soft shell crab salad, coconut milk soup, spicy guava salad, stir fried chayote with shitake mushrooms, and yellow curried chicken. Good wine seemed hard to come by in Thailand, but not here, where the Wairau River Sauvignon Blanc from New Zealand was outstanding.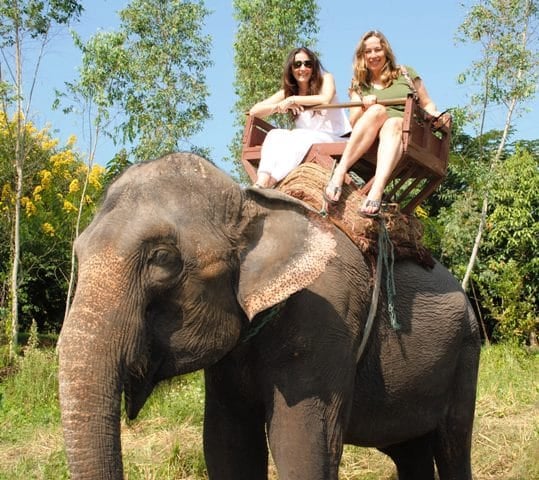 Maetaman Elephant Camp
I was very excited for the elephant show, which I had heard so much about. Elephants kicking soccer balls? Scoring goals? Elephants painting pictures, including self portraits? Elephants giving massages? This, I had to witness! Not to mention having a ride on the largest walking animal on earth! Next week I go into detail about my adventure at the camp near the Myanmar border.
Rawee Waree Resort is very close to Mae Taeng Elephant Camp and has serene villas set amidst a  tropical garden. Here, I witnessed an elephant trainer from the nearby camp giving his elephant a bath in the Mae Taeng River right outside a cottage. It was great to see the connection the two had and how this slight man was in total control of the immense animal. People can spend three days here and attend a special elephant camp at Mae Taeng.
Out of all the places that I visited in Thailand, Chiang Mai stole my heart.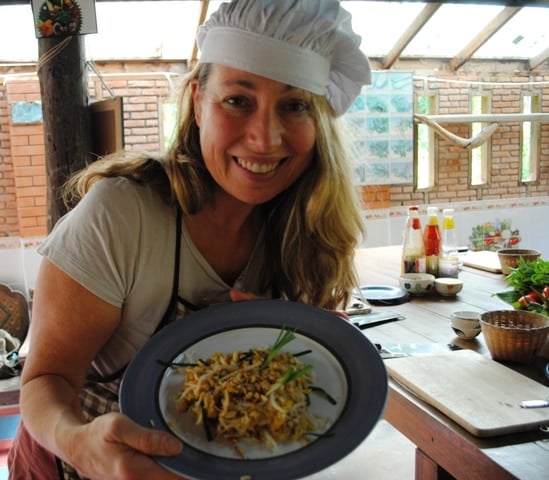 About the Author: Hi, I am Georgette, a writer, and artist based in Connecticut and Vermont. I am also Johnny Jet's older sister, who quite possibly ignited his first spark of interest in traveling to exotic places, when at the impressionable age of 14, he saw my two-week trip to Australia last four years! Whether skiing in the mountains, snorkeling in the tropics, or exploring faraway cities, I am always game for traveling and the privilege of writing for my baby brother's website JohnnyJet.com. Of course, coming home to my husband Cam, our dog Baci, and my cat Ace – is great, too! Visit my website at www.georgettepaintings.com.
This trip was sponsored in part by Thai Airways and Tourism Thailand.
Save