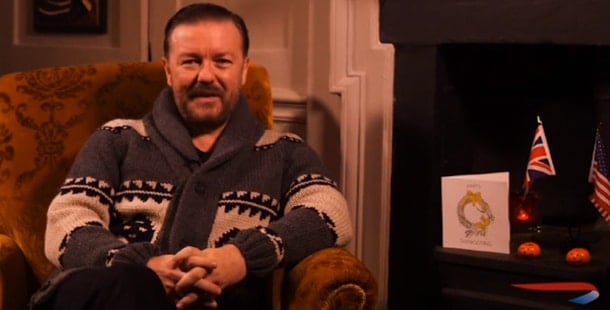 Are you joining the tens of thousands of travelers who will be taking to the skies next week to visit friends and family for Thanksgiving? The start of the holiday season is invariably the most stressful time of year for travelers, with airports chock-a-block with passengers and suitcases and the result is usually nothing short of mayhem. (And if you haven't booked your flights yet, check out these 10 ways to find cheap flights for Thanksgiving.)
Many Americans are flying domestic at this time of year but many still are hopping the pond from London to visit family back home in the States. If you're flying British Airways, you're in for a treat.
This Thanksgiving, British Airways is marking the holiday with some extra special offerings for passengers. Passengers on long-haul flights between November 22 and November 27 will get to see a holiday message from Ricky Gervais, made exclusively for British Airways. The airline will also serve over 5,000 Thanksgiving dinners on flights to and from the US. And first class passengers, get ready to unbuckle your belt buckles (but not your seatbelts, please!), as you dine on a turkey dinner with all the fixin's – including pecan pie.
Before falling asleep for the rest of the flight, passengers can also enjoy a special Thanksgiving episode of The Big Bang Theory, the most popular series on flights. This special airing will run throughout the month of November.
We all know that flying during peak times, starting at Thanksgiving and continuing into the beginning of the new year, can be stressful but British Airways aims to make your travels more pleasant. And I urge you to remember to pack your patience – the holidays are a time to be especially grateful so breathe, smile, be nice … and Happy Thanksgiving!