By Nicole Rodriguez:
Walking down a gangway is always exciting, whether you're off to vacation in the Caribbean, Capri, or, in my case, Catalina Island. Catalina is not fancy, it's innocent-and that's what makes it special. And getting there is half the fun! The boat ride takes less than 90 minutes from each of three locations: Dana Point, Long Beach, or San Pedro (CatalinaExpress.com, adults 12–54 yrs $66.50 round-trip, children 2–11 yrs $51 round-trip).
Once you drop your bags in the luggage room, follow the locals to the bar on board, where the Bloody Marys are a traditional must. You can then sit inside or out and take in the scenery of the harbor. We visited the captain's quarters, where we eagerly awaited our arrival while laughing and telling stories of Catalina and how it has changed over time.
As Catalina appears in the distance it looks like an island in Italy, with rugged terrain homes jutting out of the hillside, and beaches.
ARRIVING
We disembarked under sunny skies. Our feet hit the cobblestone walkway and we were off to our hotel. It's a quick five-minute walk to downtown Avalon. There are also cabs and golf-cart rentals right there for your convenience. The walkway will lead you straight to downtown-it's like following the yellow brick road, but with bobbing boats in the water to the right and small kitschy stores on the left. It really gets you in the island spirit fast! Almost immediately, you'll notice the lack of cars and the abundance of golf carts sputtering by. There's a limit on vehicles here, and that's all part of Catalina's charm.
HOTEL
At last we arrived at the newly renovated Pavilion Hotel. It's a breath of fresh air, painted crisp yellow and white, and I wondered, Are we in the Bahamas! Right across from the beach, the hotel grounds are beautifully manicured, with a large fire pit and seating area; it looks very Coastal Living. I immediately wanted to kick off my shoes and get served something cold. Instead, I had to check out our room. Would it impress YES! I see my favorite decor: beachy-chic and brand-spanking new. I love the new-hotel smell. Our deluxe room had a king bed, powder room with coffee service and refrigerator, and a standard bathroom. (Deluxe rooms start at $375.) The biggest change due to the renovations, though, is the private lanai added to all downstairs rooms, with the exception of the two second-level suites. Another excellent addition is the complimentary wine and cheese offered to guests every day at 5 P.M. in the newly acquired space. I like the looks of the big candy jars that line the shelves, waiting for little hands-or my hands, for that matter. The Pavilion offers complimentary breakfast every morning: cereals, breakfast breads, and muffins, along with yogurt and fruit. Coffee, juice, and espresso drinks are also included. Perfect.
(Info on Pavilion Hotel is at VisitCatalinaIsland.com. Summer room rates start at $275, and winter rates at $150.)
SNACKING/DINING
It's time now to hit the town, and here that means overindulge! The first stop is Lloyd's of Avalon, right on the main drag, Crescent Avenue, where you'll see a huge taffy-stretching machine in the window. Since 1934 Lloyd's has been known for its salt water taffy, caramel apples, and fudge. As a kid I'd come in here and be so confused as I tried to choose something, anything! I'd usually leave with a bag of taffy, with flavors ranging from piña colada to peanut butter. You name it, it's there. (CatalinaCandy.com)
The next must-eat, right down the road, is Big Olaf's ice cream. The small Olaf cone with two scoops and toppings will run you $5, and it's worth it. The best part is the cone itself…you smell them baking a mile a way. Okay, enough snacking-it's time for real food. We walked into the new Avalon Grille and it's a stunner, with a large woodsy wraparound bar, plenty of tables inside and out, and gorgeous vintage pictures of the island and famous people who've been there. The best part was the friendly staff, and they weren't being nice just because I was writing a story. They had no idea until the end, I swear.
We started out our dinner with black mussels on top of chorizo in a white wine garlic sauce. For my entrée I ordered the half roasted chicken with arugula ($23) and Joe had the 12-ounce New York Strip ($27). Topping that off, we had a strawberry shortcake dessert. The Avalon Grille has a full bar, with a $100 margarita for you margi lovers. There's also a nice kids menu as well. We loved the food, and the service was over the top. (Open 10 A.M.–10 P.M. daily, visit VisitCatalinaIsland.com and click on "dining.")
Thankfully, there are many activities on Catalina Island besides eating. There are boats for rent, kayaking, world-renowned scuba diving, undersea tours, and scenic drives around the whole island, where you'll even see bison. We decided to suit up to experience the new zip-line ecotour ($89 pp, 310-510-TOUR). It may not seem like much of a workout, but my stomach muscles were sore for two days from holding the tuck position while reaching speeds over 40 miles an hour. There are five different zips across Descanso Canyon, with the highest reaching 300 feet. It was nerve-racking at first, but then you start to feel safe and get more daring. The guides were all so funny, educating us about island flowers and history along the way (maybe to get our minds off the fact that we were on the hook for 3,600 feet of zip line, and there'd be no turning back for two hours!). At the end, we were exhilarated, like everyone else, and wanted to do it again!!
But instead it was time to take it down a notch and retreat to our cabana right down the pathway, at the newly renovated Descanso Beach Club. All the old sand was replaced with white pristine sand, and with the addition of the cabanas it feels like an Italian island getaway. The wait staff was attentive and served us yummy tropical drinks and good food. The cabana rental($125 daily) included two comfy padded chaise lounge chairs($50/pair without cabana), fresh fruit, and water. I was melting away with the sunshine, frosty drinks, and my People magazine. The open-air restaurant there has plenty of seating as well, with an extensive drink and food menu. Another good option on a Friday or Saturday night is the B.Y.O.M. BBQ. Just show up with your meat (or buy it there), and all your favorite sides and fixings are provided ($14.95 adults, $8.95 children). You can easily spend all day and night at Descanso, where the fire pits on the beach and the thatched-roof bar scream VACATION. In addition, many water activities are launched right from there, and you can even get massaged next to the sea! You can't skip this if you come to Catalina (reservations/activities 800-322-3434).
A LITTLE HISTORY
When I visited Catalina as a little girl, I'd always look up at the big white house sitting high above the town of Avalon. We called it the "Wrigley mansion" because it was the former home of chewing-gum tycoon William Wrigley, who built it in 1921. I always wondered what it was like inside, never having had the opportunity to visit the property-until now! Today the mansion is known as the Inn on Mt. Ada. I called and spoke to Michael, who runs the inn, and he was nice enough to let us have breakfast with the guests, but explained that their privacy was very important. We arrived by cab, but you can also walk if you want some exercise. I just wanted to get up there! The entrance is just how I pictured it, grand and inviting at the same time. Michael and the rest of the staff were so gracious, and it was very apparent that the guests were happy and well taken care of. Our breakfast was exactly what I wanted: something sweet (baked apple crumble) plus coffee, mimosas, bacon, and chilaquiles. Breakfast and lunch are included in the room rates. But if you can't stay the night, call and try to make a reservation to dine with the guests and enjoy the best view of Catalina. If you're lucky enough to stay over, there are six rooms to choose from. All are comfortably decorated and make you feel like you've traveled back to the time when the Wrigleys roamed the hallways. It was worth the $12 cab ride and visit for sure! (breakfast $25 pp, lunch $33 pp; rooms starting at $375; Innonmtada.com)
From the old traditions to the new additions, Catalina is an easy retreat where you can experience it all. I'll never get tired of going to the same shops, restaurants, and hangouts because it's nostalgic. It's truly the idyllic vacation that I imagine is in some ways similar to the Coney Island my mom experienced as a kid. I owe my oldest memories of Catalina to my friend Robyn and her family, whom I thought of during this recent visit because her dad passed away suddenly last year. I'm so thankful to them for introducing me to the little island I've fallen in love with. Now, as an adult, I flash back to those times long ago, and feel good inside. And every time I leave Catalina, passing the sign that says "Go In Peace," I feel that I am…at peace.
About the Author
Nicole Rodriguez is an emmy nominated news reporter who started on the airwaves in college for UCLA's radio station. She continued to pursue news broadcasting and writing through internships at Entertainment Tonight and KCAL News. After graduating she took her first job in Bozeman Montana as a reporter and night time anchor for an ABC news affiliate. A year later she was back in California working at the local NBC station in San Luis Obispo as the morning anchor and reporter. Her next job brought her to Seattle Washington for CBS news where she was a reporter, back-up anchor. When her first child was born she decided to "retire" and move back home with her husband in Manhattan Beach. After a year, she returned to news as a freelance reporter for Fox-11 news. Now after a second child, enjoying mommy-hood and living at the beach, she's writing again. The best part of all her jobs she says, was meeting different people everyday and writing about their stories.
*Please tell us what you think of this week's newsletter!
WEB RESOURCES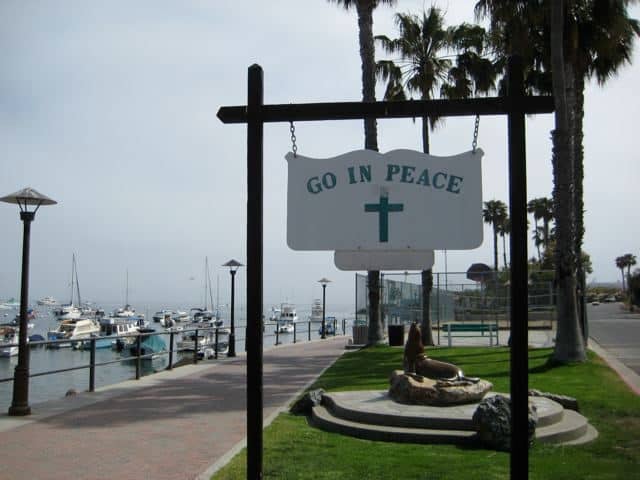 Note: This trip was sponsored in part by VisitCatalinaIsland.com.