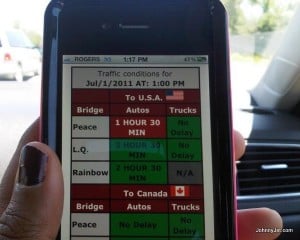 If you are following me on Facebook and Twitter, then you know I spent the Fourth of July in Erie, Pennsylvania, visiting my dad and sister. To get there from Connecticut I took the long way since I needed to pick up my girlfriend Natalie in Toronto. I flew with my dad from New York's LaGuardia Airport to Toronto's Pearson International Airport. I cashed in 12,500 American Airlines miles for each ticket and paid the $2.50 (each) security tax. Not a bad deal, huh? I also used an upgrade certificate to get us upgraded.
We spent a couple nights in Toronto and left on Friday, July 1st, which is Canada Day (Canada's Independence Day). Traffic on the QEW to the USA was horrific. It took us 4.5 hours to get to bBuffalo and –that drive normally takes just 90 minutes. Here's what I learned, besides the fact that you shouldn't drivenot driving on Canada Day.
1. Log on to the PeaceBridge.com to find out the border wait times at all three bridge crossings (Peace, Lewiston-Queenston, Rainbow).
2. On days when there's a lot of traffic, the way to cut the wait time in half is to stay in the right lane (if going over the Peace Bridge) and get off the exit for the Duty Free store. We passed over more than a mile of cars going 1 mph, so we not only got to use the loo, and grab a drink and bite to eat from Tim Hortons (there's also a McDonald's), but we saved a ton of time.
3. Bring your passport to enter the U.S. or Canada
4. Have your passport page open, and if you're wearing sunglasses or a hat, take them off so the officer can see your face.
5. Eat all the fruit you have before you get to the border.
6. U.S. and Canada entry limits for both Americans and Canadians
7. If you really want to save time, and you often travel back and forth between the two countries, get a NEXUS Card.