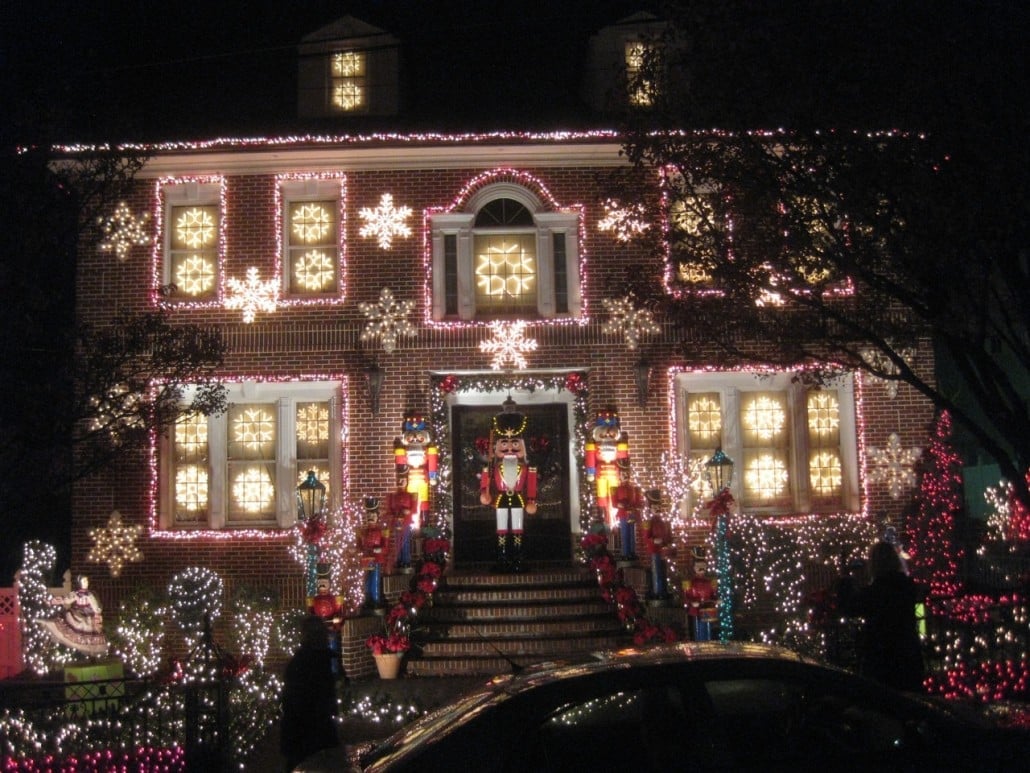 If you live in or happen to be visiting the New York metro area, and you're exhausted from all the shopping, seen all the department store holiday windows, rocketed up and down the Freedom Tower, the Empire State Building, Top of the Rock and done the Rockettes Show at Radio City, what next do you do in that last lull before Christmas and New Years? You're aching for something off the beaten track, yet close to home, and you might like to take a gander at something totally holiday and "off the wall."
Cure that holiday wanderlust with an "OMG" experience: the most incredible, inviting and a bit tacky, suburban, Christmas light show to be found in New York City. It's Dyker Heights, a residential neighborhood in the southwest corner of the borough of Brooklyn.
Many of the homeowners have literally gone way over and beyond the top with their not thousands but possibly millions of light bulbs, LEDs and fixtures, some with rubber balloon-like or plastic statues of everything from Santa and his reindeer to angels, penguins, elves and toy soldiers. Con Edison must love this group of homeowners during the holiday season.
Aside from Manhattan's big six department store windows, the Rockefeller Christmas Tree and the giant Menorah in Grand Army Plaza (Fifth Avenue at 59th Street), Dyker Heights is the heights of holiday illumination. It's about a 30-minute drive from Manhattan (with normal traffic) and the best viewing time is after dark, preferably after rush hours.
The later evening hours are the ideal time to slowly drive or stroll up and down the streets, but the find of the year goes to a house in the 1100 block of 84th Street. The owners have gone feverishly bonkers as there is not one millimeter of clear space between the curb and the house as every conceivable decoration is displayed. But to take in the grandioseness of the neighborhood, one must walk or slowly drive around the one mile square area with camera or iPhone at the ready.
Getting there is very easy: Just take the Gowanus Expressway (I-278) south to Exit 19 (if you're on the Verrazano Bridge, you've gone too far), exit at 86th Street and and turn left onto 86th Street. You're now in Dyker Heights, so drive a few blocks and turn left at 11th Avenue and let the adventure begin.
Since it's close to the water, it gets breezy and chilly, so bring a jacket. There's also a tour company, A Slice of Brooklyn, offering a daily three-hour bus tour of Dyker Heights each evening.
See more pics below!
For more on the NYC holiday experience in 2015, check out John Lampi's piece for the LA Times.