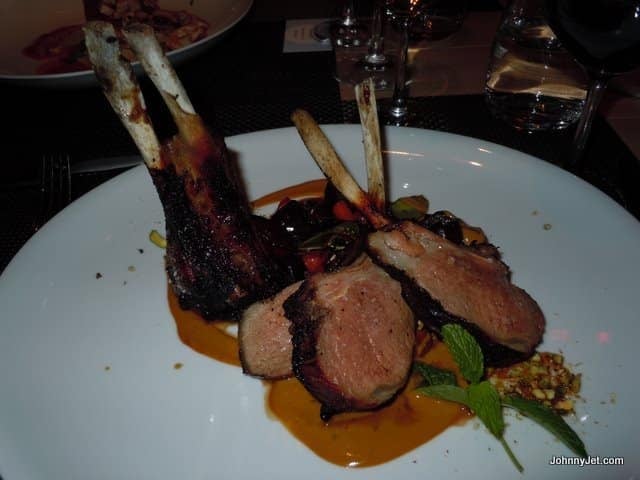 Arriving
The 90-minute direct flight from L.A. into Colorado's Eagle County Airport went off without a hitch. Even better was the speedy shuttle ride that had us walking into the Ritz-Carlton Bachelor Gulch in just 35-minutes. Almost immediately, the Beaver Creek slogan not exactly roughing it was apparent. The lobby was complete with a roaring fire and tray passed hot apple cider. I could have grabbed my favorite blanket and book and been really happy camped out on the couch there. Now most travelers know and expect a Ritz-Carlton hotel to be exceptional. But capturing the feeling of it's natural environment is something else this resort achieved. I knew instantly this would be a special trip, one that would force me to breathe-in, relax and experience all that the Rocky Mountains had to offer. Not to mislead you though, my husband and I were not only here to enjoy the great outdoors, but to have one of the best culinary experiences ever at Bon Appetit's Master Chef Classic.
Accommodations
We began our whirlwind trip by first checking out our room. Of course, as we entered, I peeked into the carrier marbled bathroom, spacious and traditional. A few more steps had me gazing out the patio windows, at a view of the snow-capped mountains. That along with the burning fire and plaid Ralph Lauren-esque bedding screamed warm and fuzzy. The American West décor had me wanting to throw on my boots, order a drink and listen to the guitar playing country singer by the fireplace. So I did!(Starting rates, peak season $599/King 970-748-6200)
Dining
We headed outside to one of the many fire pit areas. It didn't take us long to get our taste buds engaged for all the upcoming food events. The yummy chili, live music and hot toddies were even more satisfying as we gazed at the unbelievable view. I was tempted to jump on chair 16, only a few feet away and hit the slopes. But how could I? Dinner at Spago was soon upon us!
Spago
All I have to say is it's no surprise that Spago did not disappoint. Wolf Gang Puck was not in the kitchen, but someone at our table said that Puck was like a father to Executive Chef Mark Ferguson. The first appetizer of fresh crab in those famous tasty cones was a nice spin on Spago's well-known spicy tuna version($20). I then ordered the black truffle risotto($39) complete with 7-year Reggiano cheese. For my main course the Grilled Colorado Lamb Chops($56) with eggplant and red curry almost put me over the edge. Almost. Once we all started trying each other's dishes I couldn't see straight. But wait here comes dessert. The best in my opinion was the Kaiserschmarren prepared tableside. It's a warm crème fraiche soufflé pancake with sautéed strawberries.($14) I'm not lying when I say my pants unsnapped on their own. (Spago, 970-343-1555)
Club level dining
Our stay was also complete with club level privileges, which means MORE food and beverages accessible throughout the day and night. It's really convenient when you're skiing to be able to get up, grab a quick bite and go! The gourmet espresso machine was my first stop every morning. There was always a hot egg dish and oatmeal, accompanied by many other items such as lox, bagels, cereals, yogurts and fruit. I loved the candy and trail mix station along with the hutch filled with various waters and granola bars, perfect for stuffing in your ski jacket to snack on while enjoying the outdoors. In all, there were five food and beverage presentations daily. If you were traveling with kids, who eat all the time like mine, this would be a great savings.(Club level, $649/daily standard king).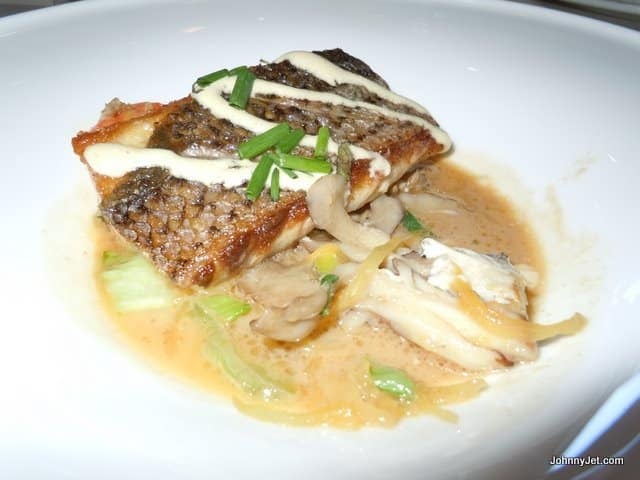 Beano's Cabin
To add to the winter wonderland experience, there are a couple of slope side restaurants for finer dining. It was such a treat to meet my friend Kadie at Beano's for lunch. No cafeteria style dining here, but white linen tablecloths, antler chandeliers and a roaring fire. I have to say though, the best part was putting on slippers that are there on hand for a comfier dining experience. Beano's is open to members-only for lunch, but to the public for dinner. A luxury snow cat will get you to and from the restaurant at night.(Beano's Cabin:970-754-3463 )

Activities
As I said earlier, we were in Beaver Creek to experience Bon Appetit's Master Chef Classic in conjunction with skiing, snowboarding and snowshoeing. Since we ate and drank more than anything else, I'll start there! Let me begin by saying, my husband Joe has been a Bon Appetit magazine subscriber for at least twenty years. The recipes have helped him make many memorable meals, including Thanksgiving dinner. He and I are novice cooks, and were so excited to continue our culinary journey by attending this event. There are various seminars and tastings to choose from. The first stop was Splendido at The Chateau, for a fundraiser benefiting the Bright Future Foundation. It was also my introduction to the James Beard award-winning chef and restaurateur John Besh. Besh hails from New Orleans, so his creations were southern-inspired, from the lemongrass blue crab bisque to the salad of jumbo gulf shrimp. A live auction and wine tasting topped off the night! (ticket:$125)
The next morning we got in a workout after suiting up at the Beaver Creek Nordic Center. The fast and friendly help had us snowshoeing in no time! What a perfect way to burn some calories while taking in the gorgeous scenery. We even saw a bear claw imprint on a tree… it was unnerving and exciting at the same time! I know typical city girl gets excited about that. Our adrenaline filled outing ended with a special luncheon at the Grouse Mountain Grill. In the kitchen doing her thing, was Top Chef winner Stephanie Izard. Her much buzzed about Chicago restaurant, Girl & the Goat, set the tone for our menu including confit goat belly with bourbon buttered lobster and pan roasted striped bass with goat sausage. During our feast, I met a Pennsylvania family who sat with all of us writers. They've been visiting Beaver Creek for years and started coming to some of these Bon Appetit classes saying, "It's a fun addition to their annual ski vacation". Hmmm, I must figure out how to make this our annual family trip too!(tickets:$100) Could it get any better?! Meeting famous chefs, learning a few of their kitchen tips, eating mouth watering food, and experiencing world class skiing. Well this epicurean affair does not stop here! Next up, The Master Chef Challenge at the Vilar Performing Arts Center in Beaver Creek Village. It was fun seeing the area complete with a picturesque ice skating rink, shops and restaurants galore! The Master Chef Challenge was like an exciting cooking TV game show. Each team was made up of a local chef and celebrity chef. There were three twenty minute rounds and one ingredient that had to be used, for example Kahlua. It was incredible to witness the dishes that were created with limited time and ingredients. In the end, the three judges ruled that New York's Joey Campanaro of the Little Owl was the winner, along with Beaver Creek's own Michael Wilganowski of The Osprey.(tickets:$45) Which brings me to my next event, the Après' Ski Cocktail Seminar with Steve Olson and Michael Wilganowski. Olson is Bon Appetit's wine and spirits consultant who showed us how to make various cocktails. While we sniffed and sipped a number of libations, Wilganowski created savory hors d'oeuvres that complimented the drinks. This seminar was not only fun, but so interesting! Olson's twenty five years of experience as an expert on all things alcoholic was apparent. His lecture was full of energy and information, such as the origin of punch and it's important role in the emergence of the cocktail.(tickets:$65) For more of these interesting tidbits Olson suggested his friend's book Punch: The Delights (and Dangers) of the Flowing Bowl. This would be a good coffee table read!
The Grand Tasting held in The Ritz-Carlton ballroom was the finale that capped off my epicurean experience. The area was buzzing with wall to wall food stations, visiting celebrity and local chefs, along with various spirits from around the world. It was a foodies fantasy! A couple of my favorite dishes were the McRib, along with a slow cooked pork and grits. Pig was big throughout this event. Overall this was the best culinary affair I've been to, with so many unique dishes from chefs around the world.(tickets:$150)
Skiing
From top chef tastings to world-class skiing, Beaver creek has 149-trails to enjoy that are spread out over 18-hundred acres! The weekend was a perfect combination of incredible exercise, along with some of the best food I've ever eaten. And something new for us competitors is the ability to track the entire day of skiing. Epicmix calculates your vertical feet and allows you to share(or brag) about your achievements on-line with family and friends. (EpicMix.com) Also, a bonus, is the fly-in and ski free the same day program. Just show your boarding pass to a ticket agent. (Adult lift ticket:$105, Child,$70) But what made the biggest impact on me was the Ritz-Carlton's ski concierge. After I rented my gear, I checked it in, and told the ski valet when I'd need it. My skis were waiting in the snow for me every morning, and that's where I left them to be collected when I was done! Too easy!! And ease is what I wanted after a day on the mountain, where the runs were long and empty. My legs were burning, making my trip to the hotel spa even better!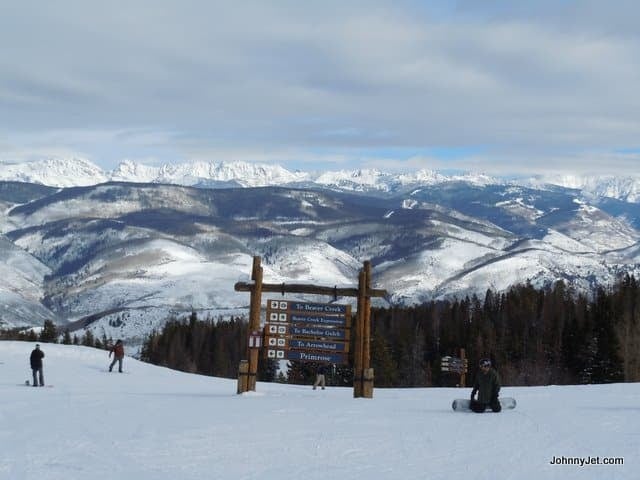 Relaxing
The spa at the Ritz-Carlton Bachelor Gulch was breathtaking. There was a separate sauna and steam for men and women. But I enjoyed the co-ed grotto with Joe, where we soaked in the jacuzzi for a while, then put our feet up and relaxed on the lounge chairs. I put some cucumber slices over my eyes, and I was in heaven. That is until I had my full body massage and scalp rub, perfection.(Signature 1-hour massage,$165, Ask for Adam).
Going home
What an incredible experience from start to finish. I was truly sad to leave the hotel, eat regular food and get back to working out in a gym instead of on the snowy slopes of Beaver Creek. But my epicurean education could continue if I travel to the city that never sleeps and always eats. Another Master Chef Classic heads to Las Vegas in May. Until then, Bon Appetit!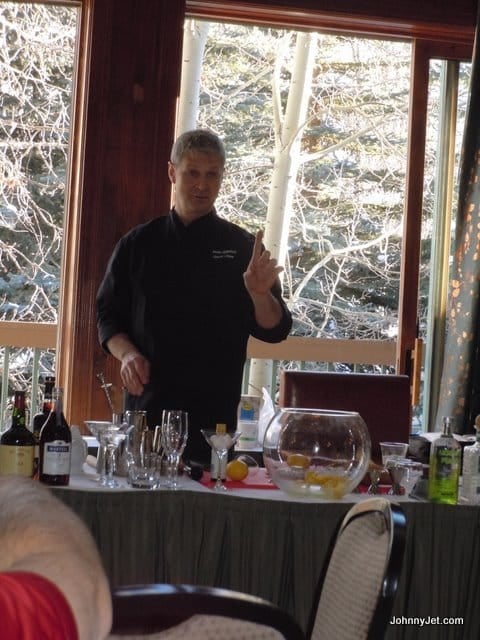 Note: This trip was sponsored in part by Ritz-Carlton Bachelor Gulch & Bon Appetit's Master Chef Classic