When they told me we were going to the "world's largest honky-tonk" I was trying to think of ways to get out of it. First of all, I had no idea what a honky-tonk even was. But let me tell you, Billy Bob's Texas (2520 Rodeo Plaza Fort Worth, TX 76164 817.624.7117 www.billybobstexas.com) is not to be missed. The place is amazing!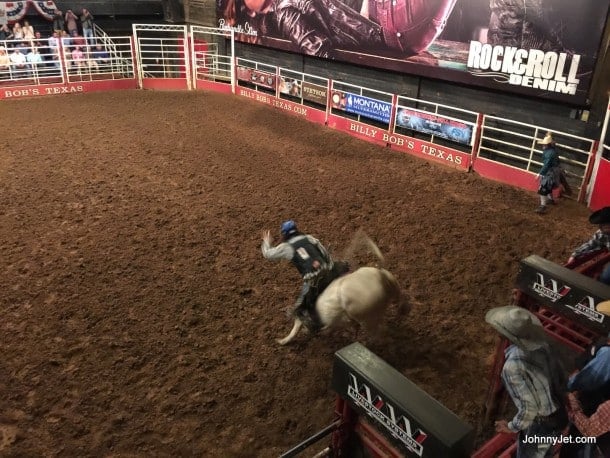 It was built in 1910 as a cattle barn for the Fort Worth Stock Show & Rodeo and they have been entertaining guests for over 30 years. There are 127,000 square feet of Western-style entertainment, including arcades and casinos, line-dancing lessons, and professional bull-riding demonstrations. I'm not talking mechanical bulls, I'm talking real bulls with real cowboys. I thought they were going to allow the public to ride them but one of their workers said never. That's smart because they would probably die since these bulls are crazy.
I'm not surprised that the biggest names in country music (like Willie Nelson, Dwight Yoakam, George Strait) have all played there. They even have their own walk of fame with the singers' autographs and handprints and the good looking guys like Blake Shelton have tons of lipstick kiss marks (see photo above).
Cover charge varies, depending on the performer but when I was there, it was $10. The place can hold 6,000 people and smoking is allowed in most of it except the concert hall where they also don't have any alcohol signage to keep it family-friendly. There's valet parking ($5) and a fun photo booth to take a pic on a fake bull. They also sell BBQ, pizza and have a huge gift shop.
You know you aren't in Los Angeles any more when there's a smoke-filled bar and the bouncer says to guests, "You don't have any pocket knives, now do you?"