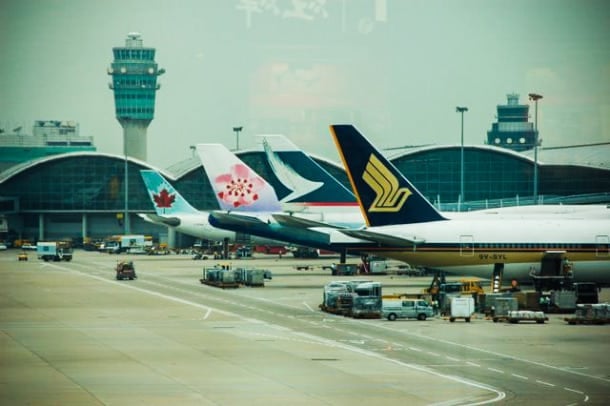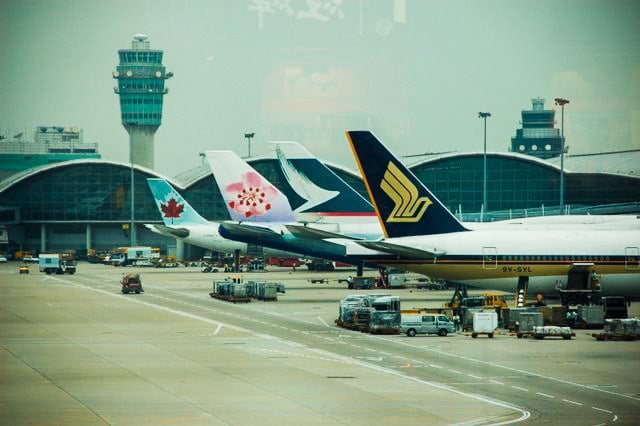 My buddy Brett from CrankyFlier.com just wrote a couple of great posts tearing up The Wall Street Journal's story "The Best Day to Buy Airline Tickets" that made every media outlet in the country and then some. As Cranky points out, the author, Scott McCartney, overlooked some major data points while dissecting the Airline Reporting Corporation (ARC) data the story was built on.
The data looked at tickets issued between January 2013 and July 2014 and showed that the best time to book airplane tickets for domestic travel is 57 days in advance. As Cranky explains, most airlines begin selling tickets about 330 days before departure, a mark which most consumers think is the best time to book tickets—but it's not the case. Why? Because airlines don't start managing their fare levels until closer to departure, since most people don't book that far in advance.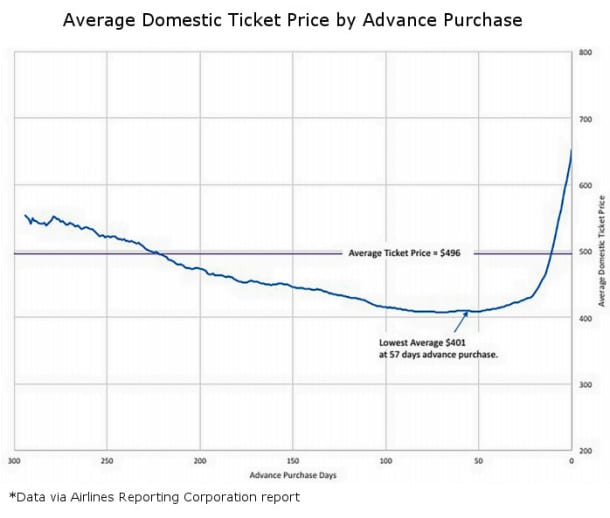 SEE DIAGRAM ABOVE, from which Cranky determines:
"At about 2 months out, ARC shows that fares start creeping up, but it should be pointed out that it's not much of a climb at first. As flights start to fill up more, the more popular ones will see their cheapest fares shut off. So the average fare starts to climb slowly. About 21 days in advance, however, fares shoot through the roof.

The reason for that is because that's when most advance purchase rules begin kicking in. Before, the cheapest seats are only blocked from flights that are filling up. But at 21 days out, a lot of the cheap fares become ineligible to book due to the fare rules. It's a hard cut-off. More of that happens at 14 days and again at 7 days. Even an empty flight will only sell a ticket at a much higher fare 2 days out because the fare rules dictate that. And that happens because last minute travelers are willing to pay more. The airlines don't want to dilute that revenue opportunity."
Then Cranky (I know his real name is Brett but I like calling him Cranky, even though he's not that cranky) takes a look at the international chart (SEE DIAGRAM BELOW):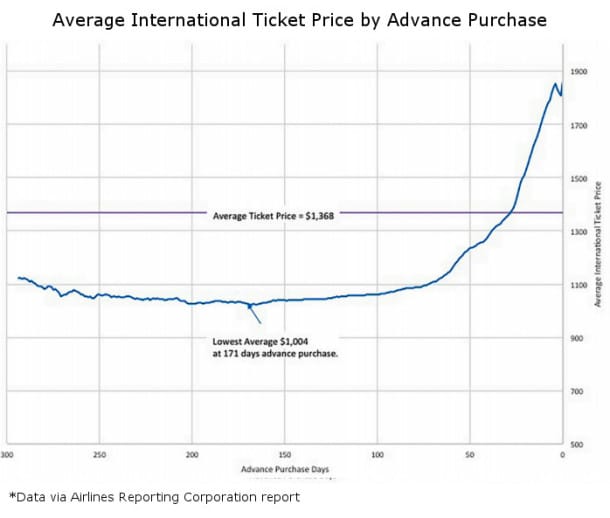 The big dip happens after schedules are first filed, and the cheapest fare is found much further out then it is with domestic tickets. Using the data, Cranky points out that 171 days out is the best time to book international tickets because carriers start paying attention to those flights sooner. The reason is that leisure travelers plan international trips a lot further in advance, so they book their tickets sooner. Also:
"Fares also begin to climb dramatically more than 50 days out. That's partially because when people book earlier, planes fill up more quickly. But I'd bet there's also the issue of huge advance purchase rules on business class tickets. I've seen business class fares with as much as a 90-day advance purchase, really targeting someone who is truly a leisure traveler. When those get cut off, fares go up.

This is all nice, but what does it mean for you? Well, book a couple months out for domestic travel (or really, between 1 and 3 months), and you'll be in the sweet spot in most cases. That's probably sound advice if your plans are firm. Of course, it could be different if it's a holiday or a big event. In those cases, you may want to book further out just for peace of mind if nothing else."
Cranky finally notes that this sort of thing is never 100% accurate and is instead just general advice to keep in mind when booking trips. So, keep it in mind!
BTW: Brett offers not only great advice on his blog but a unique service as well called CrankyConcierge.com, which helps travelers personally monitor their flights and watch for problems like delayed airplanes and weather at their destinations. Cancellation or missed connection? Your concierge is already researching alternatives and can help you get rebooked. Check it out!