Winter in Vermont's Mad River Valley is everything you think of when you think of a nostalgic Vermont winter. It's no surprise that it attracts many people from New York, Boston, Philadelphia, and afar. Of course we rely on Mother Nature to do her part, but last winter she added little snow to the mix. Even with the lack of snow, my husband Cam and I had a really fun weekend.
In the Mad River Valley there are two alpine ski areas and two Nordic ski areas. The scenery here is something I never get tired of: a fertile valley surrounded by the Green Mountains and the Northfield range with its namesake "Mad River" running madly north.
I have been coming to this area since I was four. My aunt and her ski-fanatic husband settled there in the 60s, when Sugarbush was nicknamed Mascara Mountain, attracting New York's social elite, and when skiing was relatively new to the US (hard to believe!). We usually stay with my aunt, Anna Whiteside, who has an amazing farm house, but this time we stayed at the Mad River Barn.
The Mad River Barn was just completely renovated and channels the original classic. It has a rustic modern design with an industrial bent. We stayed in an annex building called Longhouse (room L4, top right). The comfortable queen bedroom had an extra room for kids or adults with two comfortable twin bunks. Reading lights add intimacy and a reason to stay in bed longer. Industrial touches meld with the cabin charm like the patchwork quilt. The bathroom has Italian ceramic tiles that look like wood. The rooms in the outer building are great for families.
Andrew and Heather Lynds took over from longtime owner Betsy Pratt, who ran the popular B & B for 40 years. Betsy and her husband also owned Mad River Glen ski area until it became a ski cooperative. The main inn has several guest rooms, a restaurant and a bar.
Pub food is served in the bar, where families gather and children play shuffleboard on the original table, so iconic that the Valley's Relais & Chateau property The Pitcher Inn recreated it for its bar "Tracks." The large fireplace in the open barn bar has become a gathering place in what may now be the most popular bar in the Valley. Head chef Sergjio Shantoja is young, talented and experienced (Hilton SF, Waterworks, Winooski). Beef burgers are local, and when I am in Vermont, I order the Vermont goat cheese and beet salad; theirs is superb, with red and yellow beets slow-roasted in their skins. Bartender Jerry boasts 25 different types of scotches, vodkas (many distilled in Vermont), and Vermont beer on tap. The Mad River Barn has made-to-order breakfasts midweek, and the buffet on the weekends is great for families trying to get out to the slopes early.
Summer and fall weddings take advantage of the outdoor venue, a private space surrounded by pines with a stone circle. Mad River Barn was named one of the top seven hotels/inns in Ski Country by Outside magazine.
Mad River Glen is a special ski resort. It's the only ski area in the nation on the National Register of Historic Places, and it is owned by its loyal skiers as a cooperative! Mad River Glen has a fun community atmosphere, challenging trails, good music pumping from its simple basebox (Lodge), and wonderful apres ski in General Stark's Pub.
Mad River Glen holds many great memories for me and my husband, each of us having gone before we met each other and annually after.
Ski purists love Mad River Glen because it has all natural snow, there is no noise from snow-making machines, and the mountain is one of few that doesn't allow snowboarders (Alta, and Deer Valley in Utah, too). They also love its lone single chair to the summit—a time for solitude and immersing yourself in nature, something Cam loves.
Mad River Glen is known for some of the most challenging skiing in the east, but last March for the first time in years, the mountain closed early. It was the worst winter ever, even in the minds of the old-timers. The only skiers out were the rugged backcountry skiers. Instead of skiing, I went for a nature hike with spikes.
Sean Lawson is Mad River Glen's head naturalist and to all who recognize his name, a hero among the beer nerds. I have been a fan of his hoppy brews for many years, most notably "Sip of Sunshine" and "Supersession." Our private snowshoe (turned into a hike) was a wonderful way to spend an early spring morning. Sean enthusiastically pointed out signs of bear: a gnawed branch, a bear nest high in the trees, and deep scratches on birch trees. It was really incredibly inspiring to be there during the first signs of spring.
Cam and I enjoyed one great night mountainside, at Clay Brook at Sugarbush, and it really made skiing a breeze. The well-appointed room, use of the outdoor hot tub and heated outdoor pool, and friendly staff made it feel like skiing out west in Deer Valley, Utah.
The Sugarbush motto—"Be Better Here"—makes it clear that they strive for perfection. There are free tours with the "Meet the Mountain" ambassadors, professional ski patrollers assessing the trails daily, and even a clinic with University of Vermont orthopedic physicians. With the ski valet, the quick access to the rooms (someone forget their goggles?) and the aprés ski hot tub and heated pool, we felt happily spoiled!
We stayed in a studio on the second floor, an elevator ride up from the parking lot, but ground level with the base of Sugarbush. Timbers restaurant (also on this level) has a beautiful, round, barn-like atmosphere with windows everywhere. Chef Gerry Nooney has been creating wonderful meals for many years. My good friend had his mid-mountain birthday dinner at Allyn's Lodge, with guests arriving by chairlift and catered to by Gerry before skiing down into the night with lights. The ones who overindulged in the fine wine, well—they went down by snow cat.
Our breakfast at Timbers of egg-white omelette, with vegetables cooked to order, and the breakfast buffet of whole grain oatmeal, pancakes with real maple syrup (of  course, we are in Vermont!), and eggs and bacon, was sumptuous. We (still) ate lunch at the lively Castlerock Pub—fish and chips out on the sunny patio—and then hit the slopes to ski until the end of the day. Sugarbush takes its snow-making very seriously and was able to prolong the season. We skied the long trail Jester from the summit over and over, enjoying the views of the valley until the last chair shut down. And then…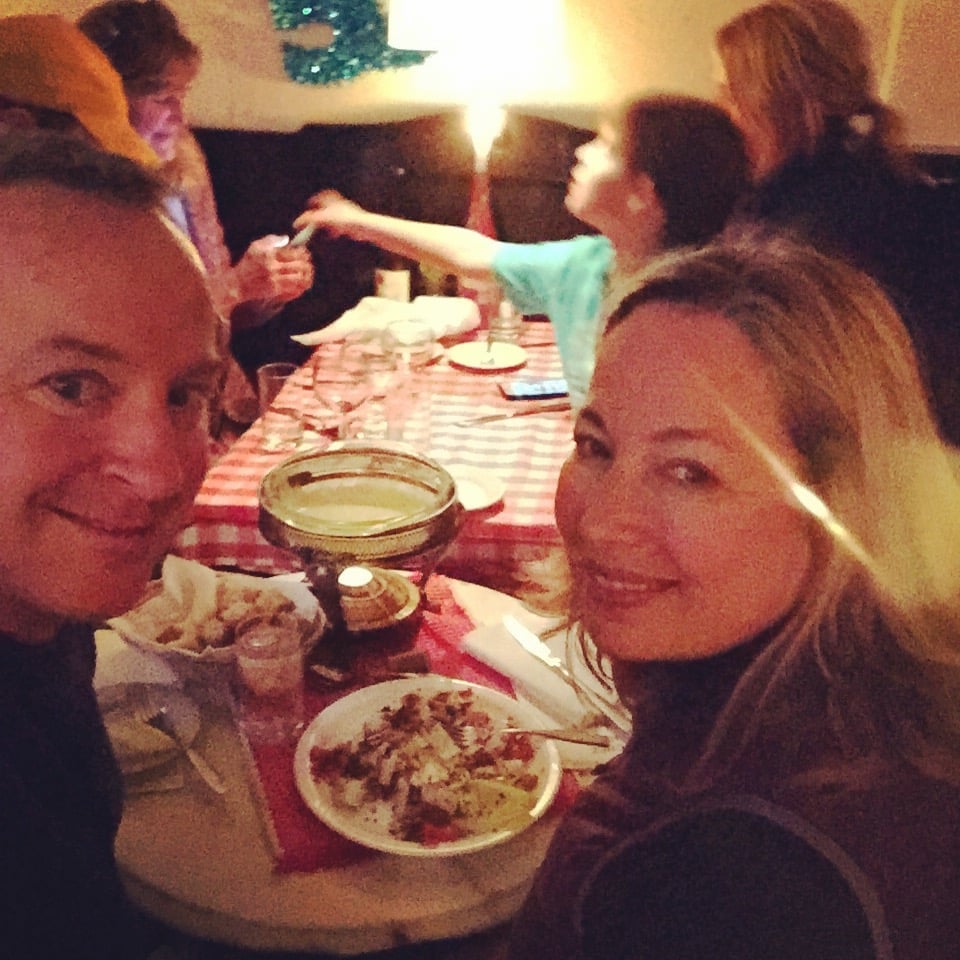 Chez Henri is located in Sugarbush Village and for over 50 years has been transporting clientele back to France—and I have been going for nearly that long. It's a classic French bistro that never disappoints. The romantic cave-like atmosphere, marble bar, and red-and-white-checked tablecloths enchant while sipping on a boule rouge and indulging in cheese fondue. People that having been going to this bistro for years consider Henri to be part of their family, and he feels the same way. This summer he met us in Avignon, France, where he lives in the summer (the restaurant is closed in summer).
Other places we love in the Mad River Valley:
The Mad River Valley, right in the "heart" of the state, has a pulse that draws you in, and once you discover it, you will want to make it part of your own vacation story to create and recreate your wonderful memories like Cam and I have.
Beyond the Valley: Opening days across Vermont!
I'm so excited about the upcoming ski season. Here are tentative opening dates (see up-to-date statuses/conditions here):
Killington Resort (OPEN): Tuesday, October 25, 2016
Okemo Mountain Resort (OPEN): Wednesday, November 23, 2016
Stowe Mountain Resort (OPEN): Wednesday, November 23, 2016
Stratton Mountain Resort (OPEN): Wednesday, November 23, 2016
Sugarbush Resort (OPEN): Wednesday, November 23, 2016
Mount Snow Resort (OPEN): Wednesday, November 23, 2016
Bromley Mountain Resort (OPEN): Friday, November 25, 2016
Jay Peak Resort (OPEN): Friday, November 25, 2016
Smugglers' Notch Resort (OPEN): Friday, November 25, 2016
Burke Mountain: Friday, December 2, 2016 for pass holders and Saturday, December 3, 2016 for public
Mad River Glen: As soon as Mother Nature permits
Bolton Valley: Saturday, December 10, 2016
Middlebury College Snow Bowl: Saturday, December 10, 2016
The Hermitage Club: Saturday, December 10, 2016
Pico Mountain: Saturday, December 10, 2016
Magic Mountain: Saturday, December 17, 2016
Quechee Ski Area: Saturday, December 19, 2016
Suicide Six Ski Area: Mid-December
Cochran's Ski Area: TBD
Northeast Slopes: TBD
---
For more on the Mad River Valley, check out my past article on the Mad River Valley. For other places to ski in Vermont and to get ski passes early (and cheap), check out skivermont.com.