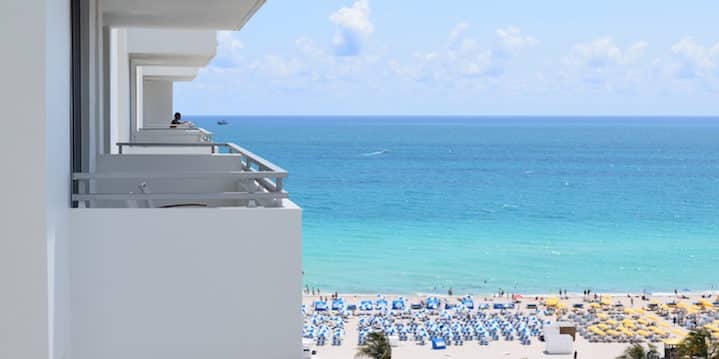 While there are a lot of places around the globe I would have loved to take my girls for my last weekend getaway as a single lady, Miami was the choice—and it ended up the perfect spot for my three-day bachelorette weekend in April. Trust me: With ten girls's opinions, interests and budgets, this was no easy feat.
Why Miami Beach?
There were a few stipulations: cost-effective, a close flight from the east coast, warm in April, with a pretty ocean, and with beautiful beachfront hotels. The short list included a few islands in the Caribbean plus Fort Lauderdale, Miami, Key West, Palm Springs, Santa Monica, and Napa/Sonoma. It turns out that Miami fit the requirements best among all these places. I found out that I don't have to go to the other end of the world for a unique and memorable girls trip.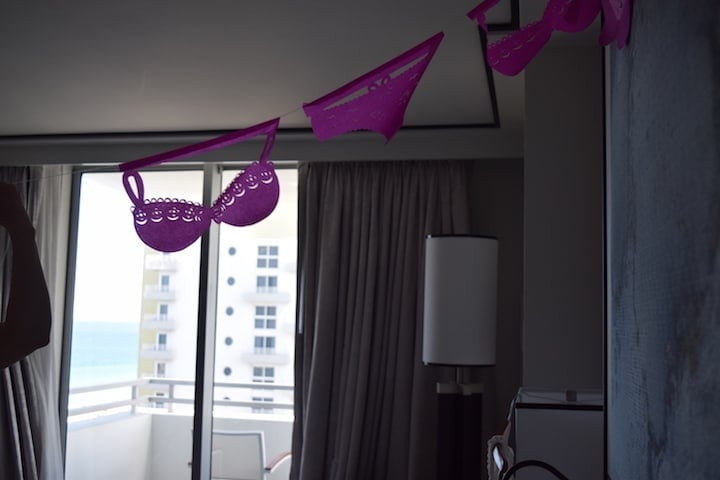 Finding the right hotel
For a crew of ten ladies, we did a great job of getting the cost down without forcing people to sleep on the floor (thanks to my lovely sister for helping research). Looking back, it wasn't easy to find a hotel because I decided I wanted a luxurious hotel to pamper ourselves rather than a budget-friendly college-Spring-Break-type accommodation. We're all awesome 30-somethings…so I feel like this made total sense!
A central location was important so that we'd have easy access to the fun restaurants, clubs and bars we had on our list. Many of the hotels we considered offered funky Art Deco style but rooms that were too small. Having stayed at hotels like these with paper-thin walls, I thought they would make it hard for some of the girls to fall asleep. Come on: A little bit of sleep—even for a bachelorette party—is a good thing! The condo options we considered looked outdated, and some weren't even close to the beach. They just didn't look like a classy, high-end experience. Airbnbs were hard to find. There were a few in the city, but too far from the beach for me. And so…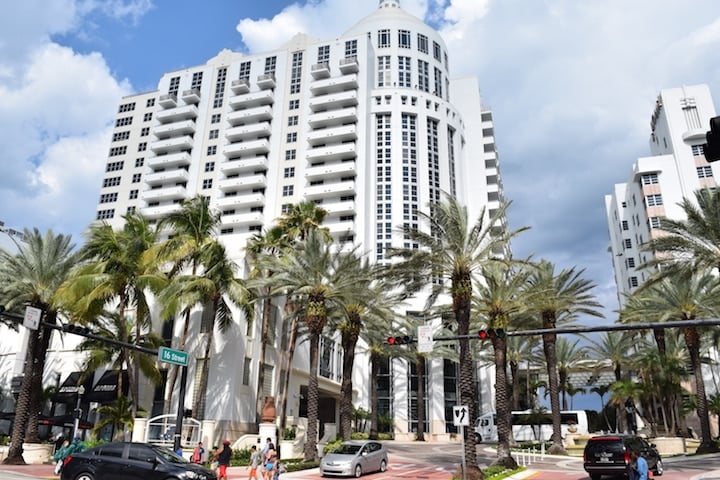 Loews Miami Beach Hotel
After all these considerations, the Loews Miami Beach Hotel was selected. I was super excited because I love the Loews brand (I've had great experiences with other Loews properties). I was also stoked that we were able to find a good deal, because our trip was in late April after most college Spring Breaks. We even scored a connecting room to an oceanfront balcony room and a third room close by, keeping the group close.
Here's a look at some of the best and most unique things about the hotel: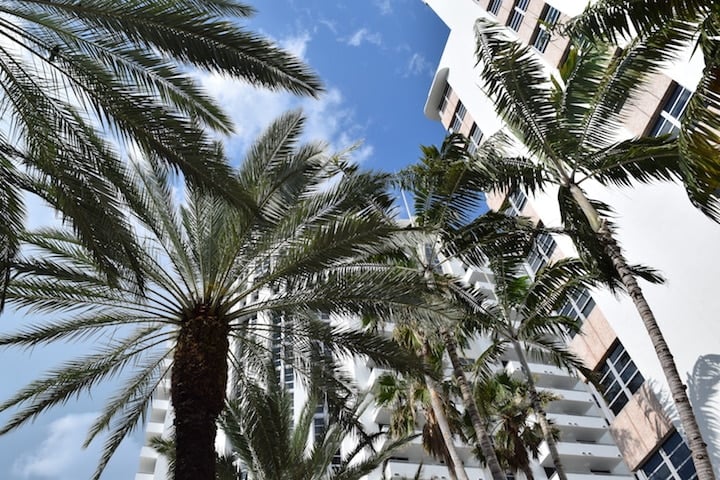 1. A central South Beach location
The hotel is situated in the heart of the Art Deco district on Collins Avenue in South Beach—at Lincoln Road and Ocean Drive. If you aren't familiar with the area, Lincoln Road is a pedestrian street with great shopping and restaurants (perfect for brunches and happy hours). My girls loved being so close to the shopping. And our nights out weren't further than a 10-minute Uber ride from the big night clubs.
2. Refined style, infused with culture
From the moment you walk into the Loews Miami Beach Hotel, it's hard not to be captivated by the art on the walls and magnificent hanging light fixtures. The white-and-marble palette was a favorite of mine, as was a gorgeous piece by Sarah Raskey called "Stardust" situated behind the reception area.
During the recent hotel renovation, much of the hotel got an update, including: the lobby, 790 guestrooms, food and beverage options, and adult-only cabanas. The lobby feels fresh and sophisticated, but still approachable and unpretentious. I loved the attention to even the smallest detail. Even the pool design at the bottom gave off a classy and tropical vibe.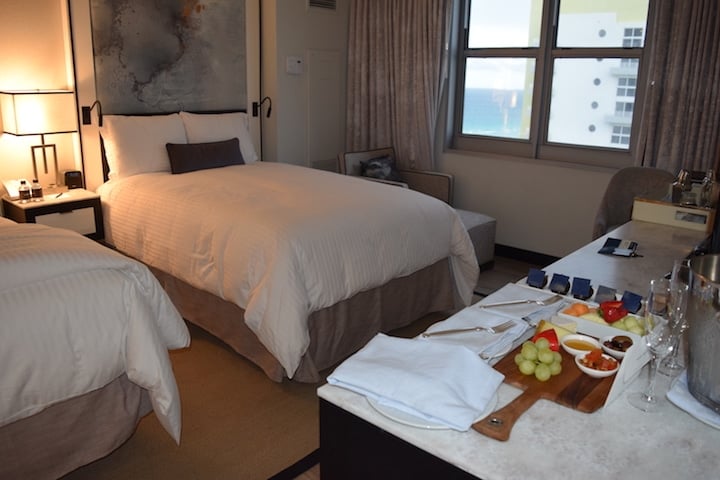 3. Spacious rooms to fit a big group
The rooms were well-appointed with art on the walls, and the beds were comfortable. I was surprised by how spacious our king room and double oceanfront rooms were. The king room had a pull-out couch and a balcony with the most gorgeous views of the ocean and city.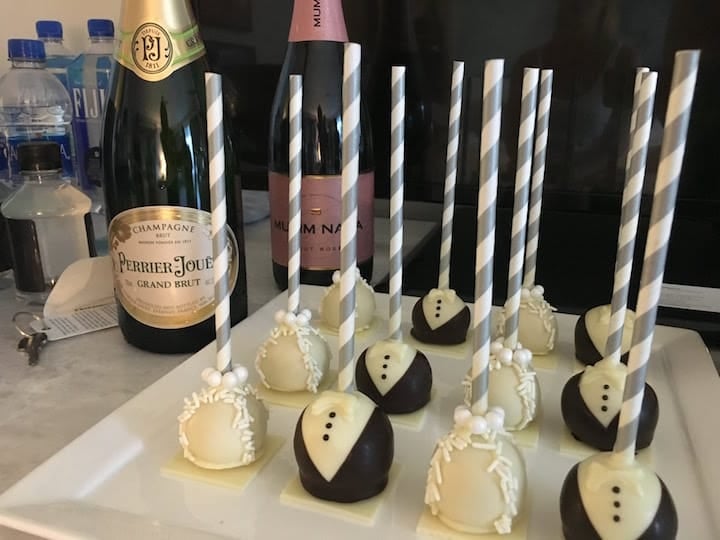 4. Inventive food and drink for the occasion
Upon entering the guest room, I was surprised by the hotel and my fiancé! There were chocolate covered strawberries, champagne (from my sweet fiancé), and a platter of tasty cheeses, fruits, honey, dips, and foods from around Miami. From the hotel, there was even a mojito kit complete with everything needed to make mojitos for all of us ladies. I was so impressed with the way it was displayed. It made for a memorable welcome.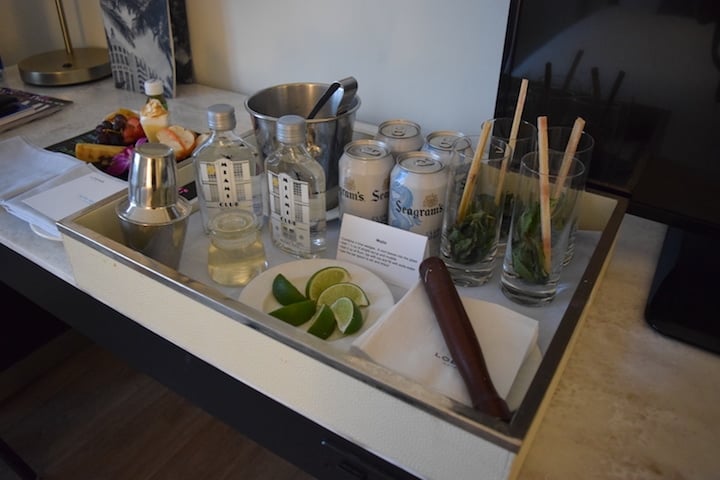 Guest can order these items and more from the desk in advance or during a stay. Actually, there's a catalog of food and drink for order that you can get delivered to your room (my fiancé apparently investigated this well in advance). The hotel also brought in adorable cake pops decorated as little brides and grooms made for me by Executive Pastry Chef Rene Contee, plus prosecco, to top off our last night! The Loews team really went all in to make everything special.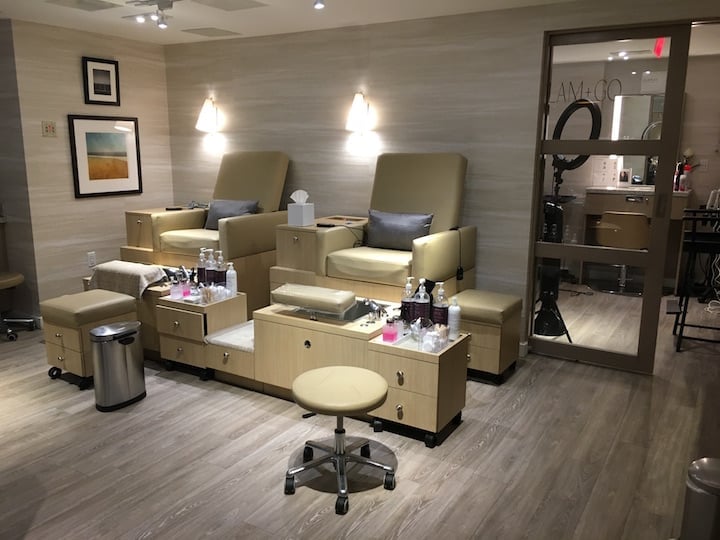 5. Great wellness experiences
After months of wedding planning and fixing up a house, I decided a massage was very much overdue. I booked a treatment for my last day in Miami and soaked up the quiet time before one last night of partying. Exhale Spa is located on property. In addition to massages, the spa offers group acupuncture—which I thought was cool and would have been pursued if we'd had more time—and fitness and wellness classes.
Tip: Exhale Spa also offers complimentary meditation classes in the mornings (sign up at the front desk). We tried to get up early for the class, but that turned out to be tall order after being out all night.
6. A taste of Miami's best
Experiencing some of Miami's richest flavors from inside the hotel, via the Flavor Miami service, was so cool. We had homemade Cuban ice cream from Miami Joe Coffee Co., honey harvested from a Miami backyard bee apiary, beer from Miami-based Wynwood Brewing Co, and—yum—Zak the Baker pastries, found inside the hotel at Preston's Market, the hotel's Nautilus restaurant, and the hotel bar (Bar Collins).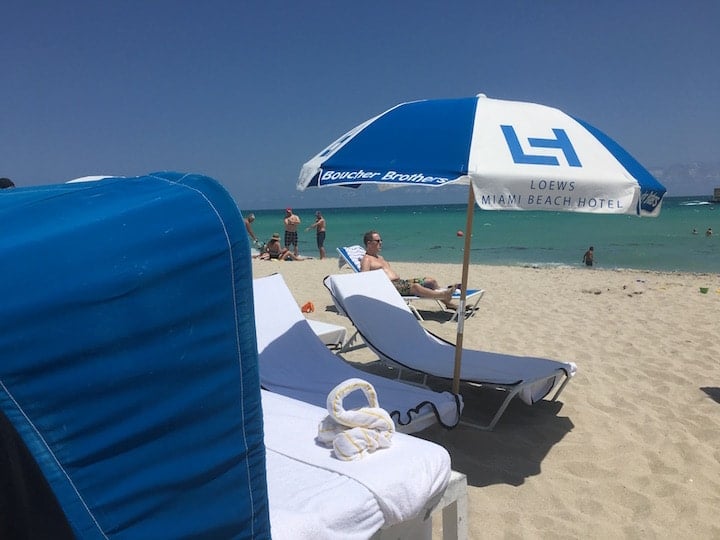 7. High-end beach and pool experiences
A Miami bachelorette party absolutely had to include a cabana for a fun spot to party and soak up some shade. The hotel offers beach cabanas and pool "SOAK" cabanas for rent. We chose the beach cabanas to be near the crashing waves at the beach (also more cost-effective), but the pool cabanas were brand-new, had two floors (!) and looked incredible, as well. I loved that our server was so speedy with our drink orders. The experience was way better than sitting six rows back on a crowded beach. We had an unobstructed ocean view and all we needed for a day of South Beach fun.
8. Complimentary photo sessions
I was surprised to learn that any hotel guest can book a complimentary photo session with the hotel's on-site photographer. Guests get one free digital file each included in the resort amenity fee ($26 per day) and after that can buy more photos as they like. Given the occasion, you know that we had to have a cute 15-minute beach photoshoot. What a useful offering! I'm sure it's perfect for proposals, as well. I didn't see this offered anywhere else in Miami Beach. More hotels should do this.
Taylor was our photographer from JPEGS, and he was the best. He made the experience fun and got some incredible pictures out of it. It made for a great way to remember the bachelorette weekend. (Guests can book online or at the JPEGS counter in the St. Moritz Tower lobby.)
9. Sweet views of the beach and city
How many hotels in Miami Beach offer this stunning view? While I haven't stayed in every single one, I bet that the answer is not many. Usually you get an ocean view, a city view…or even more often no view at all! The ocean view from our balcony was stunning and let us gaze over the beach and the Miami skyline. We had a sunset view as well, since our room didn't just face the ocean.
Go!
The Loews Miami Beach Hotel turned out to be the hotel we were looking for, a tropical haven which much to offer any group. I could recommend the experience we had over and over again.
---
For more the Loews Miami Beach Hotel, visit loewshotels.com/miami-beach.