If you are following me on Twitter or Facebook, then you know I've been all over the place, including Scotland! I was there a couple of weeks ago to attend the Adventure Travel Trade Association (ATTA) conference in the Highlands. I will tell you all about that trip and continue with my Seabourn Baltic cruise. Last week we were in Stockholm and this week we will sail to Helsinki, Finland. Woot!

TORONTO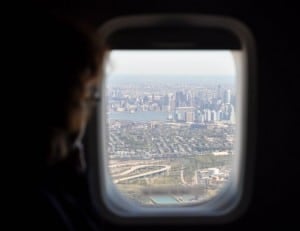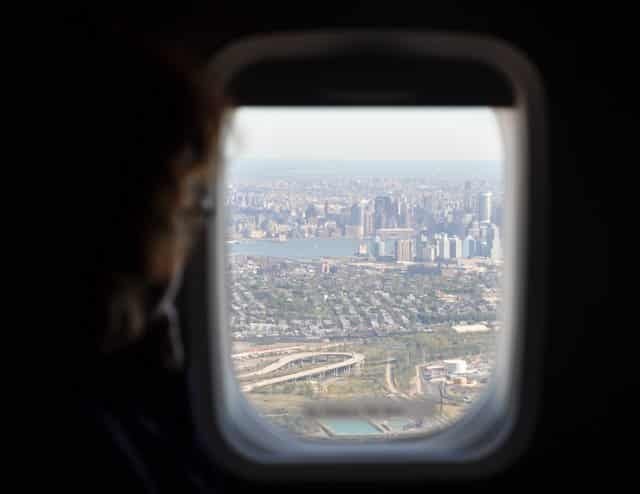 Before I went to Scotland, I was in Toronto visiting my beautiful girlfriend Natalie. I could've flown a Thomson Airways 757 directly into Glasgow, but I chose to fly on a bigger plane and on an airline I know well: British Airways (BA). To give you an idea of how much the airlines have cut capacity and why tickets are so expensive these days, BA used to fly 747s to and from Toronto and London three times a day. Now they just have two flights daily and they are on a 767 and a 777 (smaller wide-body planes).
TORONTO TO LONDON
I took BA flight 92, which departs at 6:55 p.m. (18:55). I've learned the trick to getting a good seat with BA without paying the advance-purchase fee: check in exactly 24 hours in advance. This way I was able to scoop up a coveted exit-row seat for no charge (normally $75 if done in advance). Flight time from Toronto to London was a short six hours (3,540 miles), so it was tough to get any sleep (not that I can sleep on planes anyway). Since I wasn't tired I watched two movies from the individual entertainment systems in the seatbacks. It's nice that they have them, but they could use updating to a bigger screen and on-demand choices instead of their current way of playing them in two cycles.
ROOKIE MISTAKE
We landed at 6 a.m. local time, which was 30 minutes early. BA had said my bag was too big to carry on, so I checked it. Like a fool I went to baggage claim, even though I had a connecting flight to Edinburgh. Duh! What a rookie mistake. I didn't mind, though, because I wasn't in a hurry since I had booked my ticket last-minute and couldn't get on the 8:10 a.m. flight to Edinburgh (it was oversold). My connecting flight was at 11:30 a.m. (yeah, that Thomson flight was looking pretty good right about now), so I wandered around Terminal 5 before going back through security. It was no big deal and took less than seven minutes.
HEATHROW
I wasn't hungry, since BA fed us two meals on the flight, but I needed what I thought would be a quiet place to work so I checked out Gordon Ramsay's restaurant Plane Food. The prices looked really reasonable until I snapped out of my jet-lag funk and realized they were in pounds, not dollars. I had banana pancakes with honeycomb butter. They were good but really small. The food comes out really quick here, which is good for an airport restaurant–unless you have a five-hour layover like me. Random restaurant observations: 98 percent of the workers here were Indian; obnoxious techno music was playing.
GOOD TO KNOW: The best place I found to plane-spot in T5 is by gate A7. They have plenty of chairs and a clear view of one of the runways.
LONDON TO EDINBURGH
Our flight was delayed by several minutes, and not long after I took my exit-row seat on the completely packed A321, I passed out. I woke up midflight (the 311-mile flight was 44 minutes long) to use the loo and have a glass of water, and most of the other passengers on the plane were passed out too. I guess they were all connecting as well.
TIP: When you are jet-lagged and waiting for a connection, set your cell phone alarm for boarding time, just in case you fall asleep.
EDINBURGH
The Edinburgh airport has a really nice part to it (not the section where I later flew out with Continental) that was bright, modern, and cheerful. I grabbed my bag and, as instructed by the conference committee (ATTA), I took the two-minute free shuttle to the Hilton airport hotel. While waiting in the lobby for the four hours until my free transfer to Aviemore, set up by the conference, I couldn't help but notice that all the guests were Americans–mostly men on golfing trips. Why would they stay at an airport hotel?
EDINBURGH TO AVIEMORE
There are two ways to get to Aviemore (the Highlands of Scotland): drive or take a train. The train wasn't running frequently since it was a Sunday, so I stayed with the arranged bus option. Later in the week I did take the train back. Both options offer scenic views and take around two and a half hours. FYI: I much prefer the train since I can work on my laptop and get up to use the loo.
AVIEMORE
At first I was questioning why ATTA would have the conference in such a remote place that it took me almost 24 hours to get to. But once I saw the town and its beauty I fully understood. Aviemore is a popular tourist town that's situated within the Cairngorms National Park in the Highlands of Scotland. I wasn't expecting it to be a good-size town with a variety of restaurants, but I was wrong: there were even a couple of Indian eateries. There were lots of tourists, and I hear there are even more in the winter since it's popular for skiing and other winter sports in the Cairngorm Mountains.
AVIEMORE RESORT
Most people stay in the Macdonald Aviemore Resort (website), which is the heart of the Aviemore. The town is built around the resort; even the train station is just a five-minute walk away. The resort has four distinctive hotels and a woodland lodge. I spent four nights in the resort's nicest property: The Highlands Resort.
HIGHLANDS RESORT
The Highlands Resort is billed as a four-star hotel, but it's definitely not worthy of four stars. I would give it three. I wasn't expecting much, though, because the reviews on Trip Advisor were mostly negative. The check-in was slow, especially for groups (some waited 40-plus minutes). I was smart: instead of making small talk when we got off the bus, I made a bee-line to the front desk. I was third in line and it took me just five minutes.
MY ROOM
Unfortunately, my room was in a terrible location. It was the first room in the hallway next to one of the hotel's many fire doors. I heard it swinging all night long, even with earplugs in (the walls are thin). I later tried propping it open, but they must have a night watchman who comes around to make sure it's closed. Other than that, the room was fairly comfortable. I slept well in the twin beds, which had squishy pillows and tartan-pattern blankets folded at the bed's end. There was also an old-school TV and wireless Internet.
INTERNET
The Internet was provided by BT, and there were a variety of different package deals: 90 minutes within 24 hours is £5.99 ($9.50), unlimited for 24 hours is £9.99 ($15.75), and 2,000 minutes over five days costs £26.99 ($42.50). Just remember to log out each time. The same company provides service at the EDI airport.
RANDOM ROOM OBSERVATIONS
-The bathroom had soft towels and a heated towel rack. -I still don't understand why Europeans have two faucets in the sink–one is too cold, the other too hot. I'm not into filling the sink. -Even though I put the DO NOT DISTURB sign on the door, they knocked for a safety and health check. -The hotel's breakfast is pretty darn good, especially if you like haggis and blood pudding. -The resort grew on me, and by the end of the conference I was thinking this was a fine place to choose. Just bring an umbrella.
THE WEATHER
The weather in Scotland is crazy. One minute it's bright and sunny, and the next it's raining. Here's the 10-day weather forecast. It wasn't that accurate, though, because when I logged on a week before my trip it showed rain every day. It turned out to be glorious weather for the most part and only rained a couple of times.
ATTA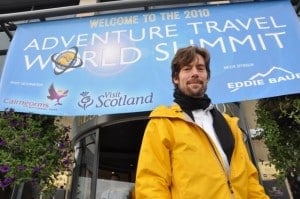 I was in Scotland to speak at the Adventure Travel Trade Association (ATTA) annual summit. I had never heard of ATTA before this, but they are a global membership organization of "550-plus responsible, profitable businesses, destinations, and media who transform customers and businesses alike into advocates for sustainability and justice worldwide." Their members include "tour operators, destination marketing organizations, tourism boards, specialty travel agents, guides, accommodations, media, and service providers." For more on ATTA click here.
DAY OF ADVENTURE
What's cool is that the first day of the four-day conference was a day of adventure (from 8:30 a.m. to 4:00 p.m.). Aviemore and the Cairngorms provided more than 25 options covering water, land, and mountain adventures. Choices were wild to mild white-water rafting, canyoning, canoe and whisky tours, sea kayaking in search of dolphins, clay-pigeon shooting, canoeing, sailing a loch, ferrata, nature walking, working at an estate, golfing, ropes course, rock climbing, and more. If it hadn't been October, I would've done the white-water rafting trip, stopping at distilleries along the way, but since I was in Scotland, the home of golf, I jumped at the chance to do a little golfing.
GOLFING IN SCOTLAND
I was one of the lucky eight to sign up early for golf. We played two courses in one day, both in the heart of the Cairngorms National Park, and it couldn't have been any more beautiful—especially with the fall foliage.
ABERNETHY GOLF CLUB
Our first stop was the Abernethy Golf Club (website), which was about 14 miles away (they use miles in the UK) and took about 20 minutes to get to. It was a beautiful drive–lots of sheep and green countryside mixed in with fall foliage. Abernethy is a 9-hole course that was established in 1893. I quickly learned there are no golf carts in Scotland–you walk. I also learned to dress in layers and bring a rain coat (it didn't rain for us, but it normally does). The most interesting thing I spotted (besides some wild mushrooms) was a statue smack in the middle of the course honoring those locals who gave their lives for war. FYI: The 2010 Green Fees are £20 ($31.50) during the week or £22 on weekends. A late-day ticket is £10 less.
LUNCH AT THE CLUB
After our round our group had lunch at the club. The shopkeeper Kevin and his wife served us sandwiches (cheese and tomato; tuna and sweet corn; cucumber and cheese; ham and cheese…) and lentil soup. They hit the spot.
CRAGGAN GOLF COURSE
We then drove about 10 minutes to Craggan's (website) unique 18-hole par-3 course. This parkland course is situated beside the river Spey and boasts magnificent views of the Cairngorm Mountains to the south and the Cromdale hills to the east. The grounds were beautifully manicured and some holes were long for par 3 while others were short. One was just 51 yards. My golf game needs help, but it sure was fun to meet new friends and get out in the fresh air for some exercise.
ATTA CONFERENCE
There were about 600 people attending the conference from all over the world–54 countries in total. I was on two panels titled Meet the Press. My colleagues were Norie Quintos from National Geographic Traveler, Laura Begley from Travel + Leisure magazine, and Ellen Barone, a popular freelance travel writer. It was fun to square off with these three because we are all so different. FYI: There were a lot of interesting seminars, but by far the best was the talk by Al Merschen (he runs Myriad Marketing) on traditional and online marketing and how to blend the best of both worlds. I wish I had it taped–it was so good, it could've been a class at Harvard.
ATTA PARTIES The conference wasn't just about seminars, though. In fact I only attended a few, including the AFAR (Magazine) Exchange. Most of the time I spent at the breakfasts, lunches, and dinners sponsored by different organizations. They were all good. The most surprising was the Palestine breakfast–who knew they even had a tourism board? In my opinion the best was a tie between the hosts, Scotland Tourism, for their Scottish Shindig with the tribal band Clanadonia and their haggis presentation, and the Brazilian tourism board, who got everyone to get up and do the samba. The best food came from the Chile cocktail hour.
DID YOU KNOW: On October 10, Jerricho in Palestine turned 10,000 years old? It's supposedly the oldest continuously inhabited city in the world.
AFTER HOURS
What's cool is that every night all the delegates picked a different pub to walk to and drink in. They were all within a 10-minute walk. A pint cost £3 ($4.75), and I learned they don't take credit cards unless you order food.
WHY EDINBURGH
I was scheduled to spend five nights in Aviemore, but I decided at the last minute to follow the lead of my colleague Laura Begley, who was on my Continental flight home, and stay in Edinburgh for the final night. That way I didn't need to get up for the 5 a.m. shuttle to EDI and could not only sleep in but spend half a day in Edinburgh.
TRAIN TO EDINBURGH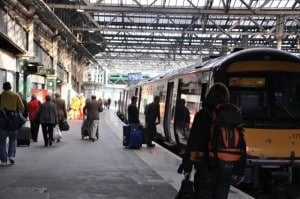 A last-minute train ticket cost me £39.40 (£10 more if you want first class). The conductor said it was open seating even though we had reserved seats. Our car wasn't crowded, but when I got up to use the loo I saw that the other cars were packed. There was no Internet on board but my BlackBerry worked.
RANDOM TRAIN OBSERVATIONS
-I didn't see any electrical outlets around me. -It was a smooth, scenic ride. -A food and beverage cart came around twice; it cost £1.40 for a small bottle of water. Water is not safe to drink from the WC ("water closet," which means toilet). –Train departed at 11:33 a.m. and arrived Edinburgh Waverly Station at 14:20 (don't get off at Edinburgh Haymarket unless you're going to the airport).
TRAIN TO HOTEL
It turns out that our hotel was in the center of town, and I could've walked there from the train station. The ride from Waverly Station to Hotel Missoni was just three minutes and cost £2.25. What's shocking is that the driver was happy as can be to take us such a short distance even though he had waited in a long taxi line. If I had done that at LAX, the driver would've snapped.
HOTEL MISSONI
The 136-room Hotel Missoni is one of Edinburgh's newest hotels, and it's definitely one of the most unique. The designer hotel is located on Edinburgh's Royal Mile and you notice their unique style the moment one of the Scottish bellmen in a designer kilt offers to take your bags to one of the three mini-check-in stations.
WHAT YOU GET
I got a great vibe even before the beautiful Australian clerk told me that everyone gets free wireless, two clothing items cleaned for free (takes 24 hours, otherwise you pay a rush fee), and a free minibar. That's right, free minibar. Mine was stocked with four bottles of water, four cans of soda, one Orangina and one Limonata, and one bag of salt potato chips with Indian pepper. Also in my room was a welcome note and mini cookies.
MY ROOM
I learned that this is Missoni's first hotel; the second will be in Kuwait, followed by ones in Oman and Brazil. Getting in the elevator, you realize that the hotel is all about Missoni's colorful designs. The rooms are just as bright, but not obnoxious. There's a white Bang Olufson flat-screen TV with 26 channels of satellite (lots of Middle Eastern channels) and four radio channels. There are sleek phones (it was hard to figure out how to call reception), an easy-to-use coffee machine, and a gorgeous bathroom.
RANDOM HOTEL MISSONI OBSERVATIONS
-Both the elevator and the floors of the room are decorated in funky colors. -Eco-friendly lighting goes on when you walk in hallway. -The continental breakfast buffet costs £12 ($19). -The Hotel Missoni is just a few blocks from the Edinburgh Castle and close to the National Museum.
EDINBURGH
I've been to Edinburgh three times now, and I love it. Its skyline (especially from the Balmoral Hotel) looks like a fairy tale. I walked around the streets until I got lost–I knew I was in a sketchy part of town when I passed a club called Sin, located in an old church. Closer to my hotel I popped into a whisky shop where I learned that the last two whisky awards went to the Japanese. Who knew?
SCOTH MALT WHISKY SOCIETY
Speaking of whisky, the Scottish tourism board took us to the Scotch Malt Whisky Society on Queen Street (it was a 12-minute walk from the hotel). It's membership-only, but supposedly if you are a visitor you can walk in and fill out a card to get in for free to have drinks or dinner. We had an awesome casual dinner, and I had the ham while my friend Norie had the vegetarian haggis–I didn't know that was existed. Here's more info on the Scotch Malt Whisky Society.
EDINBURGH AIRPORT
It was a 25-minute ride from Hotel Missoni to the airport. It cost £20 ($31.50). Check-in was quick, but a representative asked old-school security questions while looking me in the eyes before allowing me to check in with the agent. Security took about 10 minutes and you have to take liquids and laptops out. Shoes can stay on. Continental/United uses gate 2, which is in the old section of the airport. The only positive thing about this space is that they have a Ben & Jerry's ice cream vending machine.
BEST DEAL IN THE AIRPORT: If you buy a Telegraph newspaper for £1, you get a bottle of Vitel water for free (normally costs £1.39).
EDINBURGH TO NEWARK
Continental (soon to be United) flies 757-200s across the pond. I'm usually not a fan of flying such a long distance in a single-aisle plane, but each seatback had a nice, new large modern monitor with free movies (8 new releases, 40 in total), 63 short programs (like Showtime), 150 music CDs, 21 games, and a flight map. They also gave out free headsets and food.
MY SEAT
It was weird to see Jeff Smisek, former CEO of Continental, and now of United, welcoming guests on the new United video. I scored row 20, which is the first exit row and normally costs $89 unless you have Elite status. Row 21 seats cost $109 because they recline. Three out of the four middle seats in the exit rows were open, including in my row, so it made the flight so much more enjoyable. It also helped that sitting at the window was a cool minister from Texas who loves the Yankees and NY Giants. He's been to Israel 35 times and Guatemala 14! He knows how to travel; what worked for him was to go to sleep like a first-class sleeper, with a neck pillow and an eye mask while listening to his iPod.
SERVICE
The flight attendants were all really friendly, except for a young male. That was surprising. Usually the older ladies are the unhappy ones, but not this time. They served lunch 45 minutes after takeoff. Choice was chicken or beef, and it was decent. It also came with pineapple pound cake, salad with ranch dressing, and a hard roll. Four and a half hours into the flight they served a bag of pretzels and water. Then an hour later (90 minutes before landing) they came by with chicken and cheese sandwiches, potato chips, and a Lily O'Brien's chocolate.
RANDOM OBSERVATIONS
-It was bumpy most of the flight. -Flight time to Newark was scheduled to be 6 hours and 54 minutes. -We were supposed to arrive 50 minutes early, but ATC put us in a holding pattern for 40 minutes. What was surprising is that they did this on a beautiful clear day. -We landed at 2:40 p.m. and EWR airport was looking pretty stylish. I even heard a Scot gasp as she walked off the plane, taken aback by its beauty. -Short line at passport control, and the agent didn't stamp my passport as I requested (I hate getting U.S. stamps). -If paying for a taxi by credit card, you have to pay at the taxi stand beforehand. Because I didn't tell the driver in advance that we were going to two different destinations, he wouldn't take me to my place after dropping Laura off. I had to get out and hail another taxi.
Web Resources: