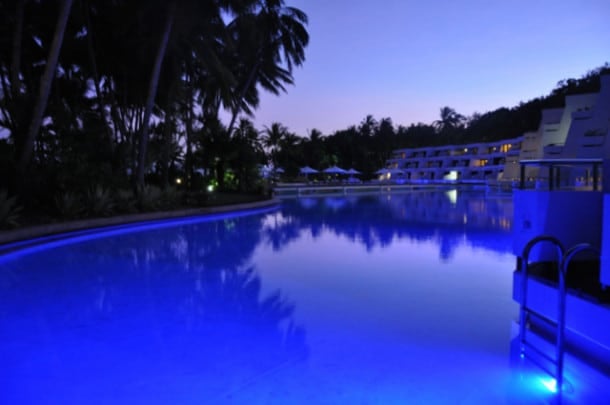 Sunny, upbeat Australia is about the size of the continental United States—much bigger than it is convenient to remember halfway around the world. We all know the Sydney Opera House and the Outback, but just as America is so much more than the Empire State Building and the Grand Canyon, Australia is impressively, infinitely more than its own icons. There's Shark Bay, Lord Howe Island, Uluru and Tasmania—even the world's most livable city for three years running.
It is a huge country, unconquerable in all but the most singularly devoted lifetimes, which mine is decidedly not. Finding a month to be more reasonable, I recently gave the country 30 of my days.
All 30 were incredibly, life-changingly great, but just 12 were spent outside of Sydney, which I found to be a fascinating blend of Southern California and urban Britain. A mere three days were spent loving life on Hayman Island, and so on paper I should not be able to proclaim Hayman king of the Australian experience.
Well, this is the internet, where there is no paper. Hayman Island is king, and it should be on everyone's bucket list.
What is Hayman?
Hayman is a world-renowned, 726-acre private luxury island in Queensland, Australia's Whitsundays, a handful of 74 radiant, sparkling islands delicately scooped out of the life-giving Great Barrier Reef. Best known as the home of Whitehaven Beach, objectively one of the world's best, they are Australia's Caribbean—paradise just a short flight away, but with the Western standards and cartoonish ecosystem of our brothers down under (including rock wallabies crossing the path to dinner one night and flying foxes scampering through the trees).
Hayman, as seen above, is the northernmost island in the archipelago, and so its setting alone justifies its world renown. Blanketed in free-flowing green, embroidered with the world's softest white silica sand, lapped against by idyllic turquoise waters full of creatures green and yellow and huge and amazing, Hayman and the rest of the Whitsundays pop dramatically against one of our planet's most colorful backdrops.
All this beauty, you can focus on, because at Hayman, literally everything is taken care of. It's Australia's most awarded resort, and so highly regarded that you can actually pay to be flown to the island for a half-day of the Hayman experience. More importantly, it is a self-contained paradise into which I could have easily disappeared forever. This—the freedom of detaching fully and completely from the outside world—is to me the trademark of the world's best escapes. And after three days of blissful freedom, I can say confidently that Hayman belongs high on that list.
The backstory—and the latest story
Since the 1950s, when aviation pioneer Reginald Ansett built the (his) island's first hotel, Hayman has increasingly drawn the world's premier tastemakers. Its earliest acclaim can be attributed to the popularity of the 1971 Australian series, "Barrier Reef," which used the island as a filming location. But in the decades since, it's been a unique commitment to raising the vacation bar that has become its trademark. Transfer to the island from Hamilton Island airport, for example, is by private champagne-filled yacht, helicopter or seaplane.
This is the sort of thing that's made Hayman regulars of filmmakers, artists, politicians and the rest since Ansett's day. The island is an evolving blend of privacy and intimacy, exoticism and comfort, luxury and perspective, and the evolution has been impressive as the product itself.
In 1985, with the Australian public in particular already quite satisfied, A$300 million (that's Australian dollars) was poured into resort renovations. In 1987, Hayman was invited to join the illustrious Leading Hotels of the World consortium, and its reputation grew.
In 2010, six years worth of vision, environmental consultation and labor culminated in the approval of further upgrades under the ownership of Mulpha Australia Limited, which has led right into the most recent, and relevantly exciting news from just this past month: under a new agreement with South African billionaire Sol Kerzner, Hayman will soon be relaunching as a One&Only resort.
Somehow getting better, the One&Only way
If you're not familiar with Kerzner's One&Only chain of hotels, then just know the name carries as much weight as any in the world of hospitality. The One&Only experience (defined here) is a source of industry aspiration, and a standard for the world's most demanding globetrotters. Hayman will be just the eighth resort awarded the name. As seen in this map, this says a lot about Hayman's location, which is now in spectacular company.
To undergo the $A50 million in renovations and changes necessary for this transformation, Hayman will close its doors in January of 2014 until April 2014, when it will reopen. Here's more on the One&Only deal courtesy of the internet:
Getting there
As the gateway to the entire Whitsundays, Hamilton Island's Great Barrier Reef Airport (HTI) is your destination when flying to Hayman. Flights to HTI are available from Australia only (Brisbane, Cairns, Melbourne and Sydney) with Quantas, Jetstar and Virgin Australia. Upon arrival at Hamilton Island, whose airport is pretty tiny, you'll find the Hayman desk is the first on your right. Friendly, white-adorned hosts will ask for your last name, give you your room key and take you outside to wait for your bags.
All passengers have to wait for their bags to be rolled out on carts, so you'll have to wait just a moment to fully leave the real world behind, but then it's off to the complimentary yacht, which merely by existing as a concept will signal that the real world has departed. You can opt to pay a bit more for transport by the even more decadent helicopter or seaplane (winds can ground both), but I found that the 50-minute yacht ride was the perfect transition into the Hayman experience.
There was an endless buffet of champagne, wine, beer and hors d'œuvres, and the scenery was unbelievable. And with help from the on-board hosts and the Hayman daily newsletter, we were able to check-in prior to arrival and familiarize ourselves with the resort and all that awaited.
Specifically what awaited was a chauffeured golf cart waiting to take us to our Beach Villa. And then as we approached the Villa, as if posing for a family photo, six hosts standing firm to welcome us to their home—which was now our home.
Home is where the heart is
The hospitality is absolutely unreal, to the degree that it feels like it's being unfairly applied to you alone. It's not, so don't feel bad for the other guests and just enjoy it. From the moment you greet the Hayman desk at the Hamilton Island airport for your transfer to the island (50 minutes), you don't just feel immediately at home—you immediately wish Hayman were your home, and the difference is important. The team in white warranted all my most tired descriptors—experienced, professional, competent, approachable, willing to go the extra mile—but what really stood out was the fact that all 400 or so staff refer to themselves as "hosts."
As it turns out, everyone who works at Hayman lives full-time on this island paradise in a village above the resort. They work with, and hang out with, and share accommodations with, and get after-work drinks with their coworkers in a home that the rest of the world saves up to trade theirs in for. When guests arrive by yacht or seaplane or helicopter, then, Hayman's residents and employees are one and the same. They are, in a word, "hosts."
I understand that the widespread use of this term was almost certainly a management decision, but it was hard not to get swept up in the logic behind it. The sincerity with which the staff embraced every question and inquiry I took to them was real enough. I got backstories—from one woman on the anxiety she was feeling in her first (that) week and in a girl from South Korea's animated and even touching enthusiasm for the social side of Hayman employment. Everything was explained in full, with the trusting wisdom of a good journalist. In other words, I was presented with a wealth of exceedingly detailed information, but with the mutual understanding that ultimately I wanted to decide what to do with it.
Here are some highlights from my interactions with my Hayman hosts:
Sakib, the bartender at the Gatsby-library-like Club Lounge, attempting to make my girlfriend's desired amaretto drink, then asking how it was and finally making her another one free with her thoughts on the first round incorporated
Mack, from the Concierge, helping us get back to our villa when a lock malfunctioned; he got us through it immediately, asked about our plans, and in the morning, we found a message from him telling us the lock had been fixed and wishing us well on our helicopter ride that day
The reef!
As stated in a 2002 press release from the Australian government, "the Great Barrier Reef is the biggest single structure made by living organisms and is large enough to be viewed from outer space." Stretching 133,000 square miles, it is by far the world's largest coral reef system, and Hayman, fully engulfed in it, reaps the benefits. More than 33,000 different species add brilliant color to the warm blues just off the island's shores, on the outermost fringe of the Inner Reef.
Though the Outer Reef is even more impressive, snorkeling and diving options still abound. Blue Lagoon Bay—on the non-resort side of the island and so a short walk from the room—perhaps the best option for both. The 2 pm snorkeling class in the bay came highly recommended, and the diving is supposedly as good or better than what's offered in the Outer Reef (which many say is some of the best in the world).
Private, Hayman-style day trips are available to the Outer Reef, as well, and personalized snorkeling trips can be arranged to pretty much anywhere in the area. Some areas are protected, but your hosts know it all, and working closely with the Great Barrier Reef Foundation, they can guide your Great Barrier Reef adventures from perhaps its premier gateway.
Watersports are also available if you're into those, as I am until I get bored and fall trying to use only one waterski. And make sure to check out the Adventure Station, where conversations on the Reef and the best places to dive and snorkel happen everyday over drinks.
The pool
Perhaps the resort's most iconic feature, the Hayman pool is unlike any pool I've seen or gone swimming in before. From above, or even a distance, it's like a collection of powder blue shapes, somewhat artistically pieced together around the perfectly heated center bit. So in reality, it's two pools: the center one, and then the outer pool, which is filled with slightly cooler, filtered sea water straight from the Coral Sea just a few steps away. The middle bit is warmer, and not salty, but it's small, and I ended up sharing that small space with a man and his child.
The outer pool is much bigger (7x the size of an Olympic swimming pool), and so if it's just you, a man and his child swimming in it, it won't be nearly as awkward. The pool wraps around the middle platform (and inner pool) like a maze of concentric circles, weaved together by tiny and beautiful wooden bridges. From above or afar, it's pretty grand, and on the ground, with the whitewashed Pool Rooms and Suites embracing it from behind, it feels isolated—like a human interpretation of a hidden swimming hole. It's raised slightly, with most of the resort, above the water line as well, so the views of the island and water are stunning.
Two cool features of the pool:
Guests with pool access rooms can enter the pool directly from their private balconies
You can also get concierge service while you lounge or swim here
One&Only update?
Word is there will be minor changes to the pool area, but with respect for the iconic status the pool has achieved (which as far as I can tell just means they're adding daybeds and cabanas). In any case it's in good hands with One&Only, whose history of pool work includes this pool in the Maldives.
The rooms
There are essentially three sections to choose from in picking where you'll be staying at Hayman: Hayman Pool, Hayman Lagoon and Hayman Beach. With the One&Only rebranding, the total number of rooms will drop from 209 to a slightly more intimate 160, and both Hayman Pool and Lagoon will be upgraded under the direction of DBI Design. Much of the interior aesthetics are in for an overhaul. Hayman Beach, meanwhile, was completed more recently, and after staying there, I struggle to comprehend what an upgrade would even mean applied there.
Hayman Lagoon, a beautiful, white cluster of accommodations clutching the Hayman lagoon, will offer entry-level accommodations come April. Views of the lagoon, home to resident swans Billy and Elizabeth, and of the sea beyond will improve as you move up from the ground floor—as will amenities, space and price.
Hayman Pool, itself another beautiful, white cluster of temporary homes, logically hugs the iconic pool instead of the lagoon. Upon completion of its own renovations, it will feature rooms as well as one- and two-bedroom suite options that will also go up in quality and price as the floors do. All suites, as in Hayman Lagoon, will include private porches, which for pool access rooms also means direct and private entry points into the pool. It will be the next level up.
Hayman Beach, which I will treasure forever like a family member, will not be receiving an upgrade because such an idea defies logic. The villas here (and I imagine the houses as well, though they're slightly more expensive) are simply unreal. The beach-side version, which mine was, comprises two rooms separated by a private pool. First of all, the water in the pool was the most comfortable I've ever been in, and floating in it beneath a sharp, Great Barrier Reef sky at night is one of the most relaxing experiences I can remember. But the rest—from the pillowy king-size bed to the bottomless fridge of alcohol to the stunning views to the electric blinds to the iPad and Blu-Ray player—was just as worthy of my superlative praise. With corresponding "retreat rooms" across the path as well (non-beach side), a pairing is a popular option for families, as parents and children can have their own quarters (children must be 12 or over).
It's worth listing separately that Hayman Lagoon will also retain its one-, two- and three-bedroom penthouses in the event that standard luxury is not enough. The king of them all, Owner's Suite (which at least for now is listed at $A8000/night), promises owner-style treatment, which includes 24-hour butler service, included meals (not included with Hayman Beach rooms), laundry and about $A8000/night worth of more. It was also designed by the owners, for whatever that's worth.
Breakfast
At a resort of this caliber, you know breakfast is going to be more than a choice between muffins. Now I'm not much of a breakfast guy, and I care greatly for muffins, but Hayman breakfast is nonetheless my new standard when it comes to how I'd like to start my day. It felt more like a brunch vacation from my vacation.
Served at Azure from 6-10:30 am, Hayman breakfast is taken (covered or not) in the open-air, with unbelievable views of the beach and Coral Sea beyond. And that's not all there is to savor. An extensive selection of fresh-made options is available, from omelettes to crepes to fruits and yogurts and granolas to a mouth-watering grid of baked goods. There's both a Bloody Mary and mamosa station, and a machine that makes pancakes, which is notably weird if not another plus for the breakfast.
Lunch and dinner
No question about it—Hayman's food meets its own world-class standards. The culture here is an achievement on a consciously disparate scale, one born not out of necessity but out of an understanding of and appreciation for the modern culinary landscape. The menus are experimental and reactive, and the restaurants themselves are artfully executed.
At Fontaine, for example, named for the French word for "fountain," German-born chef Falk has put together a French-inspired menu (all modern cuisine has elements of the French style, he says) that incorporates—expectedly—local fresh catch with some of the best beef and shellfish from around the world (though the Great Barrier Reef is rich in delicious life, it is nationally and internationally protected and so fishing is strongly regulated, a reality that demands creativity from area chefs). Its mostly circular tables gravitate around a three-tiered fountain, whose steady bubbling recalls the greater, calming soundscape of the Whitsundays. The colors are warm, the seating is cozy but accommodating (some tables offer semicircular booth seating, which was nice), and the air is filled at a comfortable volume with the sounds of international and Australian content. Need I not mention that I liked this restaurant.
Oriental, the Asian (officially Thai, Japanese, Chinese and Indian, but one chef is from the Philippines and the rest from Korea, so Asian it is) dining option, was equally impressive. Once again, the healing sounds of slow-falling water set the mood. The outdoor seating area is modeled after a traditional (we think Japanese) tea garden, complete with a koi pond and a pagoda, and at night especially, the atmosphere is pure, peaceful, serene. The pagoda and greenery are all lit from below, which directs your gaze upwards seamlessly into the clear night sky. Though the menu is trimmer than La Fontaine's, it is possibly even better, and the recommendations here came with notable enthusiasm. If you can get it, ask for the corner table on the porch outside.
I didn't get to La Trattoria (Italian and Mediterranean) or Azure for dinner (modern Australian), nor make use of Hayman's fully customizable private dining options (you can eat on the beach) or the Chef's Table option. But here's a quick list of my favorite eats from my time at Hayman:
The five-course and wine-paired Summer Tasting Menu at Fontaine (obviously seasonally available), highlighted by courses one (Jamon iberico, foie gras butter, back figs, frioche, pistachio soil, burnt fig gelée) and five (Cointreau cheesecake, which is the best cheesecake I've ever had)
Wagyu sirloin at La Fontaine
Soft-shell crab and beef sliders at the Beach Pavilion (with Hayman ketchup; I love when places make their own sauces)
Crispy duck salad at Oriental
Whole crispy snapper with three sauces at Oriental
Staying active
Doing nothing with your days is an entirely respectable choice on Hayman, where a restorative calm reigns above all. But given the setting, you should make an effort to do one of the many walks around the island. You can ask for accompaniment, or simply tell the front desk where to go and when so they can keep tabs on you. I'd suggest taking the sunset walk, which usually gets a good group. I was told there is one fork in particular along this trail which has a tendency to throw people off, so it can't be a bad idea to follow someone else's lead. As an additional note, I was told there are no poisonous snakes or spiders to worry about, but tree snakes (non-venonous) are not uncommon. Wallaby and flying fox sightings, though, are more likely.
There's also a really great sports and fitness complex, which has a range of options vast enough to pull you away from the beach. I saw and did not join some sort of zumba class, which I'm sure is appealing to some people, but to me the grass basketball court stole the show. Here's a fuller list of ways to burn off your meal at Fontaine, all of which are accessible 24/7 (though lights go off at 9pm, so some of those hours are kind of impractical):
Open-air gym
4 tennis courts
Squash courts
Chipping range
Miniature golf course
Aerobics courses
Helicopter tour!
Check out the photos, and go ahead and pencil yourself in.
Weather
By virtue of having won the geographic lottery, Hayman is not a place familiar with cold weather. The sun shares its most glowing warmth year-round, and as I confirmed with Kate Westover, the lovely Sales Manager, there isn't really an off-season. But that doesn't mean more insight isn't helpful.
Our winter months (December, January and February), for example, are Australia's summer, and so are the littlest bit warmer, with temperatures ranging from 24°C (75°F) to 31°C (88°F). Our summer months and their winter (June, July, August), meanwhile, come with temperatures between 18°C (65°F) and 25°F (77°F). Practically speaking, this means a t-shirt and shorts during the day, and maybe a long-sleeve shirt at night. As another note, fall is apparently not a season in Australia, so save yourself the effort trying to justify that and just say autumn.
Cyclones (which as far as I can tell are the Pacific equivalent of hurricanes) have crossed through, as the quite destructive Anthony and Yasi did on 2011. But beyond noting that cyclone season falls between November 1 and April 30, you can pretty much negate this fact. Storm systems capable of affecting your experience are insanely rare, impossible to predict and no more of a risk worth considering than earthquakes in Los Angeles (or hurricanes in the Caribbean).
The water—and jellyfish
The water temperature, like the air's, is comfortable any time of year, subjective a statement as that may be. For me at least, the sea of late Australian winter was pleasantly swimmable as soon as I threw myself in. I preferred the water of our Beach Villa pool, but you can't beat swimming in the Great Barrier Reef.
Jellyfish feel that way as well. Between October and February, the more dangerous, Australian versions of these American sea pests (like the box jellyfish) may appear from time to time. For this reason, Hayman recommends and provides protective suits to those keen to explore the waters. If you're going out further than the beachy shallows, it's probably worth listening to just to be safe.
Christmas
Christmas travel tends to be bigger with the non-American crowd, but the "Festive Season" is a particularly special time at Hayman. Prices (at least prior to the One&Only relaunch) are a little higher between December 21 and January 5, but for some serious added value, including:
Santa arriving by red helicopter
Elves waterskiiing in behind a boat and up to the beach
Snow in the entertainment center
Christmas carols
Added activities for children to give parents time to themselves
Jacko the fish
He's sort of the Hayman mascot, or maybe a pet. Jacko, a near-six-foot giant grouper, has been showing up to Hayman's daily fish feeding for more than 20 years. For a look at this mammoth, just head down to the pier at 11 am, when he'll appear right on schedule as always.
Of course, that's assuming it's not his mating season, which falls roughly between September and November of each year. I missed out on the big guy, but luckily got to see the rest of the feeders, a gang that includes giant trevallies and yellowtail fusilliers.
And while I may not have met Jacko this time, I now see what he sees in Hayman. It really is a place worth coming back to, a place able to wring the happiness out of my days like nowhere I've ever been. It won't be 11 am tomorrow, but I'll be back to Hayman. Jacko, I'll see you soon.