By: Juliet Pennington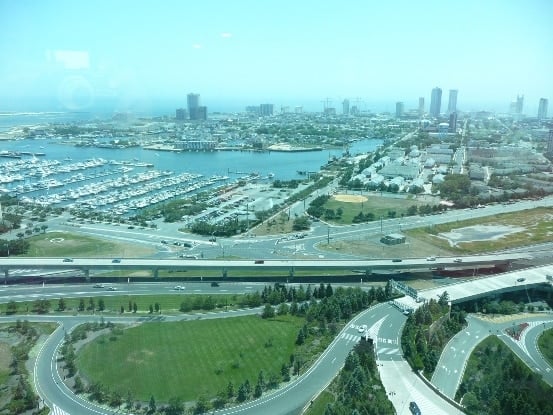 For two weary travelers driving down the busy Garden State Parkway on a hot summer day, an exit sign for the Atlantic City Expressway came as a welcome sight.
My 16-year-old son, Tyler, and I were eager to see the new hotel where we would be spending the next couple of days. I'd heard the hype about The Water Club, the city's first ultra-luxe boutique hotel and was anxious to get there. After turning onto Borgata Way, we caught a reflection of the 43-story, gold-hued Water Club on the side of its parent property, the Borgata Hotel and Casino. The tower shone in the late-morning sun.
THE WATER CLUB
We were greeted by a friendly valet ($10 a day, $5 for Borgata card holders – there is no self-parking), who directed us to the escalator leading up to the lobby. With large limestone columns, imposing Italian blown-glass chandeliers, handmade shag rugs in beiges and browns, the cavernous lobby was modern but still had a warm feel about it. Its elegance reminded me of the lobby at the Trump Hotel Las Vegas.
After a quick check-in, we headed to the elevators. At the glass doors leading to the elevators, a uniformed security guard checked our room key to make sure we were, in fact, Water Club guests.
OUR ROOM
When we walked into our "Club" room (starting at $179 – there are also slightly larger "Vista" rooms starting at $209, though of course rates change seasonally), located on the 29th floor, the first thing that struck us were the oversize windows providing a panoramic view of the Trump Marina with the city in the background. The 460-square-foot room was spacious and inviting, with hues of browns and beiges throughout, including the lush carpet, bedding and matching robes and slippers. A 40-inch LCD flat-screen television hanging on the wall welcomes guests by name on its main menu — a nice touch.
The bathroom was fabulous, with an oversized, glass walk-in shower (including a rain-dome head), plush towels and an array of L'Occitane products.
The rooms also boast touch-screen telephones, an iPod docking station and Internet capability for a daily rate of $9.95. The turndown service is sweet; soft music, battery-powered candles and packets of soothing eye gel await guests each evening.
The rooms don't have coffeemakers, which was no problem for us, since we aren't coffee drinkers. Instead of a refrigerator, there's a packed mini bar that has a "30-seconds and you own it" policy, so there's not much room (or time!) for guests to store their own food or drinks.
THE SUNROOM
Speaking of food, the hotel's culinary offerings are superb. The hotel's lobby lounge, The Sunroom, and its room service menu are overseen by renowned chef Geoffrey Zakarian, of New York City's "Town" and "Country" restaurants.
The Sunroom is a comfortable, tropical setting that is great for morning juice and coffee or late-night tapas and drinks next to a cozy fireplace. It was there that I had perhaps the best Mediterranean sampler I've ever tasted: The hummus was flavorful and just the right consistency, and the tabouli and baba ganoush were light and tasty. The seasoned French fries, served in a tall wire basket, were out of this world, as was the chocolate pudding with cream and shaved chocolate topping. Did I mention that a diet wasn't on the menu this trip? The food served in our room was as good as the lounge's food, which is usually not the case at even the best hotels. My stuffed French toast was hot and crispy and served with heated pure maple syrup, hazelnut butter and organic blueberries, and the delicious cinnamon-flavored Irish oatmeal would have certainly satisfied Goldilocks on the first try. The grilled grapefruit with turbinado sugar was scrumptious and even my son, who isn't a big grapefruit fan, liked it.
WOLFGANG PUCK AMERICAN GRILLE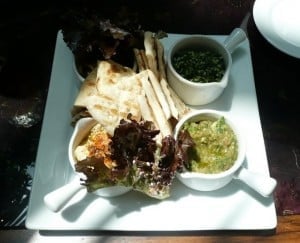 Even though The Sunroom is the only dining facility on site, the attached Borgata Hotel has plenty of culinary offerings. We had a wonderful dinner at Wolfgang Puck American Grille that started off with the best sampling of breads either of us had ever tasted. The mozzarella salad with baby arugula and citrus-hazelnut vinaigrette was also yummy. Since there weren't many vegetarian options on the menu, the chef made a vegetable plate for me that was out of this world and included glazed carrots with caramelized onions, which may not sound too appetizing, but was incredible. My son and I shared a couple of desserts and agreed that the chocolate soufflé with pistachio ice cream, chocolate sauce and whipped cream was our favorite.
N.O.W. (NOODLES OF THE WORLD)
Another night we dined at the more casual N.O.W. (Noodles of the World), which was also a treat. The lightly salted edamame and the Shanghai vegetarian spring rolls made for great starters before the main dish, a spicy fried rice with sweet peas, onions, Sichuan chili and scallions in a light soy sauce (reasonably priced at $10). There are several other restaurants in the Borgata, as well as the Cafeteria, an upscale food court that has food choices ranging from Chinese to Italian, as well as a Ben & Jerry's Ice Cream store.
IMMERSION SPA
Perhaps the most striking aspect of the hotel is its two-story spa, Immersion, which offers an array of treatments and floor-to-ceiling windows featuring panoramic views of the Atlantic Ocean. Located on the 32nd and 33rd floors, with 16 "experience" rooms, the 36,000-square-foot spa-in-the-sky is inviting and warm. I had a Signature Facial that left me feeling pampered and my skin rejuvenated.
Immersion also boasts a state-of-the-art fitness center and a 25-yard indoor infinity-edge lap pool with ocean views.
THE POOLS
While "water" is clearly the theme of the hotel – with five indoor and outdoor pools, as well as two outdoor Jacuzzis and sweeping views of the harbor and ocean beyond – its designers goofed on their capacity estimations.
The main indoor and outdoor pool areas were filled to capacity on two occasions when we attempted to go swimming, leaving us waiting in the lobby for more than 30 minutes one time and abandoning our plans entirely the other.
A Water Club spokesman said that hotel management realizes there's a problem and that plans are underway for a pool-area expansion. The pools, by the way, are restricted to guests 18 years and older. The lap pool in the spa can only be used by those getting treatments or by those who pay a $30 fee to use the facility.
THINGS TO DO NEARBY
Although there isn't a casino in The Water Club, there is a large one in the adjacent Borgata Hotel. Being a gaming-free establishment adds to the upscale feel of the Water Club.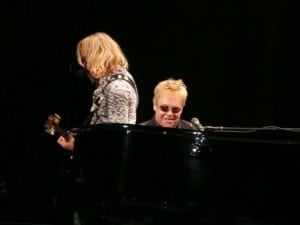 Located at Renaissance Pointe in the Marina District, the hotel is a five-minute car ride from the beaches and the Boardwalk. There are daily shuttles that take guests to and from the Boardwalk. Another shuttle takes guests to and from nearby Brigantine Beach on the weekends.
The extremely helpful concierges will help arrange transportation elsewhere or recommend area activities. My son and I wanted to rent a speed boat and hightail it out on the ocean, so we were directed by a very helpful concierge named Cheryl to Fishtale Boat Rentals in nearby Brigantine where, for less than $100, we were able to spend a couple of hours out at sea. It was a blast, although I did have to remind my son on more than one occasion when he was at the helm that I wasn't a teenager anymore and that he had to slow it down a bit!
For those who haven't been on the Boardwalk in Atlantic City, I'd recommend checking it out. There's lots to see and do and no shortage of interesting characters. Venture off the Boardwalk and you'll recognize many of the street names from the board game Monopoly.
We were lucky enough to catch an Elton John concert at Boardwalk Hall while in Atlantic City, which was a real treat. The acoustics in the hall are outstanding and John, who I've seen in concert many times, sounded amazing.
For more information on The Water Club, visit TheWaterClubHotel.com or call 800-800-8817. For tourist information about Atlantic City, visit AtlanticCityNJ.com or call 888-AC-VISIT (228-4748).
ABOUT THE AUTHOR
Juliet Pennington is a freelance journalist who lives in North Attleboro, Massachusetts. She can be reached at Juliet at JohnnyJet.com (replace the "at" with an "@").
WEB RESOURCES