Since I do not work for Booking.com, the end of the Booking Summit (if you're not sure what the Booking Summit is, click here to read Part 1) signaled that it was time to depart company headquarters in Amsterdam. A tragedy really, as after this third visit, I'd decided that Amsterdam had officially joined the ranks of my favorite cities.
But, I had work to do. Inside Booking.com, I'd learned a whole lot about the company, its people and its model of online booking engine—enough to be excited about it all. I was ready to champion the site as the latest and greatest, but how could I, without ever having actually used the site to book accommodations?
And so to Lisbon I would go, using Booking.com for the first time to find myself a place to spend my nights. What follows is my experience as a new user, which was superb. I've broken it down step-by-step to make it easy to follow.
Creating an account (click images for larger versions)
Like any competing site, creating an account with Booking.com is by no means necessary. Signed in or not, you'll be able to search accommodations, filter results, book, review and the rest without hassle. But there are benefits to setting up a profile, including:
Saving your search history so you can pick up where you left off later, on another computer, tablet or smartphone

Keeping a record of your bookings
Becoming a Booking Genius by booking rooms in five different places in a 12-month period; this entitles you to at least 10% off your next booking
It's your choice, and frankly it's pretty intuitive, but here's how it works: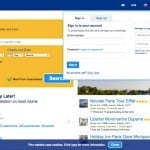 Step 1: In the upper-right corner, click "Create an account or sign in." With the "Sign up" tab selected, literally just write in your email and a password and then hit "Create my account." You'll get an email almost immediately to confirm your address. Hit "Confirm" and you're set (this all takes about two minutes).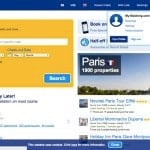 Step 2: Now, you can update your profile. You really don't have to do this, but it's better long-term. In the upper-right corner, click "My Booking.com" and then "Your Profile."

Step 3: In "Your Profile," under the cheerful "Hi !" hit "Change your settings."
Step 4: Fill in your profile, including a picture of you, your head or whatever else you think captures your essence.
Searching for accommodations (click images for larger versions)
With or without an account, searching for accommodations with Booking.com is again pretty intuitive. Still, here it is step-by-step, with a few thoughts (again, click the images to view the larger versions).
Helpful tip: If you're not signed in, make sure your currency and the country you're booking from, represented by currency denomination and a tiny flag, are accurate.
Step 1: In the search box, I put in my destination, which of course is Lisbon. Pretty clear, but then why so many options (which come up after you type at least two letters)? I can choose from several Lisbon's around the world, which I'm not interested in, but even just in Portugal, Lisbon is listed separately as a city, region, airport and more. It's kind of cool that you can search around a landmark or airport (if that's a priority) so immediately, but here, I just want the city. So, I choose "Lisbon, Lisbon Region, Portugal."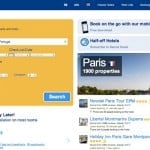 Step 2: I fill out the rest of the search box with the dates, rooms and number of guests (one each), and hit the big blue "Search" button.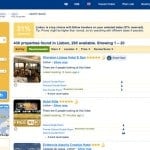 Step 3: This is the first results page that shows up. Notice the message at the top (which I can get rid of by clicking the X in the corner) warning me that my price may be higher than normal thanks to high reservation numbers. This is a nice feature if you're flexible, but in this situation, I'm not, so I carry on (it's worth noting that the yellow search box, now in the top left, remains reconfigurable after the first search, to allow you to alter your details based on any relevant messages).
The default is "Recommended," but the top bar beneath the results message gives you the option of sorting by "Stars," Location," Price" and "Review Score." "List" view is also default, but on the right side of the "Sort by" bar, you can also select "Grid" view, which I preferred.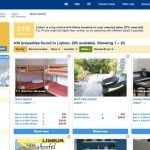 Step 4: Here's the same search, sorted by "Price," in "Grid" view. "Grid" view is better for quickly scanning photos and price options (you can see more), while "List" view offers availability cues and notes like "Breakfast Included." Of course, all this information is available on the property page regardless of what view you're using to preview it. Preference is just about how you prefer to scan.
Note that because most properties have rooms available at different rates, Booking.com seems to have its own formula for sorting by "Price." I don't understand it.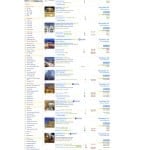 Step 5: On the left side of the page is a near-overwhelming list of filters to help narrow your results, from "Price" to "Hotel Type" to "District." Here, with 295 available options unfiltered, this feature is going to help.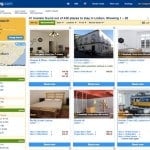 Step 6: I select three left-side filters: "$0 – $59," "Hostels" and "Wi-Fi." The search is filtered down to just 41 results. "Grid" view is on.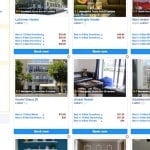 Step 7: With the same three filters applied, I scroll down and zero in on what look to be good options, determined by a high review score and low price. Location is also important, so I'm going to check out the map (not visible here) by scrolling back up and clicking it.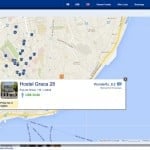 Step 8: By clicking on the map below the search box, you are served this blown up, interactive version of the same map. It's pretty awesome. Instantly, all the search results you've filtered offer their exact location, with landmarks and airports identified for extra, helpful context. With minimal research, and simply by identifying the water I wanted to be close to, I found an area to focus in on, and began clicking around. Hostel Graca 28, which I just saw in my search, seems to meet the basic requirements of price and location that I've set, so I'm going to check that out by clicking it.
Note that even though all properties are identified in the key as "Hotels," not all are actual hotels (for example, Hostel Graca 28).
Step 9: Clicking on Hostel Graca 28 leads me to that property's Booking.com page. Here I find all the information I need, as well as some other cool features new to me:
Where the most recent booking was from (alert in top-right corner)
How many people are currently looking at this property (alert in top-right corner)
How many people have added it to their wish lists (top-left corner)
Step 10: The Hotel Graca 28 property page, in full. On this page, and every property page, you have the following tools to help you assess the option in front of you: a photo gallery, a map, a detailed written description, the availability of different rooming options (with more details for each available by clicking), facilities available and policies in effect (including check-in, check-out and other critical details you need to know like accepted payment methods).
It's an impressively comprehensive list, and it paints a pretty solid picture of the property. Also, offered elsewhere on the page are properties "Recently booked in Lisbon" and a "My viewed hotels" option that lets you easily get back to such hotels' pages for comparison. And of course, there are reviews (see Step 14).

Step 11: Notice at the very bottom of the Hostel Graca 28 page in Step 11, just above where you can subscribe to "Half-off Hotels" (not sure what that is, but again, sounds nice), there is this note: "Content contributed by: Andy Drewery." Now, it's probably weird to feature this guy's Google+ page on this walkthrough, but that's what his name links to—and more importantly, I found this to be a nice reflection of the personality I've seen everywhere else. Booking.com is made of people, and here, we see that once again.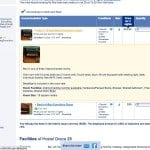 Step 12: By clicking the rooming options available on the property's page, I'm allowed even more insight into the Hostel Graca 28 experience—detailed all the way down to the size of the room in square meters. The linens and towels notes are particularly of note for me here as a hostel-goer.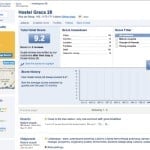 Step 13: Time for reviews, which I click to in the right of the top bar menu below "Hotel Graca 28." Here, Booking.com's 21-million-strong catalogue of guest responses and insight comes up huge, offering detailed and genuine takes on the various aspect of the property I'm viewing. I want to get it right, so to speak, and I want to be as certain as I can that I will.
And with each review, I get closer and closer to that. There's even a graph, with time as the x-axis, that displays how the property's review score has changed over time. By clicking "See the score on a graph," I'm allowed a look into Hostel Graca 28's progression over the past month, which in theory would show how the property responds to feedback, how much  they're improving, etc. Here, they appear to be new to the site, and so the sample size is too small to make anything of. And after a deeper look through the reviews, my search continues.
Booking with Booking.com (click images for larger versions)
After much searching, filtering, mapping, photo-viewing and review-reading, I've finally settled on a property I feel certain can host the Lisbon experience I'm hoping for: Travellers House (no apostrophe, for some reason that bothers me). Here, step-by-step, is how easy it was to book my room there:
Step 1: Here is the top of the property page for Travellers House. Nice looking bed, yes?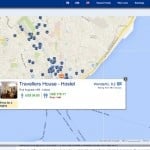 Step 2: With a quick click of the map, I can see Travellers House in the Lisbon context. It's right on centrally bound Rua Augusta and by the water, so it passes the test.
Step 3: On the Travellers House page, under the "Availability" section, I find my options, with "Last chance! Only 1 left" warnings for the two rooming options I'm not interested in (more expensive). There's also a note at the top of the section about when and from where the most recent booking here was made from. Maybe Maybe the mysterious Austrian will be in my room! It already knows I want two nights and has offered a price, and so from the "Quantity" pull-down, I'm selecting how many people (I've already said it's just me, but I guess I've had a chance to bring friends on board?) When it looks right, I hit "Book now."
Seeing "Best Price Guarantee – You just got it!" as you book is a nice feeling.
Step 4: After pressing "Book now," I arrive on this page ("2. Submit your details" tab), where I am to fill in my basic information. A few alerts regarding the hostel score and people booking in my country (I'm still in Amsterdam, remember) pop up, which keeps the energy and excitement up. No stale bookings at Booking.com—these sorts of alerts are constantly reminding you that even sitting at the computer, you're part of a bigger, fast-moving, and travel-hungry world. And soon you'll be off to meet it!
Step 5: The third and final step in the booking process, which falls under the "3. Enter your address" tab. Address goes in, and then, so must my credit card info—why's that? I'm paying when I arrive, and there's no deposit, so putting my credit card down, by policy, must only represent my commitment and the authenticity it carries, I think. Untrue—apparently if I cancel this reservation, I'll be slapped with a 20 Euro fee from the hostel. This is unusual, I think, and is not coming from Booking.com, but still is noteworthy given the implied policy of no cancellation charges. Honestly, though, I don't care, as I leave tomorrow, and I'm going to Lisbon.
I hit the "Book this dormitory bed for $54.60" button, and am ready to be done.
Step 6: Yep, done! The details of my reservation are here, and a receipt, I'm told, will be emailed to me shortly.
Step 7: Almost immediately, I find the email in my inbox. I'm going to Lisbon!
How'd it go?
I am in no way exaggerating when I say that Travellers House hostel in Lisbon is the best hostel I've ever stayed at (and, Lisbon is an awesome city). The hostel's ownership and amazing staff deserve much of the credit here, of course, but Booking.com's role in the experience has left me pretty keen on the site going forward. The details were accurate, the photos were fair and unusually spot-on in the coloring, and the reviews, particularly with their insight into the quality of the staff, the breakfast and just how comfortable and warming a place it is to make a temporary home in, were essential. Travellers House proved the perfect host for an amazing time (and my first time) in Lisbon.
After my stay, I got an email from Booking.com asking how it went. I confirm that I stayed there (interesting given that I could essentially just say I did regardless of the truth) and fill out the form with a remembering smile on my face:
And just like that, I'm part of the Booking.com phenomenon. Overall, I found the site intuitive, quick and responsive, not to mention engaging with its dynamic alerts, tips and detailed insight. Now looking back, my search for Lisbon accommodations allowed me exactly the adventure I'd been hoping for in Lisbon—and that's all what I'd wanted from Booking.com in the end. For me, at least, they got it booking right.