By: Frank DiScala Jr.
CHIANG RAI: THE NORTH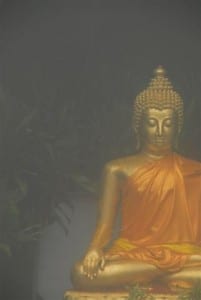 It's just a short flight from Koh Samui to the northernmost part of Thailand. Here, the terrain completely changes and suddenly you are in farm communities, surrounded by rolling hills. Legendary for its proximity to Laos, Burma and the former heart of the opium trade, this region is known as the Golden Triangle.
Visit the Burmese hill tribe and witness a culture freakier than our own. Long-necked women and children on their way to becoming longnecks will freak out the unsuspecting. Our van took a left turn off the main road leaving behind more than just mainstream traffic. Enter the long winding mountain road to the villages of the refugees from nearby Burma. Park and walk the narrow trail into the verdant jungle growth of weeds we Americans call tropical houseplants. We negotiated small streams and stony stairs, then entered a real-life Barnum & Bailey-esque human show of deformed women with necks that appeared to be twice as long as a normal human cervical spine. Selling wares and goods that looked identical to those sold in the bamboo booth next door, they seem to subsist on us, the visitor, arriving for a look at their manipulated bodies, heads pushed up and shoulders pushed down, by rings of brass worn across years of unseen and untold discomfort. Torn between buying their goods and calling upon UNESCO to stop the madness, I could only extend my lens to capture the faces and expressions.
MONKS AND TEMPLES
Chiang Rai has temples and monks and bells that people bang upon as they ascend and descend. At the top of the mountain, several stages of Buddha's life are depicted in gold statues and a temple to worship completes the climb. Candles lit by the believers add to the misty tranquility of the mountaintop in the clouds. TIP: Don't forget to take your shoes off as you climb onto the Buddhist Temple. It is a big no-no to wear shoes or to point your feet towards the altar.
ANANTARA AND THE ELEPHANT RIDES
According to legend, American youth Peter Heinekei built his first business in Thailand. Now he is considered the most famous and prosperous American ex-pat and is responsible for lining many Thai streets with wonderful American brands (Kentucky Fried Chicken amongst others) to this land of teak and rubber trees. Hence the Minor Company was formed and amongst his notable successes emerged the Anantara – an impressive hotel situated near the Mekong River, in the heart of the Golden Triangle. Known for its superb cultivation of most of the world's most addictive narcotic – opium – the region once crawled with drug traffickers. Learn all about it across the street at the Hall of Opium, an impressive imperial effort by the late King's mother to bring awareness to the region and to the world of the evils of the drug. Burning the opium crops and heavily taxing foreign teas was part of the initiative to convert lifestyles from one based upon opium cultivation to one centered upon legitimate agriculture. See the museum. It is extremely well done, complete with replicas of colonial ships and wax effigies of addicted Chinese opium smokers and full descriptions of the British exploitation during the opium wars. DID YOU KNOW? In the 18th century, one in 30 Chinese was addicted to opium.
Anantara keeps elephants and their mahouts alive and well. Once laboring in the teak forests as lumberjacks, the trees are now gone and the elephants have become unemployed. And since elephants live nearly as long as humans – about 60 years – they need someplace to go. Many go to the streets where they perform under sad circumstances, others are rescued and work, giving rides to the guests of Anantara. I got to ride Bo, a 30-year-old gentle giant that genuinely seemed to like me. After she knelt down and allowed me to climb upon her back, we had a nice walk up the driveway, the whole time I massaged her neck the best I could. I don't know if she actually felt my caress, but I tried and she seemed to recognize that as I slid off her at the end and she sort of tried to follow me bit as I walked away. Female elephants and I seem to get along.
SIX SENSES YAO NOI
Once I road my bicycle from Rowayton, Connecticut to Watch Hill, Rhode Island. I covered 128 miles in about eight hours. When I arrived at the Ocean House, I was saturated in commercialization from the billboards I'd passed along the way. It had never occurred to me how invasive the commercial world can be.
We need the Six Senses Hideaway. If only once in your life, treat yourself to the ultimate in rustic elegance. For me, there is none higher. There is only the Hideaway and then all comers. Let me explain.
We were met precisely at 2pm by the two captains and the brand new 400 horsepower Hideaway speedboat and transported across a bay approximately 10 miles, kept dry the entire time even though we were in a driving rain.
The boat stopped and we disembarked into the custody of four uniformed women taking us to our private villas. Golf carts transported us up a jungle path. The golf cart stopped and we entered what might be described as the most intelligent and luxurious space I have ever stepped into. Big words. The deluxe villa.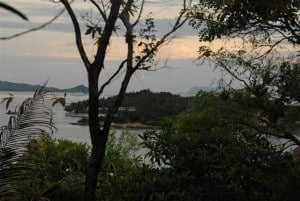 This is truly a couple's retreat. Let's face it. We are on a secluded Island. We need a bed, a bath, a shower, etc. Enter the property and you get an outdoor living room. Continue down the stairs and you find your private outdoor pool, twin chaise longue chairs with rolled towels, an outdoor couch or day bed, a luan deck with not even a trace of a nail (all nail holes are filled). There's a view of the bay and its private islands and all the water in between.
Inside a bedroom approximately 18×18, there's a king-sized bed dressed in crisp sheets, a draped mosquito net, lamps and another daybed near floor to ceiling sliding windows, retracting into a breezy view of the water and islands below. The room is air conditioned and the space opens into the desk and living area space (15×9), equipped with bamboo and teak furniture, twin sinks, indoor and outdoor showers and beyond a recessed tub, overlooking the view of the islands.
Doors slide away to open the space. There's a fan and a mosquito net above the bed and there's not a single piece of artwork to adorn the walls. The wood is artwork. Just as no great human body is improved with a tattoo, no wall art can improve this view. Punchy lemon-colored organic fabric make up the roman shades and the daybeds are made from the same organic cotton, only the color of a Sunkist orange.
Rubber trees surround us as this was once a rubber plantation. It still is in parts.
Six Senses Hideaway is a vision and a testament to creative minds. Often, I feel too critical of spaces, however this space challenges the most discerning to find the flaw. It is flawless. All materials are the finest. The wood is untreated, the metals stainless steel, labels erased and you can finally find yourself.
FOOD
Food is food, but not here in paradise. Sometimes it's a banquet, more like visiting individual international outdoor kitchens and having your private chef prepare your meal and then having it delivered to your table. Other days it's a la carte. But it's always delicious. Don't forget to walk up the steps to the patisserie and get ice cream or pastries all made on campus. And the next door is the cheese shop.
ZEAVOLA PHI PHI ISLAND RESORT
While it was hard to leave Six Senses, it was time. I had a lump on my neck that hurt so much I could hardly sleep on my right side. It turned out to be cancer and that's a story for another day. It started as just a painful lump and as I noticed it growing, I became more concerned and more interested in moving my days along to get home and get examined.
The taxi is a speedboat from Six Senses to Phi Phi Island and the taxi stand is the beach in front of the hotel. We left late, approximately 10:20am because someone (me) forgot his passport in the hotel villa safe and had to jump off the boat to take the golf cart back to my room. It was safely inside the unlocked safe. Island life will just kill you if you let it.
The rough Andaman Sea was no match for my hard head and tested it against the fiberglass and the stainless steel on more than one gigantic swell that the captain seemed not to notice. His mission: deposit us on Phi Phi. We drank a full bottle of Champagne during the ride and when Tony stood up to celebrate what appeared to be the last of the beating, the beach was in sight, another wave struck, throwing him forward into the seat in front of him and he clobbered the back of the seat cushion breaking off the rusted screws and sending him and the seat north, or south of the seating area. Owww!
We disembarked on the beach and found it was true. Phi Phi does have whiter sand and clearer water.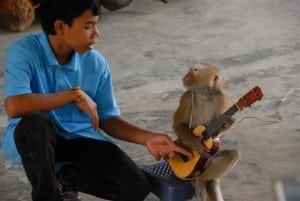 Our host at Zeavola greeted us and we sat down for a drink, learning all about the history and evolution of the resort site and its progression from a two-star accommodation to a complete renovation after the tsunami (which didn't really physically affect any but three bungalows) into a massive renovation, into one man's fantasy island. A good place for it, I would say. Easy walking, flat ground. Very gentle on the body and perfect for a group that wants to stay together. My villa had a wonderful view, private yet unobstructed, to the beach 50 meters away. I had no problem walking about naked. I noticed a nice safe to lock up my passport.
The bed had its now familiar mosquito netting and I noticed the wood on the walls to be teak or some other hardwood. The floors as well. A daybed recliner was in front of the room and more and more, I began to feel the contagious Thai influence.
SCUBA DIVING
Be sure to go under the Andaman sea and not just on it. Want to see the sea unfold? Awaken at 4am, get into a long tail boat, venture to the tip of Phi Phi Island, don the tank and gear and fall backward into the bathtub-warm water where sharks, giant clams, poisonous lion fish and just about every variety of coral and sea life flourish. Don't miss the blue lagoon, made famous by the movie of the same name.
In the end, I would visit the islands of Thailand with a romantic partner as the quiet and desolation beckons for companionship and intimate sharing. In other words, don't waste such splendor and beauty on a trip by yourself. Go with someone who likes to have fun and you will find plenty of delights in this enchanted land of smiling faces and beautiful places.
ABOUT THE AUTHOR:
International Recreation Expert. Francis J. DiScala (Frankie D) was born to do it differently. On his first camping trip at 10 years old he was sequestered from his group for talking and forced to sleep in an open field away from the safety of the tents. He immediately realized that the moon was much clearer out under the stars and has been "out there" ever since. Never one to say no, Frank has been to Mountains of Montana, Idaho, Arizona bow hunting and sleeping outdoors, fishing off-shore amongst the whales for giant tuna, skiing and snowboarding almost every major mountain in North America, racing motorcycles on international racetracks in New Hampshire, and scuba diving reefs from Australia to the Red Sea in Jordan. fun and games are often interrupted and trips cut short by his need to return to his beautiful wife and to his legal career. He hasn't stopped talking and often can be seen and heard giving strange opinions on television shows including CNN'S Headline News/Nancy Grace and Court TV. Despite a hectic schedule, Frank has also found time to travel and write and in recent years has become an enthusiastic contributor to JohnnyJet.com, one of the most comprehensive travel resources online. 
WEB RESOURCES