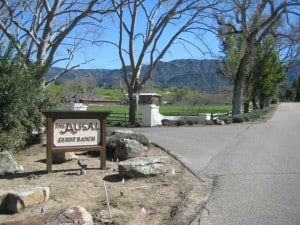 By Nicole Rodriguez:
Breathe in! That's what I kept telling myself as we drove down the tree-lined road and finally arrived at the gates of Alisal Guest Ranch and Resort. I immediately felt myself shifting gears and decompressing. I could tell this was going to be relaxing, although getting here wasn't entirely. Get directions from the ranch instead of following your vehicle navigation system…unless you're on horseback ready to gallop over hills and dirt roads. It's located just 40 miles north of Santa Barbara in the Santa Ynez Valley and should be a simple drive along scenic Highway 101. As we pulled in, I was thinking that the lush scenery, grazing horses, and piercing blue sky are just like Montana. This is a slice of the Old West on the Pacific Coastline: GORGEOUS!
SPA
My first stop was the spa…every girl's favorite place (unless the gift shop is having a sale). The ranch-style decor and down-to-earth staff did not disappoint. As an addicted spagoer I know that you never know what lies beyond the spa doors-someone warm and friendly or cold and judgmental, eyeing you as if they're determining whether you're worthy of their service. Kill them with kindness, I say, although here it was the other way around! The all-new fitness center and spa rooms are nicely appointed. I was happy there was a heating pad under the sheets, warming me as I got massaged. There's also a Pilates room and other fitness classes are offered. The spa treatments range from $125 for a customized hour massage to $200 for a 90-minute mud wrap and sage massage.
ROOMS/AMENITIES
Then, I got to see my room! I love walking into a hotel room for the first time. I know the beds will be perfectly made, only clean white towels will be hanging, and the toilet seat will be down! (Until my husband uses the bathroom, that is.) This time, the smell of burning firewood hit me and I felt cozy all over. The front sitting room has two twin beds that are made up like couches in the day, a fireplace, and a half bath. The spacious bedroom has a king bed, large closet, vanity area, and full bathroom.
This two-room suite (room 38) is airy and perfect for a family. It's also right across from the swimming pool and playground, and for a split second I wished my kids were there. The room costs $600-650 a night…and the best part is that breakfast and dinner are included daily! This is true for all rooms, so even if you're in a studio with a king or twin beds ($495) or a deluxe studio with a king bed and outside patio ($550), your breakfast and dinner are part of the price. The price is based on double occupancy; additional person rates apply. Noteworthy: There are no telephones or TVs in the rooms, to promote peace and quiet, plain and simple! There are public telephones and TVs elsewhere, and a business center with Internet access and fax. We did hook up to Alisal's wireless Internet and were able to make calls through Skype on our iPhones.
DINING
Breakfast and dinner are served in the Ranch and Sycamore Rooms every day. The roaring fire, plaid carpeting, and red tablecloths make you feel as if you're walking into your grandma's comfy dining room for a long leisurely meal. By the end of your stay everyone else staying there is like family…. Faces become familiar after you share meals together daily. For breakfast I liked the homemade granola, scones, and fresh fruit buffet. But there is another buffet to further satisfy every kind of eater, with eggs, potatoes, and breakfast meats. Just when you think it can't get better, there's a menu that features other western-style options (such as a chilaquiles egg dish, a favorite) and traditional American dishes. Lunch is offered in all four restaurants, and cocktails, entertainment, and dancing are featured nightly in the Oak Room Lounge. You can also book an evening BBQ in many locations around the property, including lakeside. FYI: Jackets are required for dinner in the Ranch & Sycamore Rooms for men 16 years and older. No jeans allowed.
ACTIVITIES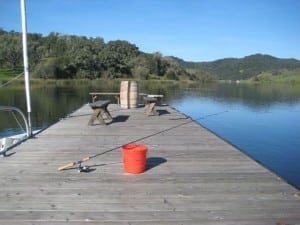 You come to Alisal to get in touch with the great outdoors, and people have been doing just that since 1946. The horseback ride through some of the 10,000 acres of rolling hills is a must. After about an hour of riding you pull up to a cowboy breakfast at the historic adobe camp, where there's live music, storytelling, and the best buttermilk pancakes-along with a bevy of other food, of course!
Another outing is fishing on Alisal's private 100-acre lake; it's as tranquil as it gets. My husband, Joe, casted from the dock and from a boat and reeled in this bass. Guests may also jump in a pedalboat, canoe, kayak, or sailboat…. The guys at the Orvis shop are happy to help you in any way. They say not to miss out on the archery, air rifle, and paint ball fun that's offered at certain times of the year.
Another outdoor activity offered is tennis, and let me tell you: It's the most scenic tennis I've ever played…. There are six tree-lined courts and a pro shop to meet your needs. There are also two 18-hole championship golf courses, hiking and biking in the surrounding mountains, and swimming in the outdoor pool that's heated to 80 degrees year-round and so inviting (I abstained, however, being that I have a couple more months to tan and tone before swimsuit season). During select times of the year, these activities are included in the price of your room and unlimited. Otherwise, horseback riding is $75. Fishing boats range $25-110 and gear is $15. Tennis is $20 per court per hour. And golf ranges $60-135 (private course).
OFF-SITE WINERIES
We visited three of the area's many well-known winery tasting rooms in Solvang. This quaint Danish village just down the road from the ranch beckons you to eat more and certainly sample the vino, and we did! Our first stop was Lucas & Lewellen, where I fell in love and bought the champagne and chardonnay. Next, Presidio Winery, the first certified biodynamic (more than just organic-Google it, because it's interesting and I don't have time to explain it all) vineyard. The unfiltered pinot gris and syrah rosé were very good purchases. The last stop was the D'Alfonso-Curran Wine tasting, where we bought more reds and talked to Chris Curran. She was featured on the cover of Wine Spectator as a rising star in California winemaking.
SERENITY NOW
Because there's something for everyone (did I mention barnyard animals for wee ones to pet and the arts and crafts program?), parents and kids alike experience their dream vacation…ranch style. So unlike the old Seinfeld episode where Mr. Costanza yells "SERENITY NOW!!", forcing himself to relax, it just magically happens here among the hills of Alisal.
WEB RESOURCES:
Note: This trip was sponsored in part by The Alisal Guest Ranch & Resort.
About the Author
Nicole Rodriguez is an emmy nominated news reporter who started on the airwaves in college for UCLA's radio station. She continued to pursue news broadcasting and writing through internships at Entertainment Tonight and KCAL News. After graduating she took her first job in Bozeman Montana as a reporter and night time anchor for an ABC news affiliate. A year later she was back in California working at the local NBC station in San Luis Obispo as the morning anchor and reporter. Her next job brought her to Seattle Washington for CBS news where she was a reporter, back-up anchor. When her first child was born she decided to "retire" and move back home with her husband in Manhattan Beach. After a year, she returned to news as a freelance reporter for Fox-11 news. Now after a second child, enjoying mommy-hood and living at the beach, she's writing again. The best part of all her jobs she says, was meeting different people everyday and writing about their stories.