Johnny recently met passenger Julie Taylor on a flight to Miami. She told him this story and showed him this picture. He was so moved by the tale, he asked if he could share it with all of you. Here, in her own words, is Julie's story.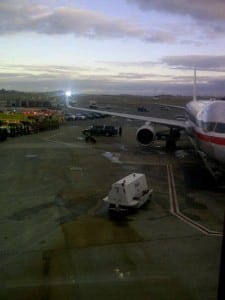 On December 23, my husband, two daughters and I flew from Los Angeles to Boston on American Airlines Flight 222. The pilot announced today we had a USMC soldier on board who was accompanied by another marine en route "home."
My family was en route home to meet my one month old nephew and to celebrate Christmas. Upon arrival at Boston Logan, the pilot announced our flight was being greeted by many people.  I wasn't prepared for the sad reality of our arrival.  The crew of American Airlines Flight 222 did a most outstanding and respectful job for our fellow passenger, the fallen USMC Soldier.
They asked all passengers to wait to deplane until the USMC soldier accompanying the fallen soldier deplaned.  As our family and all passengers on flight 222 entered the terminal, we joined hundreds of people already glued to the window peering out to watch the casket and the two duffle bags of this soldier being removed from our plane.
Eerily as "Frosty the Snowman" played through the terminal, we watched a fallen soldier's arrival home and the heart-wrenching images of a family greeting their son or daughter.
This picture was taken by my 11 year old daughter.  She posted it on her "Instagram" with a message: "Thank  you to all of the people and heroes who have served our country. Thank you to those who are serving our country. Thank you to those who have died for our country. Thank you for our freedom and rights."
Our drive to my parents home was somber and filled with tough questions regarding death and war from our 11 and 14 year old daughters.  We cried all night and as we shared the story with my parents. They cried too.
My Mom said the local television stations typically broadcast these arrivals.  Not that night. I have spent countless hours trying to research who this fallen soldier may have been, and how he or she died. I have not been successful in my search.
The experience was unforgettable.
–Julie Taylor, Newport Coast, Calif. Follow her on twitter @NWPTJUL