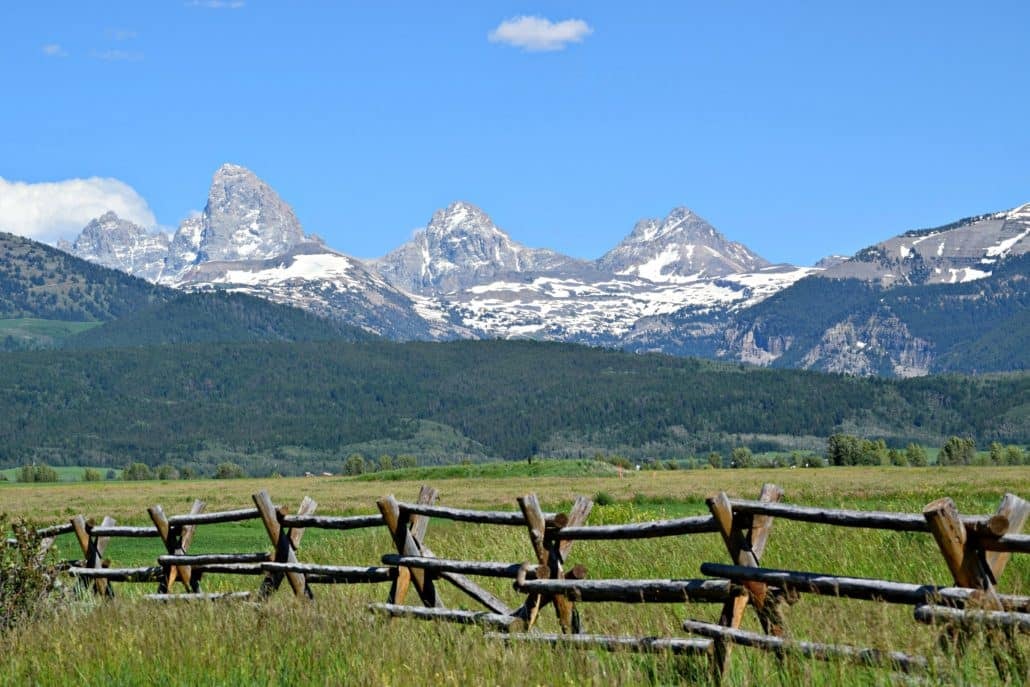 Where mountains soar, valleys lie. Two of Idaho's grandest valleys propose the ultimate escape. A road trip connecting these fabled basins is a journey between two worlds—and states of mind.
Our drive through wide-open, sage-brushed desert bliss descends into Idaho's Teton Valley. I feel better already. This sun-drenched, flat, fertile valley spans roughly 20 miles and is flanked by parallel mountain ranges, the Tetons and the Big Holes. Far wider than Sun Valley, it's the domain of red-tail hawks and locals who are familiar with helping visitors pull their vehicles out of mud and snow. There are no biting bugs, but there is a light sprinkle of fed-up Californians who relocated here in a manner similar to how jaded New Yorkers escape to Vermont. One such pioneer is my Long Island-raised brother Basil. We'll get to him in a bit.
This elevated plateau (6,100+ feet) is called "Wydaho," the Wy denoting the Teton Valley's close proximity Jackson Hole, Wyoming. When Jackson Hole's workforce housing dilemma became intolerable in the early 1990s, support staffers including teachers, bar and hotel workers, and nurses began crossing the sometimes-closed-in-winter Teton pass over the Teton range and setting down roots as permanent commuters. That migration continues today. Now Wydaho is the living hub for people who work in Jackson Hole, the cowboys and farmers still rule the towns of Victor and Driggs, which have evolved into prized destinations in their own right.
Route 33 bisects the Teton Valley and is part of the Yellowstone circuit, which delivers summer guests. The Grand Targhee Resort, which is actually in Wyoming but accessed from the Idaho side of the Tetons, beckons the winter and summer sport aficionados. The town of Driggs is also the first stop on the access road out of Targhee, which enjoys 500 inches of snow each year.
In summer, the mountain is cloaked in wildflowers. The Summit Nature Center, at nearly 10,000 feet, offers "Nature at Noon" tours, which include a lecture (or kid's club day camps) on the indigenous pika, a seven-inch-long tailless rabbit relative who purposefully dries its winter stash grass in the sun by building mini haystacks on the rocks. Who else does that? Athletic pika can't survive temperatures above 86º, nor can my cousin from Maine. From this summit, a great option is hiking an hour to Mary's Nipple for an optimum overlook of the Tetons and this broad, epic vale, which can feel its first frost in late August.
Locals still run this show. When a Burger King opens and closes here due to unpopular demand, you hear them loud and clear. However, this is also a great place to avoid other people. Floating the Teton River in a kayak and canoe granted me sightings of snowy owls, yuge moose, beavers, ospreys, blue herons, and chunky trout. It's also where my historically naughty brother revived a bit of my childhood PTSD by fibbing about poised-to-strike snakes lurking in bushes. Another hike actually did produce a beastly villain; the six mile hike on Darby Canyon's Wind Cave Trail passed meadows, dazzling rock formations, and an anonymous animal throwing pine cones from the top of a 50-foot tree onto one spot near the trail and close to hitting our heads. Another winter stockpile? The turnaround point on this hike is chilly-breeze Wind Cave, which requires warm clothing for further exploration.
More than 30 years ago, my eldest brother Basil hitchhiked into the Teton Valley as a car-less backpacker. He immediately realized it was a utopian time-warp, with a total valley population under 800, mostly farmers. Glass-blowing Ralph and Mary were Driggs' only hippies then. Basil heard about a geodesic dome for sale on two acres outside Tetonia, a sleepy zone with well-spaced neighbors. It was the only Teton-view property he looked at, and bargained the owner down to $18,000 and still thought that was a lot. Crime did not exist; everyone waved or nodded when passing.
Basil insists that the Teton Valley is still a time-warp stretch of paradise. He suggests visiting nearby Green Canyon Hot Springs, and wonders why real estate storefronts are taking over—and why the new arrivals don't wave automatically. Many argue that this east-looking view of the Tetons trumps the view from the Wyoming side.
Locals often congregate at Victor's Wildlife Brewing, an evolved garage brewery with a long, curved bar, ample tables, big windows, fringe pool tables, and world-class pizza. I'm pretty sure it also doubles as the town hall. It's where you'll hear revolving stories about east coast refugees transforming themselves into local ski bums—and one of them happens to be the owner. The brewery still uses spring-fed city water to brew what Idaho beer nerds call their savior. This brewpub means green drinking: the Flavor Slave is a three-hops dazzler with tropical aromas while the Jorge IPA is their illustration of a malty caramel buzz. A beer journey requires nourishment, and Wildlife also sources local organic farmers for its pizza-for-purists ingredients, including what composes the double-crusted spinach pizza and stuffed mushrooms.
I can't write an Idaho story without mentioning potatoes. The Teton Valley has an annual Spud Harvest, two weeks off at the end of September for all public schools to aid in the potato harvest. But the word on the street (well, the pals that live on Basil's dirt road) is that an increasing number of students aren't picking potatoes, just enjoying a holiday. 'Bout time they caught on!
This roadtrip—punctuated by epic hikes, true-grit-gourmet dining and open-road driving where passing other vehicles was an oddity—tuned into a luxurious note at the Teton Springs Lodge & Spa. Teton Springs is surrounded by inspiring well-spaced rental home/lodges along with a heli-skiing helipad, 18- and nine-hole golf courses, and a spa with at least one superstar masseuse named Gene Cavagnaro. After noting my posture and part-time sciatica, this ultimate healer dude talked me out of a deep-tissue massage and into a visceral manipulation for what he termed "a revolution in healing." He tracked my sciatica flare-ups to an out-of-place mid-spine vertebrae and gently coaxed it, and me, back on track to face New York City refreshed and with my shoulders back. But not before motoring into the heart of Idaho.
Breaking on through to the other side…
After rolling across 225 westbound miles of boundless desert on a triad of classic highways, a transition through desolate flatlands, dusty hills and parched mountains lands in Sun Valley and offers a revelation: You don't have to guess why even the pioneers didn't want to leave this stretch of central Idaho. Sun Valley put the state on the tourism map when it built the world's first chairlift and named the ski area (you guessed it) Sun Valley Resort. Still family-owned, this year-round outdoor enthusiast's paradise recently experienced a faithful rebirth. Although it's a world-renowned ski resort, it experiences its busiest months in July and August. For those who come to ski, only 3% are international arrivals. That's American word-of-mouth in overdrive.
But it was a bit of marketing genius following the building of that chairlift that turned these landlocked tides. Inside this grand, newly revived mountain resort, the hallways double as framed picture walk-of-fames, featuring legendary Hollywood-darling guests such as Ernest Hemingway, who remained in the area until his untimely passing. In the 1950s and 1960s, Sun Valley Resort's clever New York PR guy knew to invite celebrities who'd end up on the cover of Life magazine and other local society pages. The world was watching.
The recent and sensational lodge renovation added what must be one of the world's grandest fireplaces, a new 20,000 square-foot spa, a kid-friendly bowling alley, enlarged guest rooms, and a resurrected Duchin Lounge, which features live entertainment. The no-worries luxury campus also features a state-of-the-art outdoor amphitheater showcasing world-class talent and one of only two uncovered outdoor ice rinks in the world, where the Sun Valley on Ice extravaganza brings in Olympic talent such as 2014 Olympic Gold Medalists Meryl Davis and Charlie White. Just down the road, The Valley Club (try the corn chile chowder, serving lunch only) overlooks an incredible 25-acre practice facility, championship golf course, and the 18-hole Sawtooth putting course, a fantasy for kids of all ages ($5 adult, $3 child, unlimited).
The nearby town that resulted from the ever-growing Sun Valley complex, Ketchum, is the envy of most mountain resort towns. It has a pioneer's saloon ruckus feel, serving high-brow IPAs where a T-shirt defines your status as well as a tuxedo. No franchises have snuck in, except Starbucks.
This is a locus for undercover wealth at leisure, a mountain biker and hiker paradise where flannel shirts can't disguise the relocated west coast beauties. The earthy music scene happens inside large woody restaurants and outside when the ski-lift-launch base of Bald Mountain doubles as a concert venue. The Bald Mountain chairlift also runs in the summertime to help visitors reach the summit's sprawling vistas of this lucky part of the world. A few miles north, the Fox Creek Trail in the Sawtooth National Recreation Area adds an epic trek to the hiking menu.
After a few nights on the main drag at the practical and rather pleasing Best Western Plus Kentwood Lodge, I upgraded to the homey Knob Hill Inn, a pet-friendly boutique hotel on the north edge of town with adobe-chic warmth, fantastical bathtubs, a superb breakfast (included), and complimentary shuttle service to all points in Ketchum. Nearby, the Rickshaw restaurant, a chill spot two blocks off the main drag, has a dining bar facing its open kitchen. As the aromas of north and Southeast Asian specialties waft by, I enjoyed an Idaho-brewed Sawtooth Freeheeler IPA and owner Andreas' potstickers. I segued between the cashew veggie stir-fry and the pho, which would impress even a Vietnamese socialite. This intimate living room experience is a stellar bargain.
Another affordable deal in paradise is Grumpy's—even better when its charismatic owner Peter is spiced in. While pulling a draft lager, Peter notes, "If you live in Sun Valley, you either have three houses or three jobs." This rustic diner-style hangout has outdoor picnic tables and remains a beacon for friendly abuse shared among locals. Mayor-like Peter routinely coin-flips some customers for their tabs, double or nothing. If you peer away from your 32-ounce beer goblet, you'll behold vintage beer cans and license plates lining the walls and ceiling. Ask about their "secret menu." I piggybacked this secret back to my skyscraper island.
Idaho is my kind of Wild West. Bright stars overhead, no riff raff, a brotherhood in endless personal space, and some silence. Finally.
A note on getting here
Idaho Falls Regional Airport's easygoing bliss nirvana (yes, we've been tortured in Miami and Chicago) makes it a great place to launch and conclude an Idaho adventure. Making life easier from all points east of Idaho, United Airlines now offers seasonal direct flights from Denver to Hailey, ID (near Ketchum).
---
For more information, check out VisitIdaho.org.