By: Ben Brown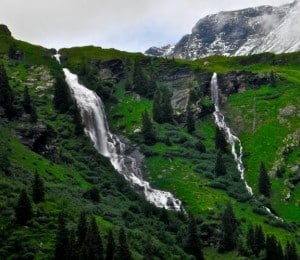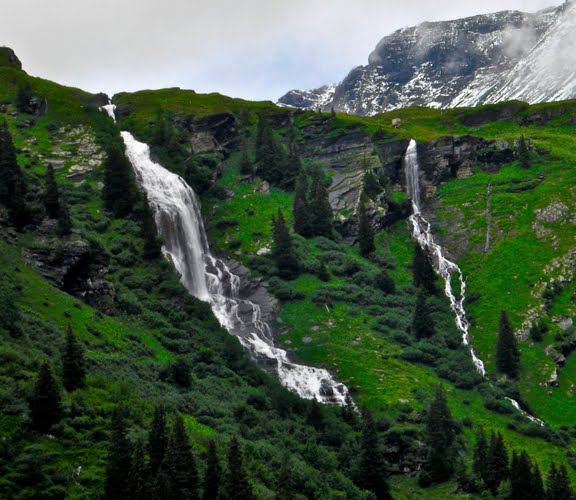 The bench atop the Fingstegg trail looked too enticing after the long ascent. I asked an elderly couple if I could sit and enjoy the scenery with them. From here I saw the whole town—another quaint village with mountain cabins sitting along slopes I knew were ski runs in the winter. It was still snowy on the peaks across the valley. Just an hour ago I was flying across mountains in a chair going 50 miles an hour. The cow behind us mooed… we couldn't help but laugh.
FAST FACTS
Location: Southern-Central Switzerland
Season: Summer
Avg. Temperature: ~58? F, humidity: low/mid
Free/low-cost attractions: mountains, hiking, bike rental, sports rec center, mini golf
More attractions: First Flyer, indoor ropes course, tobogganing, trotti biking, trips to nearby mountain trails, Jugenfraujoch (top of Europe), close proximity to Interlaken
Transportation: not necessary in small town, train accessible
Cheap eats: Coop market, Pain Paillasse Bakery (both close early)
Misc: Most hotels issue you a town pass upon checking in. Cheaper hotels give 'B' passes, giving you attraction discounts. An 'A' pass gives free access to most attractions.
LODGING – LAUBERHORN BED AND BREAKFAST
A few minutes up the hill past 'downtown'; rooms are big, and balconies have stunning views of town and mountains. A large lounge on the first floor has a full bar, lounge, dining room with free breakfast and TV room with free TV, movies, DVDs and internet. Deals make this place affordable, but management could warm up to its guests more. Lauberhorn Bed and Breakfast. Starts ~$65/night.
A WALK THROUGH TOWN
Grindelwald is your classic Swiss country town, with one main street passing through the 'downtown' buildings, shops, hotels and restaurants. Come winter it's a popular ski village, given its proximity to the mountains. According to locals, Grindelwald is the second-most visited city in Switzerland. Wooden homes, nestled in green flower fields with the mountains as a backdrop, are features themselves.
THE SPORTS CENTER
It rained all afternoon, making outdoor activities not as appealing as usual. I went to the Sportzentrum downtown, a recreation center in the same building as the tourist office. It's has a gym, an ice rink, small tennis courts, ping-pong tables, a pool, sauna, waterslide and a rock wall. All indoors; it costs very little to use the facilities or rent equipment.
Sportzendtrum. Some attractions free.
SWITZERLAND'S FIRST INDOOR ROPES COURSE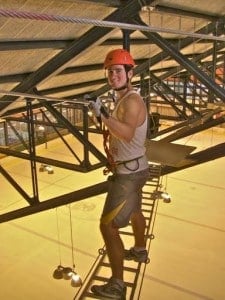 Inside the Sportzentrum, the course stretches across the top of the ice arena on the rafters. It features five sections, from beginner to advanced. I found some more challenging than outdoor courses. One involves getting into a mouse wheel and rolling from one rafter to another.
If it rains, this is a good way to spend the day.
Indoor Ropes Course. Price ~$37.
MOUNTAIN FOOD – MEMORY RESTAURANT, HOTEL EIGER
Look for flags outside, and a bike with 'Eiger' on the side, and you've found it. This grill is classic, serving up hearty mountain food. Known for their hash potato dishes (i.e. roesti with a twist) and fondue, they also serve burgers and burritos. I enjoyed the Mexicanische, essentially Mexican-style roesti. Dishes cost around 20 Francs; burrito of the day for 10 Francs.
UP AND DOWN MT. FIRST
Ski resort during the winter, beautiful hiking come summer; a walk up the street from downtown Grindelwald takes you to the Gondola, which goes up to First's ('feerst') peak.
By the time I set foot on the summit, I was looking at a winter scene that faded into a white abyss beyond the trails. This weather meant crowds were thin.
FREE BOOT RENTAL
It was just above freezing with a mix of rain and snow. My gear consisted of cargo pants, a hoodie, and an umbrella. My saving grace was free hiking boot rental at the top. When you exit the gondola, go into the sports shop. You can try Lowa hiking boots free for a day. Give them your shoes and trade back at the bottom. The boots are great and saved me from a few falls.
TROTTI BIKING TO GRINDELWALD
What better way to finish the journey than by trotti bike? The last part of the trail is paved, albeit steep, with wet roads. The speed was great, and the view better. Fog rolled through the mountains, showing peaks every once in a while. Then came a stunning view of town, with houses along hillsides seamlessly transitioning into mountains and valleys.
Trotti Biking (set language to English). Lift Tickets ~$21 with Swiss Pass
DINNER AT THE TEA ROOM
Grindelwald has little inexpensive dining. All grocery stores, bakeries and delis close before the main dinner hour, and there is only one take-away snack bar in the town, which really isn't cheap either. Most restaurants will cost at least 22 dollars a meal. I went to a café called the Tea Room, connected to the self-proclaimed famous Pain Paillasse Bakery. Pasta dishes range from 14-18 francs, and meat specialties are 20 and up. Small place with a cozy feel and a very nice server. The food could use some work, but this is as economic as you're gonna get.
Grindelwald Dining. Dinner ranges from $14-30.
ZOOMING DOWN THE FIRST FLYER
The sun came out the next day, revealing the town's beauty; back up First for the First flyer. You're strapped to a chair attached to a cable atop the summit. Put your feet against a metal door, and when it opens you fly half a mile down the mountain. At some points you're over 150 feet in the air, going nearly 50 mph. Four people can go alongside each other at once; worth the ride.
First Flyer. ~$25/ride.
A HIKE ON THE OTHER SIDE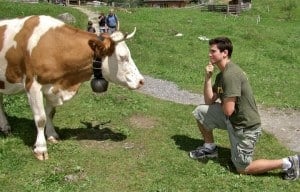 Time to see the mountains across town. Fingstegg has another gondola you can take, which lies midway up one of the large mountains. From there you can hike about a 1-1/2 hours to a glacier. Others made the hike and said it wasn't worth it. I skipped the gondola and walked up Finstegg. A steep ascent takes you through country homes, horse pastures, and mountain streams.
The top has a toboggan run, a restaurant and borders a cow pasture, so cows walk around the lookouts. This place gives a great view of the town and the river. I took a different way down, leading through trees and along cliffs.
I rode the train out of town with two Swiss people and their Romanian God-daughter. We all agreed it was a great day to see Grindelwald. Fingstegg (Set language to English). Cableway ~$10 with Swiss Pass.
BEN'S GRINDELWALD VIDEO
ABOUT THE AUTHOR: Benjamin Samuel Brown is a senior broadcast journalism student at the University of Southern California. Born and raised in San Diego, California, Ben's travel experience spans across more than a dozen countries over four continents and both hemispheres. His preferences tend to stray away from the typical excursion, however—from hiking for backcountry ski slopes in New Zealand to volunteering on an army base for the Israeli Defense Force.
 In college, Ben is currently pursuing the honors curriculum in the Annenberg School of Journalism while obtaining a minor degree in sculpture.
WEB RESOURCES: