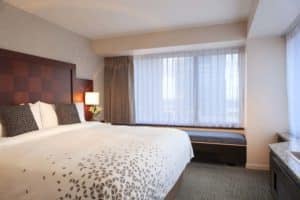 Editor's note: The Renaissance Seattle has undergone a renovation in the time since this story was posted. Where noted, the photos in this story have been updated.
My husband Chase and I stayed at the Renaissance Seattle Hotel for a night on our recent trip to the rainy city, and I wish we could have had more time there. Here are a few highlights:
Location: Situated in downtown Seattle, we were within easy walking distance of numerous attractions including Westlake Center, Pike Place Market and the Seattle Art Museum. It's also only about six blocks to the waterfront, but you might want to pace yourself coming back since it's an uphill walk to return.
View: Being located at the top of a hill gives the Renaissance some great views. From our room we could see the water and the Space Needle in one sweeping view from the window. At night this was especially magical.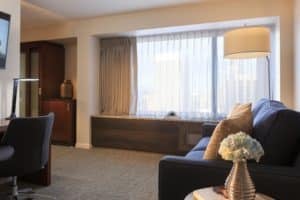 R View Lounge: Located on the top floor (28th) of the hotel this is the place you want to hang out. The R Lounge has spectacular views of downtown Seattle, and at night it was the perfect place to relax and enjoy a cocktail. Their drinks and food are as amazing as the vie. I enjoyed a cucumber martini while my husband and I shared a spiced ginger cake for dessert. Both items were gone in mere minutes; we couldn't get enough. We also went up to check out the views the next afternoon and were able to enjoy the lounge area even though the bar was closed at the time.
Dining: We ate breakfast at the hotel restaurant Maxwell's, and our food was amazing. Chase and I shared a crabcake benedict made with fresh dungeness crab and a thick, creamy hollandaise that was to die for. I asked for blueberry pancakes as well, and even though they weren't on the menu the staff was happy to oblige. Needless to say we did not leave hungry.
Tip: If you're not sure what you want to eat they also had a fantastic breakfast buffet available.
Staff: Everyone is exceptionally friendly and accommodating. Checkout time is normally 12 PM, but I asked if we could wait to check out until 2 PM since we had a later flight, and I was actually surprised that they had no issue letting us leave late. The concierge was quick to help us when we needed assistance deciding the best way to get to the Space Needle. After being directed to the nearby monorail we got there easily without having to spend extra money on a taxi.
Rooms: Our room was clean and modern, and we were immediately at home. I could have used a few more nights sleeping in that bed; it's been a while since I've gotten such a good night's sleep.
---
For more: Renaissance Seattle Hotel, 515 Madison St, Seattle, WA 98104; 206-583-0300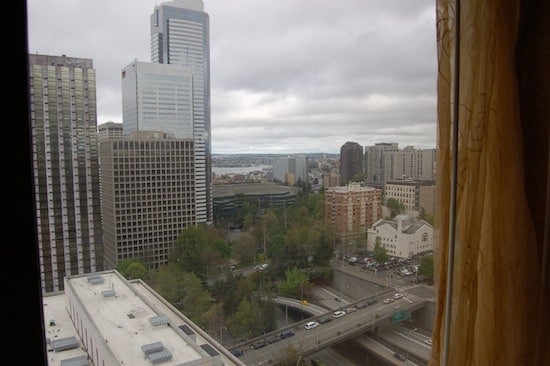 Save
Save
Save