Greetings from the good ol' U.S. of A! This week, we fly across the pond from London to New York to catch a Yankees game, then head home to California to attend a Twitter Conference and spend some quality time with my dad — including going to a Dodgers game! We also have my sister GeorgieJet's article about her trip to Cody, Wyoming where she gives us a fascinating glimpse of the Wild West!
BRITISH AIRWAYS
From London I flew on a British Airways 747 to New York in their World Traveler Plus class (premium economy). The seating configuration in this cabin (which is situated between economy and business class) is 2-4-2 and seats come with a leg rest. Coach (World Traveler) class cabins are configured 3-4-3 so what's attractive about premium economy is that it's much more comfortable than coach and much less expensive than business class.
SEATMATES
I scored a bulkhead window seat (row 28) and the configuration in this row was just 1-4-1 so I was really chillin' until the four seats across from me were taken by an English couple who had not two but four kids. I know: how do six people sit in four seats? I was wondering the same thing. Well, they had their just-months-old twin girls on their laps (they didn't stop screaming the whole flight, I might add) and their other two monsters (about four and five years old) in the other two seats – these two didn't stop fighting or playing on the jump seat in front of me the whole flight, either. I felt like popping open the emergency exit door and scooting them out but my noise canceling headsets saved them. FYI: The flight attendants couldn't have been nicer to these tyrants … to the point where I wanted to pop them out the door, too. I don't think I'm cut out to have kids, do you agree?
LONDON TO JFK
Flight time across the Atlantic was a smooth seven hours and 10 minutes and the seat belt sign didn't go on once.
BRITISH AIRWAYS LUNCH
The meals came out with the covers still on them, which is cool because you can see what you're eating and check out the nutritional information but my chicken with pasta was pretty nasty. I thought for sure the Italians behind me, who had ordered the same thing as me, were going to go postal when they opened theirs.
ADVANTAGES OF PREMIUM ECONOMY
Other advantages of being in WorldTraveler Plus: Besides the added comfort, passengers are served their meals first (though it's the same food and service as coach) and they get a head start on the walk to customs. Always important.
CUSTOMS AT JFK
Terminal 7's immigration plant at JFK is so depressing that I was embarrassed for our country. The ceilings are low, the room is dark with no windows and the line for visitors was over 100 yards long and I was at the front of the plane; that's how few agents they have working. Nice welcome, America!
WHO CARES ABOUT VISITORS?
To make matters worse, I told the agent I felt bad for the visitors and he said, "Who cares about them?" — and he wasn't kidding. To me, that is such a serious problem and it's not the first time I've encountered it. I cleared in a respectable 20 minutes and my checked bag came out five minutes later. But the visitors … not so lucky. Even crazier is that the flight attendants, who usually breeze through, had a longer line at their special booth than we did. I beat the ones who were ahead of me so they waited well over 20 minutes. And they're all on short layovers. Something needs to be fixed.
DID YOU KNOW? On the plane, I read in a National Geographic Traveler magazine that the most exclusive place to sell hot dogs in the U.S. is outside the Metropolitan Museum of Art in New York City. The stand owner pays $600,000 per year for the prime location. Crazy!
YANKEES
I'm a huge Yankees fan so when a friend called me up to say he had four extra tickets at just $40 apiece, you can be sure I wasn't going to turn the chance down. I invited my brother, my cousin Nicky and my buddy Paul to see the Red Sox get their butts kicked.
The stadium food, drinks and memorabilia aren't cheap — $5 waters, $9 beers, $30 t-shirts, $30 Yearbooks. But there are lots of different food vendors to choose from. However, I opted for the what was closest to my seat, so I had a sausage and pepper grinder for $8.
NEW YANKEE STADIUM
The new stadium is gorgeous — as well it should be. It cost $1.5 billion. Upon entering, I felt as excited as a kid and I even got yelled at by security for stepping too close to snap a photo. Although the new stadium has a bit of the old feeling, most workers told me they prefer the original park for its history. The jury is still out for me but one thing that stood out was the huge HD screen, which adds a lot of entertainment to the stadium. Related: NewYork.Yankees.MLB.com.
TWEET UP @YANKEE STADIUM
I Twittered (and Facebooked) that I was at the game and a travel colleague replied that she was there too so we had an impromptu Tweet-Up. Ah, the power of the Internet.
GETTING TO AND FROM THE STADIUM
Instead of taking a taxi to and from the game to Manhattan, we took the subway (#4) to 161st Street. It was crowded but it cost just $2 and we didn't have to deal with traffic.
CAMERAS AT THE STADIUM
FYI: If you're wondering as I was, if you can bring a big camera into the stadium, the answer is yes. I brought my Nikon D90 with me but security doesn't allow any kind of bags in, including camera bags.
YANKEES VS ANGELS
I'm in New York City this week to speak at the Travel & Digital Media Symposium (@MJAMediaSymp) at the Sony Center on Thursday, October 15. Other panelists are @TravlandLeisure, @WorldHum, @IntelligentTrav, @EverettPotter, @RudyMaxa. Anyhow, if I can score a ticket to the Yankees vs Angels game between now and then, I actually might be at the game Friday night. So if you're there, let's have a Tweet-Up!
UNITED MILES
Good news if you're hoarding United Airlines frequent flier miles: They recently ended their ridiculous last-minute award tickets fee. So I decided to burn some of my hard earned miles. I cashed in 25,000 miles and flew United's PS service back to California.
JFK-LAX/SFO
What's nice about United on this route (and SFO) is that all the coach seats (72) have five extra inches of legroom. There are wrapped blankets and pillows on each seat but if you ever come across one that's not wrapped in plastic, don't use it. You never know who it's been used by and for what. Think Swine Flu prevention.
PS SERVICE
On United there's no real entertainment in coach besides the eight old-school monitors broadcasting movies and NBC infomercials throughout the aisle. However, United is now offering GoGo Internet service on these flights and by November 6, all 13 planes will have been outfitted.
FOOD ONBOARD
United sells food on board (pay with credit card only) and I noticed a young foreign student sitting near me, apparently bewildered by the fact that the on-board food costs money. I bought a $9 Asian chicken salad and she nodded to have one too but when the flight attendant asked for money, she quickly returned it. I felt terrible. Then, when the drink cart came around, she didn't order anything, probably for fear that there was a charge for that, too. A few minutes later I went back to the galley to tell the flight attendant that this woman needs to eat (she was already skinny as can be) and asked her to get the passenger whatever she wants and charge it to me. Towards the end of the flight, I got talking to her. Turns out she was from Nairobi and was coming to America for school for the first time and had had a very long day. She had flown Nairobi-Dubai-JFK-LAX which is unbelievably long. Hopefully I helped give her a better impression of America than the rude flight attendant.
UNITED CREW
To make her day even longer, the flight to L.A. was the longest I have ever encountered due to strong headwinds. Flight time was six hours and 10 minutes. It was also the bumpiest transcontinental flight I've ever had. But I now know why the flight attendants were so chilly. They had to continue on to San Francisco for a short layover before leaving early in the morning and working a flight back to JFK. Ouch.
UNITED DOESN'T RECYCLE
FYI: According to a flight attendant, United doesn't recycle cans or papers. Does this tick you off or is it just me?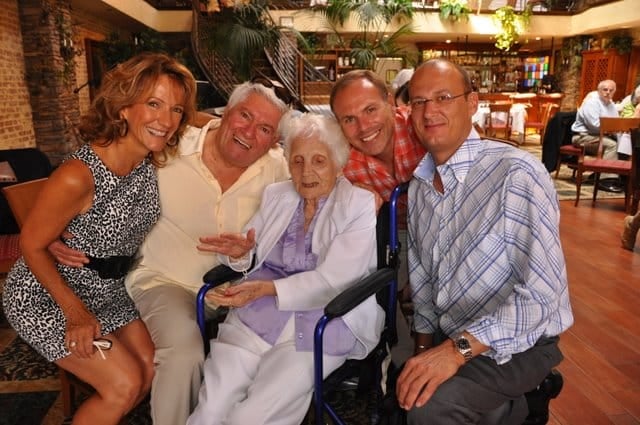 ZIA KATHERINE'S 100TH
My main reason for going back to California, besides the fact that I hadn't been home in over a month, was to meet my dad who was flying out to attend his aunt's 100th birthday party in nearby San Pedro. What a Sunday luncheon her children threw! It was so special for us to see old relatives and meet new ones I never even knew existed.
DODGERS GAME
My favorite ballpark (other then Yankee Stadium, of course) is Chavez Ravine to see the Dodgers. We scored the best tickets you can get; two out of the three games they played the St. Louis Cardinals. The first night, we were five rows from the "on deck circle" and two days later (thanks for my buddy John B), we were in the same section but in the very front row. It was fantastic! We were surrounded by celebrities, had unbelievable views and maybe best of all, had free food, drinks and dessert! Not only did I stuff myself like a Japanese professional eater with Dodger Dogs, but I got a foul ball off of Manny's bat. Oh, how I hope it's a Yankees vs Dodgers World Series. How incredible would that be? Related: LosAngeles.Dodgers.MLB.com.
TWITTER CONFERENCE
While in L.A. I went to the "140: Twitter Conference L.A." (140tc.com) at the Skirball Center, which is a small conference facility near the Getty Museum in Los Angeles. Speakers included Biz Stone (Founder of Twitter), Tony Robbins, LeVar Burton, Dr. Drew Pinsky, Tony Hawk, The Iron Sheik, Tucker Max, San Francisco Mayor Gavin Newsom (He called in via Skype – lame, I know), Tyrese, Guy Kawasaki, Loni Love, iJustine, @Adventure Girl and Pee Wee Frickin' Herman! He showed up to make his first Tweet ever!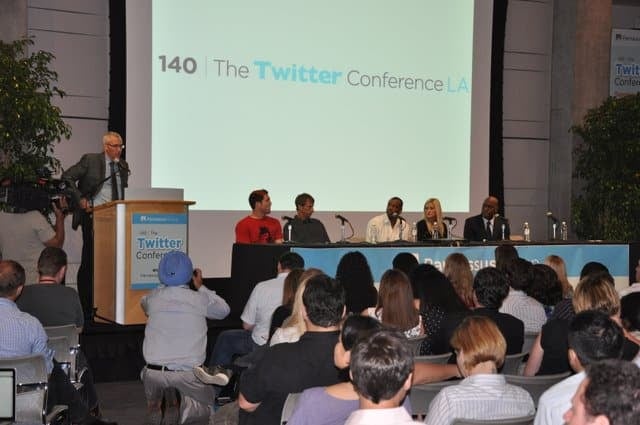 For a play-by-play of Tweets from conference attendees – including mine – log on to Twitter and search #140TC or click this link. FYI: The conference was limited to just over 400 attendees so it was nice and intimate.
ONLY IN L.A.
One afternoon I went to the Romance Marketplace at The Beverly Hills Hotel put on by Destinations Wedding Magazine (DestinationWeddingmag.com). While waiting for the valet, I saw a man with a huge camera – hmm … I thought it was bizarre that security would let Paparazzi onto hotel property. But it turned out he wasn't the Pap when his shiny new Mercedes pulled up and a tall beautiful blonde wearing a skimpy dress jumped in with him. Two minutes later as I was pulling out on to busy Sunset Boulevard, I saw the guy taking pictures of the girl next to the Beverly Hills Hotel sign. I knew something was up by the girl's mischievous look and sure enough, she started lifting her skirt up for a more interesting shot. She was completely naked under there so she must've been a porn star doing a risqué photo shoot – only in L.A.
NEXT WEEK
Next week we stay local and visit San Diego.
 Web Resources