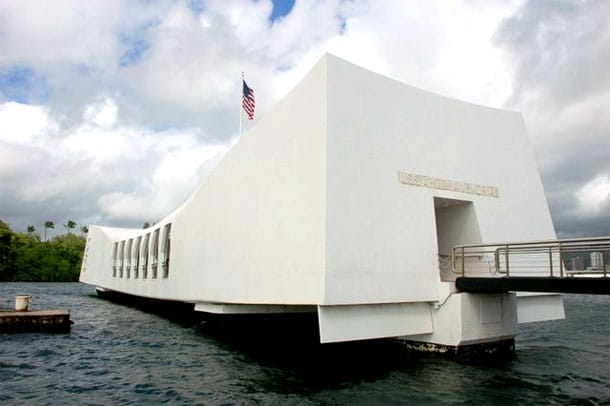 My father was born on December 11, 1941 while my grandfather had already joined the military. For my whole life I have heard how my father was born three days after the attack on Pearl Harbor, the triggering event of American involvement in World War II. The attack claimed the lives of over 2000 military and civilian personnel and damaged or destroyed 21 vessels and 170 planes. I had always wanted to visit this memorial, and as it says on the plaque it is "a place of reflection, which answers some questions and raises others, a journey to the past."
Parts of the Memorial Center are an active duty station no photography is permitted in those areas. We took the bus to Ford Island and were ready to see the USS Missouri, or MIGHTY MO, a battleship in service for fifty years during three wars, World War II, Korean War and also Desert Storm. We chose to follow an audio tour, although there is a guided tour as well. Seeing the plaque at the 1945 site of the signing of the Japanese surrender in World War II was momentous. Walking the ship and seeing the crew quarters felt like walking the decks of history. I saw a group of Japanese tourists with a tour guide speaking in Japanese and felt impressed that they were on the ship learning another side of the history of our shared past.
You could definitely spend more than one day at the Visitor Center. Our excursions around the Mighty Mo took us nearly two hours and we did not get to see the USS Bowfin Sub Museum or the Pacific Aviation Museum, but we did watch the video at the USS Arizona Memorial. I appreciated the history lesson and felt a new perspective on what happened and the choices our forefathers made.
The boat ride to the USS Arizona memorial was quiet. Everyone was reflecting on the film. I appreciate the courage, commitment and service of all the members of the military who served and lost their lives for the United States. I hope that we can all learn to live together so there is no more war or need for memorials.
This memorial site represents both the beginning and the ending of World War II. I highly recommend you include the Pearl Harbor Visitor Center in your trip in Oahu. One bus driver told us the nicknames of the Hawaiian Islands: Big Island: Orchid, Kauai: Garden, Maui: Valley, Molokai: Friendly, Oahu: Shopping! So if you do decide to go shopping, the Pearl Harbor Visitor Center is near Aloha Stadium has the flea market and swap meet. You can purchase 10 t-shirts for $20. I also recommend the Diamond Head hike and snorkeling at Hanuma Bay, but whatever you do, visit the memorial so that you can "Remember, Understand and Honor."
THINGS TO KNOW:
TICKETS:
USS Arizona is free to visit but you must have a timed ticket. There is a brand new online ticketing service available and for $1.50 fee I think it is well worth it to plan your visit to this incredible site in advance! National Park Service Website: NPS.gov
Since our visit last month there is a new Passport to Pearl Harbor:
Mighty Mo Pass $22 $11 Purchase
NEW! Battleship the Movie Tour beginning May 19, 2012
(includes Mighty Mo Pass) $47 $23 Purchase
NEW! 1-Day Passport to Pearl Harbor $55 $30 Purchase
NEW! 2-Day Passport to Pearl Harbor $65 $35 Purchase
Daily Hours:
Arizona Memorial Center 7am-5pm 808-422-3300
USS Arizona Memorial boat shuttles: 8am-3pm (every 15 minutes)
MIGHTY MO: 8am-4pm 808-455-1600
Bowfin Park: 7am-5pm 808-423-1341
Pacific Aviation Museum Pearl Harbor: 9am-5pm, 808-441-1000
Bags are prohibited in the Pearl Harbor Visitor Center and Memorial, Battleship Missouri Memorial and USS Bowfin Submarine Museum. Storage is available for a fee.
From downtown Honolulu to Pearl Harbor Visitor Center: Taxi $45 (45min), Bus $2.50 (1.5 hour)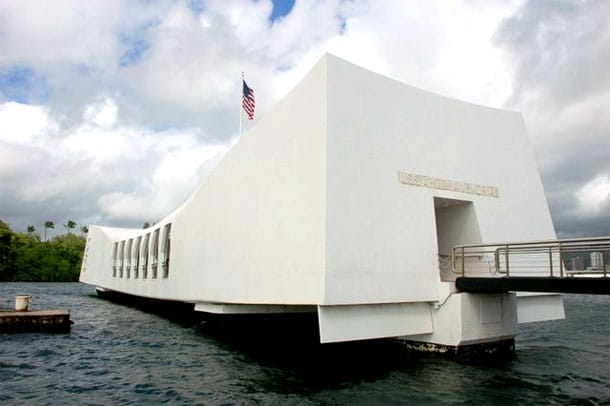 About the author: Lisa Niver Rajna, M.A. Ed. is an accomplished travel agent, blogger, speaker, science teacher and member of the Traveler's Century Club, a unique travel club limited to travelers who have visited one hundred or more countries. She traveled across six continents with Club Med, Princess Cruises, Renaissance Cruises and Royal Caribbean International.She also writes for the travel section at Technorati.com and blogs on the Jewish Journal, WeSaidGoTravel and ScienceIsntScary.