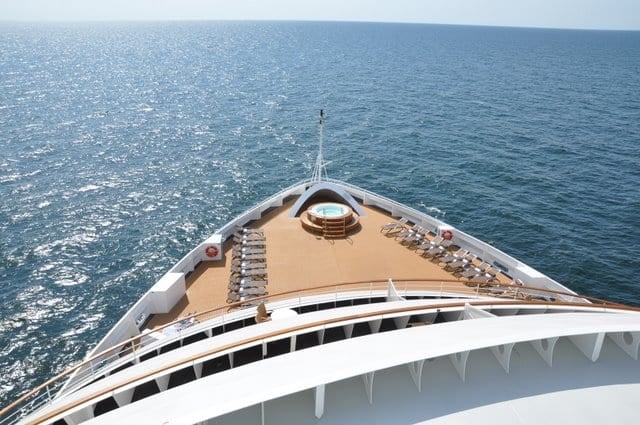 SEABOURN SOJOURN
Until last summer, I had only be on a cruises that were for three days or fewer. Therefore, I wasn't sure how I was going to like being on a boat for a whole week with people I didn't know, sailing to places I'd never been. My girlfriend Natalie felt the same way but by the end of our week of cruising around Turkey and Greece on Seabourn Odyssey, we couldn't wait to go back. Then a few months later I went on the Crown Princess with my dad, which was not as high-end but still a lot of fun.
SOJOURN'S NAMING CEREMONY IN LONDON
Seabourn liked the amount of traffic my story gained so much that they invited me to preview Seabourn Odyssey's new sister ship Sojourn back in June. I spent one night docked in the middle of the Thames River in Greenwich. It was a fun party and Twiggy was the ship's Godmother.
WHICH SEABOURN CRUISE TO PICK
Since it was difficult to get a real feel for the ship by spending just one night, they invited me (and a guest) to take one of Sojourn's future sailings. I really wanted to visit Turkey and Greece again because it was one of the best trips I've ever done. I was also really tempted to sign up for Italy, Greece and Croatia but I've already been to two of those three countries and since one of my goals is to go to every country in the world, I thought the seven-country Baltic Sea Cruise was perfect as I'd never been to four of the seven countries on the itinerary. FULL DISCLOSURE: Seabourn gave us a free cruise but as always, I would never jeopardize my integrity by giving a false account. No matter who is paying, I always tell it like it is and I always interview other passengers as I know I might be getting a skewed experience.
COPENHAGEN
Our trip began in Copenhagen, Denmark and Natalie and I flew in a day before just to make sure we wouldn't miss the ship. It's always a good idea to arrive at least a day or two early when going on a cruise since they won't wait or pay for you to catch up with the ship at the next port. That's especially true if you booked your flights through a third party. FYI: Seabourn didn't pay for our flights or arrange our ground transportation.
ODYSSEY VERSUS SOJOURN
When I first stepped foot on Sojourn, I was surprised to learn that she is basically the exact same ship as the $300 million dollar Odyssey. They are both 450- passenger luxury yachts, 650 feet (198 meters) long, made by the same shipyard (T. Mariotti) and have the same designer and architects (Bjorn Storbraaten). The dead weight of the vessel is 32,000 metric tons. These ships are so big that they could hold up to 1,000 passengers if it was outfitted like most cruise ships but instead, it holds just 450 guests in 225 luxury suites (not rooms), creating a much more intimate experience. BTW: Ninety percent (197) of the rooms have verandas, which as you can imagine, make all the difference in the world. NOTE: Next June, Seabourn will introduce the third and last ship of this class called Seabourn Quest and she too, will have the same measurements.
HOTEL TO PORT
Natalie and I checked out of the Radisson Blu Royal Hotel at noon. We took one last stroll down Stroget and then jumped in a taxi around 2:30pm to head to the port. I wanted to take a train and then walk a few blocks but Natalie put the kibosh on that idea. I'm glad she did as it started to pour en route … and I mean pour. The ride took about 20 minutes to Fort Kaj, Luedersvej in Frihavnen (note that not all cruise ships come to this port). The price on the taxi meter was 20.57 euros (about $28USD).
DOCUMENT HOLDER
Even in the rain, when I laid eyes on Sojourn, my blood began to pump with excitement and anticipation. Admittedly, my blood began to simmer a couple of months prior, after receiving (like all passengers) Seabourn's welcome kit via FedEx. Inside the package were four fine leather luggage tags and a document holder with all the information needed about the cruise, along with preprinted luggage tags displaying our room number. This makes check-in at the port quick and efficient.
ARRIVAL
Seabourn's magical service began the moment we pulled up – escorts with oversized umbrellas greeted our Mercedes taxi and walked us inside, although our bags did get a bit wet because the driver failed to pull up close enough. Everyone seemed to have already arrived because there was no line to check in. The first stop was to drop off our tagged and checked luggage at the designated spot. TIP: Keep your carry-on luggage with you as you always want to keep important items like cameras, laptops, passport, money and medicine.
WELCOME TOWEL
On the short walk to check-in, a Seabourn staff member dressed in a tuxedo offered us a chilled towel from a silver platter. How civilized!
CHECK-IN
The attractive and friendly agent took our passports and in return gave us our personalized credit card-like room keys, each with our name on it. Later they delivered another card, which was like a mini-passport, each with our photo, which was in lieu of our real passports. Seabourn holds on to all guests' passports to make arriving at ports easier, safer and quicker. FYI: Passports were returned to us when we arrived in Russia. We had to have them on our person at all times.
SECURITY
Before boarding the ship there's an airport-like security check. In addition to putting your belongings through the x-ray machine and having to walk through a metal detector, passengers had their personalized room key swiped to make sure they were who they said they were. In fact, passengers have to do this every time they embark and disembark the ship. The security staff was not only diligent but they were quick too, so passengers didn't have to wait in long lines.
ON BOARD
Sojourn and Odyssey are not as grand as you'd think they would be. I didn't have the same awestruck reaction as when I boarded Celebrity's Solstice or Equinox. There was no grand entryway and no huge atrium with glass elevators. However, what Sojourn lacked in stature, she sure made up for in food, service and overall experience.
SEABOURN BRAND
Don't get me wrong! The ship is genuinely beautiful. It's classy and contemporary, not flashy. But before I go any further, I guess I should tell you about the Seabourn brand. If you didn't know by now, Seabourn is known for offering passengers small intimate yachts with extraordinary levels of personalized service, food and providing an overall exceptional cruise experience. We're talking the crème de la crème of luxury cruising.
MORE 450-PASSENGER SHIPS
Prior to Odyssey, Seabourn only had three boats and none held more than 208 passengers. So building 450-passenger mega-ships (by their standards) was a new venture. But it looks like it's their future as bookings are up.
SEABOURN'S ACCOLADES
Seabourn has earned all kinds of awards including the prestigious 2010 World's Best Small-Ship Cruise Line by the readers of both Travel + Leisure and Conde Nast Traveler magazines. They also made Cruise Critic Editors' Picks Awards for Best Luxury Dining for the entire fleet and Seabourn Odyssey won Best New Luxury Ship.
SEABOURN ODYSSEY: SERVICE
With all these accolades, I guess I shouldn't have been as taken aback by Seabourn's level of service as I was. But it shocked me that at the breakfast and lunch buffet, every time I walked to my table, a Seabourn staff member was almost always there waiting like a security guard at a high-end jewelry store. The moment I took a step towards my table they insisted on holding my plate – even when there was just one itsy-bitsy, tiny scoop of ice cream. I would say, "It's okay, I can handle it," but they wouldn't have any of that. At first I thought they were trying to take my food away so I would high-step around them like a running back but when I realized what was going on, I had no choice but to succumb to the service. I guess this is one way to prevent guests (like my out-of-control self) from overeating, since their staff members would know just what a piglet you really are.
ONE ON ONE
It constantly surprised me that they had so many available staff members and I later read that the ship has nearly one staff member per guest. Now that's impressive. We later saw them in action when Natalie lost her passport in Estonia. It's a long story. Check it out the story of the ordeal here.
PORTER SERVICE
The moment you clear the onboard security check, white-gloved porters are there to take your carry-on bags and whisk you up the elevator.
THE LONG HALLWAY
There are 11 decks and we were in the middle of the ship towards the front. Our room number was 638. The hallway looked like a normal hotel hallway but narrower. Surprisingly our bags were already waiting for us in the hallway. I'm not sure why they didn't bring them into the rooms along with the other passengers' as they did last year but they didn't — another reason not to leave valuables in your bags.
FRIENDLY STAFF
Each staff member we passed was genuinely friendly. They got even friendlier when I took an interest and asked where they hailed from — they came from all over the world and the only way to find that out was to ask; their nametags don't identify where they're from.
VERANDA SUITE
When the door to our veranda suite was opened, it hit me like a villain in Batman: "WHAM! A crushing blow to the head!" This was going to be one heck of a cruise. Seriously, our room wasn't even one of their top-of-the-line suites. In fact, out of the seven room categories, ours was ranked second from the bottom of the list and it was still that impressive. These suites range from 269 to 302 square feet so it was generous in size and without a doubt, I've been in way smaller hotel rooms. To think this was on a ship was mind-boggling.
OUR ROOMS
The room was tastefully decorated with modern elements. The first thing I noticed was the queen-sized bed, with its bone-colored, stitched leather headboard (ahem, Natalie provided that description). On top of the bed was a leather tarp to prevent the filthy bags and wheels from getting the glorious bedding dirty.
ROOM 638
Like a kid in a candy store, I whizzed around the room like a storm checking everything out as fast as I could. In the middle of the room there was a moderately sized (19-inch) flat-screen TV with DVD and CD players that could be swiveled to be seen from the bed or from the honey-, chocolate- and black-striped couch (it's beautiful but not comfortable) or from the multi-use table that could be turned into a dining table or a desk. The custard-colored leather club chairs were stylish and comfy. There were two sets of curtains, one for the balcony door and the other in the middle of the room so it could provide privacy in case two friends were sharing a room; the large bed can also be separated into twins.
BALCONY
With the exception of the bed, I spent most of my time on the 65-square-foot teak balcony. It has two chairs and a table. The views from here are unbelievable and it's the ideal place to read a book, check email, and of course, eat breakfast, lunch and dinner — especially if you're in the mood for something quiet and intimate.
BALCONY IMPROVEMENTS
Last year I complained that the balcony doors needed improvement since they are so thick and heavy and I could constantly hear them being slammed abruptly and loudly. They definitely fixed that problem and it helped that our neighbors took the time to handle their doors gently. The one thing that was annoying about our neighbors was that they left their balcony light on all night; I don't think they knew they had a light switch behind the curtain. It didn't bother my sleeping since the rooms have blackout curtains but it did prevent Natalie and me from seeing the stars in the middle of the night. Oh, speaking of doors, one thing that would be nice is for the workers not to let the front door of their work stations slam – our room just happened to be next to a station and I should have said something but didn't.
THE BATHROOM
Another masterpiece is the large marble bathroom that features his and hers sinks, a separate tub and stand-up shower with Molton Brown bath products, fresh white towels and fluffy white bathrobes.
MAKEUP VANITY
To prevent couples from fighting about who's hogging the bathroom (ah, women!), just outside the bathroom door was a makeup vanity with a mirror and a plug for the hairdryer. Genius.
STORAGE
More good news for women is the storage facilities. At the top of the list was the walk-in closet that had plenty of hangers, five drawers, a personal safe (large enough to fit a laptop) and a full-length mirror on back of the door. That was plenty of space for Natalie and me and we hardly even used the additional room storage that consisted of nine more drawers and a couple of cupboards. However, we did use the storage below the bed for our empty suitcases. RELATED: See Natalie's two-minute video of how she packed a different outfit for every day in just a small carry-on bag.
MUSTER DRILL
The closet also contained life preservers and the only time we touched them (thank God) was for the mandatory muster drill that took place at 4pm on the first day in the main dining room on the fourth floor. FYI: The muster drill took just 15 minutes and passengers don't need to put the life vests on until they get to the positioning post. Seabourn definitely could use a better system for roll call during the muster drill. The Norwegian Epic and Royal Caribbean's Oasis of the Seas electronically scans your key card instead of trying to shout out a list of names.
OPEN BAR
I'm sure you know that cruising is one of the best values around since your room, meals and entertainment are all included. However, most cruise ships make a lot of their money by selling alcohol, but not on Seabourn. That too, is included (except for the really high-end bottles). In fact, each room has its own stocked mini-bar with two large bottles of hard booze (that you choose when you pre-register online), a mini-fridge with soft drinks and fresh fruit daily.
MICHELLE
Shortly after we walked into our room, we had a knock on the door from our stewardess Michelle. She brought us some welcome champagne (in addition to the bottle in our room) and salmon canapés. Also on Michelle's welcome tray was a mini bar of L'Occitane soap; that's kind of weird since the bathroom was stocked with Molton Brown toiletries but hey, we'll take it! After welcoming us aboard, Michelle (who hailed from England) showed us around the room. She turned out to be awesome and a really hard worker who was eager to help or answer questions at any time. She also periodically left us handwritten notes, which was really nice.
NO TIPPING
On Seabourn, they have a no tipping policy since it's already built into the price. So there's no worrying about how much money to leave or reminders (or pressure) like on other cruises.
WIRELESS INTERNET
I'm an Internet junkie so I loved the fact that the ship had Wi-Fi available 24/7 no matter where we were in the world. If you don't want to bring your laptop, no worries. There are multiple computers available in Seabourn Square (double the amount they had on Odyssey). Just keep in mind with satellite Internet comes a steep price so the trick to not ringing up a huge bill is to quickly log on, download your emails (or make a Skype call), log off and work offline while replying or writing new emails. When they're ready to be sent, log back on and start the whole process over. But like I said, I'm an Internet junkie and work constantly so I ordered the most expensive package, which was $399 for seven days.
IN-ROOM ENTERTAINMENT
The TV also used satellite to receive a number of channels including CNN. The TV also comes with on-demand music and videos — just like those hotel rooms that have all the entertainment choices including new releases, classics, comedy and horror films. The big difference here is that there is no fee and no porn.
BEDDING
That's right! All the free movies you want! And that's a bad thing because the bed is so comfortable with its crisp white cotton duvet cover and sheets that you won't want to leave. If I wasn't motivated I could have easily just lounged around all day long, watching movies and relaxing.
LIVE MAPPING
My favorite aspect of the TV was the information channels, from the live mapping with location, speed and weather to the information on each port of call. They also had live cameras on the bow and aft so you didn't have to get up and open the curtain. I was also fascinated by the ease of booking excursions with just a few clicks of the remote. And I loved watching promo videos or seeing previous ship lecturers talking about particular destinations and their history. Perfect to lull you to sleep but make you wake up smarter!
ELECTRICAL OUTLETS
There's no need to worry about bringing converters because the rooms have outlets that work for both U.S. and European plugs. TIP: I always bring a travel power strip so I can charge multiple electronics at once.
IPODS
Also in the room are two telephones and an iPod docking station. Actually, I later read that Seabourn will loan passengers iPods or netbooks.
PREVENT GERMS
The first thing I did (what I do on every cruise ship or in any hotel room) was wipe down all the switches, remotes, handles and controls with an antibacterial wipe. I suppose it's a little Howard Hughes of me but I can't afford to get sick.
SEASICKNESS
I'm not immune to getting seasick and I didn't take any pills or precautions for the Turkey-Greece cruise. In fact, I didn't see or hear of anyone getting sick. On this cruise, we did encounter a couple of rocky nights. However, only one evening (from Stockholm to Helsinki) I felt really nauseas. Fortunately, I didn't toss my cookies. I still ate but not as much I normally did. Natalie felt sick too so she inquired about remedies. They recommended she take Stugeron pills (15 tablets for $8.10) available for purchase at Seabourn Square. People who were really ill could see the nurse and I believe that cost $70 for a consultation. The pills worked and I only took them that one night. Note: Each restaurant has dried ginger at the entranceway as this is supposed to be a great remedy.
UNPACKING
The second thing I did was unpack, which is a not a normal occurrence for me since usually, I leave everything in my bag; I'm always on the go. In fact, this was only the third time in years that I'd really stayed in the same place (other than my house) for ten straight nights; next week you will see I spent a night in Stockholm since we had 36 hours in port. What a great relief it was to be able to just relax and not have to worry about schlepping bags and on top of that, still get to visit multiple destinations. It's like a dream.
FREE LAUNDRY
What's nice about Seabourn is that you can either get your clothes laundered (there is a charge) or go down to the fifth floor where they have two small launderettes with two washers/dryers and ironing boards in each. There is no fee and they even supply the detergent. Now, that's a beautiful thing! FYI: Like all ships, there are no irons in the rooms; they're a fire hazard. What would be ideal is for Seabourn to install live laundry cams since a couple of times I went down there and all the machines were taken.
SEABOURN SQUARE
After the muster drill we were starving so we went up to the Seabourn Square, which I'd heard through the grapevine (Natalie), was the only place open at the time (4:30 pm). Seabourn Square is an innovative "concierge lounge" with a library, upscale shops, outdoor terrace and coffee bar. Mixed in between are the computers and concierges in a relaxed, club-like atmosphere. This is also the place for those who aren't comfortable booking the land excursions through the TV. Here, you can do it in person.
READ THE DAILY NEWSLETTER
It turns out that I didn't have to settle for the snacks at the Seabourn Square. If I'd taken the time to read my "Personal Guide To Seabourn Sojourn" — a daily newsletter filled with all the restaurant times and the day's information (port info, weather, currency exchange, dress code and phone numbers) — I would have known that my best option for food at 4:30pm was ordering off the 24-hour room service menu.
ROOM SERVICE
Just to be clear, there is no charge for room service – no matter how much or how often we ordered. Natalie and I used this treat the first night; we were both exhausted and just wanted to relax and enjoy our amazing room. The room service folks are exceptional; never once did they not deliver what we'd asked for, even when our request wasn't on the menu. Depending on the time you place your order, it arrives within five to 30 minutes. The five-minute orders were snack time when Natalie would call down late in the afternoon for cheese, crackers, cherries and sliced mango for me. However, most meals took about 30 minutes except for breakfast since you can fill out your order card the night before and request a delivery time.
DINNER
The first night, as we hugged the Swedish coastline, we ordered straight off the room service menu. I had chicken consommé and penne pasta with plum sauce; it's delivered on a cordless hot plate so it stays hot. Natalie had a Caesar salad with what she says were the freshest shrimp ever. Like a good boy, I passed on the white and dark chocolate mousse. Everything was so good that I would have been quite happy to have had this same meal every night. What's also really nice is that guests can get food delivered from one of the ship's four restaurants (they rotate the designated restaurant daily). Everyday menus are delivered and food choices change daily except the room service menu.
RESTAURANTS
Just like Odyssey, Sojourn has four restaurants and six bars and cafes with a seating capacity for over 800 diners. The restaurants are called: Colonnade, The Restaurant, Restaurant 2 and the open-air Patio Grill. My favorite was the Patio Grill not only because of the al fresco setting and food (they make good pizza) but also the casual, relaxed atmosphere.
RESTAURANT 2
The only restaurant that really required advance reservations (you can make them a maximum of 24 hours in advance) was Restaurant 2; celebrity Chef Charlie Palmers created the menu here. Each day that menu changed as well and the avant-garde restaurant comes up with some intriguing food and wine pairings. All the innovative creations are prepared in tasting portions and we dined there on our very last night with some new friends. Our menu, which was back lit in a funky neon frame, went as follows:
Chef's cocktail: Caviar in the cloud, foggy potatoes
Cowboy Roll – seared flank steak, Portobello, Sesame sauce
Barbequed Salmon – jalepeno, cucumber, melted mozzarella, wasabi mayo
Duck Confit Pop – Roasted pepper relish, creamy chili dip
Tea Smoked Game Presse, chestnut Spaetzle
Porcini & Chestnut Cappuccino, honey-spiced squab & Fig empanada
Grilled Beef Tenderloin, forest mushrooms, truffled emulsion
Floating lobster, pesto cream, red pepper fondue, Lime froth
Sweet & Sour Apple Snow, Granny Smith Confit
Apricot Beignets, citrus compote, Calvados Ice Cream
Night Cap: Orange Disaronno
DINNER WITH THE CAPTAIN
The second day of the cruise I was taking a nap and the phone rang. Natalie said the Captain was wondering if we accepted his invitation to have dinner with him. I guess they sent a formal invitation but I didn't get around to opening the day's mail (menu, newspaper, ship activities). I said, "Of course!" Later, when I really woke up, I said, "By the way, tonight isn't one of the two formal nights of the cruise is it?" Natalie checked the schedule and sure enough it was! Yikes! I didn't bring my tux so I could travel with carry-on only. On the two formal nights I was planning on ordering room service but we'd already committed to the Captain and couldn't cancel – and besides, Natalie wanted to get dressed up. Like a fool I even forgot to bring a tie. Luckily, when we rolled down to the restaurant, the maître d' said they could loan me a bow tie and he even helped put it on. It turned out to be a lovely evening and it was the same captain as last year on Seabourn Odyssey, Magnus Bengtsson.
DRESS CODE
What's timely is that I just received a press release from Seabourn that they just revised the suggested attire policy on board. "The revision addresses two issues that have been of concern to some of Seabourn's guests: formal attire and jeans. The revised policies are as follows:
During the day
Casual, resort-style attire, including jeans and shorts, is welcome in all lounges and dining venues.
Swimsuits, brief shorts, cover-ups and exercise attire should be reserved for poolside, on deck or in the spa and fitness center.
Evenings (after 6 PM) – suggested attire for all venues on board will be one of the following:
Resort Casual: Slacks and a sweater or shirt for men; sundress, skirt or slacks with a sweater or blouse for women. Jeans are not considered appropriate in the main restaurant.
Elegantly Casual: Slacks and a jacket over a sweater or collared shirt for men. Dress, skirt or slacks with a sweater or blouse for women. Jeans are not considered appropriate in the main restaurant.
Formal Optional: While Elegantly Casual is always appropriate during the evening, a Formal Optional evening will be provided for guests who wish to dress more formally at least once each seven days.
Formal Optional attire includes a tuxedo or dark suit with tie for men, cocktail dress or other formal apparel for women. On Formal Optional evenings, we request no jeans in any of the lounges or dining venues.
Cruises up to 13 days: One Formal Optional evening instead of two.
FOOD QUALITY
I asked countless passengers how they were enjoying the cruise and what they liked best. Everyone said they loved it and what they enjoyed the most was the food and service. I was surprised to hear that — many of the passengers aboard the ship were wealthy (and I mean wealthy) and to hear these rich, typically high-maintenance travelers rave about cruise food was almost a miracle!
INTERESTING: When they served lobster, it was flown in from Maine the night before, the beef comes from Texas and they serve only local fish.
BREAKFAST
Breakfast is served either in The Restaurant, the main dining room on the fourth deck or The Colonnade on the 8th deck. I prefer the Colonnade because it has both indoor and outdoor seating and they have a huge buffet, just like at lunch.
NEW FRIENDS
Natalie and I made friends with a bunch of passengers and the four we dined with the most were a couple from Connecticut and a father-and-daughter team from Seattle/London. What's nice about being on a cruise is that there is never a bill to figure out or fight over with your new friends.
NOT FOR KIDS
Seabourn does not cater to the younger generation. There are no kids programs whatsoever. I don't recommend bringing young children. There are plenty of other cruise lines that are geared towards kids but Seabourn is definitely not one of them. I recommend Disney or Norwegian Epic.
CRUISE CROWD
I was shocked to see a lot of couples in their 30s and 40s. I was expecting the crowd to be really old but it wasn't entirely. FYI: Fifty percent of Seabourn passengers are American but there were people from all over the world.
BARS/CASINO
In addition to the ship's four restaurants, there are plenty of places to meet friends for a drink. The ship has six bars: The Observation Bar, The Sky Bar, The Patio Bar, Seabourn Square, The Grand Salon and The Club. And they also serve alcohol in the small casino.
NO CRAZY DISCO
There's no crazy disco or after hours partying. Seabourn's entertainment doesn't compare to huge cruise ships that have nightclubs and Las Vegas- and Broadway-style shows. On Seabourn Sojourn, the venues are much smaller and more intimate. The Grand Salon hosts movie nights, cabaret performances and entertainers while the different clubs have live music and dancing.
ENTERTAINMENT
On our cruise they had talented dancers, a violinist, vocalist, pianist, a magician and guest speakers that included a destination lecturer, gemologist and what I thought was a pretty bad song/dance team. To give you an idea of the caliber of guest speakers, in April 2011 Ted Koppel, the award-winning journalist, will be onboard.
SPA
According to the captain, the big difference between Odyssey and Sojourn is the spa. This has been remodeled and the two-deck spa facility has over 11,000 square feet. It features a nail/hair salon, seven treatment rooms, saunas, steam rooms and a fully equipped gym. The prices are a bit steep unless you jump on one of their daily specials. I got a 25-minute, $29 scalp massage. My technician was a very nice Hungarian who had me change into a robe and slippers in the plush but small locker room. She escorted me into the salon where she massaged my head and shoulders. The chair was a bit uncomfortable to lie back in and it was a bit distracting to hear the ladies getting their manicures saying, "Ooh! What's he getting?" Ah, that's the frangipani scalp massage.
POOL
There was so much to see and do during the day that I rarely hung out on the sun decks. The ship has two outdoor swimming pools and six outdoor whirlpool spas. The most private was at the bow of deck six and it was perfect because not too many people knew about it.
MARINA DAY
When you're cruising in a warm climate, Seabourn usually sets aside one sea day as they did when we were in Greece. They open up their unique marina that features a "sea pool" and they bust out all types of complimentary water sports.
EXCURISIONS
Obviously, like all cruise ships, Sojourn offers every kind of excursion available at each port. The best was seeing the ballet in Russia but we'll get to that next week when we cover all the cruise destinations from the Baltic. Tip: Sign up for tours way in advance. You can always cancel and the good ones go fast.
RANDOM NOTES
Below are some more random observations:
-It was painful when, after making his nightly announcement on the sea conditions and our plan, the captain would end by saying: "Seabourn: Your home away from home." It just sounded too corny even though it really does feel like home away from home.
-It would be nice if the clock in the rooms automatically updated to local time; we went through three different time zones and it sometimes got confusing.
-Natalie commented on the low-quality ice cream cones that always seemed to crumble to pieces before you were finished eating.
-Our favorite flavor of ice cream was the strawberry since it had big chunks of fresh strawberries. They also had everything from cookie dough to lemon ice cream and they also had a variety of sorbets and yogurts.
-I brought a lot of heavy clothes thinking it would be cold but the weather was quite nice. I wore a sweater once and it was really because my other clothes were being washed.
-They have blankets by the pool and outside dining areas just in case you get cold.
-There's no smoking while refueling – we refueled only once (that I was around for) and it was while we were in St. Petersburg
-One of the big excitements turned out to be getting the following night's menu at your door around 6pm. That's how good the food is!
-The Colonnade Restaurant had different themed meals – my favorite were the Indian night and Italian night.
-The formal nights were on our sea days.
-I heard from multiple guests that the Norwegian Fjords was their all time favorite cruising destination.
-Friday evenings they do a Sabbath service.
-Entertainment is aimed at the older generation.
–I partook in the golf putting contest (they also have shuffle board) and the winner won a leather bookmark. I thought that was a pretty lame prize.
-The service is unfathomably friendly.
-The country represented the most for the make-up of the crew was the Philippines. Forty five percent of the crew were Filipino. The next most popular was South African.
-Neither Natalie nor I had sea legs after the trip.
OUR BALTIC SEA ITINERARY
Copenhagen, Denmark to Stockholm, Sweden (440 nautical miles)
Stockholm to Helsinki, Finland (259)
Helsinki to St Petersburg, Russia (85)
St Petersburg to Tallinn, Estonia (203)
Tallinn to Szezchin, Poland (574)
Szezchin to Warnemuende, Germany (175)
Warnemuende to Copenhagen (110)
Total – 1,946 nautical miles
BOOK YOUR SEABOURN CRUISE
To book your Seabourn Odyssey cruise, call your travel agent or Seabourn at 1-800-929-9391, or visit their website.
Note: This trip was sponsored in part by Seabourn.