As soon as I heard that the Langham Hotels chain had entered the Sydney market, I immediately wanted to check out the new hotel. After all, Langham is a luxury hotel group that's been around for a while (their first hotel opened in 1865). The Langham Sydney (rates start at $315 AUD or $292 US) opened in 2012 and took over the elegant Georgian-style, 96-room Observatory Hotel. I'd stayed at the Observatory a decade ago and was excited to return to the location. Unfortunately, I quickly learned the hotel is in a dire need of a refurbishment—but that's in the works. Even without the refurb it's still a fine place to stay, and here are nine reasons why:
1. The location
The hotel is in a residential area in the historic Rocks. It's a cute, quiet (except for the neighborhood dog barking) neighborhood with Indian, Chinese and fish restaurants and a historic pub two blocks away. To get to the heart of Sydney (Circular Quay) it's just a 12-minute walk (take a left out of the hotel and hang a right on Argyle Street; it's safe like all of Australia). Here's a Google map of the location.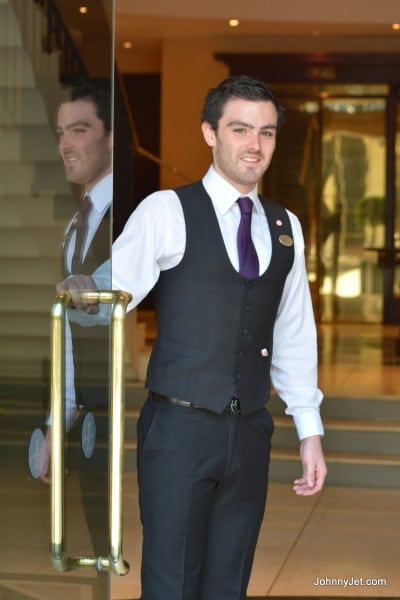 2. The service
As you would expect from a luxury hotel, the service is excellent. When my taxi pulled up a bellman immediately came out, and there was no wait at the front desk. Whenever I needed anything, I didn't have to wait on hold when I called down. The concierge was also helpful and provided me with an area map and directions to where I was going.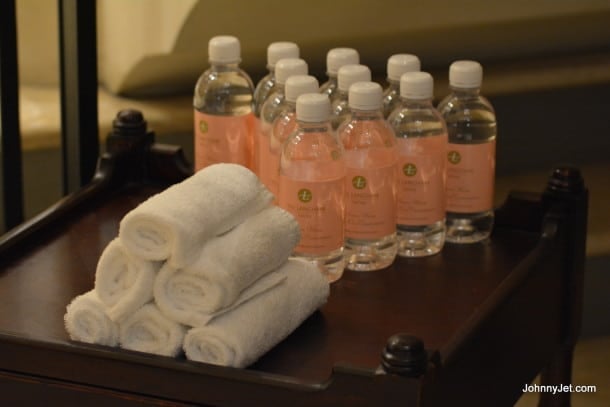 3. Free bottles of water
I love a hotel that offers free bottles of water that you can take out with you for the day and/or when you return. Sydney is a fantastic walking city so it's great to have a bottle of water handy and not have to go to the local convenience store and overpay.
4. Large rooms
Although the rooms are dated, they sure aren't small. In fact, their standard rooms are 49 square meters—which is about twice the size of the average hotel room in Sydney.
5. Comfortable beds
It always nice to have a comfortable bed, and the hotel has Langham Blissful Beds that come with high thread count and pressed sheets.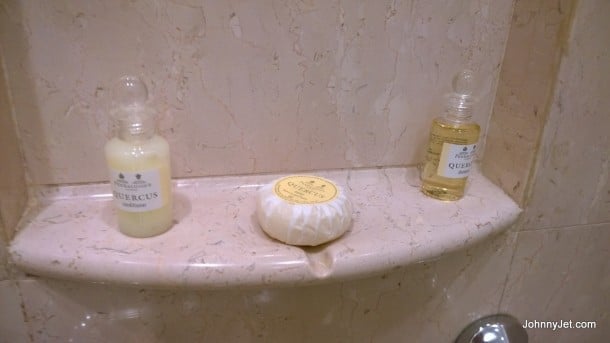 6. The bathrooms
The one thing Langham won't have to spend too much money on is redoing the bathrooms. They are great just the way they are, with wall-to-wall marble, excellent water pressure, long soft white towels, Penhaligon's Quercus toiletries and a heated towel rack. The only thing The Langham needs to add are those Toto toilets that have all kinds of remote controls and heated seats and larger faucets to fill the tub faster.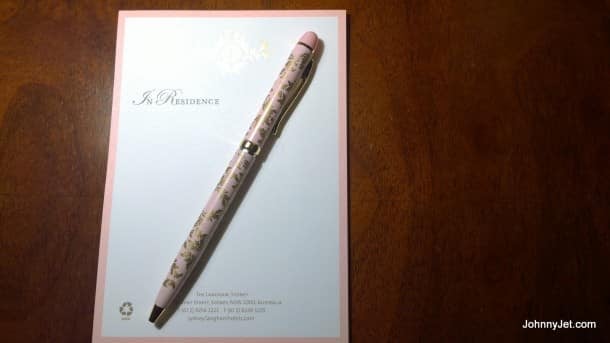 7. Langham pens
Ask any female luxury travel magazine writer which hotel has the best pen and without a doubt they'll say Langham. The signature Langham pens are floral gold and pale pink and make the ladies (and my wife) go so gaga I have to swipe one every time I stay at a Langham.
8. The pool
One thing you cannot miss at The Langham Sydney is its indoor pool. It has a starlit ceiling with an exact replica of the Southern Cross and marble columns so you feel like you're in an oasis.
9. The spa
Speaking of oasis', The Langham Sydney has one of, if not, the best therapists I've ever had in my life. Berenice, who came over from the Ritz Paris (it's closed for renovation), is amazing. She didn't make noise when walking, didn't breathe heavily, would pull the towel slowly down my back, used warm oil (they use the luxury German skincare line, BABOR), and had the most gentle touch imaginable. You can feel in her hands that she loves her job. No wonder the spa has won a bunch of awards including: Tourism Accommodation Australia's Award for Excellence, Health Club and Spa Facility of the Year (2013) and TripAdvisor's Top 10 Hotel Spas in the South Pacific for 2013. The only thing the spa needed help on is improving their music and getting massage tables that are a few inches wider. I'm not even that big and my arms kept falling off the sides. A 60-minute massage cost $150 AUS ($139 US).
As you can see, staying at The Langham Sydney is still very much worth it, and I predict that after they get their refurbishment it will be one of the top three hotels in the Sydney.